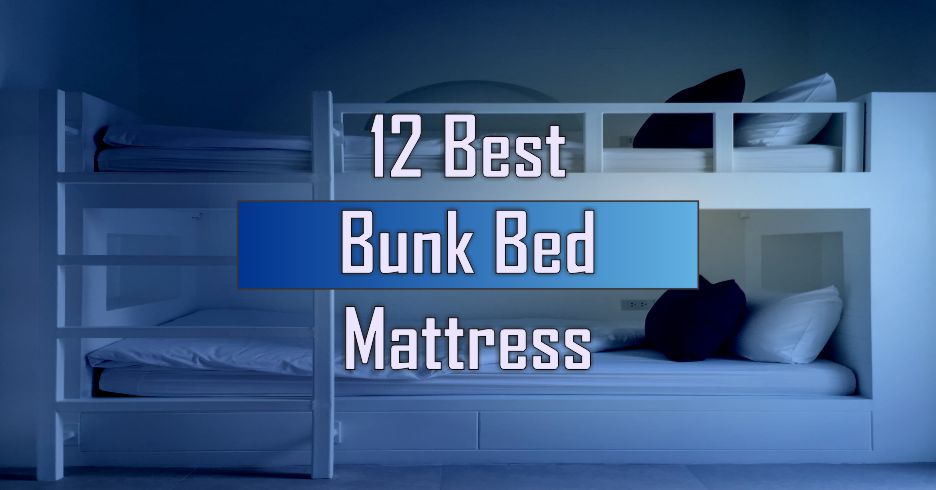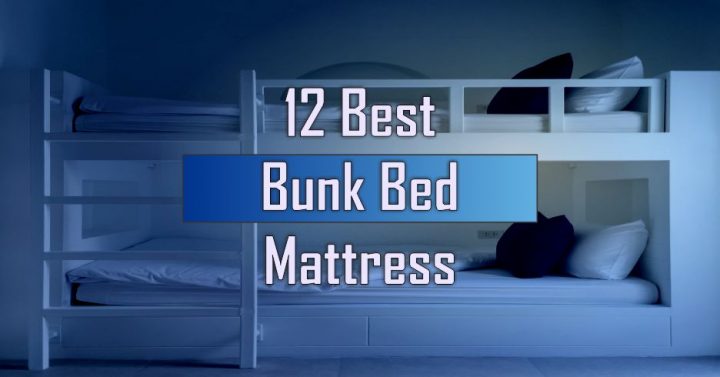 Bunk beds are an excellent way for many parents to save space. They are great for kids who share a bedroom. Adults can also sleep in bunk beds. They are widespread in dorms and hostels where people stay overnight.
When selecting a mattress for your bunk bed, you should think about a few things. Most of these beds can fit twin, twin XL, or full-size mattresses, but larger ones won't fit because they are too broad and long.
As well, mattresses with a low height are often best. Too-thick mattresses are often too large for bunk beds and can also be dangerous on the upper bunks.
Here are the top picks for the best bunk bed mattresses. By reading our buying guide, you can also learn how to choose the best bunk bed mattress for your set.
It goes over the different types of bunk beds, essential things to think about when shopping, and tips for making your final choice.
The 12 Best Bunk Bed Mattresses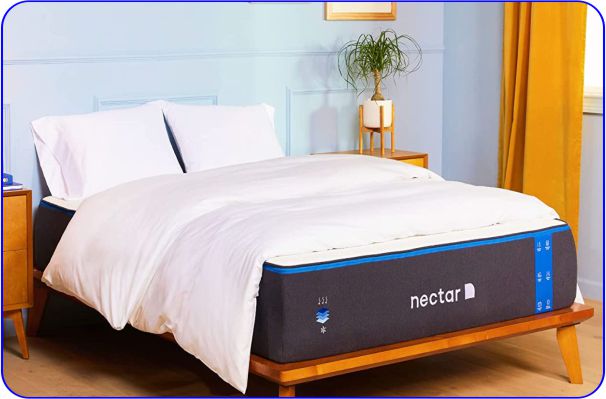 Best Bunk Bed Mattress for Hot Sleepers- Nectar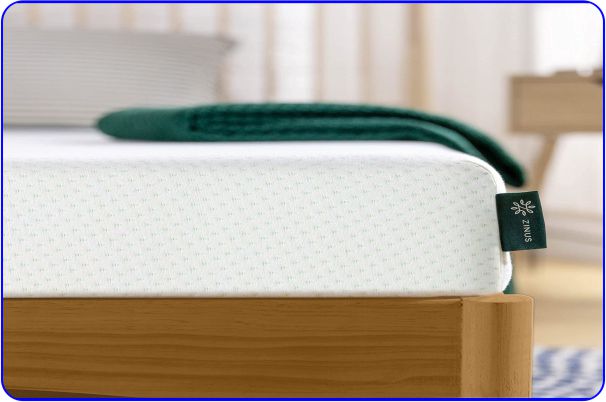 Best Budget Bunk Bed Mattress- Zinus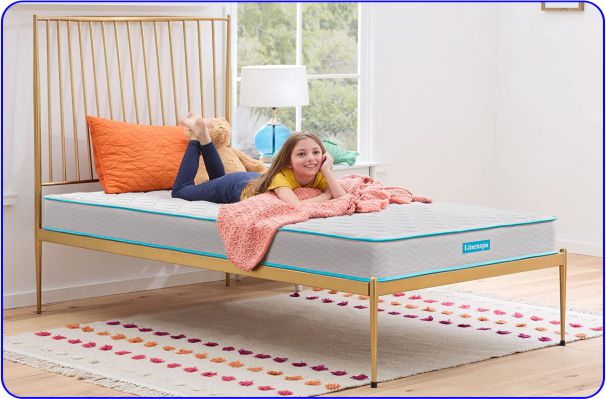 Linenspa 6-Inch Innerspring Mattress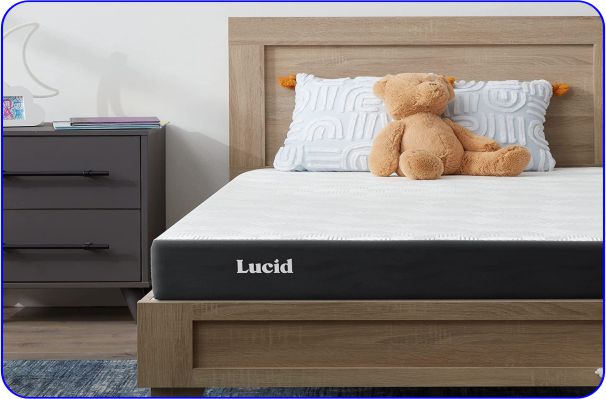 LUCID LU05TTFR30GF Memory Foam Mattress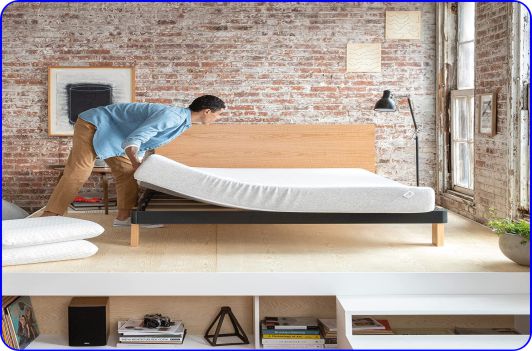 Best for Side Sleepers- Nod by Tuft & Needle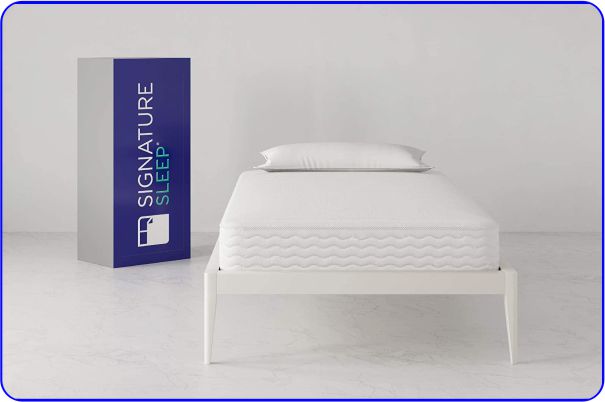 Signature Sleep Hybrid Reversible Twin Mattress
Best Bunk Bed Mattress for Side Sleepers- Tuft & Needle Original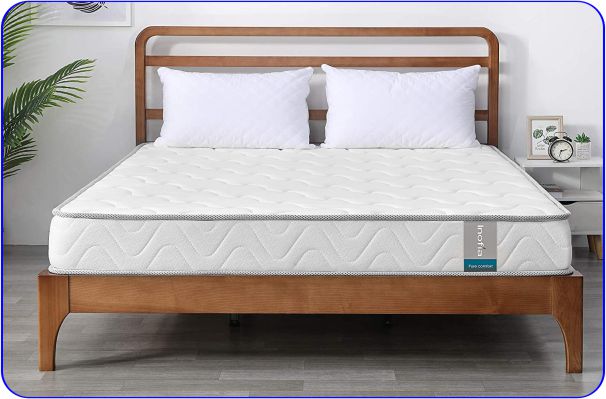 Best in a Box- Inofia 6-Inch Cool Memory Foam Mattress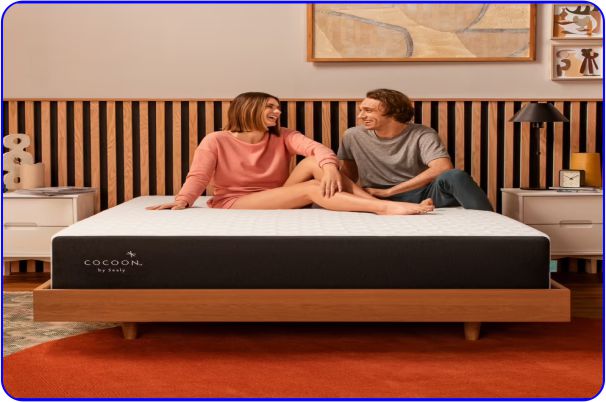 Cooling Bunk Bed Mattress- Cocoon Chill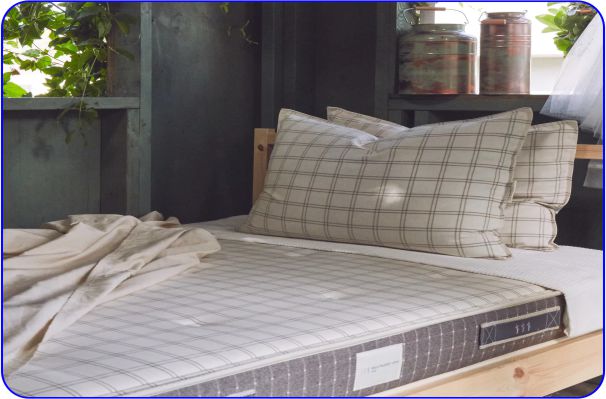 Best Pressure Relief- Brentwood Home Juniper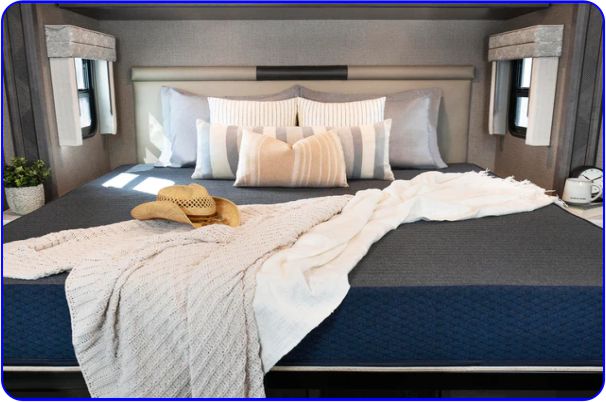 Mattress for Back Sleepers- Wanderlust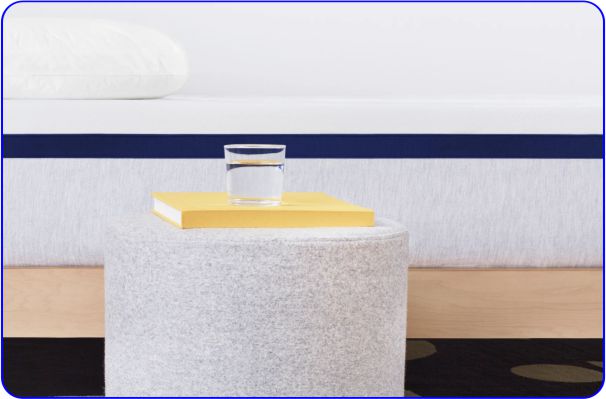 Best Bunk Bed Mattress for Kids- Helix Midnight Mattress
1. Best Bunk Bed Mattress for Hot Sleepers- Nectar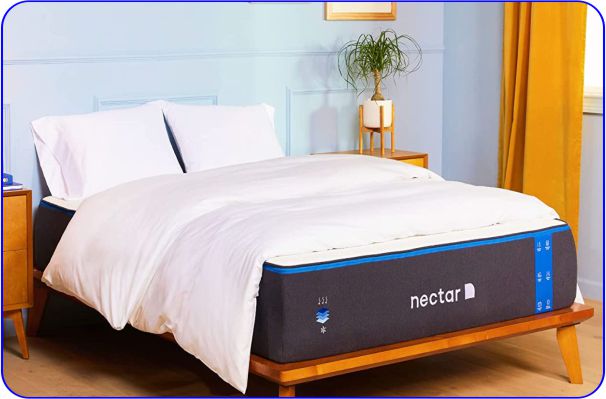 Highlights
Gel Memory Foam Mattress
Medium Firmness Level
5-Layers of Comfort
Breathable Cooling Action
CertiPUR-US Certified Foam
Forever Warranty
Product Description
Nectar memory foam mattresses are recommended for kids because of their high support level, which helps maintain proper posture as they sleep. The lower two layers are more supportive than the top two, maintaining a neutral spine position.
This Nectar mattress boasts a 3-inch layer of gel-infused memory foam quilted to its cover, addressing a common complaint about memory foam: excessive heat. This makes the bed seem soft and helps keep warm sleepers comfortable by regulating the temperature.
After that comes a 2″ layer of standard foam, which makes the Nectar suitable for any sleeping position thanks to how easy it is to change. The mattress topper is built of 3-inch-thick high-density foam, and the base of the bed is made of 7-inch-tall regular foam.
When you buy a Nectar Mattress, you can rest confident that your child is sleeping on a mattress that has received the prestigious CertiPUR-US seal of approval for the absence of dangerous chemicals and heavy metals.
2. Best Budget Bunk Bed Mattress- Zinus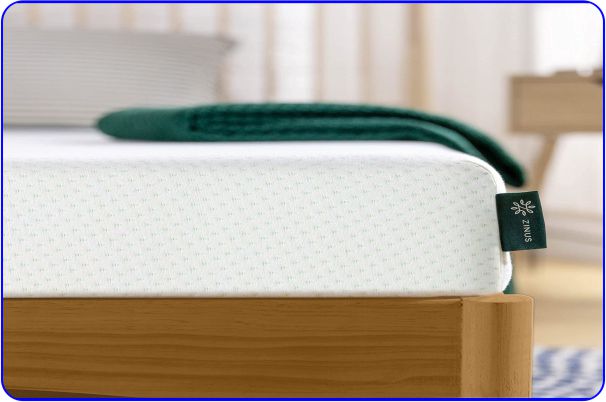 Highlights
Youth Memory Foam Mattress
Supportive Foam Layers
Pressure Relieving Comfort
CertiPUR-US Certified
10-Year Limited Warranty
Product Description
Zinus is the industry standard for reasonably priced memory foam beds. A foam mattress provides their cloud-like night's sleep. The Zinus mattress is perfect for bunk beds because of its thinness (just 5 inches).
This mattress is ideal for light, young children because of its 5-inch depth. A deeper mattress is necessary for heavier children or adolescents, especially those who sleep on their sides.
The Zinus memory foam mattress exceeds expectations for the price. All of their CertiPUR-US certified foams are chemical-free. The cover may be removed and washed in the washing machine for convenience. This makes it an excellent option for children with asthma or allergies.
3. Linenspa 6-Inch Innerspring Mattress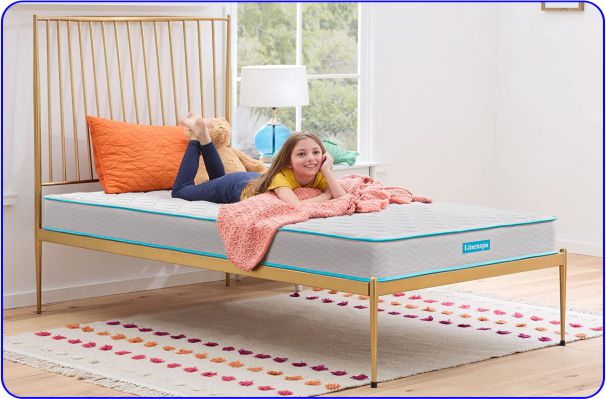 Highlights
Mattress with Foam Layer
Versatile Profile
Firm Feel
Mattress in a Box
Compact Comfort
Certified by CertiPUR-US
Product Description
The construction of this mattress that is kind to one's wallet consists of steel coils that have been heated and an outer layer of foam. It is available in all the standard sizes, from twin to king. This Linenspa mattress may provide a more solid support for individuals with lower overall body weight.
This mattress has a thickness of 6 inches, making it suitable for use with trundle beds. Users have reported that this mattress does not provide adequate comfort or spinal support for persons with higher body weight.
A mattress pad is prescribed for persons with higher body weight so they do not feel the coils in the mattress.
4. LUCID LU05TTFR30GF Memory Foam Mattress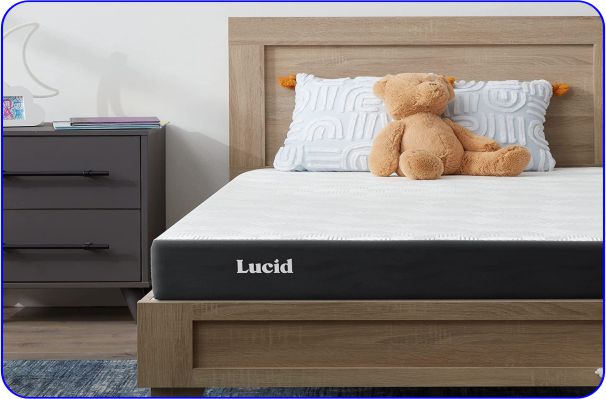 Highlights
Memory Foam Mattress
Cooling Gel Infusion
Hypoallergenic Bamboo Charcoal
Breathable Cover
CertiPUR-US Certified
Product Description
The LUCID LU05TTFR30GF Memory Foam Mattress makes the transition from crib to bed easier. The 1″ inch gel-infused foam layer is suited for petite frames. Mattress' ventilation and breathability will help your youngster sleep soundly.
This mattress' 4″ core is thick memory foam infused with hypoallergenic bamboo charcoal. This low-profile, fresh-smelling mattress is ideal for cubbies, bunk beds, trundle beds, and other tight spaces. Lucid uses a Tencel cover with hydrophilic nanofibers to keep the surface soft and boost strength.
Many parents seek soft kids' mattresses. Medical specialists now urge a firmer mattress. This mattress prevents joint and muscle misalignment, promoting deep, peaceful sleep. Memory Foam Mattress may be expensive given its features. This cheap mattress comes compacted for easier delivery.
5. Best for Side Sleepers- Nod by Tuft & Needle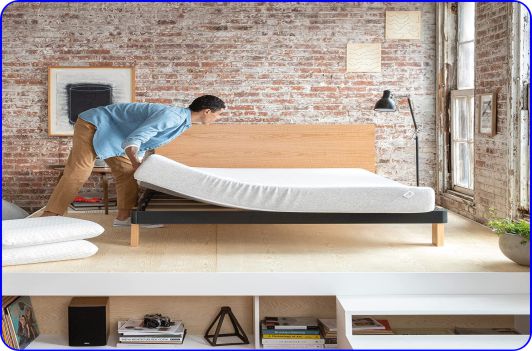 Highlights
Adaptive Foam Mattress
High-quality Innovative Foam
Remarkably Comfortable
100 Night's Sleep Trial
10-Year Limited Warranty
Product Description
The Nod mattress scaled down the traditional Tuft & Needle bed for bunk beds. This 8-inch mattress contains T&N's adaptive foam, which is more receptive than a memory foam without becoming too firm. The adaptive foam makes Tuft & Needle beds popular with side and stomach sleepers.
Customers love this bed since it doesn't "suck you in" like many other foam mattresses. Instead, it shapes your shape to lessen the likelihood of pressure points while keeping you elevated.
The Nod uses a combination of open-cell foam, graphite, and gel to keep you cool all night long. This is a significant benefit, and the knit cotton cover adds to the mattress's ability to keep you cool.
The fact that Tuft & Needle provides a 100-night sleep trial is a significant selling point for the Nod. You can put it to the test in terms of comfort, unlike many beds in its price range.
If you're in a hurry and need to sleep on your new bed right away, you'll appreciate that this mattress has been verified as safe for sleep by the United States' CertiPUR-US program and doesn't emit any chemical scents during shipping. It takes around two hours to inflate, rather than the standard 72.
6. Signature Sleep Hybrid Reversible Twin Mattress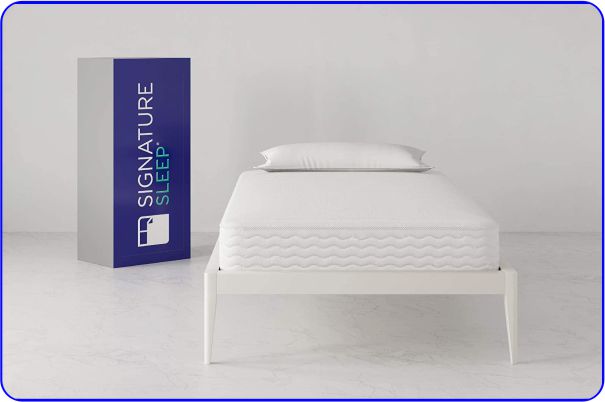 Highlights
Reversible Mattress
High-density foam
Independently Encased Coils
Relieving Pressure Points
Bed in a Box
1-Year Warranty
Product Description
The second favorite mattress on this list, behind the first one. There is only one firmness level available, and that is firm. If you or your kid needs a mattress with more support, go no further than this!
It's 8 inches thick, so it works great for bunk beds. There are three distinct layers to its construction. Top and bottom layers of memory foam provide cooling comfort, while a core of separately enclosed springs provides firm support.
This mattress can be considered among the most long-lasting options with such a construction. How come, you inquire? Because you can turn it over and sleep comfortably on any side! This reduces the daily stress placed on the mattress and spreads it out over a more extended period during its useful life.
7. Best Bunk Bed Mattress for Side Sleepers- Tuft & Needle Original
Highlights
Original Queen Mattress
Medium Firmness Feel
Cooling Pressure Relief
100-Night's Sleep Trial
CertiPUR-US Certified
Made in the USA
Product Description
The Original Bed from Tuft & Needle is a classic style that will last for years. You have 100 nights to decide if this is the correct decision for your child, and the manufacturer offers a 10-year warranty, which speaks much about the quality of the mattress.
The bed's height of 10 inches is ideal for a bunk bed because it's not too high, and the weight is manageable. T&N Adaptive® Foam, explicitly developed for T&N, serves as the first layer.
The material is similar in feel to memory foam and latex but sleeps much cooler. A 7-inch poly foam foundation layer provides structure and helps the mattress maintain its form so that you don't sink through.
Three of the six sizes available could be suitable for use with most bunk beds. When lying on one's side, pressure points can form but not on the Tuft & Needle Original.
8. Best in a Box- Inofia 6-Inch Cool Memory Foam Mattress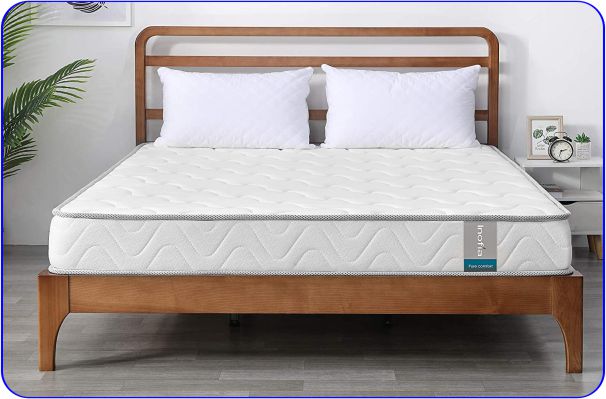 Highlights
Cool Memory Foam Bed
Medium Firm Level
Great Motion Isolation
Breathable and Cooling
High-density foam
10-Year Warranty
CertiPUR-US Certified
Product Description
Inofia's memory foam mattress is meant to be responsive without sacrificing comfort. The mattress' construction consists of three distinct foam layers: a thin layer of ECO memory foam, a deeper layer of comfort foam, and a foundation layer of support foam.
Medium firmness is described as "just fine" by those who have tried it. The mattress was most popular among those who sleep on their backs, but it was also recommended by some people who like to sleep on their sides or bellies because of its comfort and reasonable pricing.
The comfort foam is a critical component of this mattress's allure, as it provides pressure-relieving cushioning for sleepers of varying preferences. There is an eight-inch-thick variant of this mattress with extra layers of memory and comfort foam available for heavier sleepers.
The bed has been tested and found to be free of the toxic fire-retardant fiberglass and has received the CertiPUR-US seal of approval. Users also liked that it had no discernible odor upon arrival, making it suitable for use the same night. The mattress comes with a ten-year warranty from Inofia.
9. Best Cooling Bunk Bed Mattress- Cocoon Chill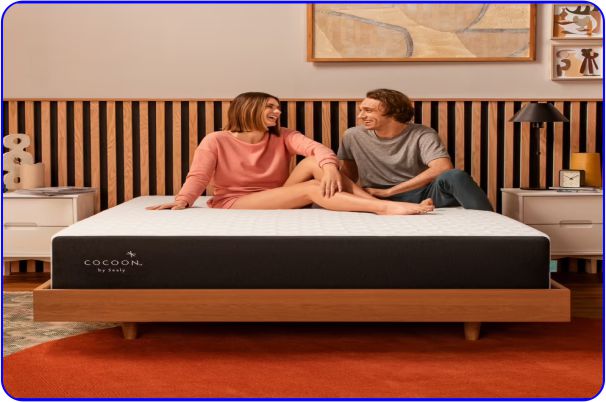 Highlights
Memory Foam Mattress
Cooling Cover
Soft and Supportive
100 Night Sleep Trial
20-Year Warranty
Product Description
The Cocoon Chill is a cooling memory foam mattress for warm sleepers. The cover's exclusive phase-change technology regulates the mattress's temperature in response to the sleeper's body. A cooling effect is achieved by the bed's ability to draw heat away from the body and then draw it back in once the sleeper has cooled down.
The 2 inches of responsive comfort foam in the middle keep you from sinking through the mattress. Keeping your spine in a neutral position while you sleep is crucial, and the Cocoon Chill makes that possible. An essential support foam, 6 inches thick, serves as the foundation. Six sizes are available for this Cocoon, but only three work well as bunk beds.
CertiPUR-US certification guarantees that the Cocoon Chill's foams are made without using any potentially dangerous components. The bed is moderately firm, yet the buoyancy of the foundation makes switching positions very simple.
10. Best Pressure Relief- Brentwood Home Juniper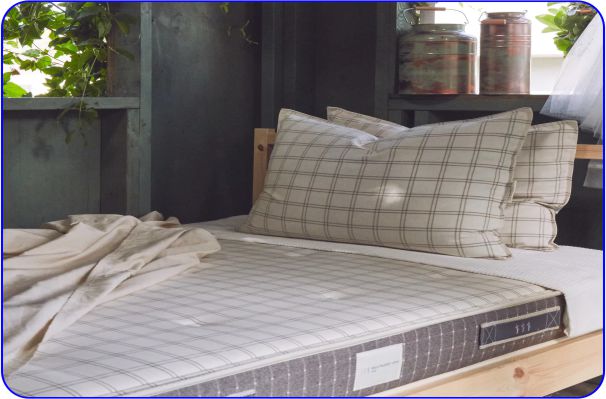 Highlights
Cooling Gel Infused Memory Foam Mattress
Medium-Firm Feel
Greenguard Gold Certified
CertiPUR-US Certified
Made in the USA
Product Description
The Juniper by Brentwood Home is an all-foam bunk bed that may be used at either the top or bottom. The Juniper is built of safe, environmentally friendly materials and has the necessary certifications to reassure concerned parents.
The mattress has a GOTS-certified organic cotton cover. A 1-inch layer of memory foam moderately clings to your child's body, followed by a polyfoam core for support. The entire mattress is GREENGUARD Gold certified, meaning it meets strict off-gassing and VOC criteria (VOCs).
BioFoam, made from plants, runs more incredible than regular foam. This foam bed is more remarkable for kids who overheat on others. The bed's medium-firm (6) feel should be cushioned enough for kids who want plushness yet firm enough to support the body and keep the lower spine from sinking.
Lighter, lower-profile beds are safer for top bunks; thus, the Juniper's 6-inch profile is ideal. With the purchase of a Brentwood Home mattress, you can try it out for a whole year, risk-free.
The 25-year warranty on the mattress is a nice bonus. Shipping is on the house if you live in the lower 48 states.
11. Best Bunk Bed Mattress for Back Sleepers- Wanderlust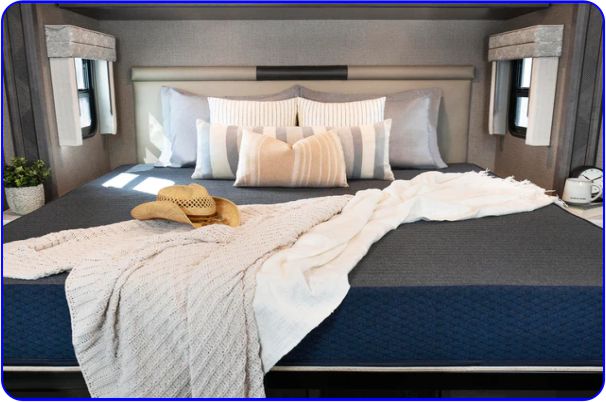 Highlights
Memory Foam Mattress
Best for Back Sleepers
High-density Base Foam
120 Night Trial
10-Year Warranty
Product Description
The Brooklyn Wanderlust comes in various sizes, including those tailored explicitly for use on RV beds. The Twin size of the mattress is standard for use in residential bunk beds.
Various height options are available for the Twin size, and the bed itself is moderate firm. The top layer of the Wanderlust is made of gel swirl memory foam, which helps cool sleepers and adapt to their every move.
The bottom sheet keeps the bed from sagging when more weight is applied. Those who sleep on their backs will like how the mattress's several layers work together to disperse their weight evenly and keep pressure off their spines.
The CertiPUR-US certification for the Brooklyn Wanderlust memory foam mattress ensures it is free of harmful substances. Depending on your tastes and the dimensions of your bunk bed, you can select from various sizes and heights.
12. Best Bunk Bed Mattress for Kids- Helix Midnight Mattress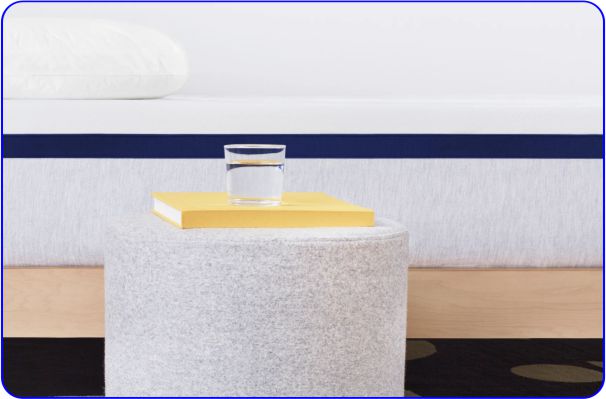 Highlights
Medium-Firm Feel
Pressure Point Relief
Premium Cooling Covers
Side Sleeper Support
10-15 Year Warranty
Product Description
Those who prefer to sleep on their backs will appreciate Helix Midnight's medium-firm feel and targeted support. The foam layers provide cradling and support where you need it, while the hybrid design's airflow helps keep you cool.
Children's bunk bed mattresses should be no more than 8 inches in height. If it gets much more significant, it can end up hovering dangerously close to the upper bunk's protective rails.
Adults and older teens are less likely to fall off the bed in the middle of the night. The Helix Midnight, at 12 inches in height, is the top choice for a mattress on an adult bunk bed.
The Helix Midnight, costing just $699 for a Twin size, is a high-quality mattress that combines foam and coils. It provides superior support for those who prefer to sleep on their sides. The Helix Midnight is an excellent option for adults looking to make the most of their bunk bed space.
How to Choose a Bunk Bed Mattress
The appropriate mattress size for a bunk bed is a matter of personal preference. There are, however, a few considerations worth keeping in mind. The most popular mattress sizes are twin and complete, so that's probably what your present bed can accommodate. That's about the maximum size you can get, then. So long as you don't plan on buying a new one.
The most typical bed sizes are twin and large. If it's going to be used by an adult, you should probably get a queen or king-size (or at least an XL twin) mattress.
Need something more regal, like a king or queen? In some cases, the lower portion is rendered in a larger size than the upper. A larger base bunk bed may be your best option if you need more space to sleep comfortably.
Thickness
Thickness may be significant depending on your body mass. A thicker mattress will provide more excellent cushioning and support. The thickness of a twin mattress is typically between 7 and 12 inches.
The height of the upper one shouldn't go above 7 inches. Without the bed's side rails, it can quickly grow too high. If your bed's side rails are higher than average, you may be able to choose a thicker mattress without risk.
Most people wouldn't actively seek a thin mattress for a bunk bed. However, thinness becomes desired when every inch of mattress thickness reduces available guardrail height. The less room between the bed and the guardrails, the less probable it is that a sleeper will roll out of bed.
However, the mattress's thickness directly correlates to the available headspace. A low-profile mattress is also a good option for the bottom bunk.
Firmness
In regards to firmness, it is entirely subjective. If you or the individual sleeping in the room can't find a comfortable position, then it probably isn't the best fit. Naturally, if you ask your children if they prefer a firm or soft mattress, they are likely to look bored and bored.
Spending more money on a high-quality mattress is worthwhile because it will last for years. Have them try some on, or lie down on the floor. They can find out how firm they like it this way. Then, keep that in mind as you go mattress shopping.
Read Customer Reviews
Don't go out and buy a mattress without first consulting a trusted source. They are a significant investment, and you don't want to make a decision you'll come to regret. Customers who have slept on the mattress (or whose children have) are the best source for honest feedback in online reviews.
Avoid making a snap judgment based on the opinions of a single reviewer. Inquire about other people's thoughts. Get a feel for your potential new bed's pros and cons by reading the glowing reviews and the scathing criticisms.
In some instances, reviewers may have only had positive or negative experiences, so it's crucial to keep that in mind when reading their opinions. Your experience is probably going to be very average.
Frequently Asked Questions About Bunk Mattresses
What makes a bunk bed mattress different from a regular mattress?
Mattresses designed for bunk beds are typically thinner than those used in single beds, though ordinary mattresses of similar thickness can be used in bunks. Thin mattresses are required to conserve headroom and maintain handrail accessibility.
How big is a mattress for a bunk bed?
Twin, complete, and even queen mattresses can be found in bunk beds. They can be as thick as necessary to fit under a bunk bed but are usually no more than 10 inches deep.
Are bunk beds for teens too small?
Even in university dormitories, bunk beds are a regular sight. Most adults and teenagers can get by just fine on a twin mattress when sleeping alone. Depending on their height and weight, some people may sleep better on a full or twin XL mattress. Your teen may want a larger sleeping area, in which case full- and queen-sized bunk beds are available.
Conclusion
You've researched and read about several bunk bed mattresses, and now you want to know which one is the finest. Choosing a mattress might be a bit of a subjective experience, but there is one that excels in most respects.
The LUCID Memory Foam Mattress is the most cost-effective option and provides a peaceful night's sleep for everyone in the family, no matter how tall or heavy they may be. If this mattress doesn't inflate to its full five inches, which is the recommended height, it won't affect sleep quality.
The gel-infused foam makes for a cooler night's sleep, and there's not much in the way of off-gassing. It has an extended warranty in case of any problems, making it the most significant value on this list.
As you can see, there is a wide variety of excellent choices, and no single bunk bed mattress will meet the needs of every family. Everyone has a different idea of what feels most comfortable. Therefore, the ideal firmness, softness, and ideal size might vary from person to person.
You may locate the most fantastic bunk bed mattress with time and effort spent searching, and we hope our recommendations have helped you limit your options.
"This article contains affiliate links, which means that Best Mattress Advisor will be compensated if you buy something after clicking on one of the links. Read full disclosure statement."