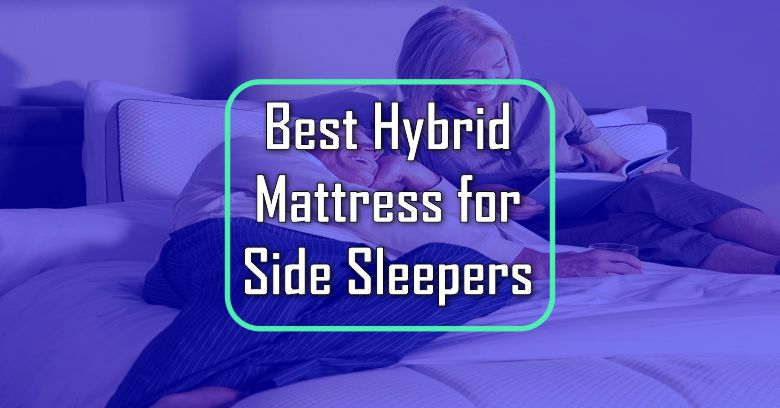 Generally speaking, laying on your side is the preferred sleeping posture. Side sleepers report reduced back discomfort, easier breathing, and improved digestion as additional benefits of sleeping on their sides.
Shoulder and lower back pain are common for side sleepers who have an uncomfortable or unsupportive mattress. Sleeping on a particular sort of mattress directly impacts how much comfort and support you receive at night.
In a day full of energy or mental fog, the correct mattress makes all the difference. And every sleeping position has its own set of needs. Side sleeping places the full contours of the body into the mattress, requiring a mix of pressure relief and support.
The benefits of both innerspring and foam mattresses are combined in hybrids. Many side sleepers need an airy mattress that conforms to their body as they move during the night.
We've put together a top 11 list of best hybrid mattresses for side sleepers based on support and cushioning. Finally, we'll go through the various sleeping postures and the mattress varieties that suit them.
List of Top 11 Best Hybrid Mattress for Side Sleepers
Best Overall- Editor's Pick Saatva
1. Most Comfortable- DreamCloud Mattress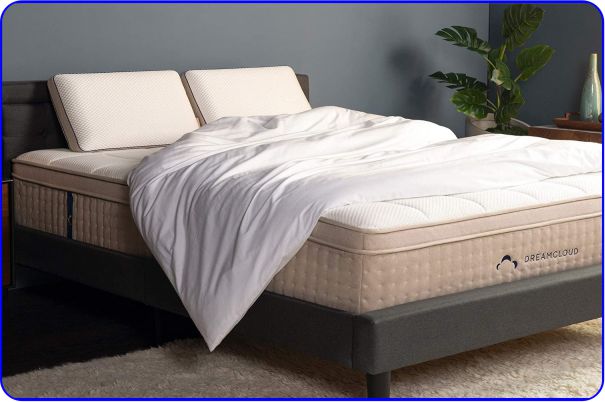 Highlights
The quilted foam cover creates a comfortable surface
Hybrid Mattress Type
Medium Firmness (6)
Contouring and Support are equally balanced
You'll Stay Cool all Night Long
Lifetime guarantee on Dreamcloud products
Product Description
In terms of overall performance, DreamCloud is a top-notch hybrid foam mattress. With the right amount of contouring and support, this is a great option for a wide range of people.
The mattress starts with a soft, silky cover made of a cashmere-polyfoam blend that breathes well. A layer of the memory foam lies beneath, providing close body contouring.
The memory foam is mixed with cooling gel to reduce heat retention. A polyfoam transition layer provides mild contouring but is stiff enough to prevent excessive sinking. The support core has a pocketed coil structure to reduce motion transfer.
The DreamCloud is rated medium firm (6) and provides adequate support for pressure points, including the shoulders and hips. The polyfoam and coil structure provide appropriate support for firmer sleepers. While the memory foam may be too heated for some, the coils should allow adequate air circulation.
DreamCloud offers free shipping within the US. With a lifetime guarantee and 365-night sleep trial, a 30-day break-in period is required.
Pros
Side sleepers weighing between 130 and 230 pounds
Helpful for those looking for a memory foam hybrid mattress
Couples who want to share a bed
Cons
Better to sleep on the floor than on this rock-hard mattress.
After a year, badly sunken in.
2. Best Pressure Relief- Casper Original Hybrid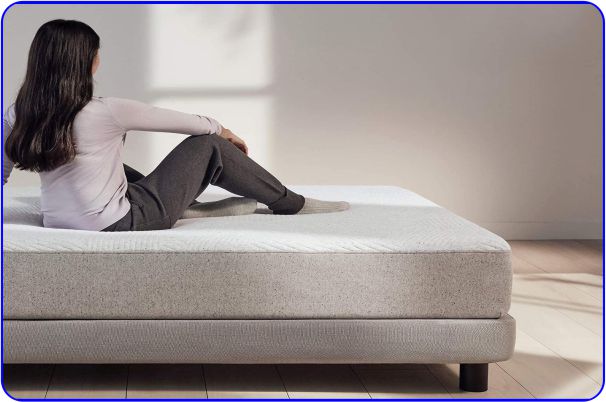 Highlights
Ventilated AirScape comfort layer keeps the surface cool.
Zoned memory foam provides added support.
Hybrid Firmness: Medium
Mattress Type: Hybrid
100 Nights Trial (30-Night Requirement)
Limited 10-year warranty
Product Description
Side sleepers often complain that hybrid mattresses lack adequate cushioning or contouring to relieve their pain, but the Casper Original Hybrid is an exception. Compared to other spring mattresses, this one has a neutral feel and adaptable foam layers that provide better pressure relief than the ordinary one.
The medium (5) mattress has a top layer of responsive AirScape polyfoam that fits the body without being too confining. Memory foam separated into three firmness zones provides more support in the middle and a softer sensation for the head, shoulders, and legs.
A pocketed coil support core accomplishes the hybrid design. The cover is a mix of recycled polyester, cotton, and rayon.
The AirScape layer is perforated, allowing air circulation near the surface and reducing heat retention. The Original Hybrid has a ventilated cover and a packed coil structure that provides continuous ventilation.
The mattress should be good for couples as both foam layers absorb motion and reduce motion transfer. The medium firmness and robust hybrid design are ideal for side and back sleepers weighing 230 pounds.
The Original Hybrid is priced competitively with other hybrid models, and shipping is free inside the continental United States and Canada. If you decide to keep the mattress after the 100-night trial, the manufacturer provides a 10-year warranty.
Pros
People who weigh 230 pounds or fewer
Best for people who sleep on their sides
Good for those seeking a pressure-relieving and cooling mattress
Cons
There was no back support, which resulted in discomfort.
To buy this was a Horrible and Painful experience.
Smells Toxic Chemicals
3. Latex Hybrid Mattress For Side Sleepers- Brooklyn Bloom Hybrid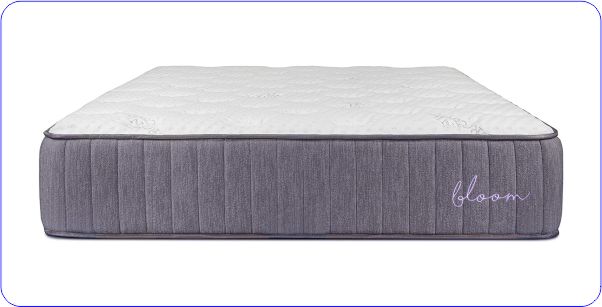 Highlights
Available in Queen Size
14-Inch Talalay Latex Hybrid Mattress
Organic Cotton Cover
Medium firmness
Ten-year warranty
Proudly manufactured in the United States
Product Description
Bouncy and long-lasting are two of the most well-known latex foam characteristics, which are derived from the sap of rubber trees. A 3-inch Talalay latex layer in the Brooklyn Bloom Hybrid gives it a medium-firm feel and enough bounce to move around in.
One thousand separate coils make up the base of this mattress, which provides better support for your hips and shoulders by moving independently of one another. According to customers, the mattress provides good back support while still being a soft surface.
Individually wrapped coils in a universal medium hardness provide naturally nurtured comfort while providing the perfect degree of pressure point alleviation and optimal support.
3″ Tallay latex on top with 1.5″ of transition material for an easier entry into the sophisticated coil system. A six-pointed star "up to 961 Ascension coils can be used as the foundation for this system. a score of 1.5 "Durability and reinforcement are provided by the coils encasing in high-density foam.
A soft top layer made from sustainably produced Joma Wool and organic cotton inherently provides great ventilation and moisture-wicking.
Pros
Side sleepers of all weights will benefit from this mattress.
Good for those looking for a less expensive mattress.
Supportive Firmness
Cons
It may feel too soft
Not capable of giving you a cool sleep
4. Best Hybrid Bed-in-a-Box Mattress For Side Sleepers- Leesa Hybrid Mattress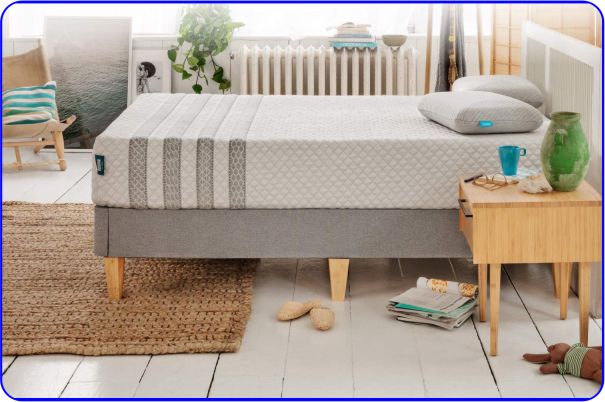 Highlights
Hybrid 11″ Mattress
Memory Foam Bed-in-a-Box
Twin Size
White and Gray
Product Description
There is nothing handier than sleeping in a bed that has already been assembled for you. There are three layers of deep memory foam in the Leesa Hybrid, with a base layer of 1,000 pocketed coils.
Because it conforms to your body, the pressure-relieving foam helps to alleviate pressure in the hips and shoulders.
Reviewers laud this mattress for being the perfect balance of firmness, plushness, and bounce for side sleepers.
A mattress with a medium firmness rating is ideal for people who sleep on their back, side, or stomach. Comfort and support are the primary considerations when creating this piece. Reduces lower back discomfort and strain by relieving tension.
Sleep peacefully on a mattress covered in our signature 4-stripe design — a virtually smooth mattress cover with no tapering corners.
Pros
Amazingly comfy and well-priced
The Supreme in Comfort
Perfect Supportive Mattress
Cons
Many people became ill as a result of the mattress's vapors.
Within a month, suddenly developed a sag.
5. Best Medium-Soft Hybrid Mattress- Brentwood Home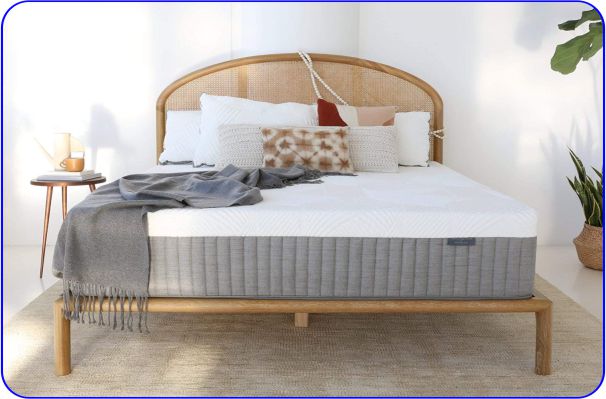 Highlights
Cypress Luxe Cooling Charcoal
13-Inch Infused Hybrid Mattress
Hybrid Coil Design
Made in California
Twin XL Size Available
Product Description
Charcoal has many benefits for mattresses, including temperature and moisture management. Also, charcoal is natural. The new 2020 Cypress Memory Foam Mattress is charcoal-infused for velvety contouring comfort and breathability. The charcoal-infused foam actively wicks humidity away from your body, keeping you dry, cool, and cozy all night.
The 11-inch Classic mattress provides adequate support for most sleepers. Improve pressure relief and comfort with the 13-inch Luxe edition. A thicker mattress with added support from two inches of charcoal-infused memory foam is great for couples, heavier people, side sleepers, and others.
The product is made without using any fiberglass. Green Shield Platinum is Non-toxic and low volatile organic compound (VOC) certified. It's made with CertiPUR-US foams, which don't include any harmful chemicals like phthalates, heavy metals, or flame retardants.
More support and breathability. With this Hybrid Upgrade, you get the best of both worlds: Memory Foam Mattress with Innerspring Coil While structurally stiffening the perimeter to prevent that "roll-off-the-edge" feeling.
Produced in the United States of America. Limited Warranty of 25 Years. The mattress is compressed and wrapped up in a box to facilitate shipping and setup.
Pros
Eco-Friendly
Quality Guaranteed
Cons
Not Suitable for All Types of Sleepers
6. Sleep Innovations Hudson Hybrid Mattress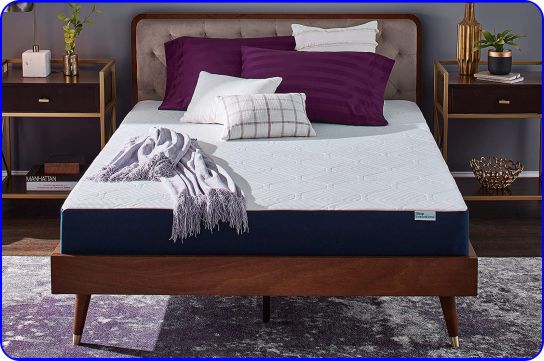 Highlights
Hybrid Cooling Memory Foam Innerspring Mattress
10 Inches Queen Size Mattress
Support For Every Sleeper
Committed To Great Sleep
10-year warranty
Made In The USA
Product Description
This mattress has been designed with hypoallergenic foam, a soft-touch cover, and innovative airflow technology to provide cool, comfortable sleep while also isolating motion.
Pressure relief and support are provided by responsive memory foam and an innerspring system. Individually wrapped coils push up to improve back alignment.
Whether you prefer to sleep on your stomach, back, or side, we have an eco-friendly mattress for you that offers motion absorption, edge support, and breathability.
All of their hypoallergenic and CertiPUR-US certified memory foam mattresses, mattress toppers, and pillows are available for you.
The memory foam mattress in a box was the first of its kind, and they're always working to improve it with new restorative foams and materials. This mattress has a 10-year warranty.
Pros
Hypoallergenic Design
Resilient Support
Cons
Mattress with a strong chemical odor
Uncomfortable and not cool as claimed
7. Best for Extra-Cool Sleep- Zoma Hybrid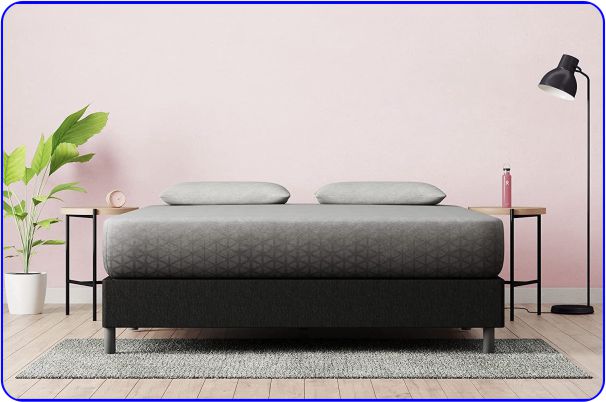 Highlights
Vented Cover Fabric for Unhindered Air Movement
A Responsive Transition Layer to Keep you Moving
An Extra-Cooling Perforated Gel-Infused Foam Comfort Layer
Performance-Enhancing Sleep
Melts away Pain and Soreness
Sink and Sag-Resistant
Ultra-Cooling
Product Description
This is one of the greatest hybrid mattresses for side sleepers because it gives you just the right amount of support and embraces while keeping you precisely cool.
Gel and open-cell foam merge in the Zoma hybrid to keep you dry while you sleep. Even the cover fabric, which is elastic and breathable, was chosen to improve the cooling effect.
The transition layer on the Zoma mattress is yet another cool feature. Because of its resilience, it won't leave you feeling trapped like latex would. It made it easy for me to go from one side to the other while still getting good cradling.
Pros
Best for those who have a lot of night sweating
Good for those who are looking for good deals
Cons
If you are heavier than usual, it may look too soft
In some cases, the Zoma may need a few nights to break in, making it unpleasant for the first few nights.
8. Layla Sleep Hybrid Foam Mattress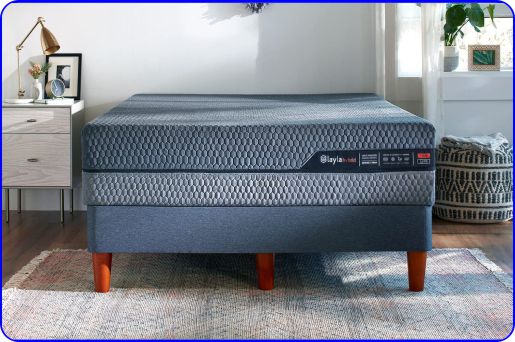 Highlights
Supportive Mattress
Flippable to a Soft or Firm Side
Advanced Cooling Design
Motion Minimizing to Enhance All-Night Sleep
Tri-Zone Airflow Layers
Advanced Coil System for minimizing midnight
Product Description
The Layla Hybrid mattress offers the best of both worlds by combining memory foam and coil springs. A combination of memory foam and coil springs provides motion-sensing support while still providing comfort (i.e., it helps you avoid middle-of-the-night wakeups when your partner is tossing and turning).
In addition to being "hybrid," the Layla mattress is reversible, with one side featuring soft memory foam and the other side featuring firmer memory foam.
While providing a comfortable (or firm, based on the side) sleeping experience, the Tri-Zone Airflow Layers operate as transition layers that absorb and transfer shock between the comfy layer and the Infinity Edge Spring System.
This technology creates a small diamond design on the outside and a large hexagon pattern in the center to support your hips and shoulders properly. Using a diamond and hexagon design, you're creating "valleys" that let cool air into the mattress while also pushing heated air out.
Pros
Double-Sided Lifetime Guarantee
Stays cool while you sleep
Good Motion Isolation
Cons
Some off-gassing is to be expected.
Neither side may have the necessary degree of firmness to win this debate.
9: Nectar Queen Mattress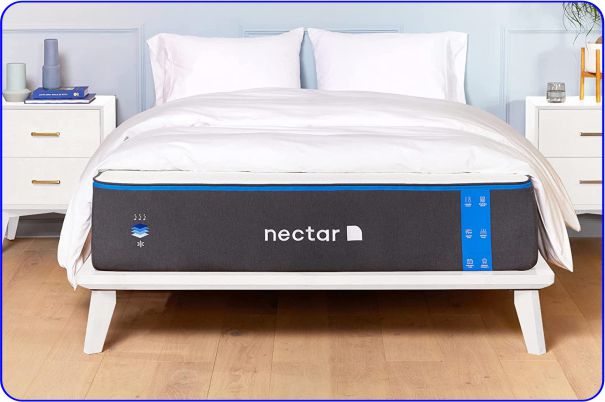 Highlights
Gel Memory Foam Mattress
Five Layers of Comfort
Ideal Support For Any Position
CertiPUR – US Certified Foams
Forever Warranty
365-Night Home Trial
Product Description
The fantastic one-year trial period that begins the day your bed is shipped to your door is one of the nicest advantages of buying a Nectar Mattress.
To prevent sleeping hot or experiencing lumps, Nectar is a gel memory foam bed-in-a-box that's made for all types of sleepers.
The quilted cooling Tencel mattress cover has a soft and light top layer. Gel memory foam is used as a second layer to distribute your weight better. Add a layer of adaptive response transition support to help you avoid feeling like you're falling into quicksand.
Added a second layer of support by using a foundation layer underneath. It has a mattress cover at the very bottom to prevent the bed from shifting!
Provides the perfect balance of support and softness, as well as breathability and coolness. Nectar conforms to the shape of your body and soothes all of your discomforts.
Although it's solid, it's soft enough to be kind in the places where you need it most. Even on those hot 90-degree evenings, Nectar keeps you comfortable by gently adjusting your body's temperature.
Pros
Excellent buy due to the high quality
If you have a terrible back or hips, this is the bed for you.
Good for stomach and side sleepers
Cons
Insufficiently inflated and emitting toxic odors
Defective; it didn't expand all the way.
10. Amerisleep AS3 Hybrid Mattress For Side Sleepers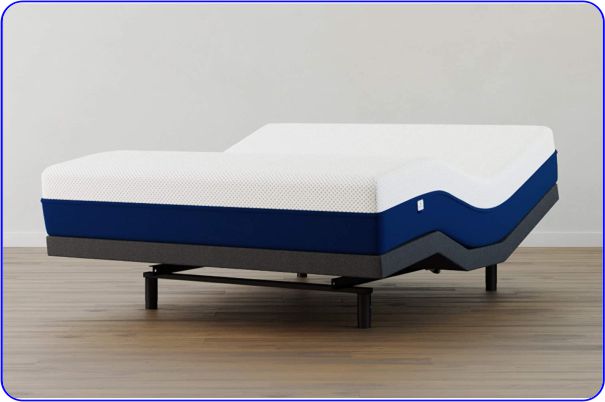 Highlights
Bio-Pur foam is Made from Plants that are Responsive and Breathable
Fabric Cover made of Soft, Breathable Material
100-Night's Sleep Trial
20-Years Warranty
Made in the USA
Product Description
Although we like the Amerisleep AS3 Hybrid for many reasons, the main reason we like it so much is that it's pleasant for most people.
In addition to the AS2, AS3, and AS5 models, Amerisleep also sells hybrid versions of each. Because their AS3 mattresses are their best-seller, we may assume that most people will enjoy their AS3 Hybrid as well.
With the AS3 Hybrid, you won't sink or feel like you're sleeping on a rock because of the mattress' perfect medium firmness. And because it's comprised of plant-based components rather than conventional petroleum-based ones, it won't have the "new mattress" smell that so many other foam beds do.
The AS3 Hybrid has 3 inches of Bio-Pur® memory foam, 8 inches of packed coils, and a 1-inch foundation layer for structure. The torso is reinforced with the coils beneath the memory foam comfort layer, while deeper compression between the shoulders and hips prevents trouble points.
Additionally, Amerisleep provides a 100-night sleep trial and a 20-year guarantee with their AS3 Hybrid mattress.
Pros
Utilizes only natural, plant-based ingredients
Comfy on the back, the side, or in a combination
Provides specific assistance for the relief of back pain
Cons
AS3 had an excessive amount of giving to it. To make things softer, had to use a mattress topper.
A hard mattress that has never been softened
A little too stiff for my little frame.
11. Best Overall- Editor's Pick Saatva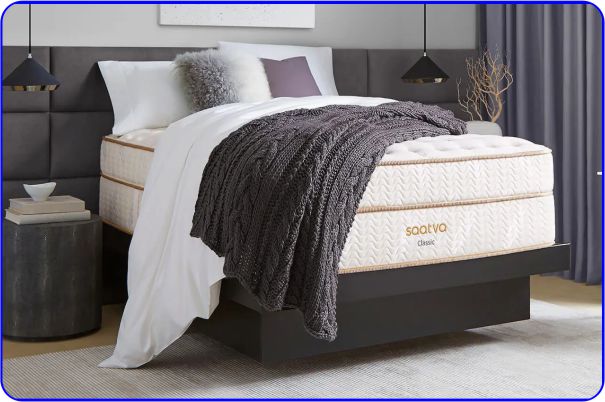 Highlights
Luxurious
Breathable
Supportive
180-Night Home Trial
15-year Warranty
Product Description
The Saatva is a supportive and cradling hybrid mattress for side sleepers. These mattress' coils make it highly sturdy. Compression of the wrapped top coils relieves pressure—sturdy support without sacrificing comfort for side sleepers.
The Saatva mattress's pillow-top layer relieves pressure spots and further enhances comfort. To me, it looks like a storm is brewing over a firm ground (and I mean the coils, of course). The pillow-top balances the mattress's top and adds a luxurious level of comfort.
What sets Saatva apart from the competition is the wide range of comfort options it provides. As for the price, let me simply say that it's a terrific find. Comparable products (like the Bear) typically offer only one firmness level. The Saatva, on the other hand, would be better suited to a broader range of sleepers.
Pros
Relief for Achy Backs and Joints
Enhanced Back Support
Responsive Coils that Cradle your Body
Durable Support and Cooler Sleep
Cons
Not suitable for light side sleepers.
For couples and light sleepers, motion transmission is possible but not essential.
What Is A Hybrid?
It is possible to get the perfect mattress by combining memory foam and innerspring coils in a hybrid model. It is possible to have both the energetic bounce of an innerspring mattress and the contouring feel of memory foam with a hybrid mattress.
A comfort layer, a transitional layer, and a support layer make up a hybrid mattress.
Comfort Layer
Memory foam and latex comfort layers adjust to the body's pressure points and provide relief. To be considered a true hybrid mattress, it must include at least one 2-inch-thick comfort layer.
Transitional Layer
Poly-foam is commonly used as a transitional layer between the support and comfort layers of a mattress. Additional body cushioning is provided by poly-foam, which also promotes proper spinal alignment. Zoned pressure relief may be included in some transitional layers.
Support Layer
Typically, the support layer is made up of pocket coils or individually wrapped innerspring. Motion transfer is reduced, and noise is reduced as a result of using this type of support. The pocketed coil layer's open design promotes airflow throughout the mattress, which helps keep it cooler during hot summer nights.
Side Sleeping Buyer's Guide
65% of Americans sleep this way, which is great news if you're one of them. Experts say it's the healthiest way to sleep. To avoid or lessen pain in these sensitive places, you should sleep on your side. This helps keep your shoulders, spine, and pelvis appropriately positioned.
When you sleep on your side, you get the added benefit of better air circulation, which reduces snoring since it keeps your airways open throughout the night.
However, even with this exception, it's crucial to look for a mattress that accommodates your preferred method of side sleeping. To begin, choose the type of mattress texture that most closely matches your tastes.
Choose between memory foam, latex, innerspring, or an all-foam hybrid mattress, and then consider how firm you want your mattress.
Side Sleepers and Mattress Firmness
Most buyers only consider hardness in terms of personal preference, yet it significantly impacts how well a mattress performs when sleeping. On a scale of 1 to 10, mattresses range from incredibly soft (like a down comforter) to extremely firm (like a rock).
Side sleepers want a mattress that conforms to their body curves. Without contouring, there is no support, leading to pressure and back, neck, and shoulder problems. The hardness level that usually works for you depends on your body type. It's conceivable that a heavy side sleeper will prefer something different.
Soft
Soft is anything below a 5 on the firmness scale. If you weigh less than 130 lbs, a softer mattress may be sufficient. Those with medium or larger bodies may likely discover that softer mattresses sink too deeply into their hips and shoulders when lying on their sides.
Medium-Firm
Medium-firm beds range from a 5 to a 7. The common side sleeper prefers this Goldilocks rigidity: not too hard, not too soft. A firmness of roughly 5 is good for a side sleeper of ordinary weight (between 130 and 230 lbs.).
Firm
A mattress is firm if it has a firmness rating of 7 or higher. The softer the mattress, the more your shoulders and hips sink into it. As a result, firmer mattresses may give the support you require.
Should Side Sleepers Take Anything Else into Account?
When looking for a new mattress, side sleepers should consider several other criteria besides firmness and material.
Pressure Relief
Side sleepers require more support in the shoulders and hips since they press into the mattress more than the rest of the body does. It's important to strike a fine balance between letting these places sink into your mattress while not going too far.
One of the first signs of having the incorrect mattress if you sleep on your side is discomfort or stiffness in these regions when you wake up. Side sleepers need a mattress that conforms to their bodies and has just enough given so their shoulders, hips, and lower back may rest during the night.
Contour
For side sleepers, a mattress' contouring ability is critical. Additional contouring means more support for your pressure spots when you're lying on your back or stomach.
When it comes to side sleepers, memory foam mattresses are a great option because of how easily they conform to the body and how slowly they return to their previous shape when the pressure has been removed. Mattresses with hybrid innerspring construction will be more contoured than those with classic innerspring construction.
Latex mattresses, according to some, are more contouring than memory foam. Because natural latex has a less prominent shape than memory foam, even people who move about a lot during the night will feel supported.
Spinal Alignment
The spine should be straight when you're lying on your side. People who envision sleeping with their heads buried under a mattress are frequently shocked to learn this. Even while your spine will flex from time to time, doing so for extended periods is harmful to your health.
Finding a mattress that promotes good spinal alignment is critical for the long-term health of side sleepers. However, it should not allow the spine to bend excessively.
Neck Pain Relief
If you awaken with a neck ache after sleeping on your side, it's possible that the culprit isn't your mattress. If your cushion is too thick or thin, your head will be positioned at an angle, causing your neck and spine to become out of alignment, resulting in neck pain.
Because the ideal cushion size differs depending on who's looking, we've compiled a list of the best pillows for side sleepers to assist you out. However, if you're looking for something simple and quick, a customizable pillow is your best bet.
Back Pain Relief
If you have back discomfort, you will see a doctor rather than try to diagnose it yourself. Expert analysis will help you improve discover the basis of the problem.
If you decide a new mattress will help, consider a few things, especially if you sleep on your side. Back discomfort can be relieved by a medium-firm mattress with good support, while side sleepers need a soft surface to relieve strain in their hips and shoulders.
Temperature Regulation
When you discover that side sleepers may benefit from softer mattresses, you may have assumed that a memory foam mattress will be your ultimate solution. This is a reasonable assumption to make.
Memory foam tends to be on the softer side of medium-firm. The dense layers of memory foam can trap heat, making for a warmer night's sleep.
Think about a hybrid mattress, an innerspring mattress with a cooling mattress topper, or a foam bed that has cooling gel layers or copper infusions if you're worried about heat buildup. For more information, please have a look at our guide to the best cooling mattresses.
Frequently Asked Questions
What is the finest kind of mattress for those who sleep on their side?
Memory foam is one of the greatest side sleeper mattresses. On your side, it molds to your body, easing pressure spots and maintaining spinal alignment. Memory foam also distributes weight evenly, reducing aches and pains caused by other, usually harder, beds. Another fantastic option is a hybrid mattress with memory foam.
Is a hard or soft mattress required for side sleepers?
There is no single correct answer. However, side sleepers prefer a medium-soft to a medium-firm mattress. These mattresses provide enough give to relieve shoulder, hip, and knee pressure while sleeping on your side but also keep their shape to maintain your spine aligned and prevent pain.
Does sleeping on your side mean you need a hard mattress?
Firm mattresses aren't always harmful to side sleepers, but too firm a mattress may lack give and padding for pressure spots. Insufficient pressure release can induce insomnia, discomfort, numbness, and tingling in the limbs. Most side sleepers choose medium-firm or softer mattresses; however, it depends on personal choice.
Which sleepers on their sides need edge support, and how necessary is it?
Edge support measures how well a mattress's perimeter holds up under a sleeper's weight. The lower the score, the more prone a mattress is to sagging. If you occasionally wake up on the edge of your mattress, as many side sleepers do, you should explore edge support while looking for a new bed.
Side sleepers and memory foam mattresses: are they compatible?
To accommodate the natural curvature of the spine, memory foam mattresses are ideal for side sleepers. When you sleep on your side, memory foam mattresses evenly distribute your body weight. Selecting a memory foam mattress for side sleepers with a softer firmness will assist relieve pressure in your shoulders.
Innerspring mattresses and side sleepers: are they compatible?
Innerspring mattresses can accommodate side sleepers if soft enough. These mattresses tend to be stiffer, so search for one with a thicker comfort layer or a pillow top for pressure relief. Consider a hybrid mattress, which has softer foam comfort layers and a support layer of springs.
Also Read: Best Mattress Under 500 – An Ultimate Guide
Bottom Line
Among all the mattress varieties, hybrid mattresses are regarded as the most forward-thinking. This sort of mattress is suited for nearly everyone due to the wide range of substances and support systems available.
Side sleepers should take note – a mattress with good pressure relief might make the difference between the average night's sleep and a restless one. This is a lot of information.
Choose a mattress based on how it makes you feel. When comparing mattresses, it's important to remember that side sleepers require additional conforming and pressure relief to be comfortable throughout the night. No matter what kind of mattress you choose, the best one for you will be one that allows you to obtain 7 to 9 hours of sleep per night.
"This article contains affiliate links, which means that Best Mattress Advisor will be compensated if you buy something after clicking on one of the links. Read full disclosure statement."