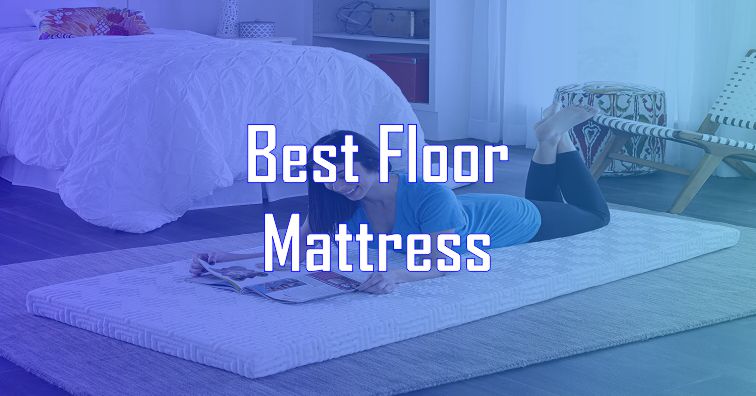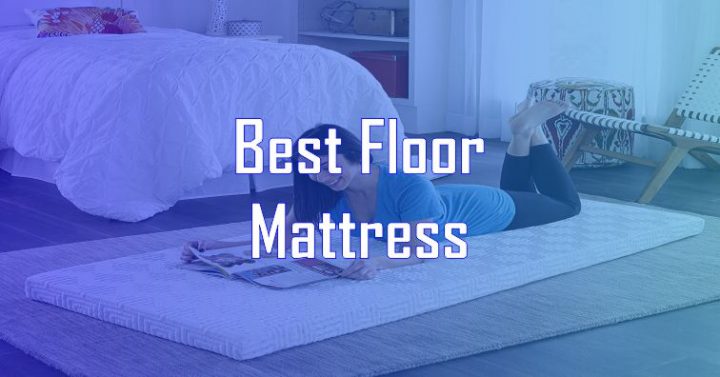 Floor mattresses can be used in a variety of ways. Some people prefer to sleep on the floor rather than on a bed frame because they want a simpler look.
Those who suffer from back pain may choose to sleep on a thin floor mattress instead of their regular mattress. Floor mattresses can be used for various purposes, from welcoming guests to camping.
We'll walk you through the process of determining what kind of mattress you need and how to tell the difference between an average mattress and a high-quality one with the help of this shopping guide.
To assist you in having a better idea of what you'll be looking for in the vast mattress market, we've included some of your favorite floor mattresses, both rolling and foldable.
Disclaimer: We independently review all recommended products. If you buy through our links, we may earn a commission. For more details read our Affiliate Disclosure.
Top 9 Best Floor Mattresses
1. Milliard Memory Foam Tri-fold
Highlights
Twin XL Washable Memory Foam Mattress
Folding Memory Foam Mattress
Medium Firmness Level
Product Description
Comfortable wherever you go, the Milliard Memory Foam Tri-fold Mattress is available for you! You can take this anywhere, whether it's your living room, the floor of your mobile home, or the roof of your tent. This bed is foldable neatly away for storage when not in use.
As a cushion and therapy tool, memory foam is well-known. The mattress is ventilated for maximum support and comfort. Sizes include twin, full, and queen.
It's okay to use the Mattress for a few nights at a time. Unexpected visitors, family reunions, dorms, camping, and travel are all part of the experience.
The Milliard 6-inch tri-fold mattress has a 3lb premium memory foam top layer and a 4.5-inch resilience foam bottom layer. The exceptional high-density composition of our CertiPUR-certified premium memory foam beats that of the competition.
Pros
Dual function as a floor mattress and a sofa
Removable machine washable cover
The cover is detachable and has an anti-slip bottom.
2. Best Cotton Floor Mattress FULI Japanese Traditional Shiki Futon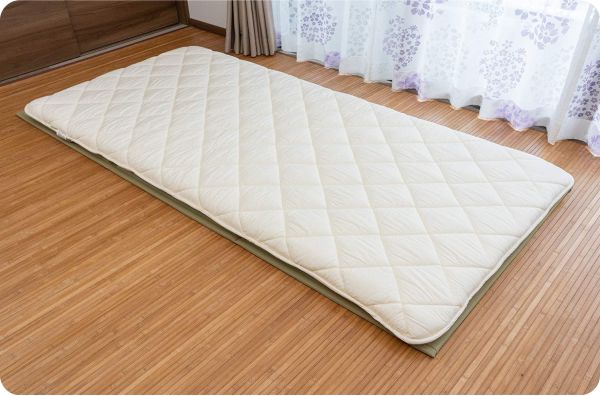 Highlights
High-Quality Floor Mattress
Twin XL Size
Manufactured in Japan
Product Description
Three layers of stuffing make up this futon-style mattress, two of which are polyester and foam and 100% cotton. The top layer of this mattress is made out of cotton, making it a plush and comfortable option.
Some Amazon reviewers think it's too thin and similar to a blanket, while others rave about how comfortable it is. It's better to think of this as a short-term solution to layout on top of a mat or as a mattress topper.
3. Better Habitat Floor Mattress- Best for Travel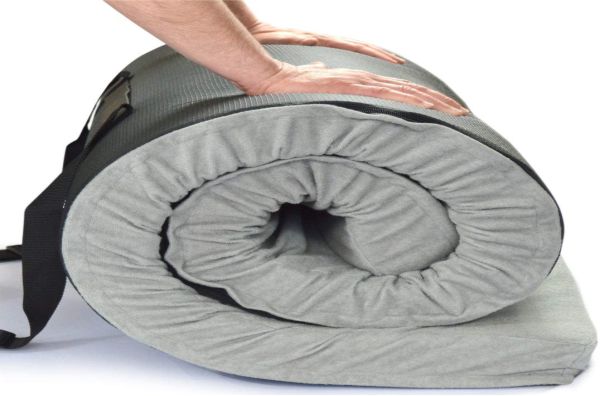 Highlights
Memory Foam Camping Floor & Mattress
Available in Twin, Single, and Kids Size
Waterproof Cover
Carrying Case
CertiPUR-US certified.
Product Description
High-density foam is resilient and provides continual support, while memory foam provides additional wrapping and comfort for the body. END OF Lumbago or nagging Inflatable sleeping pad rocky terrain discomfort.
Thanks to a machine washable waterproof layer and a high-quality water-resistant zipper, high-quality zippers keep the pads dry. The black non-slip base for tiles or hard floors reduces the danger of disease.
The single size (75″x30″x2.75″) rolls up to 30.5″x15″ and weighs 9.8lb. It comes in a bag. Ideal for family trips, auto camping, house guests, and kids' play mats.
Certification by the CertiPUR-US organization ensures that the foam used in these products is safe and environmentally friendly. The zipped cover may be removed and washed in a washing machine. Once you remove the zipper, wash and dry it, and it's brand new. With a futon, there's no way!
Take advantage of the Memory Foam Camping Mattress to unplug, relax, and spend more time with family and friends when camping. Let the inspiration come to you when you're lying in the woods.
Pros
Non-Slip Water-Resistant Bottom that is Waterproof.
Allergen-Free Products
Travel Bag
Removable Cover for Washing
4. Zinus Sleep Master Memory Foam Tri-fold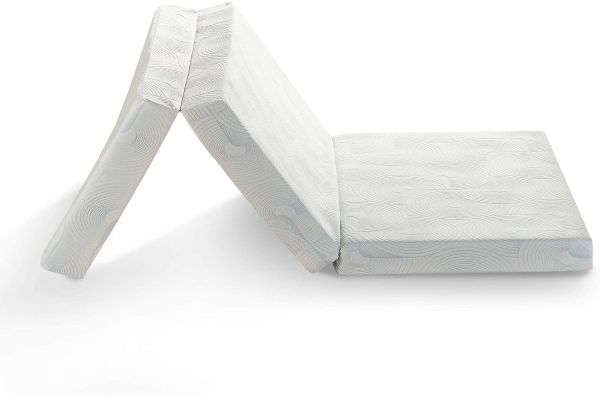 Highlights
Folding Memory Foam
Tri-Fold Comfortable Floor Mat
CertiPUR-US Certified
5-Year Limited Warranty
Product Description
Zinus is a low-cost memory foam brand that produces exceptionally comfy goods. Their 4" thick tri-fold memory foam mattress is perfect for overnight visitors, vehicle vacations, and camping adventures. It's a twin-size mattress, suitable for older teens or adults.
Three layers of Zinus foam tri-fold mattress. 1" of high-density support foam, 2" Visco latex responsive foam, and 1" of plush memory foam.
This 3-layer mattress is durable, medium-firm, and contoured. The removable poly jacquard cover with a beautiful feather design looks great with or without sheets.
Zinus only uses CertiPUR-US certified foams, which meet strict emission and VOC (volatile organic compound) criteria. They use natural chemicals in the foam to wick away moisture and promote deep sleep.
Pros
Comfortable and Supportive
High-density Base Support Foam
Viscolatex Responsive Foam
Cons
Weaker Seams may Rip with Time.
5. Leewadee Roll-Up Thai Mattress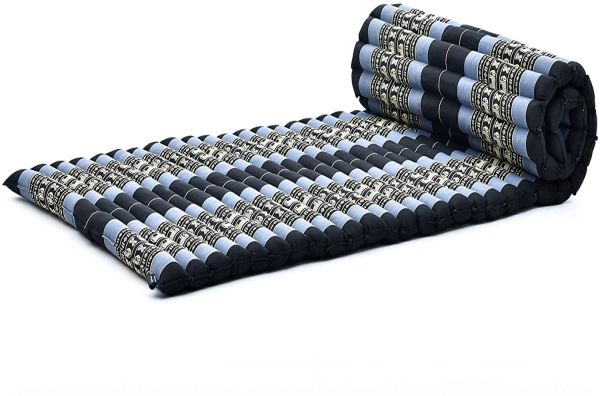 Highlights
Rollable Floor Mat M
Thai Mattress that is both Comfortable and Portable
75 x 28 inches Blue Mattress
Eco-Friendly Kapok-Filled Massage Mat
Product Description
Like the Milliard Single Bed, this mattress can be both a bed and a yoga mat! Made from natural organic materials, and it is gentle to the touch and durable. It'll provide great cushioning for yoga and support your entire body weight as you sleep.
This mat rolls up nicely for individuals with little room. The repeating creases in the carpet allow it to easily assume a cylindrical shape, eliminating the need for straps or a bag.
The mattress is made of unprocessed kapok plant fiber for the exterior and filling, making it comfy and padded—a double-stitched bed for a stronger, longer-lasting yoga mat.
Pros
Double Seam Sewing
Dual usage as a Mat and Floor Mattress
Natural Plant-based Products
6. Best for Cradling – Best Price Mattress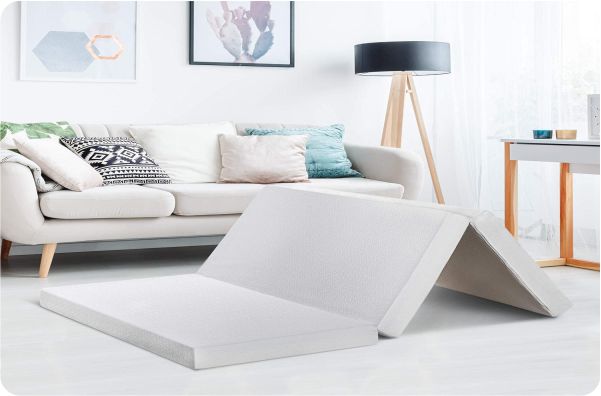 Highlights
4-inch Trifold Memory Foam Mattress
CertiPUR-US Certified
Queen Sized
Product Description
A 4-inch-thick mattress is provided. Comfortable and temperature-neutral, its upper layer is created from plant-based memory foam. Even on a hot summer night, this mattress will keep you comfortable.
The tri-fold mattress's base layer comprises firm memory foam, ensuring minimum motion transfer and weight distribution. Back and side sleepers will benefit the most from this model's assistance for good spinal alignment.
If you like to sleep on the floor, the best price mattress is a good option. Aside from its portability, it provides excellent cradling and won't warm you.
Pros
The Cheapest Mattresses
Come in Different Sizes
Wick away Moisture and Ensure a Restful Night's Sleep.
Cons
Not Dense Enough for Huge Users
The seams are Fragile and may Tear if not handled carefully.
7. Simmons BeautySleep Siesta Memory Foam Mattress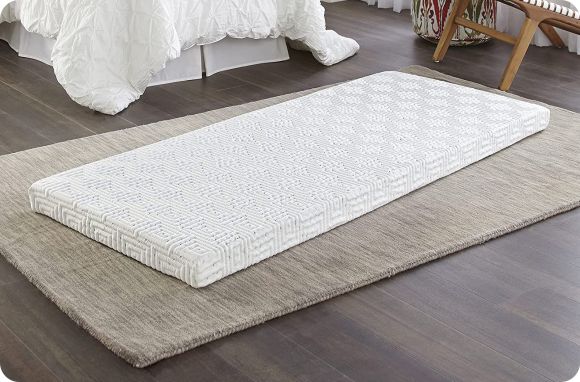 Highlights
Size Twin
Gel Foam Lounger
Roll-Up Floor Mat
Product Description
As a no-frills floor mattress, the Simmons BeautySleep Siesta offers a detachable, machine-washable cover composed of luxurious memory foam. It rolls up small enough to store in a closet.
If you're looking for something easy to keep in your closet or beneath your conventional bed frame, then this is it.
Pros
Contouring and Supportive
Excellent Floor Comfort
Fits for Camping in the Back of a Truck
8. Inofia Memory Foam Tri-fold Mattress – Editor's Choice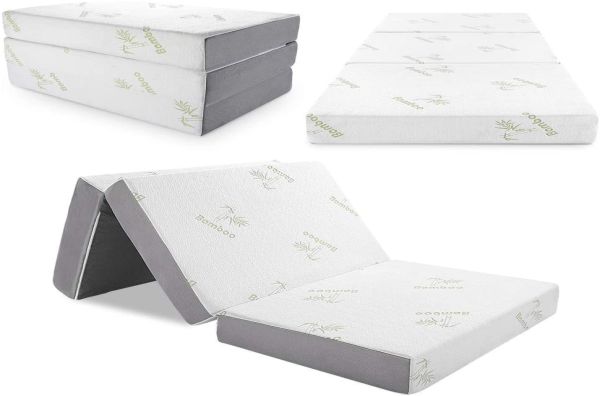 Highlights
Mattress with Inofia Memory Foam
Tri-fold Cover
Non-Slip Bottom
Breathable Mesh Sides
Product Description
CertiPUR-US certified this mattress's memory foam core is encased in a soft bamboo cover for a luxurious night's sleep. It is available in a variety of shapes and sizes. All three sizes are available. It's not available in King size.
The toxin-free memory foam in the Inofia mattress sets it apart from other mattresses. Unlike other mattresses, this one does not catch fire or emit an unpleasant stench.
In addition, it's a breeze to set up and operate. It's as simple as unfolding it and laying it out on the ground. With the 6-inch variant, you can use it in a variety of places—including tents and dorm rooms as well as your permanent house.
Mattresses that adjust to the shape of your body, cradling you to sleep, are also available. Hot sleepers will appreciate the foam's cooling properties. Its bamboo cover is soft, breathable, and extremely moisture-wicking.
Pros
Comfortable and Soft
Easy Folding
Useable for Camping
Cons
It contains Fiberglass
It takes 96hrs to Expand fully
9. D&D Japanese Floor Futon Mattress – Best Japanese Floor Mattress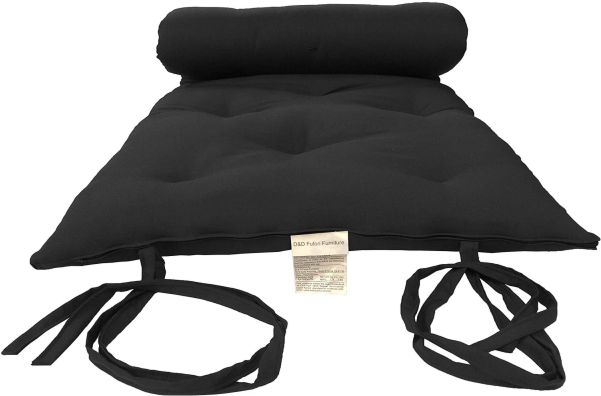 Highlights
Traditional Japanese Floor Futon Mattresses
Foldable Cushion Mats for Yoga and Meditation
54 Inches Wide by 80 Inches Long
3 Inches Thick
Product Description
If you frequently host sleepovers, this Japanese Futon mattress is the finest option for you. It's a mattress that rolls up for easy storage and transportation. One layer of polyester and a third of 1-inch memory foam make up the filler.
The mattress offers a wonderful mix of traditional form and modern manufacturing. Although the 3-inch mattress keeps you close to the ground, its 1-inch layer of foam provides adequate back support and alleviates any aches or discomfort. No matter how you choose to sleep, the foam will keep you snug and comfortable.
When you have visitors around for sleepovers or family reunions, this mattress is ideal for providing a restful night's sleep.
It's also perfect for camping, hiking, and other outdoor activities because it's lightweight and easy to carry around. Two straps allow you to secure the rolled-up product when tying up the ends of the roll.
Pros
Two Straps are included for Securing the Mattress.
1 inch of Foam and 90% Cotton
The Soft Surface and Plush interior
Cons
Daily use causes Lumps and Flatten
Why Use a Floor Mattress?
Floor mattresses are a great option for individuals who want to save money while still providing a comfortable place for guests to sleep. They can also be utilized while camping or traveling.
In contrast to air mattresses, floor mattresses do not need box springs, bed frames, or other equipment (such as a futon or Murphy bed), nor do they fold out of heavy furniture. When you're not using the floor mattress, just roll it out or unfold it and put it away.
These may not be the best options if you need a thick, firm mattress for improved back support.
What to Consider When Shopping For a Floor Mattress
When it comes to floor mattresses, there are a plethora of possibilities. To help you decide, here are some things to keep in mind:
Style.
Consider whether you prefer to roll out or expand your floor mattress. Unrolling your bed is as simple as taking a few steps while rolling it out.
Size.
There are a variety of sizes available in floor mattresses, so it's important to think about how you'll be utilizing them. As an additional consideration, evaluate whether or not it's a convenient size that you can find sheets for them.
Materials.
Foam, cotton, polyester, or some other material? It's up to you and your guests to decide which most comfortable fabric. Consider the thickness or thinness of your selection as well.
Portability.
How vital is it for you to be able to transport and store your mattress easily? If you plan to take it camping or on a picnic, would it be too heavy?
Budget.
Several price points are available for floor mattresses, which are less expensive than standard mattresses. Rollup floor mattresses are typically cheaper than foldable ones.
Maintenance.
When purchasing a mattress, think about how easy it is to clean. Many come with a removable, washable cover, while others are merely spot-cleanable.
Conclusion
Ordinary mattresses, which can cost thousands of dollars, are an expensive alternative to floor mattresses because they can be taken with you when you travel.
You can use a floor mattress for many purposes, such as having guests stay with you often, having a simple sleeping arrangement for your flat, or having a comfy surface for your children to play on.
First, it's a good idea to set a budget, read through our buyer's guide, list important things to keep in mind when buying, and check if any of our top picks for the best floor mattresses match your needs. Make your decision based on customer feedback and delivery rules after you've done so.