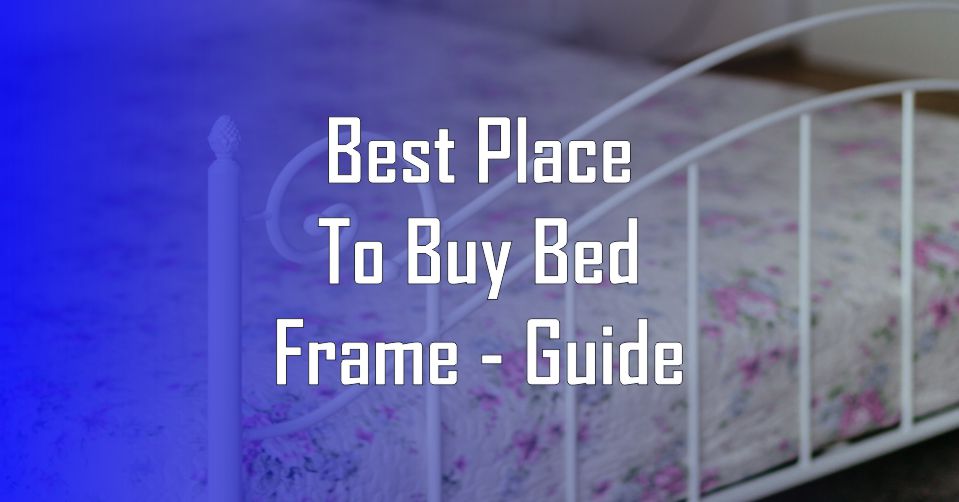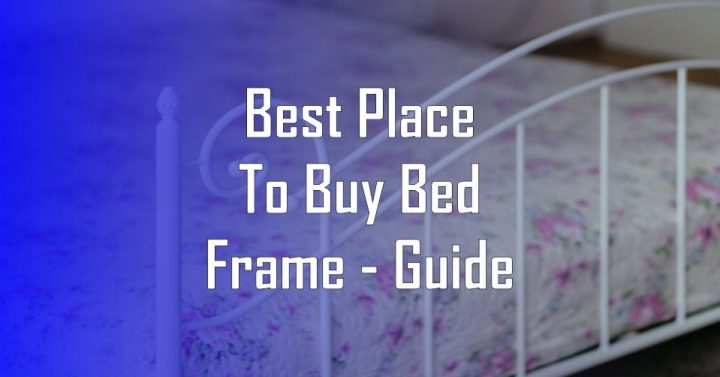 Finding the ideal mattress can take some time and consideration. The process of finding the best bed frame to set the mattress (and sheets) on, can be just as time-consuming. There are a few things to keep in mind when dealing with this size and prominence furniture.
You can choose between a clean-lined, flat-panel platform bed frame or an attractive, button-tufted one. Maybe a canopy or a simple iron structure?
We enlisted the 20 best places to buy bed frames to help you find the bed frame of your dreams.
20 Best Place to Buy Bed Frame
1. Amazon
Amazon is truly a magical place, and it should never be disregarded for anything – including bed frames – in the world.
It's not surprising that Amazon carries thousands of beds since the e-commerce giant carries practically everything else. If you're looking for something that costs less than $100, you'll have plenty of choices. Reviews from actual customers are a key part of the site's attraction.
Most Amazon beds require some assembly, but you can hire a pro to do it for you through Amazon Home Services. Shipping is frequently free (or significantly less than the average cost to ship large furniture), and Prime members often enjoy speedier delivery.
2. Wayfair
Platform beds may be found in a wide variety at Wayfair, one of the first stops for many consumers looking for affordable, high-quality furniture. If you're on a tight budget yet want great style, here is the place to come.
While this may seem like an overwhelming number of possibilities, the site's handy filtering tools make it simple to limit down your choices based on price, brand, style, material, color, and size.
Species of wood, product attributes, and overall measurements can be narrowed down using search criteria.
Wayfair has many more reviews than other furniture websites, which we appreciate. It may seem risky to buy a bed online without first trying it out, but reading customer evaluations might alleviate some of that anxiety.
3. Walmart
With Walmart's low prices and large supply, you can spend much less on frames and more on those cozy blankets and pillows.
Although Walmart may not be your first choice when looking for a bed, the large box retailer has a nice range of furnishings.
All the selections on the site are reasonably priced, as you would anticipate. Most are under $200, a few are in the $300-$500 range, and a few are much more expensive.
Additionally, there is a wide range of design choices. Walmart's bed selection ranges from subtle spindle beds and platform storage beds to low, midcentury-inspired beds and rustic designs.
4. Saatva
Saatva has a wide variety of bed frames to choose from. Graphite, natural linen, and taupe are their three exclusive color options. It's possible to express yourself in all three ways. Many different materials and bed styles are also available.
As part of their service, Saatva will bring and set up your bed in the room of your choice. There is absolutely no effort required on your part. It's rare to find a company that makes it so simple.
5. The Home Depot
The Home Depot sells a wide variety of high-quality frames, whether you're on a tight budget or willing to spend a little more.
You may think of Home Depot as an appliance and building supply store first, but it also has an outstanding selection of furnishings. Yes, there are thousands of beds from various brands, including Brookside, Style Well, and Atlantic Furniture, in the collection.
The home improvement store also has many styles. Here we're talking about platform beds and sleigh beds as well as upholstered beds and Murphy beds.
6. Nectar Sleep
The Nectar Sleep bed frame varies greatly depending on whether or not you buy it at a discounted price. You can save half the regular price by waiting for a sale if you're not in a rush.
It was upholstered, with button-tufting and an extremely strong bed frame. Its construction combines metal and wood, and it is unique. The Nectar Sleep mattress is exclusive to Nectar Sleep only.
7. Urban Outfitters
There is no better place to shop for fashionable furnishings than Urban Outfitters. You'll find a wide variety of low-profile and platform beds, as well as a few canopy options when you shop for a new mattress.
Natural wood, organic highlighting, eclectic headboards, antique engraving, velvet upholstery, and decorative accents are just a few of the features and finishes found here.
Most of the beds are only available at UO Home. However, you may come across others from other manufacturers.
8. Dream Cloud Sleep
What about an adjustable bed? On the other hand, Dream Cloud Sleep features a fantastic customizable bed frame that can fit any mattress. You can use one of their mattresses, or you can get a mattress that is compatible with theirs.
This is yet another business that provides excellent warranties and frequently holds deals. So, before making a buy, save the links and watch for bargains. There has never been a case for regretting the purchase of an adjustable bed.
9. Nolah Mattress
Nolah Mattress isn't just a mattress company. Bedding frames are also available from them, adjustable bed frames. Your back will be relieved, and your pain will be reduced thanks to their bed frames.
What's more? There are also night lights and massagers built into their bed frames. Is there anything better out there? I'm not convinced. You won't find a better-equipped bed frame anywhere else.
10. Amerisleep
Amerisleep makes a foldable bed with a more expensive price tag and a higher-quality structure. This bed frame is remarkably similar to the Nolah model with its full-body massager and USB chargers. It's just one more fantastic possibility.
Now is the perfect moment to experiment with an adjustable bed frame. You'll be amazed at how much better you feel after just one night. Browse out the reviews for this bed style, and you'll see that it just gets better from there.
11. Plush Beds
This is an excellent option for a modest bed from an established business. Plush Beds offers a beautiful and reasonably priced bed frame choice. The price of this bed frame is within reach of most people.
The king-size bed is available at an affordable price, practically unheard of. According to a recent study, King-size beds typically cost three times as much as twins. It costs twice as much in this situation.
12. Article
So, if you're a fan of midcentury modern design, Article will have something for you. Founded in 2013, the company swiftly established itself as a leading player in the mid-range furniture market.
A few shaker-style beds are available from Article and low-profile frames and sharp lines in the collection. However, they aren't looking very old-fashioned.
The modern silhouettes of each piece ensure that it will work well in a variety of bedroom settings for many years to come. If you're not already making your bed every day, an Article bed can help you get into the habit.
13. Anthropologie
Anthropologie's home area has grown tremendously over the past few years. High-end statement beds can be found in various styles and sizes, many of which can be customized and created to order.
Intricately carved wood framing, vintage-style headboards, sumptuous velvet upholstered beds, and four-poster canopies are available at the boho boutique.
Anthro beds are more expensive than the ordinary, but if you like boho-chic design, exquisite eclectic touches, or want something unique, this is the place to go.
14. Layla Sleep
Layla Sleep is yet another business that merits a great deal more attention than it currently receives. They've already received glowing reviews from publications like People, Forbes, Good Housekeeping, and Bravo. They also have a great bed frame that's surprisingly reasonable.
So, it's true. This is the most inexpensive bed frame you can get. The Layla Sleep bed frame legs are far from the most affordable bed frames. You won't be able to tell anyone how much you saved.
15. Puffy
Puffy is a well-established brand name in the mattress industry. However, they should be lauded for their excellent bed frame as well. Strong, stylish, and simple to clean describe the frame's design. The wooden frame eliminates the requirement for a box spring.
You have over a hundred days to test out a Puffy bed frame before making a purchase. A lifetime guarantee is included as well. You get everything you need to assemble your Puffy at no additional cost except the cost of shipping.
16. Thuma
In contrast to many other retailers on our list, Thuma only carries one type of bed: The Bed, a meticulously manufactured piece designed for the environmentally conscious minimalist. Each is constructed from reclaimed wood and boasts an adjustable height with Japanese joinery.
You've found the bed you've been seeking for if you're looking for something you can feel good about purchasing.
17. Pottery Barn
Well-made (and frequently handcrafted) furniture from Pottery Barn is well-known for the high-quality materials and solid joinery that it uses in its production.
Buying a bed from a high-end store means getting more than just a trustworthy design. The stunning, timeless designs will likely last for decades as long as the construction.
When purchasing a bed from Pottery Barn, it's important to keep in mind that most options are custom-made. If you're willing to wait a few months, you might get your hands on one of these.
18. Blu Dot
Currently, Blu Dot is one of the most sought-after furniture retailers globally. Families on a tight budget should avoid these establishments because even the cheapest beds cost more than $1000. Their beds have excellent evaluations, and many swear by them since they last so long.
Most of their beds are contemporary or modern in design. The majority of their mattresses are upholstered, with a few wooden ones tossed in for good measure. There's no better location to shop for an upholstered bed.
19. Macy's
Many beds may be found in-store and online at Macy's, a well-known furniture retailer. With the frequent deals, you can expect prices to range from low to mid-range, but you'll also come across some high-end items.
Macy's offers a variety of furniture brands, some of which are just available at Macy's. There are a wide variety of bed styles to choose from, including platform, storage, and sleigh beds, as well as daybeds, canopies, and wingbacks.
20. Apt2B
Online furniture retailer Apt2B was founded in 2010 and specialized in luxurious-looking beds. If you're willing to spend in the mid-to-high range, this is a great spot to look for the perfect piece.
Because each bed is manufactured to order, please allow 8 to 10 weeks to be delivered after you place your order. Nevertheless, Apt2B's high-quality structure and sophisticated designs may be worth the downtime in the long run.
Tips For Sleeping Better
A nice mattress and bed are essential if you want to have a good night's sleep. But there's more you can do than that. Research on "The Dozy Owl" uncovered some techniques that will help you sleep better, regardless of the type of bed you use.
Set A Routine
We all have a biological timer. When it's time to sleep or wake up, your brain will let you know. The sun used to do this, but nowadays, everyone has a different schedule, so it's vital to establish a routine.
Keep The Lights Low
Prevent blue light and screen time before going to sleep. To help your body and eyes prepare for sleep, try to keep the lights at a low level throughout the day and night. Preparation is essential.
Adjust Your Diet
Caffeine and sugar can cause you to be unable to sleep at night. Do not consume alcohol before going to bed and during the day. Before going to bed, refrain from drinking caffeinated or sweetened beverages or eating anything substantial for at least an hour.
Try Meditating
The health benefits of regular meditation are well documented. It can help alleviate anxiety and improve your sleep. Everyone should meditate at least once a day for the many health benefits it provides. Determine when is most convenient for you and keep to it.
Exercise And Stay Hydrated
Being hydrated and exercising are not only helpful for weight loss and health, but they also provide several other benefits. However, it has the potential to improve your quality of sleep. At least 30 minutes of exercise a day is recommended, but don't do it immediately before bed.
Conclusion
Your bed is the focal point of your room and where you spend a third of your time. For these reasons, buying a new one isn't a simple task. You want something attractive and comfortable. You may even have a budget and a style in mind, but where should you begin your search?
Good news! A wide variety of stores provide high-quality beds for sale. After all that has been stated, we are well aware that the internet's abundance of options may be debilitating.
We've done the legwork and found the best sites to buy a bed for your convenience.