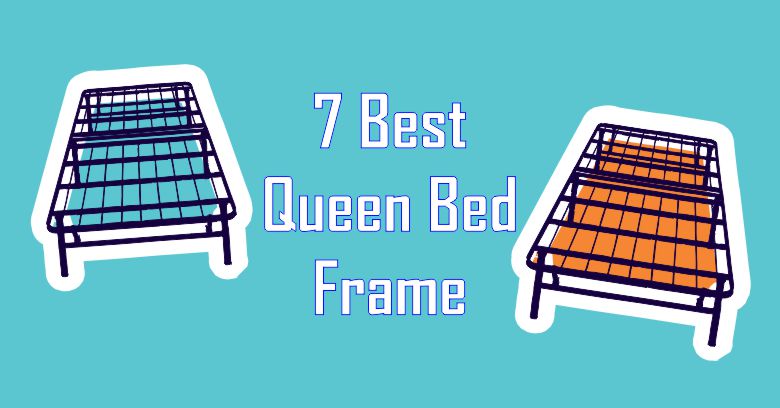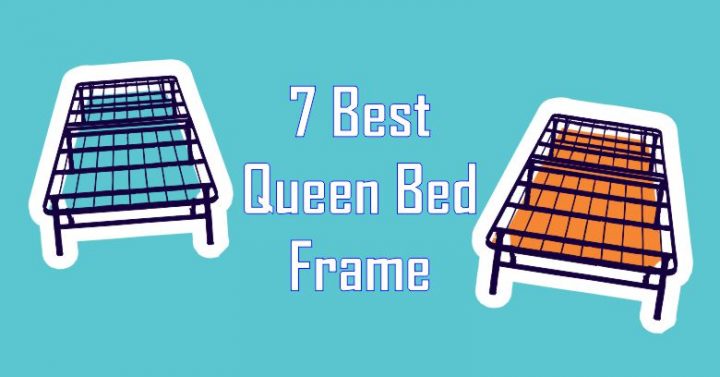 A bed frame is just as crucial as a mattress when it comes to having a good night's sleep. Choose a bed frame that will carry a queen-sized mattress well, be quiet, allow you to get in and out of bed easily, and blend in with your room's decor as a whole.
Metal, wood, or fabric are the most common materials used to construct beds. Sleigh beds and canopy beds are also available in addition to the regular platform bed, which is the most popular option.
Customers won't be amazed to find that queen bed frames are provided in a broad array of styles. In this article, we'll go over the main suggestions and key considerations to assist you in locating the ideal bed frame for your requirements and tastes.
Disclaimer: We independently review all recommended products. If you buy through our links, we may earn a commission. For more details read our Affiliate Disclosure.
List of 7 Best Queen Bed Frame
Amazon Basics Foldable Platform Bed Frame
Best Value- Nectar Mattress Foundation
Best Wood Frame- Birch White Wood Frame
Olee Sleep Heavy Duty Bed Frame
Best for Storage- Silk & Snow Bed Frame with Storage
Best Foldable Frame- Layla Metal Platform Base
LINENSPA Contemporary Platform Bed Frame
1. Amazon Basics Foldable Platform Bed Frame
Highlights
14" Black Metal Bed Frame
Easy to Assembly
No Box Spring Required
Size: Queen
Product Description
Whether spring, hybrid, or memory foam mattresses, platform beds provide a supportive, silent, and noise-free foundation for your sleeping comfort. There is no need for a box spring.
The frame's folding mechanism makes it simple to store and transport in remote locations. With a vertical clearance of around 13 inches, it provides additional under-the-bed storage space.
2. Best Value- Nectar Mattress Foundation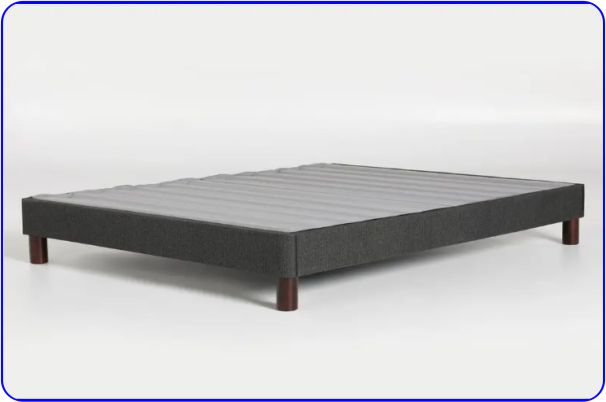 Highlights
Strong and Sturdy
Easy to Make and Move
Complete Support
Home Trial: 50-Night Stay
3 Year Guarantee
Product Description
The foundation of the nectar mattress is reasonably priced, given its robust construction and high-quality components. This foundation can sustain up to 750 pounds and is constructed from solid wood and natural spruce. It's also adaptable, having legs that allow you to adjust the height of your bed.
Upholstery wraps around the base of the wood frame, giving it a sleek, contemporary look that should go with various decors.
Each foundation comes with two pairs of legs that can be used individually or stacked together to create a taller structure. You have the option of using your foundation as a box spring or putting it directly on the floor.
There are no tools required for assembly. You cannot just add a headboard to the base. The Nectar Mattress Foundation comes with a three-year warranty and a 50-night trial period. Within the contiguous United States, shipping and returns are free.
3. Best Wood Frame- Birch White Wood Frame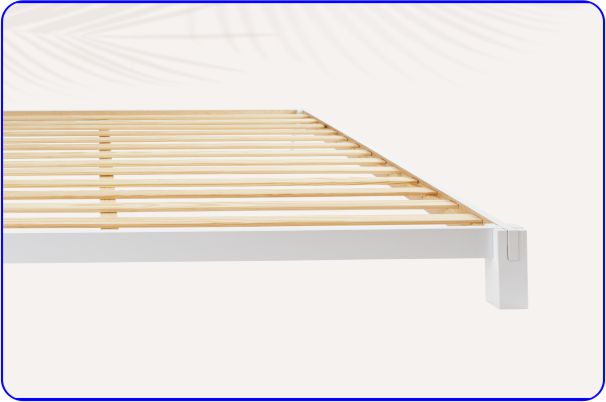 Highlights
Slats of Southern Yellow Pine and Maple Legs
Appalachian Hardwood Railings
Easy Tool-Free Assembly
No-Contact Delivery
Shipping in 5-10 Business days
Product Description
The Birch White Wood Frame is always in style. For this project, we used three different types of hardy Appalachian hardwoods: In addition to the legs, the rails and the slats are all made of wood.
These qualities ensure that your bed frame will serve you well for many years to come. Customers can shop with confidence because the Forest Stewardship Council certifies sustainably cultivated trees.
The frame's 13-inch profile leaves over a foot of under-bed storage. The revolutionary design uses Japanese joinery techniques at all four corners, making assembly a snap.
The joints are also designed to be quiet so that you won't lose sleep over creaks in the night. All regular mattress sizes from twin to king and California king are available.
Despite its hefty initial cost, this bed frame's expected longevity and distinctive design make it an excellent long-term investment. All 50 states are covered under Birch's free delivery policy. A 100-night rest trial and a 5-year construction warranty are included with every purchase.
4. Olee Sleep Heavy Duty Bed Frame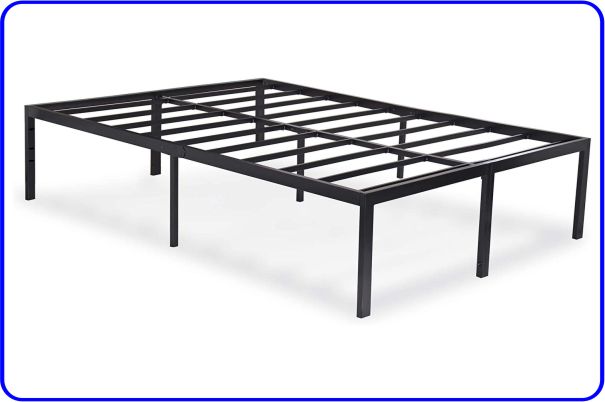 Highlights
18" Queen Steel Slat
No Box Spring Required
Color: Black
Product Description
The minimalist style allows you to make the most of the available space in your bedroom. Steel slats are strong enough to support a heavier luxury mattress.
One-of-a-kind construction keeps the mattress firmly in place. Benefits include more under-bed storage, the elimination of the requirement for a box spring, and the ability to use a headboard.
5. Best for Storage- Silk & Snow Bed Frame with Storage
Highlights
Plenty of Room for Storage Under the Bed
Weight Capacity of 1,100 Pounds
Even Slat Spacing Eliminates Box Spring
Product Description
With the Silk & Snow Storage Bed Frame, you can save a lot of floor space. The floor is level with a largely hidden drawer. The storage compartment on the queen model is 57 inches wide, 18 inches deep, and 8 inches high. A terrific multi-purpose solution, this frame is built to last and features a unique design.
Powder-coated iron and wood make up the frame. This bed's poplar slats allow it to hold up to 1,100 pounds. A box spring isn't necessary with the bed's 3-inch-wide slats. It has a braided headboard and base. Color options include oatmeal, granite, and pebble.
6. Best Foldable Frame- Layla Metal Platform Base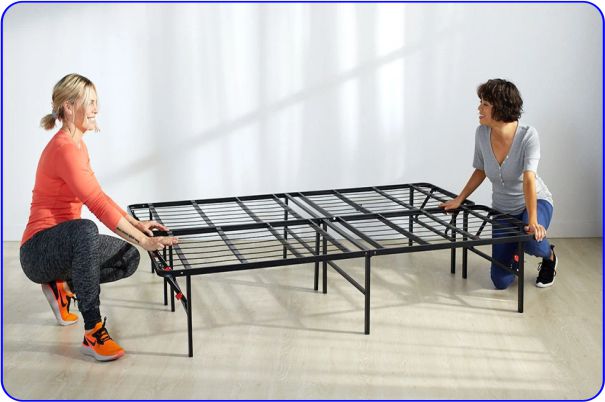 Highlights
A Collapsible Aluminum Bed Frame
Lots of Storage Under the Bed
3-Year Warranty
Free Shipping
A 120-Hour Money Back Guarantee
Product Description
The Layla Metal Platform Base is foldable and lightweight, making it easy to store when not in use. The queen size frame weighs only 40 pounds yet can hold up to 1,200 pounds.
This ensures that one or two people can sleep safely and comfortably on any mattress supported by short but strong wires that run lengthwise across the deck.
For those who need more storage capacity in their bedroom, the frame has a 13-inch clearance. When you receive the bracket, unpack it from the box and fold the legs inward. Six sizes represent normal mattress measurements.
Only the Metal Platforms Base has a weight capacity compared to its competitors. Layla also offers free shipping inside the United States on the base. Orders are covered by a free 120-night trial, a 3-year warranty, and free shipping.
7. LINENSPA Contemporary Platform Bed Frame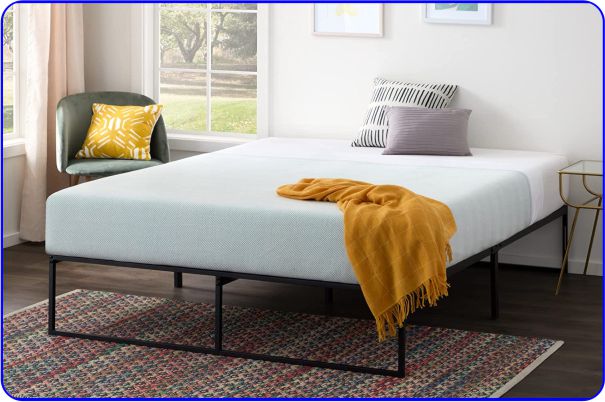 Highlights
Metallic Bed Frame
Matte Black Finishing
Queen Sized
Product Description
The all-steel construction, matte black finish, and clean lines give this piece a contemporary feel that goes well with various headboards and mattress types.
Because of the elevated form, there are 12 inches of storage space under the bed, so you don't have to choose between convenience and fashion.
There is no need for a box spring because the Twin and Twin XL sizes give solid support for up to 250 pounds; all other sizes have a weight capacity of 500 pounds.
Frequently Asked Questions
What are the prices of Queen Bed Frames?
Between $100 and $2,000, a queen-sized bed frame is typical in the United States. Comparatively, a simple metal bed frame can cost as little as $90, whereas a real wood canopy bed can cost as much as $1,000 or $2,000 or more. Although unusual, certain variants can cost up to $10,000.
Can you buy Bed Frames online?
Department stores and other third-party suppliers also sell bed frames in addition to bedding makers. Bedding frames are available with or without in-home assembly, and both options can be shipped unassembled with instructions.
What are the Queen Bed Frame's measurements?
A 60 x 80-inch mattress fits in a queen bed frame. However, actual measurements may differ depending on the frame style and whether it has a headboard, footboard, or posts. The height varies depending on the length of the legs. Before making a purchase, double-check the measurements and the available space in your bedroom.