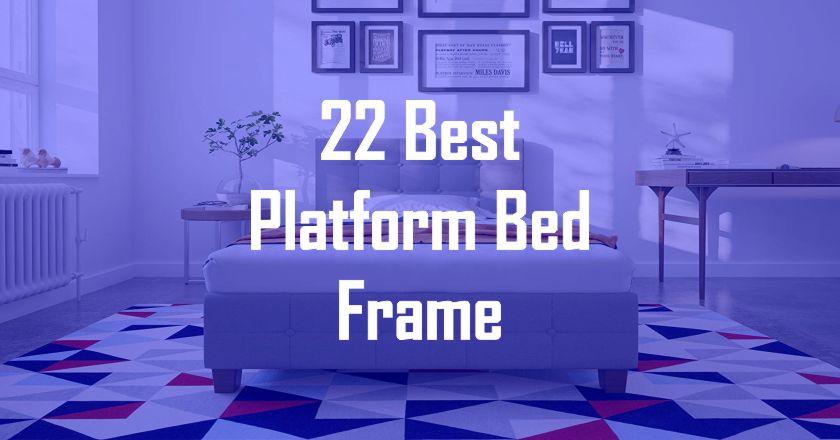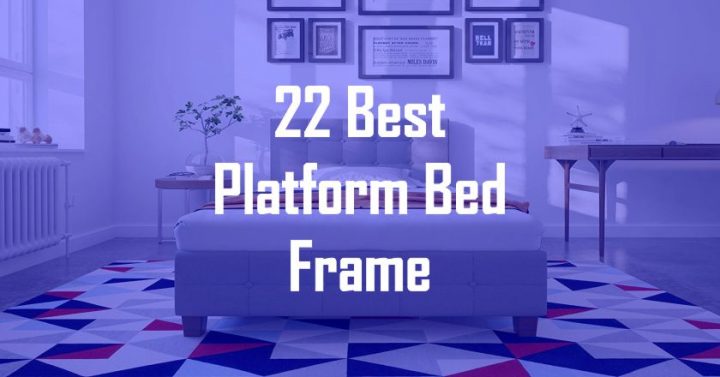 A box spring is not required with a platform bed because of the frame's smooth, level surface. Platform beds, which serve as both a bed frame and a foundation, are an excellent choice for consumers who don't want to spend a lot of money on various constructions.
Prices and quality vary. Solid wood and metal materials tend to survive longer than plastic or composite materials. The number of legs, platform joints, and side rail construction affects how the bed functions for different sleepers. These beds also require assembling and often sit very low to the ground.
In this article, we'll go into greater detail about the construction, quality, and value of several platform bed frames to assist you in making an informed purchase decision.
Disclaimer: We independently review all recommended products. If you buy through our links, we may earn a commission. For more details read our Affiliate Disclosure.
Best Mattress for Platform Bed – Top 22 Picks
1. CB2 Simple Black Metal Bed Base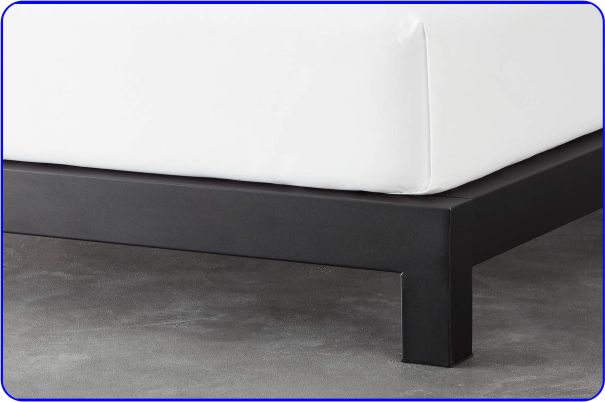 Highlights
Iron Powder-Coated Matte Black
The Base and Mattress are at the same height.
Pinewood Slats
Platform Opening is Smaller than Mattress to Hide Slats
Made in Taiwan
Product Description
An easy-to-assemble robust frame and a low (9 inch) simple design make the CB2 Simple Black Metal Bed Base ideal for bedrooms with low ceilings.
The matte black, all-iron frame is simple in design, with no unnecessary details. And, compared to many of the inexpensive beds, the powder coating is thicker and more scratch-resistant (most of which were wood).
In addition, CB2 provides upholstered, wood, and metal headboards that can be easily attached to the frame, which is perfect if you want to change your decor frequently.
2. Tuft & Needle Wood Platform Bed Frame
Highlights
Two-Toned Option
Sleek And Durable
Headboard: Yes
Materials: Wood, steel
100-night trial and free shipping
Product Description
Mattress company Tuft & Needle also creates some very comfortable bed frames, such as this sleek and sturdy steel and wood frame that's built to last (for style).
This design focuses on simplicity and splashes of color and works well in a wide range of bedroom decors. Additionally, the eight-inch gap between your bed and the floor provides adequate storage room for your linens and other personal items.
3. Zinus SmartBase Zero Assembly Platform Bed
Highlights
Metal Platform Bed with a 14-Inch Footboard
No-Tool Mattress Foundation
No Need for a Box Spring
Sturdy Steel Frame
Underbed Storage Space
5-year Warranty
Product Description
To use a mattress on a frame, you do not need to use a bed frame or box spring. With this durable steel SmartBase, you can have the best of both worlds in your home. To put it together, all you need are opposable thumbs.
As an alternative to a box spring, the platform is constructed of robust steel and can support both memory foam and spring mattresses directly.
The weight restriction for narrow twin, twin, and twin XL mattresses is 750 pounds, whereas the weight limit for all other sizes is 1500 pounds.
There is a total of 13 inches of clearance space to make room for additional storage under the frame. It is simple to assemble and does not require any other tools.
4. Best Overall- Saatva Santorini
Highlights
Frame made with sustainably sourced hardwood
Premium plywood slats for long-lasting support
180-night home trial
Free in-room delivery
Free assembly
Lifetime warranty
Product Description
In velvet or linen, the Saatva Santorini platform bed. The bed is available in three neutral hues.
The bed is made of kiln-dried hardwood, which resists twisting. High-quality plywood is used to construct its slats. Strong mortise and tenon joinery hold the Santorini together.
You may set it anyplace in your bedroom because it has a fully upholstered headboard. The headboard's edges are rounded and plush—stain-resistant velvet upholstery. Natural, resilient, and textured linen is a good choice.
With this platform bed, Saatva offers a 180-night sleep trial. Free White Glove delivery is available throughout the contiguous United States. In addition, it comes with a lifetime warranty that covers manufacturing flaws. However, upholstery fabric difficulties are not covered.
5. Best Overall- Thuma the Bed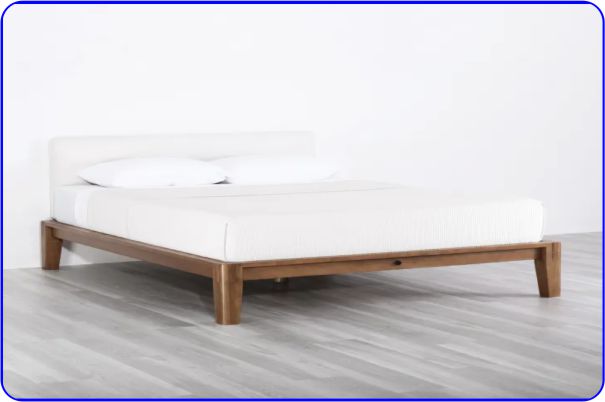 Highlights
Bed includes the frame and Pillow Board
Extra-strength Cushion-coated Slats
Japanese Joinery
Space Creating
Super Supportive
Product Description
Thuma's bed is one of the greatest platform beds on the market since it features real wood, an upholstered headboard, double-strength slats, and an overall timeless style. Because each bed is built from reclaimed wood, it has its distinct grain pattern, knots, and other natural characteristics.
The brand's "Pillow Board" low-profile upholstered headboard combines comfort and utility and is available in two colors: natural linen and dark charcoal. There are no tools required for assembly—just two screws to tighten!
6. DHP Rose Linen Tufted Upholstered Platform Bed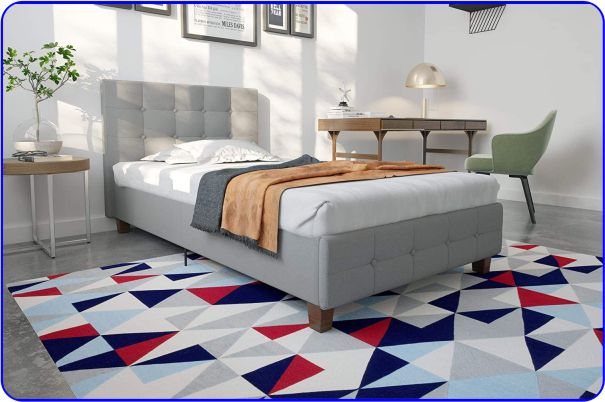 Highlights
Button Tufted Headboard and Footboard
Gray Linen
Wooden Slats
Twin Sized
Product Description
A bed with built-in storage drawers like the DHP Rose may be the most convenient and cost-effective option if you frequently use your bed to store extra linens and clothing.
In addition to the color and size possibilities, we enjoy that it comes with an upholstered headboard.
7. Trisha Metal Platform Bed Frame with Headboard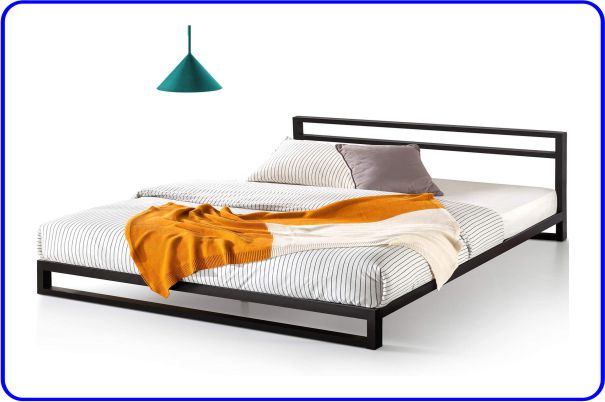 Highlights
With Headboard Metal Platforma Bed Frame
Wood Slats for Support
A Box Spring Isn't Necessary
Easy to Assembly
Queen Sized in Black
5-Year Limited Warranty Included
Product Description
The Trisha Bed Frame is essential for anyone who appreciates the finer things in life, thanks to its elegant, modern design, robust manufacturing, and assembly process, among other attributes.
People with taller bedding or those who prefer a lower-to-the-ground bed will find this platform height ideal. A twin bed's weight limit is 350 pounds. There are various ways to support as much as 700 pounds.
If you have latex, memory foam, or spring mattress, wood slats are an excellent alternative to a box spring for strengthening and extending the life of the bed.
You'll get everything you need to be up and running in less than an hour from a single, well-packaged box. The mattress is offered separately and comes with a 5-year limited guarantee.
8. Best Platform Bed Overall- Amerisleep Platform Bed Frame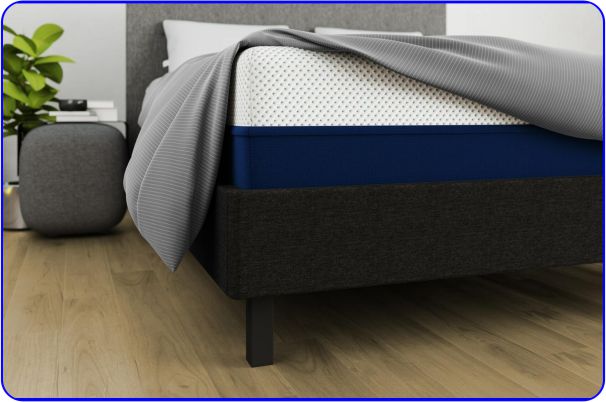 Highlights
Modern, Stylish, and Supportive
Easy to Assemble
Perfect fit for all Mattresses
Free Shipping
13" Platform Height
1-year warranty
Product Description
In addition to being a stand-alone base, the Amerisleep Platform Bed may also be used to replace a box spring in an existing bed frame—so it can accommodate a wide range of sleepers.
The legs attached stand roughly 13 inches above the ground at 8.5 inches in height. Plush grey fabric covers Amerisleep's mattress base, allowing it to blend in with any bedroom decor.
It uses only solid wood for the side rails, core support, and slats. Additionally, the slats are held in place by employing a non-skid slat pack.
Assembling the foundation is a breeze since the sides snap together, and the slat pack rolls out and slips into place; no tools are required. A 1-year warranty is included with every mattress base from Amerisleep, as well as free shipping.
9. Best Value- Birch White Wood Frame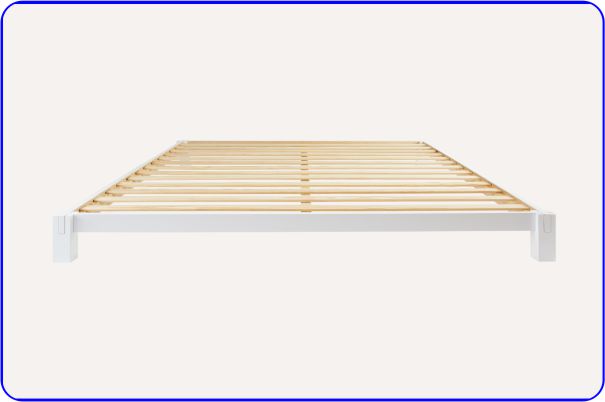 Highlights
Rails made from Appalachian Hardwood
Acorn with Southern Yellow Pine Slats
Simple, Tool-less Assembly
Non-Contact Shipping
Ships in 5-10 Business Hours
Product Description
The Birch White Wood Frame's clean lines and ease of construction make it a popular platform bed alternative.
Its plywood rails are made of Appalachian industrial veneer core hardwoods for added strength. Southern yellow pine slats, a dense and sturdy softwood, provide the platform's power. The bed is supported on maple legs at each corner. Water-based and UV coatings leave the bed bare without adding formaldehyde or VOCs.
The frame's design will appeal to buyers seeking an easy-to-assemble platform bed. The bed is easy to assemble and requires no equipment.
The structure is 13 inches taller than many comparable platform beds. The White Wood Frame comes with a 100-night trial. It has a 5-year limited warranty.
10. KD Frames Nomad Plus Platform Bed
Highlights
Swedish Design with a focus on Functionality and Elegant lines
Unfinished Tulip Poplar
Platform Height of 15 inches
No Need for a Box Spring
Made in the USA
5-year Manufacturer's Warranty
Product Description
With a 600-pound weight capacity, the poplar hardwood KD Frames Nomad Plus Platform Bed is the strongest wood bed frame that we could find. Considering that the Nomad Plus has two sets of slats that form something like a rib cage, that's probably a conservative figure.
For a total of 16 sturdy 2-by-1-inch wooden boards, the KD Frames bed had two extra slats than the other frames. The bed's strength comes from the small 2.8-inch gap between each piece (second only to the CB2 frame's 2.5-inch spread).
You receive a 68-pound platform bed frame that previous Wirecutter tester Kevin Purdy said he could resist "energetic jump-ons" and "190-pound body smash" with assured indifference, based on these specs.
11. Floyd the Bed Frame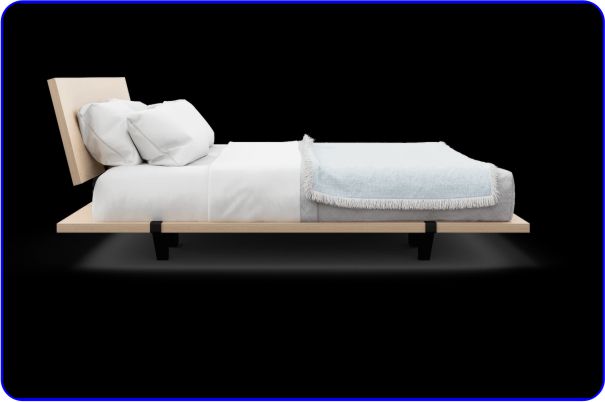 Highlights
Queen Bed with Headboard
Underbed Storage in walnut/black
Birch Plywood
Powder Coated Steel
Nylon Ratchet Straps
Product Description
No tools are required to assemble Floyd's low-lying platform bed frame, and it can easily go from a twin to a queen or from the queen to the king, as your sleep requirements alter.
Consider adding a headboard and a storage drawer to make the bed even more unique. Birch plywood is used in the bed's construction, which has a distinctive honeycomb core design for added comfort.
12. Amazon Basics Platform Bed Frame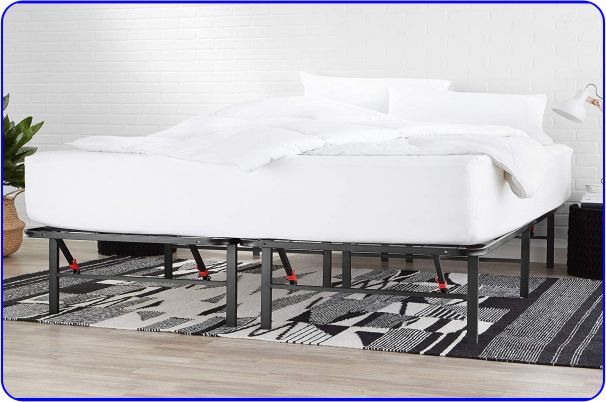 Highlights
Amazon Basics Portable Foldable
14" Black Metal Platform Bed Frame
No-Tool Assembly
No Box Spring Required
Queen Sized
Product Description
Whether spring, hybrid, or memory foam mattresses, platform beds provide a supportive, silent, and noise-free foundation for your sleeping comfort.
When traveling to isolated regions, maintaining the frame's system makes it easy to store and transport. A vertical clearance of approximately 13 inches allows for extra under-the-bed storage with this model.
There are no tools necessary for the setup, making it quick and straightforward. The frame is durable steel and has a sleek black finish to complement the furniture.
13. Best Storage- Design Within Reach Matera Bed
Highlights
Matera Bed, Standard Headboard
Sharp Edges and Slotted Mortise-and-Tenon Corner Joints
Airy Slitted Base and Normal or High Headboard.
Available with or without Storage Drawers
Product Description
Storage under the Bed is essential for those who live in a compact space. The Matera's built-in storage drawers make it simple to organize the area under your bed instead of the numerous attractive baskets and organizers available.
Three to six drawers can be found throughout the bed, depending on your select size. You can keep all of your winter clothes or extra linens there, and the bed itself is made of either solid walnut or oak, making it a beautiful piece of furniture in and of itself.
14. Mellow Naturalista Classic Wood Platform Bed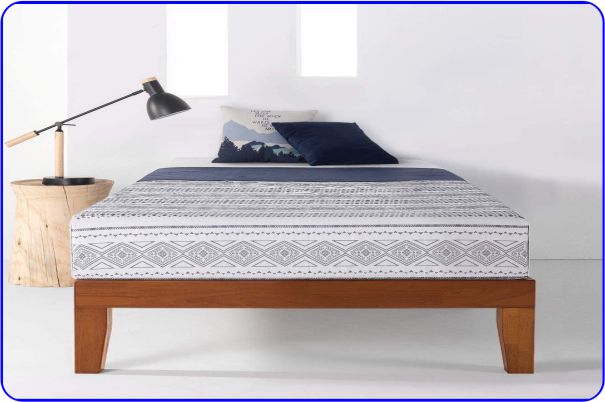 Highlights
Classic Solid Wood Bed Frame
Wooden Slats
No Box Spring Required
Twin Sized
Product Description
With a simple mid-century modern design and a variety of wood finishes to choose from (including black, pine, espresso, and cherry), the Mellow Naturalista is a terrific wooden bed frame to consider.
The frame is made of solid wood and measures approximately one foot in height. Mellow has provided non-slip tape that you can use to secure your mattress to the edge, even though it sits on top of it. This will prevent your bed from moving around.
15. Best Modern Platform Bed- Zoma Foundation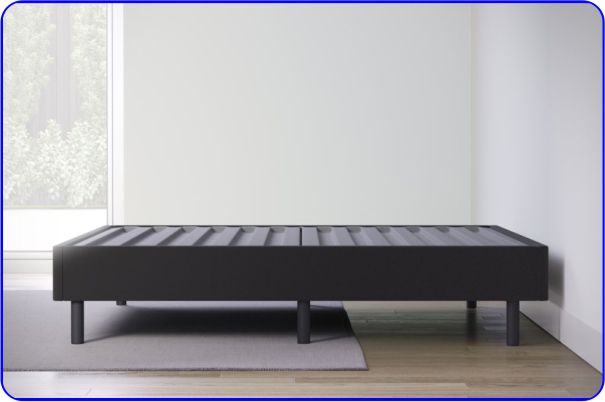 Highlights
Sturdy Support
Seamless experience
Free Delivery
1-year Guarantee
Easy to Assembly
Product Description
The Zoma Foundation comes in second on our list since it is extremely similar to the Amerisleep Foundation above. Although they differ in height and color, both foundations feature a slat pack for constant support and may be used with any mattress type.
With its clean lines and black upholstery, the Zoma Foundation offers a contemporary feel. There is a foundation that is 14.5 inches tall.
Sturdy wood sides and an innovative slat pack form the base. The slat pack unrolls into place, and the rails' corners are equipped with clever corner clips for easy attachment to one another.
This foundation can be put together quickly and efficiently without using any tools. Free shipping and a one-year warranty are included.
16. Best Platform Bed with Wide Slats- Vaya Platform Bed
Highlights
Durable & Budget-Friendly Mattress Support System
Assembles in 5 minutes (or less)
Better Support for Better Sleep
Free Shipping
13" Platform Height
1-year warranty
Product Description
Additionally, the side rails of the Vaya Platform Bed can be simply slotted into position, making it easy to have a good night's sleep. The bed is easy to assemble, requiring no special tools and only a few minutes of your time.
Platform beds can significantly impact the quality of a mattress, which can lead to premature sagging. A platform bed uniformly supports the mattress with large slats.
It takes a 12-inch Vaya Mattress on top of the platform bed to make it 25 inches high.
The Vaya Platform Bed in Queen is available for $300 and includes free shipping. If you're looking for something smaller than a twin or twin XL, you'll have to look elsewhere.
17. Best Platform Bed for Heavy Sleepers- GhostBed All-in-One Foundation™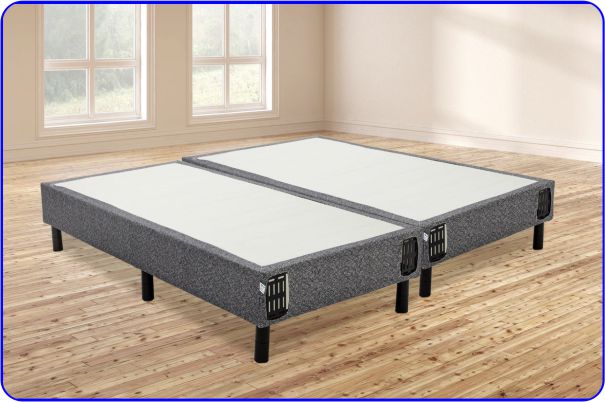 Highlights
All-metal Structure ensures Long-term Durability.
It fits any Headboard/Footboard/Bed set
Easy to Assemble
Product Description
The GhostBed All-in-One Foundation is intended for use with various mattresses and body types. The metal structure effortlessly supports heavier latex and hybrid mattresses, as well as one or two plus-sized sleepers.
The adjustable legs let you choose your bed height. The 9-inch foundation can be 12 or 15 inches tall except for the twin and twin XL sizes, which have only six legs due to their tiny dimensions.
For a more classic design, the base includes headboard brackets. The company says the base fits any headboard and footboard. The GhostBed Foundation is a great option for a guest room platform bed. It comes with a lengthy 20-year warranty.
18. Olee Sleep Heavy Duty Steel Slat Platform Bed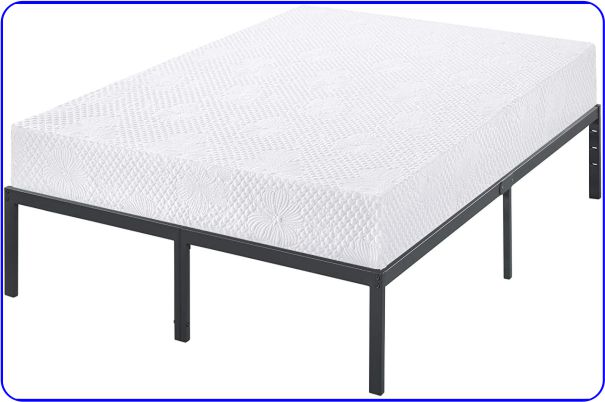 Highlights
Heavy-Duty 14-in. Steel Slat
Anti-slip Support
Easy to Assembly
Mattress Foundation
Noise Free
No Box Spring Required
Product Description
This sturdy steel platform bed is renowned for its strength and longevity. The frame contains a 15-inch cage to restrict the mattress from sliding. Plastic coverings protect the legs, and two feature slots for attaching a headboard (not included).
On either side of the base are 10 thin steel slats, 712 inches apart. This is a wide platform bed. Use a box spring or thin plywood to keep the mattress from sagging.
The metal frame can hold up to 1,200 lbs. While most customers haven't tried this weight, they praise the frame's durability. It supports taller, heavier people without squeaks. The structure is easy to install and disassemble using the accompanying tools.
Olee Sleep provides a 5-year limited guarantee for any manufacturing issues that may arise during normal use—modifying or personalizing the bed frame voids the warranty.
19. Best Low-Profile- Urban Outfitters Riley Platform Bed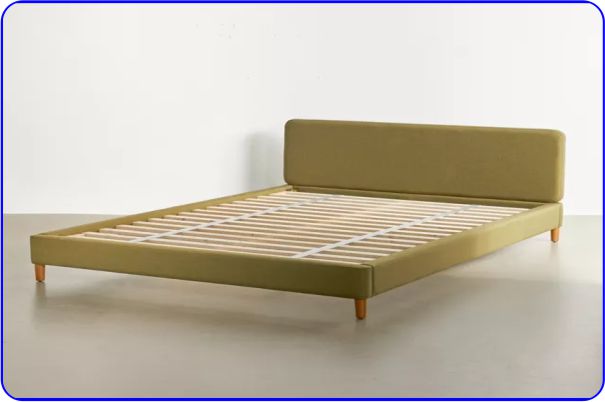 Highlights
Assembled, Instructions and Hardware Included
Pinewood, Plywood, Cottonwood, Linen
Spot clean
Imported
Product Description
The Riley Platform Bed from Urban Outfitters is a great option if you're looking for a bed that will help you stay grounded. Short wood legs and a lovely upholstered frame create an inviting atmosphere for your bedroom.
This aesthetic is perfect for a romantic, bohemian, or Scandi bedroom with its rounded and soft appearance. Taupe is one of the most versatile colors, but it's also available in a beautiful pink hue and a neutral gray shade.
20. Mantua Premium Platform Bed Base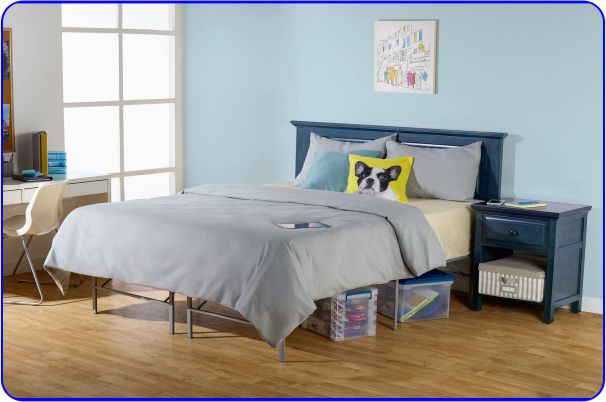 Highlights
Silver Platform Base for the Premium Platform
Fits Mattresses up to Full XL
Removes Box Spring and Bed Frame
No Need for any Tools
Storage Space Below
Product Description
Mantua provides a robust platform base that can be customized. The all-metal bed frame keeps dust and bed bugs out. The frame's 14-inch height allows for plenty of storage.
It also folds up easily, making it excellent for guests or transferring it. To construct the structure, snap and connect the sections into position.
The platform bed features steel rods running horizontally and vertically across the frame but no information about slat spacing. The bed can also support 2,000 pounds. Mantua also sells headboard and footboard brackets for customizing the bed.
All Mantua goods come with a lifetime warranty. Products that break due to poor materials or craft will be replaced at no cost to the customer. Requires original purchase receipt
21. Purple Platform Bed
Highlights
13-inch Under-Bed Storage
Up to 2,000 lb. Weight Capacity
Buffers made of Polypropylene
Includes Mounting Hardware for most Headboards
Product Description
It is difficult to think of anything else that one could want in a bed frame other than simplicity, strength, and support. Sturdy frame that hinges and folds up tiny for simple storage.
It is lightweight but can support up to 2,000 pounds and is equipped with polypropylene buffers to reduce noise. Under-bed storage that extends 13 inches beneath the bed's surface is particularly useful in smaller rooms with premium space.
22. Allewie Queen Platform Bed Frame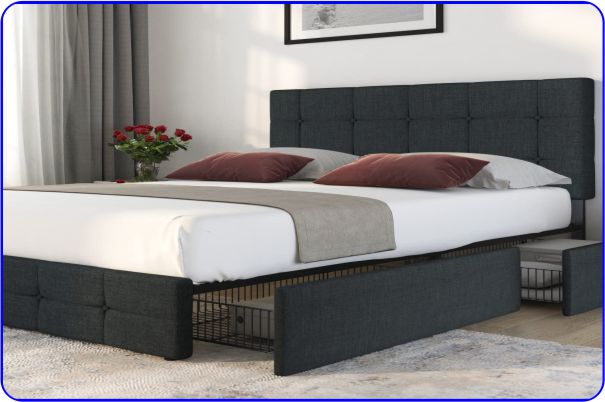 Highlights
4 Drawers and a Headboard Included
Button with Square Stitching
Mattress Foundation with Tufted Upholstery
Supported by Wooden Slats
A Box Spring Isn't Necessary
Product Description
Allewie's four under-bed drawers are the perfect place to store everything from your winter clothing to your pup's ever-growing collection of leashes and toys, all in one convenient location.
Meanwhile, the padded linen upholstering and button-tufted detailing offer a touch of refinement to your bedroom, while the solid slat structure ensures a restful night's sleep for you.
Conclusion
Platform beds are a terrific way to make a space look sleeker and more stylish than it is. In addition to saving your room, its low-profile design can also save you money by eliminating the need for a box spring. They are also reasonably simple to assemble and maintain, making them ideal for first-time platform bed buyers.
With so many advantages and platform models to pick from these days, deciding to switch from your current mattress to a platform bed has never been simpler.