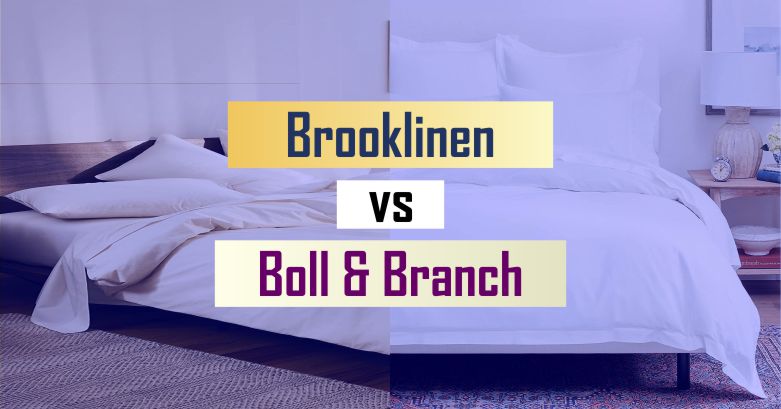 Since you spend about one-third of your life in bed, the company understands that you want to choose your bedding wisely. This guide will compare Brooklinen vs Boll and Branch, two of the best bedding brands. You'll find everything you need to know to choose the best option for you.
Companies like Boll & Branch and Brooklinen that sell directly to customers change the game. These companies provide comfort and quality using high-quality materials and well-thought-out building methods.
Learn more about how we arrive at our unbiased product recommendations by reading the research and reviewing what goes into our work. We may receive a small commission by clicking on our links and making a purchase.
Brooklinen vs Boll and Branch Overview
Founded by Scott and Missy Tannen in 2013, Boll & Branch is a socially responsible company. Only organic cotton and other Oeko-Tex Certified materials are used by this company, which places a high value on quality.
They only utilize Fair Trade cotton to ensure that farmers and factory workers are paid a fair price for their job. Boll & Branch is a good option if you value openness when shopping for a bed linen company.
Boll and Branch's sheet sets come in five different varieties. The following are the types of materials that make up these sections:
Signature
Percale
Flannel
Luxe
Chambray
The signature Hemmed Sheet Set is one of the most popular products from Boll & Branch. With a sateen weave, lightweight, super-soft cotton receives an improvement in comfort.
Percale is an excellent option for a hot sleeper because of its crisp and chilly feel. Because of its small weight, it's both smooth and structured.
Consider the chambray fabric for year-round softness and structure in a four-season garment. While flannel is an excellent choice for chilly weather, the Luxe collection combines the luxury of fine organic cotton with classic style and a silky texture.
A husband-and-wife team established Brooklinen, as it was with Boll & Branch. Rich and Vicki Fulop set out to create an economical and stylish bedding brand for their consumers' benefit.
When it comes to Brooklinen, less is more, but quality and design are never sacrificed. They can offer lower prices because they don't use a mediator and instead sell directly to customers.
When Rich and Vicki set out to create Brooklinen, they scoured the world for the best materials and manufacturers. Instead of keeping up with the latest fashions, they've created a line of products that may appeal to a wide range of tastes.
Brooklinen has a wide range of bedding options, loungewear, shower curtains, beach towels, etc. The following materials are available in their sheet sets:
Classic Percale
Luxe Sateen
Washed Linen
Heathered Cashmere
Brushed Flannel
Classic Percale is ideal for hot sleepers, designed to keep you cool all night long. Luxe Sateen's buttery smoothness might be what you're looking for if you want a hint of luxury. These sheets have a 480-thread count, which lends them a luxurious feel.
The Heathered Cashmere line may be suitable for those who sleep cool. These materials are soft and supple, with the warmth and breathability of cashmere and the lightness of cotton. Finally, the Washed-Linen collection offers a cozy, "lived-in" appearance while keeping you toasty.
Which Brand is Right for You- Brooklinen vs Boll and Branch?
After comparing Boll and Branch and Brooklinen, you should have a more apparent notion of which one best fits your style and interests. Because both of these bedding firms sell directly to consumers, you can easily shop for them online and return anything you buy for no additional cost.
Boll & Branch has a 30-day return policy, while Brooklinen has a 1-year return policy. In addition, a lifetime guarantee is provided by Brooklinen.
Boll & Branch Might Be Right for You If:
You are in the market for organic materials and willing to pay a premium.
A wide range of patterns and colors is what you're after.
To keep you warm but not too hot, you're looking for something breathable and lightweight.
There is no need for a lengthy return period because you are confident in your purchase.
Brooklinen Might Be Right for You If:
Some materials are heavier than others. Therefore you prefer thicker sheets.
You like to sleep in light, breathable clothing.
You desire peace of mind with a lifetime warranty and a one-year return grace period.
You're on the lookout for unique designs and color schemes.
How Do They Compare- Brooklinen vs Boll and Branch?
Brooklinen vs Boll and Branch are two excellent options for searching for high-end, opulent bedding. Both companies make their items with high-quality materials and emphasize innovative design and meticulous construction.
When finding something stylish and timeless, you'll be hard-pressed to go wrong with any brand.
The Materials
The materials used by Brooklinen vs Boll and Branch differ significantly. Boll & Branch only employs 100% organic cotton in its products. The cotton for their flannel line comes from Turkey, but most are from Orissa, India. Although Brooklinen makes use of cotton, none of it is organic.
Although both brands provide classic options like percale and sateen, Brooklinen has a few more options in terms of materials. In addition to flannel and cleaned linen, Brooklinen also offers 100% Belgian and French flax linen and flannel.
Comfort and Feel
Since both brands employ premium fabrics, you can count on their products to be incredibly comfortable. Nevertheless, your preferences will play a role when selecting a particular material.
Brooklinen's breathable sheets may not be the best option for those who like a heavier feel to their bedding.
Some people may find that Boll & Branch linens are too hot, while others may prefer the coziness of Brooklinen bedding. However, their materials are 100% organic is worth noting.
Variety and Value
Brooklinen vs Boll and Branch both provide bedding options that let you express your distinctive style in your bedroom.
Boll & Branch's flannel line includes antique plaid and buffalo check and more colorful motifs like paisley and florals. It's a little more limited in color and print options at Brooklinen, but there's still much to choose from.
How to choose between Brooklinen vs Boll and Branch
Which percale sheets to choose from, Boll & Branch or Brooklinen, is primarily a matter of taste.
An editor who tried Brooklinen vs Boll and Branch percale sheets described the former as softer but still structured. In the editor's opinion, the latter is more breathable and sharper.
Brooklinen's bedding is more affordable if you're on a tight budget.
Boll & Branch is your best bet if you want to support a dedicated company dedicated to ethical and environmental manufacturing practices. Brooklinen's sheets, on the other hand, are only available in a limited number of sizes, and Boll & Branch's sheets are 2 inches deeper.
Recall that percale is intended to be sharp and silky to the touch.
The Boll & Branch Signature Hemmed Sheet Set or the Brooklinen Luxe Core Sheet Set are excellent choices if you value softness.
Brooklinen's Heathered Cashmere Core Sheet Set or the Boll & Branch Flannel Sheet Set are great options for a cozier feel.
Brooklinen vs Boll and Branch Care Instructions
Boll & Branch
To care for your Boll & Branch linens, run them through the washing machine on a gentle cycle using cold water. They can be dried on low heat in a tumble dryer.
Boll & Branch suggests shaking the sheets before and after washing to avoid creases.
A small shrinking effect may occur after the first wash due to the Boll & Branch production process being free of chemical sizing agents. Boll & Branch sheets are slightly enlarged to consider this.
According to the manufacturer, your sheets should fit perfectly after a couple of washes.
Brooklinen
Brooklinen recommends washing your sheets on a cool or warm cycle before hanging them to dry to protect their fibers, colors, and flexibility. This will also help avoid significant wrinkling, which is essential.
The dryer should avoid hot water and hot cycles, as Brooklinen does not pre-shrink their sheets.
If you must use the dryer, use low heat and low tumble settings. After the cycle is complete, Brooklinen recommends removing the sheets from the dryer and putting them flat until completely dry.
Where to buy Brooklinen vs Boll and Branch Sheets
Boll & Branch
A wide variety of Boll & Branch sheets are available online and at their retail locations around the United States. Nordstrom carries a few of these sets as well.
Boll & Branch only sells a limited number of things each day. However, they do give last-call discounts. All sales made on the last call sheet are final.
Brooklinen
You'll find the most affordable alternatives and offers on Brooklinen's website and their Williamsburg, Brooklyn store. Discounts for first-time customers can be found there as various other promotions.
Zola Home, for example, carries Brooklinen linens for sale.
Brooklinen vs Boll and Branch Company Policies
Boll & Branch
Free shipping and returns are included in the company's risk-free 30-night trial, which is offered by Boll & Branch.
After the initial thirty-day period, the company will not accept returns, and they do not at this time give exchanges. Products sold during the last call sale are final sales and cannot be returned.
Brooklinen
The sheets from Brooklinen come with no additional shipping costs.
To give clients the best bargains, the company will change your order's price if you place it up to 14 days before an active promotion. If you forget to enter a discount code when purchasing, the same holds.
You can get help from the company directly in both circumstances.
You can return or replace Brooklinen linens if you don't like them. For customers in the United States, Brooklinen will even cover the cost of return postage if you wish to exchange or return an item.
The percale sheets come with a one-year extended warranty after the first 365-day term, making them a core product.
Brooklinen bedding purchased from a third-party store must be returned or exchanged on that site. It would be best if you abode by their rules and regulations.
Any last sale or last-call items cannot be returned. As long as the product is malfunctioning, Brooklinen will work with you to resolve the issue.
Bottom Line
It's impossible to go wrong with either Brooklinen vs Boll and Branch regarding bedding quality. As a result, the materials, pricing, and flexibility of returns varied significantly from one manufacturer to another.
While Boll & Branch emphasizes eco-friendliness and a traditional appearance, Brooklinen focuses on comfort and affordability.
The final say in selecting your bed linens belongs to you. Use this information and your preferences and knowledge of the two brands to decide which one is best for you.