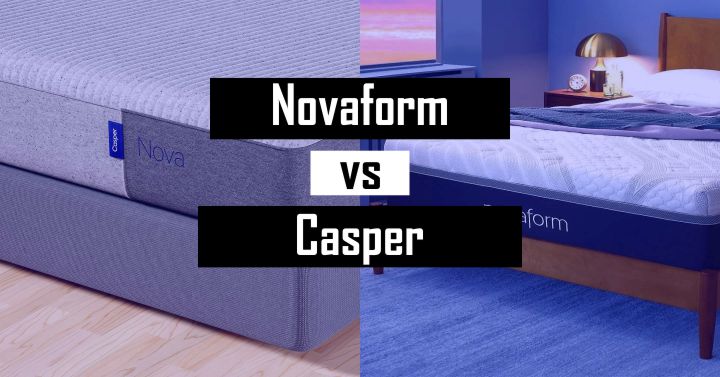 Casper and Novaform are popular mattress businesses that make breakthrough memory foam and hybrid beds. Both are great mattresses, so the question is, which one will fit your needs best?
Before you decide on a new mattress, there are many things you should think about. Keep reading about price, feel firmness, warranty policies, shipping, trial, and more.
Comparison Table
| Novaform vs Casper | Novaform | Casper |
| --- | --- | --- |
| Materials | Memory Foam Gel Memory Foam Latex Gel Pods | Memory Foam Springs Polyurethane Foam |
| Construction | Standard Memory Foam Gel Pearl Memory Foam LURAcor Foam EVENcor GelPlus Memory Foam | Depend on Model Type: Springs Memory Foam Latex Polyurethane Foam Gel Pods |
| Height | Comfort Grande: 14" Serafina: 14" SoFresh: 10" Overnight Recovery: 12" Advanced Back Support: 12" | Original: 11" (Hybrid: 11") Element: 10" Nova: 12" Wave: 13" |
| Firmness | Medium Firm | Medium Firm |
| Breathability | Gel Memory Foam | Airscape Perforations Springs |
| Sleeper Types | Comfort Grande: Hot, Side, Back, and Stomach Sleepers Serafina: Hot and Side Sleepers SoFresh: Side, Back, and Stomach Sleepers Overnight Recovery: Back, Side, and Stomach Sleepers Advanced Back Support: Stomach Sleepers | Original: Back, Stomach, and Side Sleepers Element: Back, Stomach, and Side Sleepers Nova: Hot, Back, Side, and Stomach Sleepers Wave: Hot, Back, Side, and Stomach Sleepers |
| Price | $399.99 to $999.99 | About $395 to $3095 For Snow Technology: $500 extra |
| Finance Possibilities | Various depending on the retailer | 3-24 Months |
| Trial Periods | Different depending on the retailer | 100 Nights |
| Warranty Period | 20 Years | 10 Years |
Novaform vs Casper- Overview
Casper
The Casper mattress is among the most sought-after options because of the company's commitment to innovation. Hybrid beds like the Wave and Nova Hybrid, which use pocketed coils for support, have joined the popular all-foam beds.
Even though most customers gave their mattresses good reviews, some didn't feel the same way. Reviewers complained that their beds didn't provide enough back support.
Casper also sells a mattress that is only available at Costco. This mattress differs from the ones they sell in stores and online.
Some people don't like the smell of the Costco Casper mattress, and others don't like how firm it is.
Casper's Supportiveness
Customers appreciate the general support and spine alignment provided by the mattresses' coil and foam alternatives.
Zoned foam, which is softer at the shoulders and hips and firmer in the middle of the back, is one such characteristic.
Some people don't like how firm these mattresses are, but most pick how much support they give.
Edge Support
Edge support is crucial for people who have trouble moving around or sleeping on the side of their bed. Most say that the support is even from edge to edge.
People who thought their mattresses were softer than expected would likely say how smooth the borders were.
Bowling Ball & Density Tests
Mattress reviewers and bloggers often use bowling balls to measure how firm and supportive a mattress is. Customers say that these mattresses make it easier to sleep with a partner.
Casper's Durability
It can't be said enough how important it is to have a mattress that lasts, but some companies seem to care more about selling their beds than ensuring they stay.
Regarding durability and construction quality, these mattresses perform above average. After 5 years, most people are still happy with their bed, but heavier people may find that it wears out faster for them.
Also Read: Memory Foam vs Hybrid Mattress
Novaform
It is a well-known brand of all-foam that you can buy at Costco. Customers have different opinions about how comfortable and long-lasting these mattresses are.
There are still fans, but many people don't like them because of how they retain heat and how hard they are.
Novaform's Supportiveness
Some customers have said that these mattresses give them good support, but others have said that the support has gone away.
Examine the feedback if you have a bigger body or need more support for your health reasons. This will help you make sure the investment is right for you.
Edge Support
The durability of these mattresses' edges has been questioned in several ways. Some people liked the bed's support, but others struggled with lumps as time passed.
Novaform's Durability
All shoppers are looking for a bed lasting at least ten years. When a brand-new mattress fails after a few short months, causing discomfort and sagging, it's distressing. But it's much harder to find a sturdy bed than in the past.
Some brands aren't investing as much money into quality because they have more products than ever. Some people say they have trouble staying comfortable on these mattresses in particular.
Not everyone has a problem with durability, but if you do, learn about the guarantee and return policies as much as possible.
Buyer's Guide about Casper vs. Novaform
We have done some great work to determine the most suitable mattress. Look at our full guide to Casper vs Novaform beds down below.
Sizing Options
The right mattress size depends on your body type, sleeping companion, and bedroom space. Remember that bigger mattress sizes cost more, and they often call for larger bed frames and linens, which can raise prices.
It's important to consider your height and weight when choosing between Casper and Novaform mattresses. Mattress height, in conjunction with bed frame height, influences the ease with which one enters and exits one's sleeping quarters.
Joint-pain sufferers may find lower beds uncomfortable, whereas shorter persons may find higher beds uncomfortable.
Casper makes mattresses in every standard size, from the lowest twin to the biggest California king. Novaform, in contrast, doesn't carry twin XL beds and only has queen and king-sized beds.
The Novaform vs. Casper mattresses has standard-issue heights and widths for foam and hybrid bed frames. The steel coil support cores in the hybrid Casper models make them heavier.
Construction and Materials Comparison
How well a Casper and Novaform mattress works and how it feels depends on how well it is made and what it is made of. The blanket and the core are usually the two most important parts of a mattress. Comfort and stiffness are changed right away by the comfort system.
Most mattresses have comfort systems with thick layers of latex, memory foam, or polyfoam that relieve pressure.
The support core refers to the denser material in the middle of the mattress. This part keeps the sleeper's spine straight by keeping them from sinking too far into the bed.
Hybrid mattresses have innerspring support cores, whereas all-foam mattresses use high-density polyfoam. Some beds have higher-density polyfoam or tighter coils around the outer edges of the support core.
Novaform
There are seven foam mattresses available for purchase from Novaform right now. We're talking about the Advanced Support and the Premium Cooling Mattress, both made by Nue by Novaform, and a slew of Novaform models like the ComfortGrande Plus, SoFresh, Serafina, Advanced Back Support, and Overnight Recovery.
Novaform ComfortGrande Plus
Regarding Novaform mattresses, the ComfortGrande Plus stands tall among the crowd, with a comfort layer that measures 6 inches in thickness. It has three layers and is categorized as a medium firm.
Gel-infused memory foam makes up the top layer of comfort. This material is intended to provide cushioning and prevent heat buildup.
Extra convoluted polyfoam improves ventilation and distributes weight away from the hips, shoulder, and lower back. It is designed to be simpler to move around and is firmer than memory foam.
A supportive core made of high-density polyfoam provides a stable base and aids in preserving healthy spinal alignment in the bottom layer.
Novaform Serafina
The Serafina comes in medium (firmness level 4), medium (firmness level 5), and medium-soft (firmness level 6) variations. Different models of mattresses have slightly different designs.
The cover keeps the body at the right temperature by using the body's infrared radiation to evaporate sweat. There are also gel pearls built into the memory foam to stop heat from building up.
Each firmness option's second layer of foam is slightly different. This layer is looped in the medium and soft versions to make them feel more peaceful. The hard mattress is 1 inch thicker than the other two options because of its high-density polyfoam support core.
Novaform SoFresh
The cover of the Novaform SoFresh can be washed in a washing machine. Copper, which is antibacterial, has been incorporated into the top layer of the foam. There are three layers to the mattress.
This mattress is of medium firmness (5) because it has 4 inches of comfort layers that mold to your body. A slightly elevated polyfoam support core makes up the rest of the base. This core helps to isolate motion and support the edges.
Novaform Overnight Recovery
The cover of Novaform's Overnight Recovery Mattress is made of Celliant, which uses body heat to help muscles heal. The mattress has three layers and is medium firm (6).
The top is cushioned with a thin layer of gel memory foam, and 3 inches thicker, more durable polyfoam is placed underneath. Like all Novaform beds, this one is made on a slab of high-density polyfoam 8 inches wide.
Novaform Advanced Back Support
This product rates a 7/10 on the firmness scale. This means it's comfortable for those who sleep on their stomachs or backs and those who weigh over 230 pounds. There are three layers to the mattress.
This mattress feels like you're lying on top of the bed with its harder foam on top and gel memory foam underneath. Sleepers who suffer from back pain may find relief as it facilitates movement during the night. The bed is more stable because the base is 9 inches thick.
Nue by Novaform Premium Cooling
This mattress has a medium firmness with three layers for warm sleepers. The mattress cover can let air in because it is made from recycled polyester, nylon, and rayon.
The mattress's top layer is made of cooling gel memory foam, which helps keep the bed from getting too hot and gives it a soft surface.
The second layer's cutout grooves provide additional hip and lower back support. Air can also move through the mattress because of the tracks.
Nue by Novaform Advanced Support
This Novaform mattress has pressure relief and lumbar support in mind. It has a medium firm (6) feel. The polyester, polyester, and rayon cover of the Advanced Support Mattress is the same as the cover of the Premium Cooling Mattress.
Zones of high-density polyfoam give stability, while zoned polyfoam layers provide support and cushioning where needed most.
Casper
The Casper Element and Casper Original are both foam mattresses that Casper sells. The company offers three hybrids for purchase.
Casper Original & Casper Original Hybrid
On a scale from soft to firm, the Casper Original is a 5. It's made of three parts. Casper's original mattress cover blends stretchy materials like spandex, polyester, rayon, and recycled polyester.
This mattress's top layer comprises responsive Airscape polyfoam with holes to promote airflow. Zoned memory foam, used for the second layer, is denser in the center and softer on the sides.
On a hybrid model, the foam base of the original Casper mattress can be replaced with a foam-encased pocketed coil support core. The Casper Hybrid mattress has more bounce while maintaining the same level of firmness as the Casper original. It has better edge support because the perimeter was made stronger.
Casper Nova Hybrid
The Nova Hybrid is a 5, or medium firmness, on a firmness scale. There are four of them—the covers of the Nova Hybrid and Casper Original both stretch. Two layers of perforated Airscape polyfoam provide the cushioning for the system.
The third layer has grooved cutouts that are split into seven different zones. These zones are meant to support the hips and back. A pocketed coil provides the mattress with a lot of bounce while reducing motion transfer to keep your companion from being disturbed.
Casper Wave Hybrid
The Wave Hybrid mattress from Casper is the highest, standing at 13 inches. The bed feels medium (5) and has five layers.
A thin cooling gel layer is put on top of the polyfoam that makes up the Airscape. Aligning your spine is easy, thanks to the combination of latex's resilience and memory foam's stronger core.
Gel pods in the transition layer increase support while keeping the mattress cool. The Wave contains a pocketed coil core, just like Casper's other hybrid mattresses, and foam envelops the edges to safeguard them.
Consumers can upgrade their Nova Hybrid or Wave Hybrid mattress with Snow technology for an additional cost. The phase change material cooling cover, cooling gel lamination, and six Heat Delete Bands work together to keep you comfortable and the mattress's surface cool.
Casper Element
The Element Mattress is Casper's low-cost model. It is easy to put together because it only has two layers.
The cover of the Element is made of an elastic mix of cotton, synthetic fibers, rayon, and spandex, just like the cover of the Casper Original. The polyfoam's medium firmness (6) contours to your shape without allowing you to sink through.
Pricing Information
Mattress prices for Novaform vs Casper vary. The mattress's price depends on its materials, height, layers, and features like cooling. Prices for Casper mattresses differ quite a bit, while prices for Novaform beds are mostly the same, with only small differences. Companies might offer seasonal sales that lower the price on the list.
Costco, the warehouse discounter, works with Novaform. Because of this, all save the cost-effective Casper Element are generally cheaper than Novaform's mattresses.
However, because Novaform beds can be purchased through a wide selection of independent sellers, the final price paid by consumers may vary.
Performance-oriented features, like temperature regulation and pressure relief, command a premium price across both brands. But if the price is important, you might have more choices with Novaform.
A Casper mattress is a good option if you're willing to spend more on a high-quality bed because of its intricate design.
Trials, Warranty, and Delivery
Some shoppers may choose one mattress over another based on their feelings about shipping, sleep trials, and warranties. We'll explain how these policies generally function and then contrast the Casper and Novaform plans so you can make an informed decision.
Shipping Policies
There are two common delivery options for Casper vs. Novaform mattresses bought online.
Mattress-in-a-Box Shipping compresses, shrink-wraps, packs, and ships the mattress to your home via normal ground delivery. Shoppers must carefully remove the box and plastic and allow the bedspread on the foundation. Within the 48 contiguous states, this service is usually provided at no cost.
White Glove Delivery involves a technician delivering and installing a mattress. Many mattress companies use third-party providers to provide this function, usually for a fee. The White Glove delivery includes mattress removal. White Glove shipping is generally limited to the contiguous U.S.
Novaform
The mattresses are packed in boxes and compressed so they can be moved. The beds are mostly sold through Costco, while some models may be accessible through other outlets.
All 50 states can get free shipping from Costco. Costco doesn't offer "white glove" delivery, but the store will remove your old mattress for an extra fee. The beds come in a box as a single unit. White-glove delivery is not available.
Casper
Usually, orders are delivered within 1–2 business days, and customers are given a tracking number to monitor their shipment's whereabouts.
All U.S. and Canadian provinces that are side by side get free shipping. Alaskans, Hawaiians, and people living in Canadian territories have to pay an extra fee.
White Glove delivery is an option in some markets and for some mattress models from Casper. For a fee of $149, this service will set up your new mattress and take away your old one.
Sleep Trial and Returns
A customer can test out a bed in the comfort of their own home with the help of a sleep trial. Customers have a certain amount of time to decide whether or not they like their mattresses. To initiate a return with some mattress retailers, you must have slept on the bed for a predetermined number of nights.
Most companies will arrange for the mattress to be picked up, recycled, or given away if it is returned during the sleep trial. Some companies might charge a small fee to carry your package.
Novaform Policy
You can return any Novaform mattress you bought at Costco and get a full refund in exchange for sending it back. You can return mattresses purchased online at Costco stores or on the website.
Mattresses by Nue by Novaform and mattresses bought from stores other than Costco may have different return policies.
Casper Policy
All Casper mattresses have a 100-night sleeping trial and require 30 nights of breaking-in. The company will arrange for the bed to be picked up for free, recycled, or given away, and the purchase price will be refunded.
Warranty
Mattress guarantees protect the original buyer from problems with the materials or the way the mattress was made. Warranties typically do not cover normal structural damage, comfort preferences, misuse, and usage. There are different rules for each security.
Warranties can either be prorated or not. The customer's share of the cost to make repairs or replace a defective product under a prorated warranty gradually increases over time.
Novaform Mattress Warranty
During the 20 years of the limited guarantee, Novaform will replace any damaged mattresses at no cost to the customer. All Nue by Novaform products come with a limited 10-year warranty. The contract covers foam or material faults, including 1.5-inch indentations.
Casper Mattress Warranty
Casper offers a warranty that lasts for ten years and doesn't lapse. The business will, at its option, repair or replace any damaged mattresses during that time. Sagging, dents, or cracks in the foams, as well as issues with the zipper, are all considered to be qualifying flaws.
It must be used on a suitable base to maintain the mattress's warranty. Casper will pay to have a faulty bed returned within the warranty period. Mattress buyers can pay the price difference to exchange a defective mattress for a newer, more expensive one.
Novaform vs Casper Mattress Technical Analysis
From the detailed chart comparing Casper and Novaform mattresses, it's clear that Casper is the best regarding Value for Money. The cost of a Casper mattress appears reasonable when weighed against the quality of its construction and components.
Casper wins for having the best edge support and wins the award for being the most durable. Being the most responsive mattress, the Casper is better than the Novaform in terms of technical specs because it is better known in some important ways.
Casper mattress outperforms the Novaform mattress in pressure point support and pain relief. After looking at all of the features, it's clear that the winner of the Casper vs. Novaform mattress comparison is Casper.
Also Read: 13 Best Mattress for Pregnancy
FAQs
What makes Casper different from Novaform?
Casper makes hybrid and memory foam beds, while Novaform only makes all-foam beds. The spine is better aligned with Casper thanks to zoned support and innerspring coils, which reduces back pain. The cost of Novaform is reasonable. The mattresses from Casper are more adaptive and make it easier to move around.
Is Costco the owner of Novaform?
No, Innocor is the owner of Novaform mattresses. It's well known that Novaform mattresses can be bought at Costco warehouses. Memory foam makes almost all of the beds that Novaform sells.
Is Casper identical to Costco Casper?
The popular Casper Original mattress is similar to the Casper Select mattress, but only Costco sells the Casper Select mattress. The pressure-relieving Casper Select mattress is made entirely of foam.
How many years do Novaform mattresses typically last?
A 20-year warranty covers Novaform mattresses, so that they may last that long.
In the long run, do Casper mattresses sag?
Every mattress, including Casper, will sag over time because of normal wear and tear. Casper gives you a 10-year guarantee, so there shouldn't be much hanging before then.
Does Casper help with back pain?
The three distinct zones of support on the Casper Original Hybrid Mattress work together to keep your spine in its natural curvature-free position. Softer CertiPUR-US foam holds the shoulders in place, and firmer foam supports the hips, waist, and lower back.
How firm or soft is the Casper mattress?
The Casper bed is middle on the scale of how firm a bed is. You've hit the sweet spot between soft and firm. But remember that the firmness you feel on a mattress depends on your build.
Do they make Novaform in China?
Although China manufactures the cover, the United States produces the foam inside the topper. Novaform backs up its topper with a 10-year warranty.
How dangerous is Novaform memory foam?
The fact that Novaform mattresses are made in the United States and have a CertiPUR-US certification shows that they are safe to sleep on. When you take them out of the container, there may be an initial aroma, but it should fade away after a few hours or at least a few days.
Conclusion
Both Novaform vs Casper have a wide range of mattresses already made for different body types and ways of sleeping. But there are many ways these beds are extra, and each is better for different situations.
All of Novaform's beds have mattresses made of memory foam. This means that only people who like the feel of memory foam will like Novaform mattresses. If you want to know how responsive innerspring feel or need the support they offer, one of Casper's three hybrid mattresses would be better for you.
Novaform stands out from its competitors because its prices are so shockingly low. It is one of the favorite budget mattress brands.
Casper is one of the best online mattress companies. They have two memory foam beds and three other kinds. As a result, we've developed a series of mattresses that should work for just about everybody.
This means you won't have to give up one benefit for another. No matter how you sleep, how much you weigh, or how you usually sleep, there's a high-quality Casper mattress.