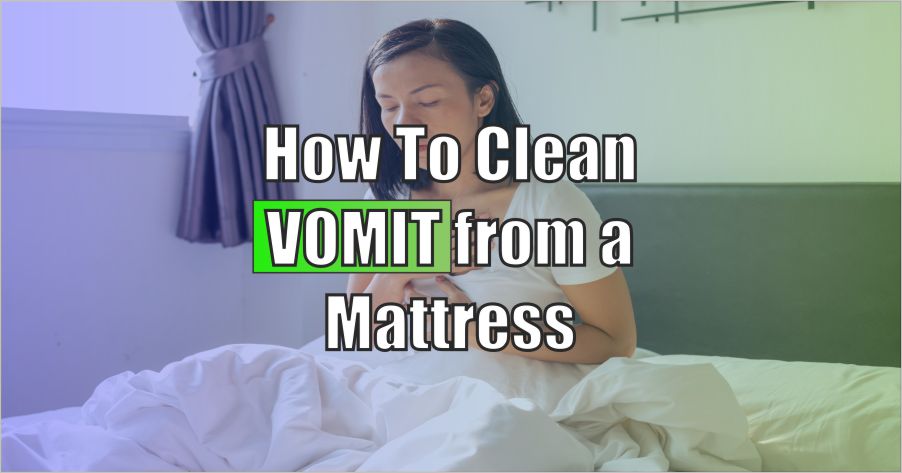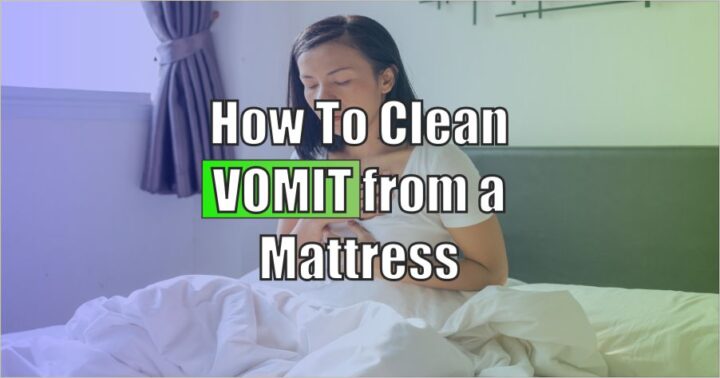 It feels very unpleasant when you get vomit out on your mattress, but don't panic. Clean it quickly and follow the simple steps to regain your odorless bed.
Read the simple step on how to clean vomit from a mattress and stains and get the smell out.
7 Quick Steps for Cleaning Vomit from Mattress
Cleaning vomit from a mattress can be messy and unpleasant. Here are the steps you can take to clean vomit from the mattress:
If there are large chunks or solid debris, use paper towels or a plastic scraper to remove the vomit.
Do not rub the stain, as it can spread and make it harder to remove.
Vomit stains can be removed by mixing equal parts water and white vinegar or using an enzyme cleanser. Apply the solution to the stained area and let it sit for several minutes.
Blot the cleaning solution and the stain with a paper towel or cloth until completely removed.
Now the time comes to dry. Use a fan or open windows to help the mattress dry completely. Avoid using a hair dryer, which can cause the stain to set.
Once the area is dry, disinfectant spray to kill any remaining bacteria or germs.
Note: If the vomit has penetrated deep into the mattress, it may be necessary to remove the mattress cover, wash it separately, or replace it altogether.
Also Read: How to Clean a Tempurpedic Mattress? 8 Steps
How to Get Vomit Smell Out of a Mattress?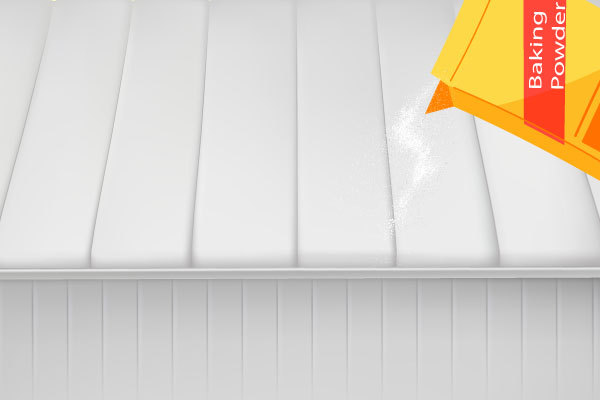 Baking soda, vinegar, essential oils, and an enzyme cleaner will all work well to eliminate these bad smells.
Blot up as much liquid as possible from the mattress, then dust the affected area with baking soda or cornstarch. Let the baking soda sit for at least 8 hours.
After the recommended time has passed, use a vacuum to eliminate the baking soda.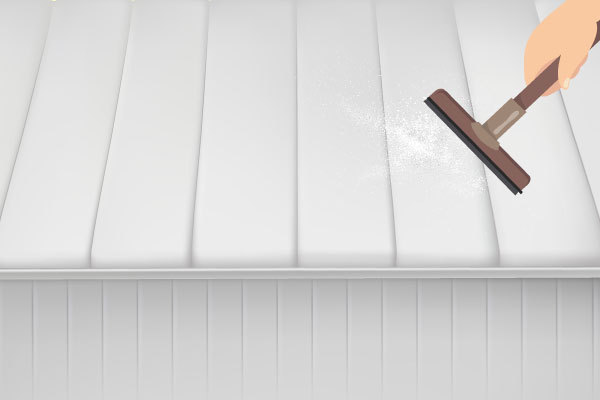 Use a hose attachment made for the upholstery to clean up the stain.
To get the smell of vomit out of a mattress, finish by spraying it with an all-natural disinfectant.
Note: How to get the vomit smell out of a memory foam mattress? Follow the steps described above to clean vomit from a memory foam mattress.
Also Read: How to Steam Clean a Mattress- 5 Quick and Easy Steps
How to Clean Vomit Stains from a Mattress?
You should remove as much of the vomit as possible and immediately remove and wash all bedding to deal with vomit stains on a bed.
Follow the instructions for using a cleaning solution and eliminating odors:
Put the soap, warm water, and vinegar in the spray bottle and shake it well. You can replace the vinegar with hydrogen peroxide but don't use cold water.
Spray the spot until it is damp but not dripping wet.
Use a dry, absorbent towel to wipe up the stain. Keep doing this until the spot is gone.
Let the mattress dry completely in the air before putting it on clean sheets.
Applying a mattress protector or pad over a wet spot will eventually lead to mildew issues.
Also Read: How to Clean a Futon Mattress (7 Easy Steps)
Tips and Tricks for Cleaning Vomit from Mattress
Yes, here are some additional tips and tricks for cleaning vomit from a mattress:
Wear gloves and protective clothing to avoid contact with the vomit and protect your skin.
If the vomit has a strong odor, sprinkle baking soda over the affected area after blotting up as much liquid as possible. Let the baking soda sit for several hours or overnight to absorb the odor, then vacuum it.
Place a towel over the cleaned area to help the mattress dry faster, and press down firmly to absorb any remaining moisture.
If you have access to one, use a handheld steam cleaner to sanitize the mattress after cleaning it.
Following the manufacturer's instructions, you can use a fabric or upholstery stain remover if the vomit has stained the mattress.
Consider using a waterproof mattress protector to prevent future stains, especially if you have young children or pets who may be more prone to accidents.
FAQs
How to Remove Old Vomit Stain from Mattress?
Try a white vinegar solution. Fill a spray bottle with a solution of one-part white vinegar to three parts water. Spray the vinegar solution onto the stain, then let it stay for 3 to 5 minutes. Wipe away the stain with a cloth towel.
Try ammonia-based cleaner. Mix one teaspoon of ammonia to four cups of water in a spray bottle and mist the stain with the solution.
Let it sit for five minutes, then wipe away the stain with a cloth towel.
Does vinegar eliminate the odor of vomit?
Vinegar is a natural deodorizer that can eliminate the smell of puke. Use a sponge or rag to gently scrub away the vomit stain after combining distilled white vinegar, warm water, and a few drops of dishwashing liquid with a lemon scent.
How can dried vomit be removed?
A light misting of water applied straight to dried vomit can help release the stain, making it easier to clean.
Directly sprinkle baking soda over the harmed area and leave it alone for a few hours. It will take some time, but the baking soda will eventually remove most of the vomit stain.
Final Thoughts
There are many reasons why vomit might be on your mattress. So, now you know how to clean vomit from a mattress. There are several methods for cleaning and removing a vomit stain from a bed or mattress.
If you have a removable, machine-washable mattress cover, cleaning up vomit from the mattress won't be nearly as big of a chore.
Despite this, you may still clean up vomit without a washable cover using baking soda, rubbing alcohol, white vinegar, mild detergent, and many paper towels.
The methods required to remove the vomit include Cleaning, washing all your linens and bedding, dabbing the vomit-stained area, cleaning, disinfecting, and drying the mattress.