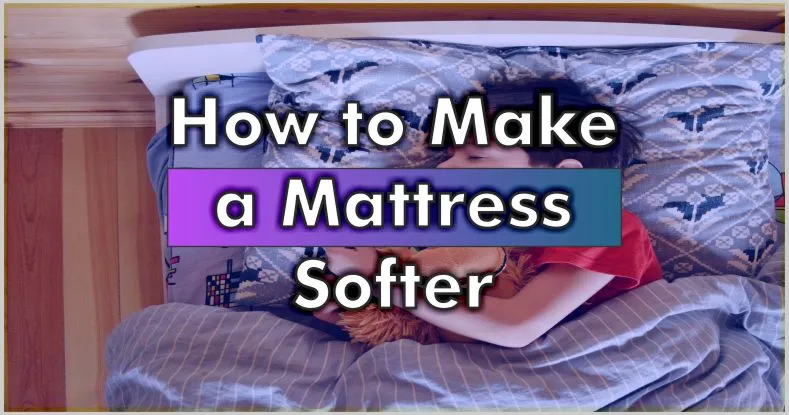 If you wake up with aches and pains on a new mattress, you likely need a mattress that is either softer or firmer. You might have bought the new bed after trying out a few different kinds in different stores or doing a lot of research about it online.
If you've tried everything and still can't get a good night's sleep, you should soften your mattress a little. Adjusting the hardness of your bed can cost a little bit of money or effort.
A few easy steps can go a long way toward making your bed a comfortable place to unwind after a long day. So, what do you do if your mattress is too firm?
We've put together a list of tips on how to make a mattress softer, such as adding a mattress topper and finding a suitable bed base.
7 Easy Steps for Making Your Mattress Soft
Lack of sleep can make you less productive and efficient during the day, but that doesn't mean you need a new bed. Here are a few ways to make your mattress softer so you can get a good night's sleep and feel refreshed in the morning.
1. Check Your Foundation
Checking your foundation should be your first step if you recently purchased a mattress and it seems excessively hard. The issue is that not all mattress types are compatible with all foundations.
For instance, if you switched from a bed with springs to memory foam, you'll need to eliminate the box spring.
However, if your current mattress isn't memory foam, a box spring foundation may help soften the overall feel of your bed.
Box springs are often made for innerspring mattresses, so keep that in mind. As the name suggests, it is a box with springs that keep bouncy and noisy coiled beds from moving around.
The base itself can be a solid platform or one with slats. If you have a foam bed and are experiencing discomfort, think about using an adjustable foundation that might not be as firm. Platforms tend to make a surface stiffer.
2. Replace Bed Frame or Slats
Additionally, you can think about changing your bed frame or merely the slats that support it. Using flexible slats instead of flat, solid slats could soften the sensation of the bed.
Sprung slats are bent at an angle, and because they are more relaxed, they could give you more cushioning and support.
3. Stepping on the Bed
You may find that a brand-new mattress is firmer than you expected, but you can quickly soften it by taking a few steps. Sleeping on it repeatedly can help break it in and soften it up for you.
Walking across it daily, ideally for several minutes, will help it soften up quickly and make it more pleasant to sleep on sooner.
4. Use a Mattress Topper
One of the easiest, most cost-effective, and quick ways to soften a hard surface is to purchase a topper. You can improve contouring and pressure point alleviation by placing a softer layer on your mattress.
Various materials are available, including down substitute, wool, cotton, feather, latex, memory foam, and polyfoam.
Memory foam is the most popular choice. For optimal comfort, choose a model with a thickness of about two inches and a density of 60 or less if you're interested in this type.
5. Warm it Up
When using a memory foam mattress, this advice is practical. A warm environment will make memory foam softer, whereas a cold one will make it firmer.
This is because memory foam reacts to changes in ambient temperature. Consider turning the thermostat up a few degrees to warm up the space if your bedroom seems chilly at night.
6. Rotate and Flip It
If you can turn or rotate your mattress, this could be a way to get some relief. Some businesses sell beds with two sides, the softer side on the inside.
For a two-sided mattress, you'll need to flip the bed over so that the top side is now facing down.
If you decide to rotate your mattress, the area that formerly supported your head should keep your feet, and vice versa. Also, it would be best to turn your bed often because it helps wear and tear happen evenly.
7. Change the Sleeping Position
If you still can't get your bed soft enough, try changing how you sleep. Some ways of sleeping, like on your stomach or back, work better with firmer surfaces. Back sleeping is a good position, especially for spinal alignment.
If you sleep on your side, a firmer mattress might not have enough cushioning, but the strong support could be what you need to keep your back straight when you lie face-up.
The best way to sleep on a hard mattress is on your stomach, so if you can do it securely, it might make you feel more at ease in bed.
Why Proper Mattress Firmness is Important for Sleep
Finding the ideal firmness level for your body type and sleeping position is the key to getting the finest mattress. Shoulders and hips need more support. Therefore, a medium, medium-soft, or soft bed is ideal for side sleepers.
Your shoulders and hips take the brunt of your weight when you sleep on your side, so they must be well-cushioned to prevent painful pressure points.
A mattress's medium-firm firmness is recommended to maintain spinal neutrality while sleeping on one's back. A firmer surface keeps your back from sinking into the bed, so your spine won't be out of place.
Misalignment of the spine causes back pain, neck pain, and stiff muscles.
Stomach sleepers want a firm mattress for improved support directly beneath their abdomens. This makes it less likely that you will strain your back and wake up in pain.
People who sleep in different positions throughout the night do well on a medium-firm mattress because it allows them to do so.
Smaller people need softer mattresses since they are more sensitive to pressure than more significant people. When people with less weight (130 pounds) use them, these soft beds compress, making them feel firmer.
People who are average or plus size often feel like their mattress sinks under them, which can cause their spine to be out of alignment. Plus-size people need firmer beds to stop this feeling, while average-sized people need a medium.
How Do I Create My Bed Comfortable
Have you ever experienced a day where you want to get home, cuddle up in bed, and unwind? Heaven on earth, right?
A particular layering method is one of the simplest ways to make a bed seem more comfortable:
Soft Flannel Sheets: Nothing is as cozy as flannel sheets when it's cooler. You can change to airy cotton bedding when the temperature rises.
Add a Memory Foam Mattress Topper: Side sleepers frequently require extra pressure alleviation for their shoulders and hips. A topper made of memory foam is the proper support for cradling your body.
Add a Mattress Pad Cover: Purchase a quilted model that serves as an additional layer of cushioning and a holder for your topper.
Get a Body Pillow: Body pillows can give you something to hug while you sleep. For people who sleep alone, you can get the comfort of a sleeping partner without the extra heat.
Also Read: What Is a Plush Mattress? Drawbacks and Benefits
FAQs
Do firm mattresses soften over time?
All mattresses soften a little in the first 50–60 nights of regular use. This time is called the "natural break-in period." But this natural breaking-in doesn't make the bed uncomfortable. Instead, it softens the mattress's extra firmness.
Do mattresses soften over time?
When you sleep on your mattress often, it will eventually get softer, which will make your sleep better over time.
Your body will acclimate to your new bed the longer you sleep on it, and the breaking-in process will go faster, both of which will lead to a more pleasant sleep experience overall.
Do mattress pads help make your bed firmer or softer?
Yes, mattress pads can change the way your bed feels. Use a thick memory foam mattress topper to make your mattress feel softer. The thickness of a memory foam topper can range from 2 to 4 inches.
Use stiffer latex, wool, or wool-composite mattress toppers to firm up your mattress. They give you more support and the right amount of firmness.
Is memory foam overly soft?
Memory foam mattresses have different firmness levels, from soft to firm. You can select from various possibilities depending on your body shape and sleeping position.
If your memory foam mattress is too soft, you can add firmness with a thin mattress topper.
Conclusion
The most comfortable spot in your home where you can unwind and recharge is your bed, but if it's too soft or firm, it won't be able to give you the level of comfort you require.
If your mattress isn't comfortable, you won't sleep well and won't be as productive during the day. Change how firm your bed is to stop this from happening.
You can soften or firmer your current mattress in several ways, but if it's more than 7 or 8 years old and sagging, you might consider getting a new one. Beds get old and lose their support over time.
Also Read: How to Fix Mattress Indentation 5 Easy Ways