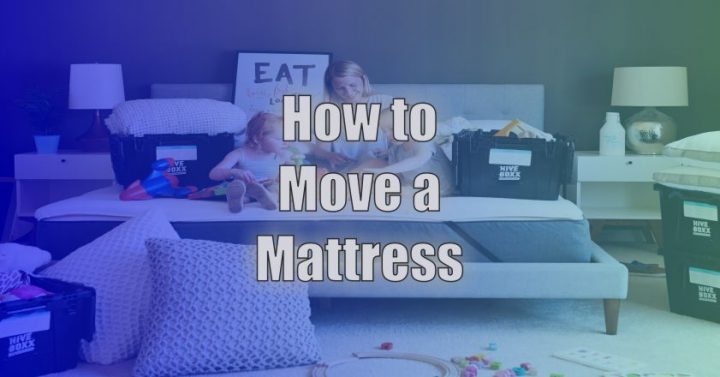 Most of the time, groups or pairs of families move, and they need to move a mattress too. Sometimes, no one is around. You could hire professional movers, but if your bed is the only thing being moved, it could be expensive.
Here are some tips on how to move a mattress yourself if you don't have anyone to help you. With these tips, you should be able to move an innerspring or bed-in-a-box mattress.
How to Move Your Mattress
If you follow the instructions about how to move a mattress, moving bedding can be smooth and easy.
1. Put a Mattress into the Bag
Put the mattress on the floor or up against a wall. Lift one end of the mattress bag while your companion slides it over the bed.
Ensure all the air is gone from the bag, then bend the flaps down and use tape to seal the open ends. Once the bag is closed, look for tiny holes or tears and tape those, too.
2. Clear a Path
Plan your way to the vehicle that will take you there, and remove any objects or trash in the form of the path or stairs. Make sure all doors can be propped open, and the mattress can be rolled through on a dolly or hand truck.
3. Prepare your Vehicle
Make sure the doors are opened and that the car is clean inside. If seats need to be removed or moved down, do this before putting the mattress in the car.
4. Lift the Mattress
A mattress can be lifted more easily if two people stand lengthwise on either side and grasp the four corners of the floor. Try not to lift things using your back. Instead, brace your abs and use your legs to lift the weight.
Also Read: How To Flip a Mattress or Rotate a Mattress
5. Place the Mattress on a Truck
Put the mattress on the dolly and stand it up on its side. If the mattress is sagging, use cardboard to hold up both sides.
If the approach to your vehicle contains steps, halt at the top before removing the mattress off the trolley and transporting it down. Never use a trolley to move a bed downstairs.
If you don't have a dolly or a hand truck, you can use cardboard to help you move the mattress to the car.
6. Load the Mattress into Vehicle
Transfer the mattress off the dolly and onto a delivery truck or pickup truck. If you carry your bed in a car or SUV, use a mattress cover to protect the fabric.
Carefully place the mattress on the rooftop or luggage rack and inspect for tears. If you don't have a moving van or truck, follow the directions for your car below.
7. Secure the Mattress
Follow the guidelines below to transport your mattress in your vehicle safely:
Moving Truck/Van:
If there's room in the trunk, lay the mattress flat. Make sure not to put the mattress on anything else; the same goes for anything else.
Lean your mattress against the wall if standing it up. Use ratchet straps or nylon rope to fasten it to the support rails. Connect two ratchet straps to produce one huge strap.
Pickup Truck:
Place the mattress in the truck bed so it is as flat as possible. Attach one end of the nylon wires or elastic bands to the D-rings. Wrap the ropes or straps around the mattress, and ratchet or tie the loose ends.
If your mattress is more significant than the luggage rack, you may have to leave the tailgate open. To keep the bed from moving, tie a rope or strap in the shape of an "X" to the back end.
Car/SUV (with luggage rack):
On top of the luggage rack, lay the mattress flat to inspect it for tears. Tie the ratchet straps or nylon rope around the mattress's perimeter horizontally, covering the mattress's front, middle, and back.
Use a strong knot, such as the "trucker's hitch" or another standard moving knot, to secure the mattress to the rack.
Car/SUV (without luggage rack):
In the absence of a luggage rack, you can inspect the condition of the mattress by simply laying it flat on the top of the vehicle.
Place the ratchet straps or nylon ropes across the mattress's front, middle, and back. Pass the wires through the passenger door jams, back windows, and roof to secure the bed.
8. Drive Slowly and Carefully
The cargo weight on the roof or trunk might make driving more difficult. Slow down so the mattress doesn't move when you turn, brake, or accelerate.
Mattresses secured to roofs require regular checks to ensure they remain in place. If you can, take back roads and be aware of possible shifts.
Buyer's Guide- How to Move a Mattress
A Helping Hand
Think about how helpful it would be to have a few more hands. Collect a helping hand from a loved one, acquaintance, passerby, or even a dog walker.
It's not simply cumbersome; the odd shape is also problematic. This is a job for two people. Doing it on your own could result in mattress damage or personal injury.
Mattress Bag
You can buy a mattress bag for less than twenty dollars to keep your bed together throughout transit. This sturdy, see-through plastic bag will keep your bed together as you move it. This bag keeps long-term storage safe and pest-free.
Ratchet Straps or Poly Ropes
You can use ratchet straps for more than just lifting a bed for $20 to $40. They can haul anything, including motorcycles. If you can't tie knots well, these may give you peace of mind because your bed won't fly into oncoming traffic.
Poly ropes may work if you're an experienced knot-tyer or a former Boy Scout. Braided structure makes these heavier and more robust than ordinary kinds. A stronger string is preferable for moving large goods.
Tape
You might need tape to hold the mattress in place when you put it in the bag. Even medium to high-quality duct or packing tape should work in a tape gun. An excellent extra step is to tape the ends and then wrap the tape all the way around vertically and horizontally.
Scissors
People often forget about this helpful tool. You should bring two pairs just in case one of them disappears. You should be able to cut tape, rope, and maybe some other things with scissors.
FAQs- How to move a Mattress
How do I transport a mattress without handles?
Getting a mattress bag with handles is the easiest way to do it. You could also carry it flat and lower it to the ground to save your strength and energy.
Another way to move it would be to put it in a box. Boxes specifically designed to facilitate relocation are manufactured by a variety of companies. This makes it simple to roll it along a dolly across carpet or hardwood floors.
Can a box spring be taken on a car?
Yes, cautiously. The size makes it difficult to fasten it to the roof, and there are aerodynamic difficulties. If the box spring is excessively long and your speed surpasses 20 mph, you may experience surprising lift, like airplane wings.
Be careful with straps and rope. Avoid tying the rope under the automobile near any hot or sharp components. Hot metal can burn through the belt, and sharp edges can cut it.
Does it hurt a mattress to fold it?
When you fold up a mattress, you can do damage that can't be fixed. This is true for all beds, especially springs or memory foam mattresses. You don't want to hurt or shorten the life of your mattress by moving it.
Foldable mattresses or air mattresses that have been deflated are the only options. Consider vacuum-packing your latex or memory foam mattress for shipping convenience.
Can a mattress be rolled up?
It is possible to roll up a mattress that has been either deflated or vacuum-packed. Don't try to roll up your bed unless all the air has been sucked out. These causes wear and tear that isn't necessary. After vacuum-packing your mattress, roll it carefully along the horizontal.
How do I get my bed from one state to another?
You can move your mattress by hiring expert movers or a mattress-shipping firm. Both are usually more expensive than renting a U-Haul, van, or pickup truck and moving the bed yourself.
Depending on size and distance, mattress shipping costs range from $300 to $700. Companies like uship make it easy to compare prices for transferring large items like beds across the country.
How should a mattress be vacuum-packed?
Mattress vacuum packing saves space but takes time. First, you'll need a vacuum-sealed bag that's big enough to fit a mattress. Then, use a vacuum or shop vac with a bag-compatible hose.
After putting your mattress in the bag and attaching the nozzle, seal it with duct tape. After removing all air, you can roll up the bed. Once rolled, fasten with a ratchet strap. Leave the vacuum attached and on for optimal results. Vacuum-packing a mattress without sheets is recommended.
Can a mattress be moved without a truck?
You don't need a truck to move a mattress. Zip ties can connect a bed to a car or SUV roof. With the back seats pulled down, a large van or crossover may fit the mattress.
If you don't own a truck, you can rent a U-Haul or a moving van or borrow a truck. Trucks are better than cars when moving a mattress because their beds have more space.
Conclusion
You can move a mattress by yourself if you are strong and mobile. How to move a mattress depends on how big and heavy it is and how far you're carrying it. A mattress bag and plastic cover keep it dust-free during transport.
To avoid hurting yourself when lifting a mattress, you must lift with your legs, not your back. A clear path without any obstacles is also essential. You can move your bed in a car, van, SUV, U-Haul, or driving truck.
Safety is essential whether you put the mattress on the roof or store it inside the car. Your bed shouldn't get in the way of your ability to drive safely.
Also Read: 12 Best Feather Mattress Topper of 2023 & Buyer's Guide