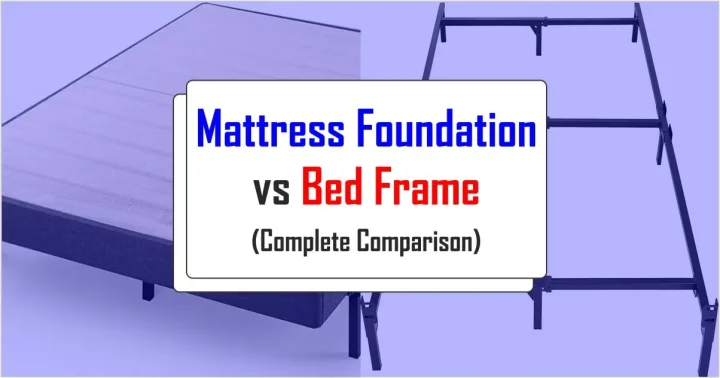 People use "mattress foundation" and "bed frame" interchangeably. But bed frames and mattress bases are two different things. Typically, a bed frame is put above a mattress foundation.
On the other hand, a bed frame is part of a bed that holds up the mattress and surrounds it.
Bed frames usually have a headboard, a footboard, four side panels, and legs, though many of these need to be included. But you may wonder in what other ways a mattress foundation differs from a bed frame and what you need.
The primary distinction between a mattress foundation and a bed frame is that a mattress foundation is typically placed above a bed frame and provides a flat, firm surface for mattresses to rest on.
Some bed frames come with built-in mattress foundations. You'll need a mattress foundation if your bed doesn't have slats or a Bunkie board.
What Distinguishes a Mattress Foundation from a Bed Frame?
The main difference between a bed frame vs mattress foundation is that the foundation can support and protect the mattress from wear and tear. They are often positioned on top of a bed frame.
A bed frame doesn't always come with a built-in mattress foundation. If you don't buy a separate mattress foundation, the mattress won't be supported or protected well enough.
Supporting the mattress and lifting it off the bed frame or the floor is the job of a mattress foundation. One possibility is a box spring; another is slatted; another is a Bunkie board or other solid surface.
No matter what sort of mattress you have or how much support it needs, you'll want to use a mattress foundation to extend the life of your mattress and ensure that you get a good night's rest.
A bed frame surrounds your mattress, occasionally including additional components like a headboard or footboard. Some bed frames have slats that support the mattress by tucking them in between the edges of the frame.
But most bed frames aren't made to fully support a mattress. The only exceptions are platform beds and frames with built-in mattress foundations.
Typically, the frame's corners are not strong enough to sustain enough weight and evenly distribute it.
What is a Mattress Foundation?
Mattress foundations are flat, firm surfaces that lay atop a bed frame to help keep your mattress in place and distribute your weight evenly.
An elevated mattress on a sturdy foundation makes it far less of an effort to get into and out of bed each morning. But some mattress foundations can be too tall for short people, and they can also be too big.
Different Types of Mattress Foundations
Box Springs
Box springs have historically been used as mattress foundations. In the past, they were made of coils and put beneath a mattress with an innerspring. These days, they consist of a fabric-covered wooden or metal frame.
Box springs provide extra height for your bed but are unnecessary because many modern mattresses are supportive enough without one. Zinus produces some great box spring mattress foundations, available on Amazon.
Slatted Foundations
Slats are thin pieces of wood or metal that go on the sides of a bed frame. They are available as individual slats or connected in a series of planks.
Wooden slats tend to bend and sag with time, whereas metal slats are more durable and can withstand heavy weight.
A slatted foundation works well for almost all types of mattresses as long as the slats are no more than 3 inches apart: this allows for optimal air circulation and mattress support.
Bunkie Boards
You can use slats or connect a flat, thin platform called a "Bunkie board" to your bed frame.
Slats on Bunkie boards can increase support and airflow, but they must be put tightly together to keep the mattress from sagging. You can raise the height of your bed by using a Bunkie board and a standard foundation.
Platform Beds
Platform beds are beds with a flat top that holds the mattress. Because of its construction, a platform bed serves as a bed frame and a mattress base.
Adjustable Bases
Adjustable bed bases provide users with a variety of pleasant sleeping positions. They are more expensive and don't let as much air in as other foundations.
Nonetheless, due to their focused pressure reduction, these bases benefit those with back problems.
What is a Bed Frame?
Bed frames, also called bedsteads, are the sides of your bed. Some bed frames have a headboard and a footboard. The bed rail serves to support both your mattress and base.
Bed frames keep your mattress and foundation off the floor, which keeps them safe from dust, mold, and moisture. They exist in various forms but are typically decorative rather than simple mattress foundations or bases.
Bed frames function with any mattress because they are a prop for your bed and its foundation.
Different Types of Bed Frames
Bed frames come in various materials and designs, but the most prevalent are metal bed frames and platform beds.
In comparisons between a mattress foundation and a bed frame, the most crucial reason for requiring a bed frame is convenience, particularly when entering and exiting the bed.
Metal Bed Frame
A metal bed frame supports the box spring and mattress off the floor. This frame has the potential to be both cost-effective and long-lasting, with or without wheels.
An optional headboard and footboard are available for some models. These frames are great for upholstered bed headboards that you buy separately.
Metal Platform Bed Frame
A metal platform bed frame looks like a bed frame with slats made of wood, but it is made of heavy-duty steel instead.
It looks clean and modern and is made of solid materials. It can hold many mattresses, like memory foam, latex, and innerspring.
This low-profile foundation has a low price and doesn't wear out or warp over time. It also doesn't need a box spring.
Wood Bed Frame
Depending on the type of bed, a wood bed frame (also known as a bedstead) frequently has a headboard, rails, and an optional footboard.
The internal framework usually isn't strong enough to support a mattress without additional components like a box spring, Bunkie board, or bed slats.
Adjustable bed frame foundations are often compatible with this bed frame style. The option is to purchase a bed frame made entirely of wood, with slats no more than two or three inches apart.
Wood Platform Bed Frame
A solid base or slats hold the mattress in place on a wood platform bed frame. Most of the time, the construction has a low profile and a headboard.
This base doesn't need a box spring because it can hold any mattress. Some platform beds have drawers that can store more things in the bedroom.
Sleigh
Curved headboards and footboards give sleigh bed frames their distinctive appearance.
The Sleigh beds make a statement in your bedroom, but they can be expensive. They are usually built of wood. However, sometimes they have cloth seats instead.
Trundle
Trundle beds have a mattress that rolls out from under them. The mattress can also be put on a frame that pops up, but it is usually kept in a large drawer close to the ground.
The most typical sizes for trundle beds are twin and complete. Yet occasionally, you can also find them in queen or king sizes.
A trundle's mattresses are often very thin, so they aren't the best for sleeping on every night. They are suitable for occasional guests and children's rooms, though.
Bunk
Bunk beds are two or even three-bed frames stacked on each other. Several bunk beds accommodate twin XL, full, queen, and even king-sized mattresses.
A bunk bed is an excellent choice to save space in your bedroom. It works well in kids' rooms, guest rooms, and rented-out places. Many college dorms also have bunk beds.
Murphy
An additional bed frame option for maximizing bedroom space is a murphy bed. It is a bed inside a cabinet or closet leaning vertically against the wall.
During the day, the bed can be put under the couch or against a wall so that the room can be used for other things.
When you're ready to use the bed for sleeping at night, it can be lowered. Murphy beds come in many different sizes, but most are made for queen-size mattresses.
Daybed
Daybeds are beds that can be used for more than one thing. They have three frames that look like a deep couch. During the day, daybeds can be used as a couch or a bench.
They can be cozy to sit against with just a few pillows. You can turn your daybed into a regular bed at night. You won't need to worry about locating a unique mattress because they also work with conventional mattresses.
Floating
The floating bed frame is a variant of the platform bed frame. Floating beds have covert legs or none, unlike traditional platform beds, which have four easily seen legs to lift the frame off the ground.
Instead, the beds that float are attached to the wall. Floating bed frames look very modern and can make a small room look like it has a lot of space even though it doesn't.
Even though you can technically store things under the bed, it takes away from the look of a floating bed.
Canopy
Canopy frames are four posts that give your bedroom a royal look. Curtains can be hung on these posts for more privacy or to control the temperature.
FAQs
Can a mattress foundation be used on the floor?
You can use it on the floor if the mattress base takes your weight and the mattresses. On the other hand, sleeping with your mattress directly on the floor can increase your exposure to allergies and dust mites because of the lack of air circulation.
Do you need a bed frame if you already have a bed frame?
You would require a box spring or foundation to put your mattress on a typical bed frame. A box spring usually uses an innerspring mattress, but a foundation will work fine.
Is a bed frame the same as a bed foundation?
Bed frames are solid portions of the bed's base with a rim close to the size of your mattress, whether it's a king size, queen size, double bed, or single bed—solid wood, metal, and, in some instances, durable plastic is commonly used to build mattress foundations.
Conclusion
The difference between a bed frame and a mattress foundation can be better understood if you remember that the former is meant to prop up your mattress while the latter provides more substantial support.
Bed frames and foundations work together to give your bed the boost it needs for a good night's sleep.