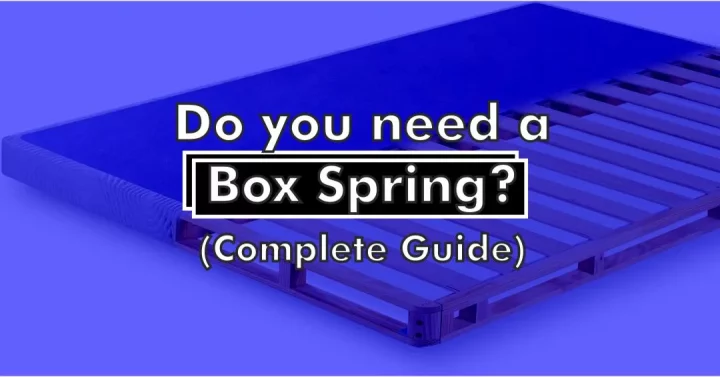 A box spring might be one of the things you need clarification on, and there are a few things you need to know to decide if you need it or not.
It is a piece of furniture that holds up your mattress, usually made of a wooden frame covered with fabric and has springs in the middle.
It is usually made to the same size as the mattress it will hold, which is why you can often buy a new mattress and box spring together.
We've compiled this comprehensive guide to help you verify "do you need a box spring" or select the right one for your bed. Read on to discover how this product could make your bedroom a better place to sleep.
Does Your Mattress Need a Box Spring?
The main benefits of a box spring are that it lets more air in and absorbs shocks. Box springs raise your mattress even higher off the floor, giving you more space under the bed to store things.
Box springs make innerspring beds more stable, but they still have less pressure relief than other mattresses. Users of innerspring mattresses report sagging five years after purchasing them, suggesting that a box spring may not be the best base.
Depending on your mattress, you may or may not need a box spring. As we've already said, most innerspring mattresses need a box spring.
On the other hand, modern innerspring versions may be used with alternative foundations—for more information, see the mattress guarantee on the company's website.
Some foundations, like a metal frame with reinforcements, a platform bed (solid or slatted), or an adjustable base, don't usually need a box spring.
Each of these bases offers a framework that equally distributes the sleeper's weight, doing away with the requirement for box springs.
1. Memory Foam
Various brands offer an excellent alternative for almost any sleeper, memory foam mattresses. Typically, these mattress styles don't need a box spring.
2. Hybrid
A hybrid mattress has both foam and springs in it. Hybrid mattresses don't have to be used with a box spring; they usually work best with more solid bases like slatted bases.
3. Latex
Latex beds usually work best on slatted bases or other more stable bases. This is because latex mattresses tend to be heavier, which could hurt the box spring and make it work less well.
4. Innerspring
A typical innerspring mattress can benefit from additional support from a box spring. Additional support may be beneficial if you weigh more or prefer to sleep on your back or stomach.
Advantages of Using a Box Spring
1. Improve Air Circulation
Box springs are primarily empty inside, except for the coils and wood support. More air circulates your mattress when you utilize a box spring; if constructed effectively, air may also pass through it.
Airflow is essential to staying cool at night and getting better sleep, so don't take it for granted.
2. Enhanced Height
It raises your bed, which is the first benefit. A bed that is raised high off the ground looks nice. Also, if you have a high bed, small pets won't jump up on it, and minor bugs won't be able to climb up and get under the covers with you.
3. Supportive for your Mattress
Some bed frames don't give your mattress the support it needs, making it sag.
Sometimes, the warranty on a coil spring mattress will say that you need to use a box spring to make it last longer.
If a box spring is necessary and you don't use one, you risk losing out on the guaranteed protection for your mattress.
4. Absorption of Shock
Nothing can help your mattress absorb shock when it's on the ground. Without a box spring, your mattress will wear down considerably more quickly over time if you have kids who jump on the bed or if you toss and turn as you sleep.
5. Collapsible Bed Frame
A box spring is needed for some bed frames. You'll know why if you've ever used a frame that folds up. The mattress will sink and be unpleasant if the middle doesn't have enough support.
The use of a box spring is highly recommended for any bed that does not have a solid platform or central slat support system.
Alternatives- What can be used instead of box springs?
Not everyone needs a box spring. If you think a box spring bed won't work, you can try something else.
1. Foundation
A mattress foundation is different from a box spring because it has a flat, strong wooden board on top. A slatted system is an alternative to the solid wooden board in this product.
Foundations are often constructed of wood or a wood-and-metal composite to provide the most strength and support.
2. Bunkie Board
A Bunkie board was made to go with a bunk bed. A thin board acts as this item's support for the mattress, taking up less room than a box spring would.
The Bunkie board is thin but helps minimize drooping and soft places more than slat systems do.
3. The Mattress on the Floor
It can look modern and stylish to put your mattress on the floor. The floor is flat and firm to hold up your mattress. Also, if kids jump on the bed and fall, they won't get hurt as badly.
The biggest problem is that most of your sheets and blankets will be on the floor and easy for dirt, dust, and bugs to get to. Plus, less airflow could make bacteria more likely to grow.
4. Adjustable Base
Use an adjustable base for the best comfort while in bed reading, working, or watching TV. This base is frequently used in hospitals because it helps patients adopt the ideal posture.
For people who spend a lot of time in bed, an adjustable base is a fantastic alternative since it keeps your legs and head elevated, which promotes blood circulation.
5. Platform Bed
A platform bed is an excellent option if you want something less cumbersome than a box spring.
Your mattress stays off the ground because of the platform, but it doesn't add much height. It doesn't appear bulky, and there is enough airflow to stop the growth of bacteria and mold.
FAQs
Does a platform bed need a box spring?
No, they don't need a box spring. They often have a flat top where you can place your mattress and are built of wood or metal. Platform beds are cheaper than box-spring beds.
Does a bed frame need a box spring?
Not every bed needs a box spring in particular. The critical thing to remember is that box springs need a separate bed frame to hold them up (in most cases).
If you have or like a simple metal bed frame with only one or two support bars in the middle, you probably need a box spring to finish the set.
Does a Hybrid Mattress Need a Box Spring?
A hybrid mattress does not require a box spring, although many people feel that the added support provided by the springs and slats improves the general comfort of their bed.
Conclusion
A box spring is the best option for prolonging the life of a mattress and protecting it from damage. It will also help airflow underneath the mattress.
Check with the company that made your mattress to find out if you need a box spring. You can most of the time find this information on the product's website, in the frequently asked questions section, or the warranty.
Also Read: How to Build a Memory Foam Mattress Foundation (8 Steps)