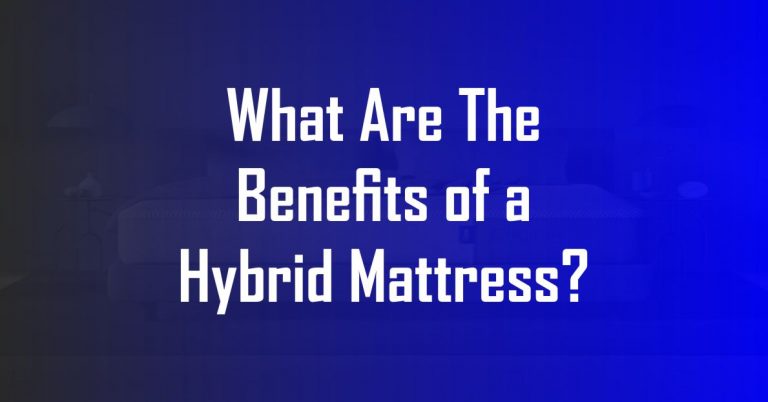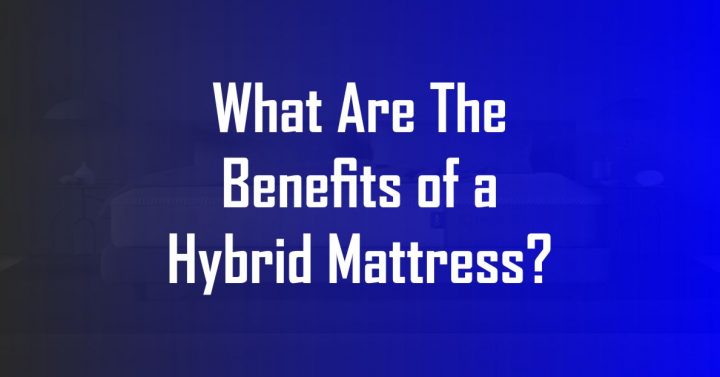 Hybrid mattresses integrate two types of support systems: memory foam layers on top of an innerspring system on the bottom. Choosing a hybrid mattress is an excellent way to benefit from the pressure-relieving features of memory foam while still enjoying the traditional feeling of a conventional innerspring mattress.
Many individuals are interested in the benefits of memory foam and gel memory foam mattresses, but they are afraid to make the switch to an all-foam mattress is where hybrid mattresses may be beneficial.
Using a hybrid mattress, you may obtain both innerspring and memory foam technology benefits in one mattress. As a result, Hybrid mattresses provide the ideal combination of firm support and contoured comfort for all sleepers.
In most cases, they are constructed with coils that are the same size as those found in innerspring mattresses, with a top layer of memory foam for support and contouring.
The coil structure provides the "bounce" that an innerspring mattress offers, while the layers of memory foam give that distinctive enveloping embrace. Hybrids also have a more classic shape than all-foam beds.
But what is it about hybrid mattresses that appeal to consumers looking for a restful night's sleep?
12 Benefits of a Hybrid Mattress
1. Little Bounce
As a result of their "slow-melting" density, memory foam mattresses are infamous for producing a sinking feeling that not everyone enjoys.
But we're going to argue hybrid mattresses are a little more forgiving. A hybrid mattress's pocket-coil innerspring core provides more bounce than a 100% memory foam mattress due to memory foam's remarkable ability to inhibit motion transfer.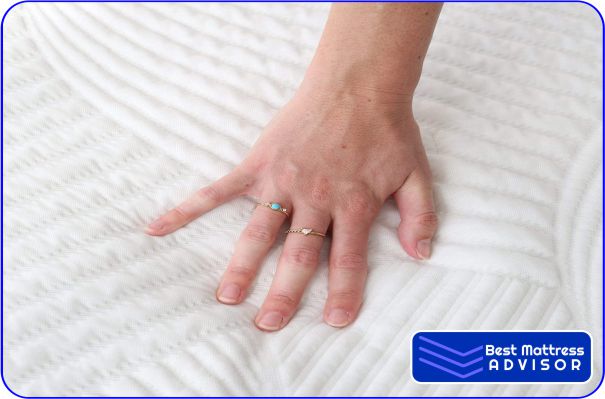 2. Added versatility
A manufacturer can only provide you a few things when playing with different types of foam. When we're talking about a hybrid mattress, we're talking about an entirely new world of possibilities for combining various materials and their densities.
Consider this: there are only so many dishes you can prepare with simply potatoes, but if you could utilize potatoes, chicken breast, and a handful of vegetables, imagine all the different combinations and outcomes you might get.
Given that we're discussing a bed constructed from several materials. One of the benefits is that you'll have a more likely mattress to delight and comfort you. Due to the producers' access to foam, cotton, latex, coils, and other materials, hybrid mattresses can accommodate nearly every type of sleeper.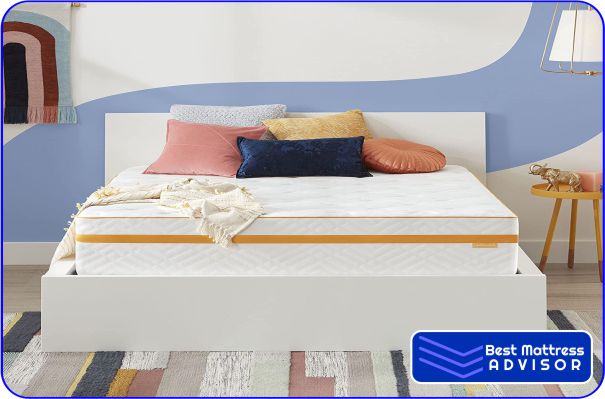 3. Lightweight and Breathable
When it comes to memory foam mattresses, one of the most common complaints is that they might become too hot. On the other hand, hybrid mattresses provide a cooler sleeping environment because of the permeability of the innerspring core. Innerspring coils are 28% more efficient at transferring heat than typical memory foam.
4. Hybrids Are a Great Value
A hybrid mattress is a smart investment. Especially given the unlimited combinations of materials can provide a customized product that does not require you to empty your financial account.
In other words, when you purchase a hybrid mattress, even if it is a lower-cost mattress, you will not necessarily be sacrificing quality.
5. More technology
A hybrid mattress is unquestionably a breakthrough in the mattress industry. That implies that, unlike a bed made entirely of a single material, manufacturers are experimenting with new materials and ways to combine them. Much to the delight of us sleepers who need as much comfort and support as possible.
Suppose the mattress business discovers something new that will improve our sleep. In that case, you are more likely to see that innovation across numerous hybrid mattress companies, giving you more alternatives for which mattresses to purchase if you want to benefit from "this new thing." It would help if you kept in mind that hybrid beds do have the drawback that they are more expensive than other kinds of mattresses.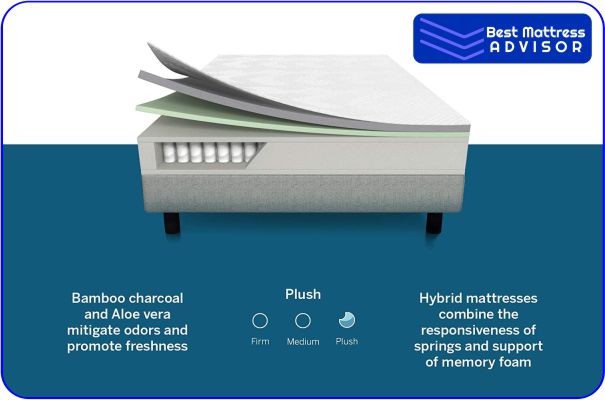 6. Hybrid Mattress Are Versatile
If you have a pure foam mattress or a simple spring mattress, you can only customize so much. But you can find with a hybrid mattress a mattress that feels like it was designed for you.
You have the option of using pocket coil springs or a traditional innerspring system. You can use any mix of latex foam, memory foam, polyfoam, or something completely different for the comfort layers. Occasionally, a pillow top or other quilted cushioning can be added as the topmost layer.
Additionally, hybrid mattresses come in a broader variety of firmnesses – you may purchase one as soft as a cotton ball or as firm as you like.
Also Read: 15 Best Extra Firm Mattress in 2021 – Guide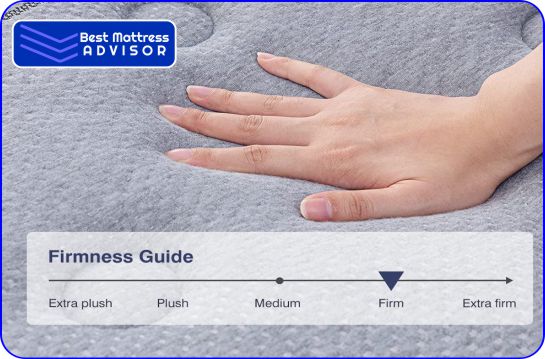 7. Ideal Balance of Comfort & Support
Contoured support is provided by the top comfort layers, which hug and support your body as you sleep, and pocket coil springs aid to offer the lift you need to keep your spine in proper alignment. Additionally, the mix of pocket springs and foam and the body contouring that gives pressure point alleviation make hybrid mattresses extremely supportive.
8. They Provide Great Edge Support
First and foremost, what exactly is edge support?
Edge support is a term that refers to the structural integrity of a mattress's outer border. The unfortunate reality is that foam mattresses frequently fall short in this regard.
As a result of the structural spring system found in hybrid mattresses, they provide exceptional edge support. You can sleep since they are supportive of the edges.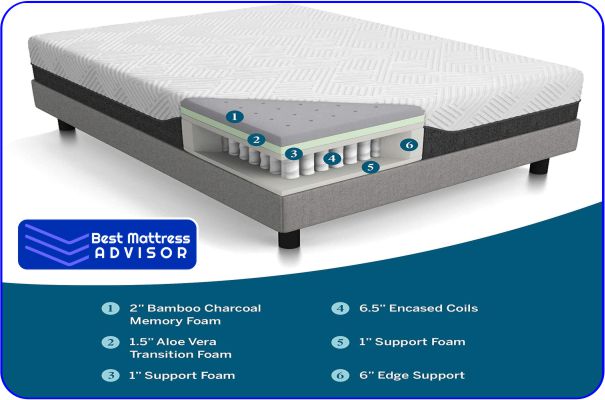 9. Pocket-Coils Help Reduce Motion Transfer
Hybrid mattresses are an advantage over traditional spring mattresses because most of them contain pocket coils, which reduce motion transmission. While not as effective as memory foam mattresses, hybrid mattresses are still advantageous over traditional spring mattresses.
Traditional innerspring systems function as a single unit, with all of the metal springs being interconnected in one way or another. Because the springs travel in the same direction, it is not ideal for weight distribution or motion transfer.
However, when using pocket-coil springs, any sinking or motion is limited to the area where the weight is put because they are individually wrapped. Hybrids are built around a pocket coil core, especially considering that they are intended to provide an extra bounce.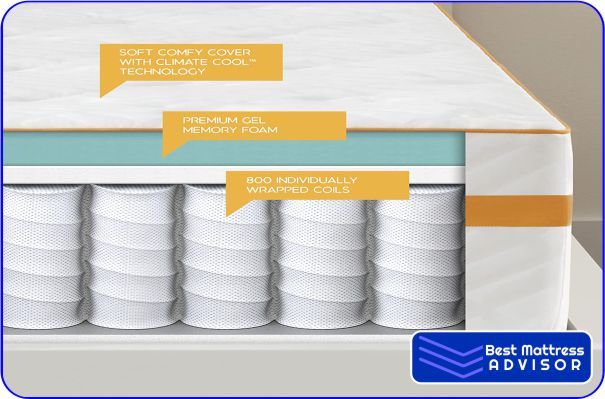 10. Springs Poking Your Back? Not With a Hybrid
When it comes to traditional mattresses, some people are concerned that the metal springs will begin to poke out here and there, especially as they get older.
Due to the upper layers of foam that act as a line of defense between your back and rogue springs, this is unlikely to happen even as hybrid mattresses get older.
11. Help With Pain Relief
There has been a lot of discussion regarding the tremendous comfort that hybrid mattresses provide. In addition, the pocket-spring and foam mix found in hybrid mattresses offer enough support for the neck, back, hips, and shoulders, all of which molds to the body and relieve pressure points in the areas where your body needs them the most: the back and neck.
With its structural support, the spring core can aid in promoting appropriate sleeping posture and spinal alignment.
In the meantime, the top layers of foam fill the areas surrounding your body, which the full innerspring mattress may not so love. These two effects work together to help decrease chronic pain or soreness in the body.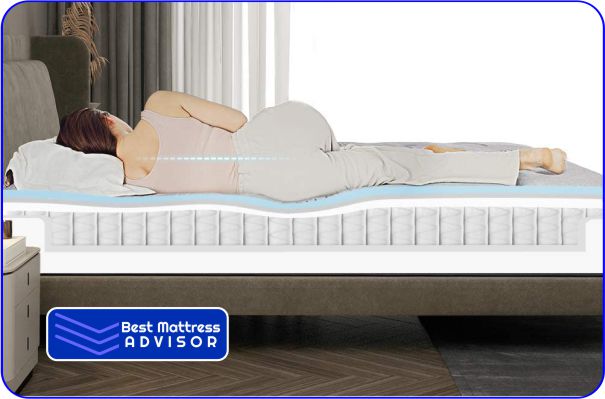 12. Reduced Motion Transfer
While the reduction of motion transfer isn't as impressive as a memory foam mattress, hybrid mattresses are still a step above your typical spring mattress. Pocket-coils consists of individually wrapped springs, so any sinking or motion is isolated to wherever weight is placed. The foam on top of the springs helps absorb motion turbulence.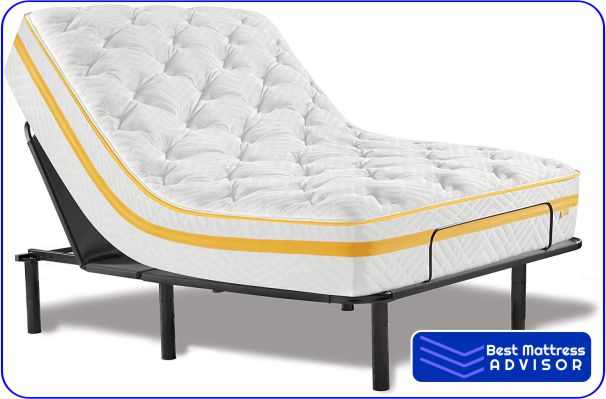 Pros and Cons of Hybrid Mattress
Pros
Pressure Point Relief
If you wake up with a painful shoulder or hip cramp during the morning, your mattress may not relieve your pressure points properly. An excessively firm bed can cause you to apply inappropriate pressure while you are sleeping. An added comfort layer is added to a memory foam mattress top, which helps maintain proper spinal alignment and provides a more peaceful night's sleep. If you suffer from frequent joint difficulties, a hybrid bed may be able to reduce some of your discomforts. Add an adjustable bed base for more health and sleep benefits.
Joint And Back Support
With its unique mixture of pocket coil mattress springs and several types of memory foam, hybrid mattresses provide a balance of joint and back support for people who sleep in various positions. As a result of the differences between the two support systems, each support system is distinctive in its way. Whatever your sleeping position (back, side, or stomach), hybrid mattresses provide a comfortable mix between supporting and relaxing sleep while not being overly supportive in any direction, according to the manufacturer. The hybrid mattress is the best option if you want a bed that is neither too soft nor too firm.
Cooling Features
Memory foam mattresses that are older and less expensive tend to retain body heat, causing you to sleep hotter than usual, resulting in night sweats. Anyone who wants to obtain a good night's sleep must regulate their body temperature. The top layer of your bed should be pleasant to the touch. While sleeping, hybrid mattresses make use of both the airflow supplied by the frame's cooling features and newer, more modern gel-infused memory foam with phase change materials to regulate your body temperature while you sleep, allowing you to remain cool while you rest.
Pocket Coil Support System
With its spring structure allowing individuals to sleep comfortably on a higher density mattress, the wireframe innerspring mattress has been around forever. Mattresses with pocketed coil innerspring, like hybrid mattresses, provide the same level of support as traditional mattresses while also extending the life of your frame. Compared to other direct-shipping manufacturers, beds with pocket coil springs provide a frame around which your mattress may be built, which helps the bed maintain its shape and avoid the sagging sensation that many inexpensive memory foam mattresses can provide after a time.
Cons
Heat Retention
As previously said, as you sleep, your body releases heat, and memory foam can trap that heat, making you feel even hotter than before. When your body temperature is too high, it might not be easy to sleep comfortably. If you sleep hot naturally or prefer to sleep cool, avoid cheaper memory foam and look for a hybrid mattress with built-in cooling technology.
Conclusion
There are plenty of benefits when looking at a hybrid mattress, but it's also very important to know what you're comparing it with. The benefits of a specific type of bed are best highlighted when we have a reference point that allows us to compare it with something already familiar to our readers.
Hybrid mattresses are becoming increasingly popular because they provide an excellent alternative to purchasing a mattress constructed entirely of a single type of material. It is partially justifiable that these beds are more expensive than other types of beds because of the additional comfort and support they provide.
Also Read: 11 Best Budget Mattress in 2021 – Guide