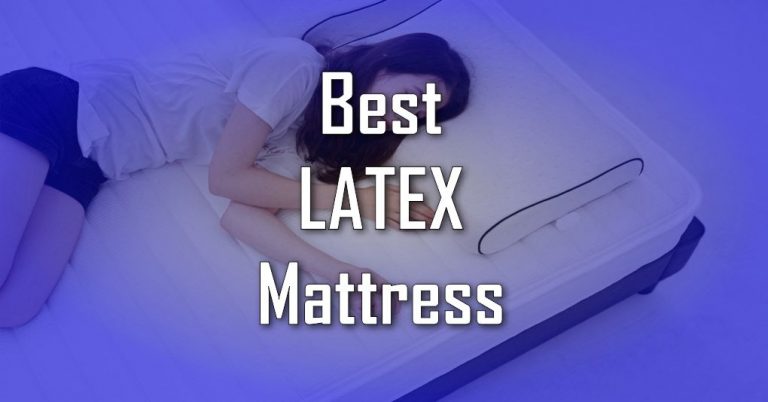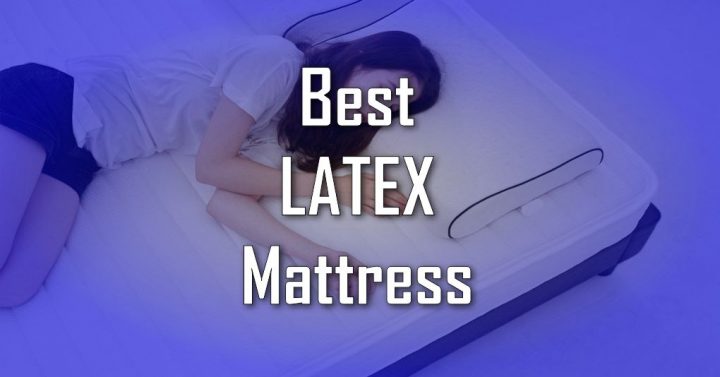 The durability, comfort, and long lifespan of latex mattresses make them a popular choice on the market. Mattresses made from rubber tree sap are particularly appealing to eco-conscious buyers because they are healthy and pleasant.
You may have seen some fantastic mattress options, but latex is hard to match. Latex mattresses are great for alleviating joint and back discomfort. They can also help with allergies, providing additional back support, bounce, and durability. This substance is among the most sophisticated alternatives available today.
Thousands of latex mattress options await those who are interested in making the purchase. To help you narrow down your options, we've compiled a list of the best latex mattresses currently on the market. We'll go through the benefits and drawbacks of latex, as well as which people these mattresses are best suited for.
Top 11 Best Latex Mattress
Best for Stomach Sleepers- Saatva Latex Hybrid Mattress
1. Best for Stomach Sleepers- Saatva Latex Hybrid Mattress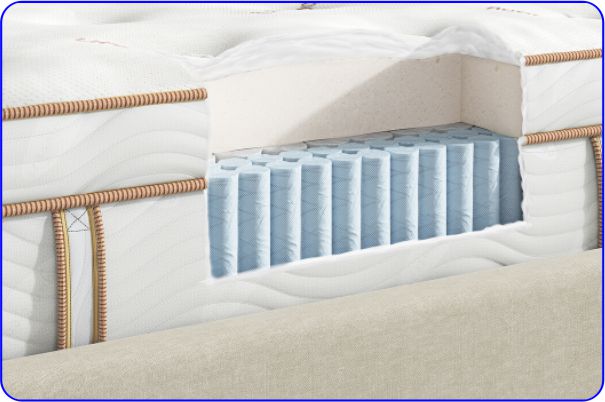 Highlights
Firmness level: Medium-Firm
Trial Period: 180 nights
Guaranteed Warranty: 15-years
Product Description
The Saatva Latex Hybrid is an excellent option if you're looking for an organic mattress, buying for two, or need a lot of back support from your bed. Organic cotton and wool make up the top layer of the mattress's cover.
In contrast, a 3″ layer of Talalay latex and coils keep it hypoallergenic while relieving pressure and absorbing excess body heat.
It also does an excellent job of isolating motion, and the latex layer flows with you to remain responsive.
Pros
White-Glove Delivery and Setup Provided Free
A Fantastic choice for Sleepers who Switch positions.
Quality Materials ensure Longevity
Cons
Not for those who prefer a more Conventional Foam Feel.
2. Best Latex Hybrid Mattress- LUCID 12 Inch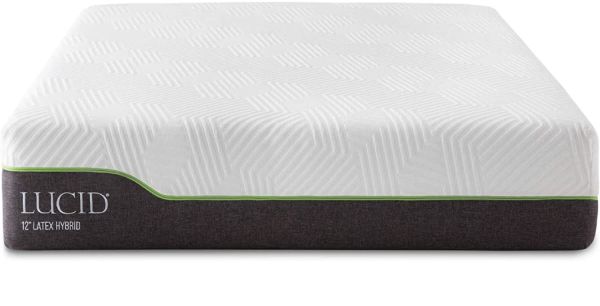 Highlights
Memory Foam
Responsive Latex
Steel Coils
Firm Feel
Temperature Neutral
Product Description
The LucidTM 12″ Latex Hybrid Mattress will help you wake up refreshed after a restless night's sleep. This hybrid mattress offers more comfort and resistance than a foam mattress, so you'll wake up feeling rejuvenated.
On top of a 6.3-inch, separately steel coil foundation, we added natural latex, foam, and transition foam to provide incredible support, stability, and emotional isolation.
Memory foam's plush softness and conforming properties are complemented by latex's springier sensation for a unique combination.
If you're on the fence about getting a memory foam mattress, this is an excellent compromise for your master and guest bedrooms. It's comfortable, supportive, and won't break the bank.
Pros
Supportive and Comfortable
Perfectly Firm
No Motion Transfer
Excellent Memory Foam Mattress with top Latex Layer Cushioning
Cons
Sometimes Wake up with Worst Pain ever
Extremely Firm, rather than Moderately Firm
3. LINENSPA 10 Inch- Latex Hybrid Mattress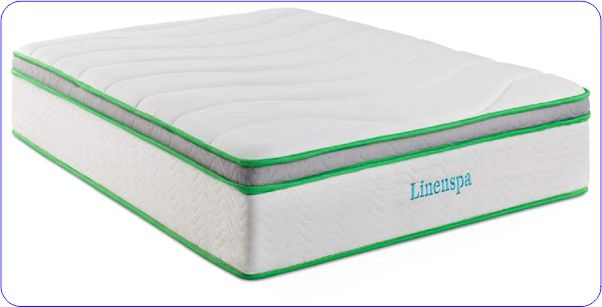 Highlights
Supportive
Responsive Feel
Medium Firm
Temperature Neutral
Product Description
High-profile latex with individual basis steel coils for superior motion isolation. The result is a buoyant softness. And you won't feel your companion move. In addition to providing enough support, our coil base is covered with 3 inches of foam and latex. Two-tone cover with built-in edge support.
The combination of foam and latex layers results in a luxuriously soft mattress with a reactive and springy feel that delivers just the right measure of relief and support for any sleeper.
In this one-of-a-kind hybrid design, a robust base of individually enclosed coils is combined with latex foam's smooth, supportive comfort for the best of both worlds.
This mattress has the perfect balance of softness and support, and its 10-inch profile makes it a fantastic fit for any room in your home.
Pros
It is very Comfortable and Plush
Great for Severe Fibromyalgia Sufferers.
Outstanding value and Assistance, as well as Pain alleviation
Cons
Back causes Aches after a year of being Sagging.
As Solid as a Rock
4. Inofia Queen Mattress Latex Foam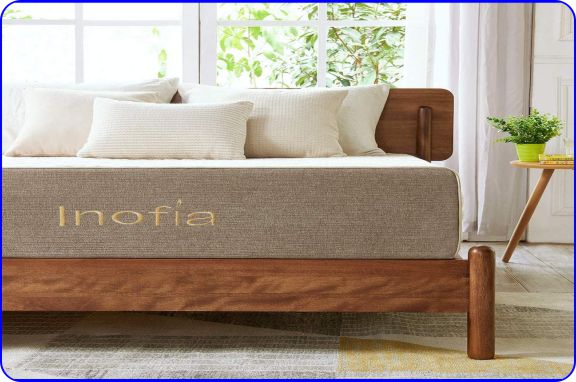 Highlights
11 Inch Bed Mattress with Linen Cover
ECOTURE Mattress in a Box
Ventilated Design- Sleeps Cooler
3 Layer Support System
Medium Firm
100-Night Home Trial
Product Description
Inofia Queen natural latex is superior to synthetic foams at dissipating heat because it contains no chemicals. As you move around in your sleep during the night, the mattress adapts instantaneously to your changing position.
Our foams are made to correct your spine as you sleep, allowing you to get a good night's rest. The middle layer offers the essential counter pressure and comprehensive support for your lower spine regardless of your sleeping position.
Using a linen mattress material helps to keep you cooler while you sleep, allowing you to wake up feeling refreshed and rejuvenated. It also reduces your risk of developing allergies because linen naturally wicks away moisture.
Rolling up and compressing the package into a manageable box allows for high-efficiency door-to-door delivery.
Pros
Super Comfortable and Soft Mattress
Stress Relieving and Protective for Back
High Hygroscopicity and Breathability
Affordable
Cons
Too firm for a Side Sleepers
5. Best Natural Latex Queen Mattress- Sunrising Bedding 8″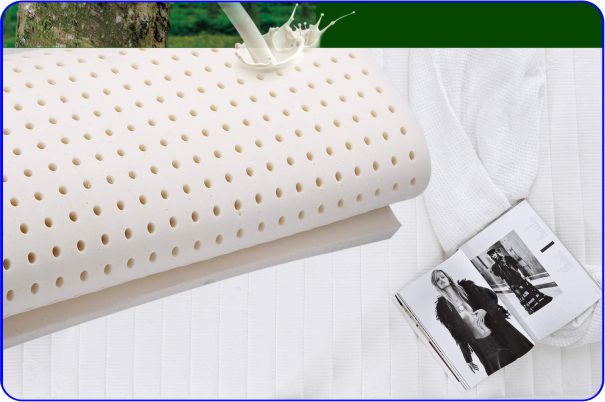 Highlights
Individually Encased Pocket Coil, Firm
Supportive
Natural Cooling
Organic Mattress
120-Night Free Trial
20-Year Warranty
Product Description
Using Cashmere Wool as the mattress cover, the Sunrising Bedding 8″ Latex hybrid spring mattress is certified by OeKo-Tex Standard-100. It is made using CFR1633 flame retardant cotton, which complies with U.S. 1633 regulations for fire cotton and does not use fiberglass or chemical fire retardant.
To top it all off, the cashmere wool is hypoallergenic and antibacterial, so it'll keep you and your family healthy.
The Talalay Latex top layer uses Talalay Latex technology, which is a healthier production procedure without causing reagents in its composition. As a result, there aren't any distracting or unpleasant odors.
An orthopedic effect is provided to the back, waist, and shoulders by Classic Separately Pocket Spring Mattresses, which use a 2.0 mm gauge enclosed coil spring in the center of the mattress to improve blood circulation and relieve numb muscle and joint pain.
If your spouse moves, you won't wake up since the encased coil springs function independently to reduce motion disturbance.
Pros
Excellent, Quality Product
You sleep cool, and the bed supports you for a great night's sleep.
Great Firm Bed
Very Comfortable
Cons
Off-gassing and Terrible Smell
Not Organic
6. Best Organic Latex Mattress- Pure Green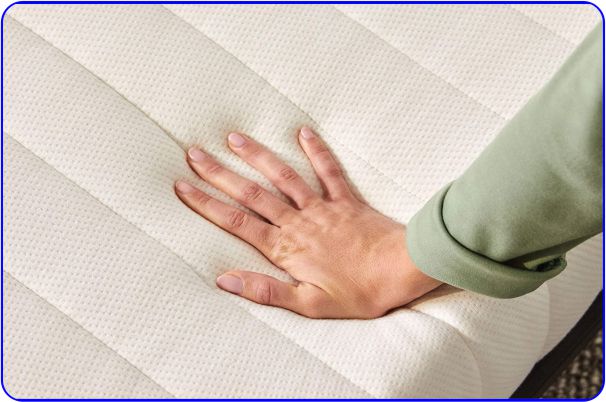 Highlights
Firmness level- Firm
Queen Sized
Product Description
This mattress, made of natural latex foam, organic cotton, and pure New Zealand wool, sets a new benchmark in the world of latex mattresses.
‍
To make high-quality yet straightforward mattresses that are pleasant, long-lasting, and completely safe, we used natural latex. Niles, IL factory sews, assembles, and packages every bed by hand.
The natural latex foam's points quickly absorb pressure, distributing it sparingly across the remainder of the surface. In this way, the foam can follow the body's contours more efficiently and allow for unrestricted movement.
Comfortable foam can be easily transferred to your body because of the cover's flexibility. The mattress's heat retention is minimized because of the permeability of all of its components.
Pros
High-Quality mattress with Excellent Customer Service
Great for Low Back Pain – Aches and Pains gone
More Supportive than the Medium-firm
Cons
Over-priced and Poor-quality Product
Hits Pressure Points
7. ASIERY Memory Foam Latex Mattress
Highlights
Folding Mattress
Sizes Availability: Queen/King/Double/Full Size
Bedspread Breathing Foam Tatami Mattress
White Colored
Thickness 9cm (Size: 150200cm)
Product Description
Latex knitted to protect your spine, imported latex that conforms to your body's natural curves for superior support and complete pressure release to help you fall asleep sooner and stay asleep longer.
There are just 30ML of high-purity Thai latex produced daily by each rubber tree in Thailand. The durability of the latex is critical, regardless of the mattress' overall quality. It's hard to break our latex because it's neither crumbly nor brittle.
While other designs collapse under pressure, this five-layer system protects the ridge and promotes deep, restorative sleep by preventing it from collapsing.
The beryllium metal mattress has a smaller contact area with the human body than the hard and soft mattresses. This material's excellent elasticity and quick rebound make it ideal for supporting the entire body and dispersing pressure evenly.
Pros
Extremely Comfortable
Promotes Pain Relief
Environmentally responsible
8. GhostBed Classic Latex Mattress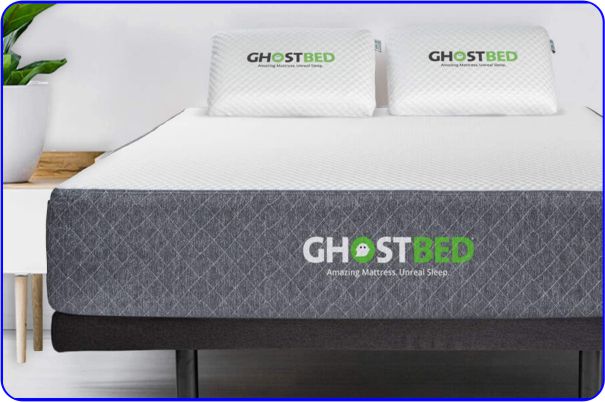 Highlights
11 Inches
Cool Gel Memory Foam
Medium-Firm Feel
Made in the USA
Queen Sized
Product Description
The GhostBed mattress' memory foam and non-allergenic latex give excellent support and comfort for all types of sleepers. It's easy to fall asleep on the GhostBed because it's soft, supportive, and bouncy. It strikes the perfect harmony between comfort and pain relief, allowing you to get a good night's sleep.
The viscose and polyester blend in the smooth, silky fabric promotes breathability and coziness. Because of the tiny holes in the top latex (non-allergenic) layer, you'll sleep more relaxed at night. The bouncy texture of the latex (which is non-allergenic) adds to the enjoyment of activities other than sleeping in the bedroom.
The cells in our patented foam mix are more extensive than those in ordinary memory foam to provide greater comfort. By using this layer, you'll be able to keep your body temperature down while staying comfortable.
The core of your GhostBed is made of long-lasting, high-density foam. It's firm enough to keep your spine aligned but not so stiff that you wake up with a sore back.
Pros
A Comfortable Night's Sleep
Simple to put up and relatively easy to use.
Perfect Amount of Support
Cons
Premature Sags, good for only 12-18 months
Bad design, Toxic odors Permeate the Space
9. Best Natural Latex Hybrid Mattress- Eco Terra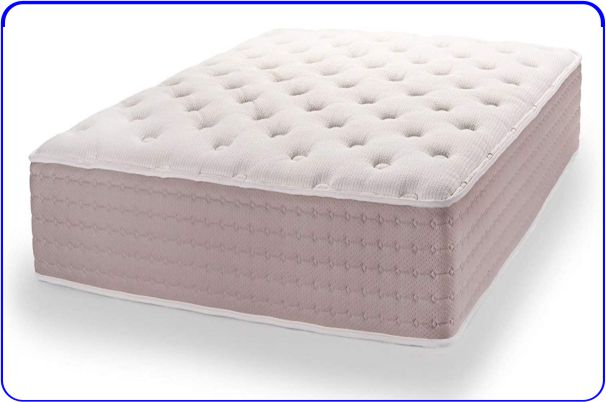 Highlights
The Comfort Difference
Luxurious All-Natural Latex
Single-Source Latex
11 Inch Twin XL
Encased with Coil Springs Mattress
White Coloured
Product Description
A premium individually packaged, fabric-encased coil base, a wool flame barrier, and an organic cotton cover make up the 11″ Eco Terra Mattress's velvety layer of 100 percent natural Talalay latex.
Using our pleasantly responsive, all-natural latex provides unmatched comfort and support by organically conforming to your body.
No matter your sleeping position, the Eco Terra latex mattress will cradle and support you. Our medium firmness is 5.5 out of 10, whereas our medium-firm is somewhere between 7-8.
Natural latex from one source offers us the consistency we need to precisely regulate each latex mattress to help you achieve deep and peaceful REM sleep, which is critical for a good night's rest.
Because the coils are individually wrapped, motion transfer is minimized, allowing you to sleep peacefully with your companion. All-around comfort is provided by your Eco Terra mattress's quantum coils.
Pros
Perfect Balance of Firmness and Comfortable
No Motion Disturbance
Extremely Comfortable and Relaxed
Cons
Moving the Heavy Handles will cause Distortion.
Caused Severe Back Pain
10. Best Memory Foam Latex- WELLSVILLE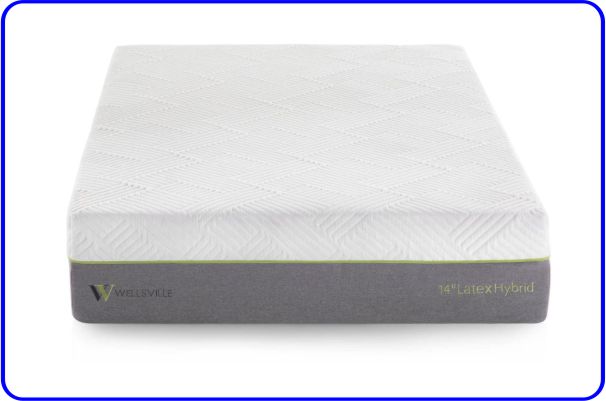 Highlights
14 Inch Memory Foam Latex
Innerspring Premium Hybrid Mattress
Queen Sized
Product Description
There's something special about the way latex foam feels; it's both supportive and flexible. It's ideal for people who like a firmer mattress with a bit of giving to it rather than the sink-in comfort of memory foam.
Our latex layer provides solid support to keep you from sinking into your mattress with its natural spring and responsiveness.
When utilized in a mattress, memory foam with a gel infusion helps mold and support the body while also straightening the spine.
Motion is absorbed and isolated by the individually-encased coils, allowing you and your companion to sleep peacefully through the night.
10-year guaranteed Warranty assures you of the finest materials and manufacturing of every Wellsville mattress.
Pros
Individually Wrapped Coils
Luxury Memory Foam
11. Best Queen Natural Latex Mattress – Latex for Less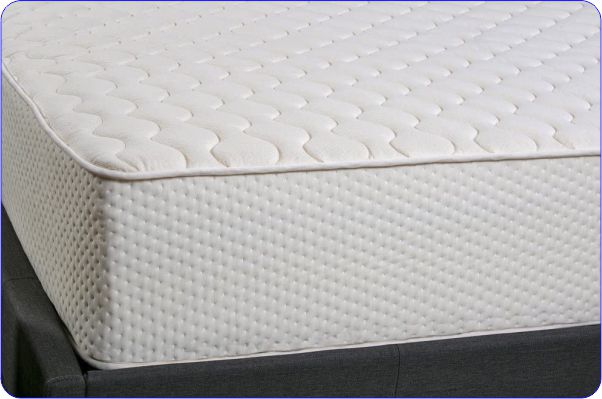 Highlights
The Comfort Difference
100% All-Natural Latex
Two-sided Firmness Options
100% Natural Wool Fire Barrier
Handcrafted in the USA
Product Description
The following materials are used: 6 inches of the firm (85 density) natural Dunlop latex, 2 inches of medium (N2 density) natural Talalay latex, and 12 inches of 100 percent natural wool.
Using only responsibly sourced Hevea Brasiliensis trees, their all-natural latex mattress is made from the purest botanical ingredients. No harsh chemicals are used in this product, creating a floating, cloud-like sensation to help you sleep better.
Featuring a 2-in-1 form, the Latex Mattress is ideal for all body types because of its medium and firm sides. Restless evenings might be ended by simply flipping the mattress to the edge that feels most comfortable.
All-natural and more breathable than synthetic alternatives, the California wool keeps you warm at night while providing a natural fire barrier-free of synthetic chemicals.
Because we preserve jobs here at home, we can produce high-quality products while simultaneously benefiting the economy. We also minimize emissions by manufacturing our natural mattresses in the United States, resulting in healthier earth.
Pros
A great Natural Latex Mattress
Superiority and Fantastically Comfy
Support and Comfort levels
What is a Best Latex Mattress?
These mattresses differ since they are constructed of rubber instead of the usual cotton or wool. Because of the porous structure of latex, these covers can be layered with several other materials, such as foam or coils, to produce a supportive mattress that is naturally ventilated.
Different Types of Latex Mattresses
All latex materials can be compared in terms of performance, but they aren't all made equally. We'll go over the different varieties of latex in the following paragraphs so you'll know what to expect when reading about other latex mattress options.
Natural Latex
Natural latex is manufactured by collecting sap from rubber plants, then curing, shaping, and baking it into a synthetic resin.
But natural latex isn't 100% sap. The "natural latex" tag can be used if the other ingredients add up to 5% or less of the substance.
Natural latex is the most common type found in mattresses, and it has the bounce and smoothness that buyers anticipate from latex.
Synthetic Latex
Synthetic latex is created with chemicals instead of rubber sap. Many of the inputs are petroleum-based.
The bounce and softness of synthetic latex are comparable to natural latex. However, synthetic latex is generally less long-lasting and offers a lesser level of comfort and performance. It also has the potential to produce a strong odor.
Synthetic latex was much cheaper than natural latex, but now its price is determined by oil, no longer a cheap commodity. Natural latex mattresses are often superior in quality, but some low-cost latex mattresses still use this material.
Blended Latex
The word "blended latex" refers to its natural rubber tree fluids and synthetic rubber inputs. For example, the ratio of natural latex to SBR is commonly described as 30% and 70%, respectively.
Contrary to popular belief, mixed latex is not always the best of all worlds. It contains more synthetic materials than natural latex, except for a possibly lower price than a mattress constructed with 100 percent natural latex.
What should you consider in purchasing a Best Latex Mattress?
Best For:
Hot sleepers
Latex is naturally porous, allowing air to travel through your mattress at night. This improved ventilation helps hot sleepers stay calm and comfortable by moving heat away from the mattress surface. If you don't need a new mattress, a cooling mattress pad placed on top of your existing one is a cheaper choice.
Side Sleepers
Latex's smooth, contouring properties naturally relieve pressure all along hips and shoulders for side sleepers who require more padding where their shoulders press into the mattress.
People with Allergies
Latex mattresses are antibacterial, keeping dust mites and mold out of your bed. This is perfect for people with allergies or who are sensitive to scents and materials.
Not Best For:
People on a Budget
Mattresses made of latex tend to be more durable and last longer than other types of mattresses. However, this advantage comes at a cost: For the most part, the price of a latex mattress ranges from $1,000 to well over $2,000.
Those Who Prefer the Feel of Memory Foam
Latex mattresses have an unusual sensation that not everyone likes. If you desire a mattress that embraces you to rest, a latex mattress may not be for you.
Singles
Latex is a dense, supporting material that is also weighty. This makes solo unboxing difficult. We suggest getting a friend or colleague to help you unbox and move your latex bed when it comes.
Other Advantages of a Best Latex Mattress
Now that we know who latex mattresses are best for and who should avoid them let's look at some other advantages.
Bounce
Like an innerspring mattress, latex is springy and can keep you feel propped up on your bed. Due to this feature, rubber mattresses are among the most excellent beds for sex.
Their responsiveness allows them to adjust rapidly to your motions and provide comfort as you move during the night. This is especially useful for combo sleepers who shift and twist regularly.
Pressure Relief
Following the findings of a 2017 study, latex mattresses were significantly more effective at relieving pressure than memory foam mattresses, resulting in higher levels of proper sleep for the consumer.
Organic Materials
The ingredients used to make natural and organic latex mattresses are non-toxic and contain a low level of chemicals and off-gassing. You'll be able to sleep soundly knowing that you're also receiving a good night's rest and a good night's sleep.
Durability
Latex is a natural material that is considered the most resilient mattress type available today. The best latex mattress will offer you years of excellent sleep. Durability is necessary to understand, mainly if you share a bed with a companion or a pet. With a latex mattress, you won't have to replace it in a few years.
FAQs
What are the advantages of a latex bed?
The lifespan of a latex mattress is longer than that of other mattress kinds. They are also excellent for hot sleepers due to their high level of breathability. You may quickly move all-around mattresses and change positions because of their responsiveness.
When it comes to mattresses, memory foam, or latex, which are the best option?
To a large extent, this is up to the individual. To relieve pressure points and help with body contouring, a memory foam mattress is commonly used. Beds made of latex last longer, are more breathable and can bear more significant weight.
Also Read: Memory Foam vs. Latex Mattress: A Comparison
When will my latex mattress be replaced?
If it's made entirely of latex, a latex mattress can last up to ten years. Overall, latex mattresses have a long lifespan.
What is it about latex mattresses that makes them so pricey?
Because of the difficulty in locating natural latex, the product does not originate in the United States. As a result, mattresses will be more expensive.
Do latex mattresses tend to get heated while sleeping?
The open-celled foam used in latex mattresses allows for plenty of airflow. Sleepers should avoid being too heated while they're trying to sleep.
Conclusion
Mattresses made of latex are some of the most popular on the market because of their high levels of comfort, durability, and long lifespan. These eco-friendly mattresses, made from rubber tree sap, are particularly appealing to those who care about the environment.
These eleven latex mattresses should be fantastic choices for people who think a latex mattress is an ideal alternative for achieving better sleep. These mattresses should be comfortable for anybody, regardless of how they sleep.
If people are interested in learning more about these mattresses' construction and other features, they should read the customer reviews.