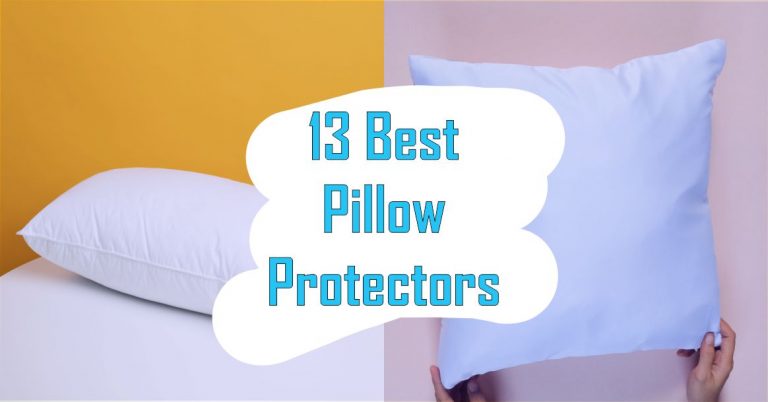 You've probably given a lot of thought to the pillowcase you choose. You want the material that will touch your face while you sleep to be soft, safe, and pleasant for all seasons.
But what's inside the pillowcase is just as important. With a suitable pillow protector, you'll be able to extend the life of your pillow, keep allergens out of it, and keep it clean and mold-free.
People who have allergies or asthma should not use pillow protectors because they keep drool and sweat from getting on the pillow and irritating their noses.
They are great for people who have night sweats, allergies, or who want to get the most out of their pillows. Pillow protectors come in a wide range of sizes and styles.
With no one-size-fits-all pillow protector, some work better than others. Some don't work at all. Here are our picks for the best pillow protectors that are both high-quality and cheap.
Disclaimer: We independently review all recommended products. If you buy through our links, we may gain a commission. For more details read our Affiliate Disclosure.
Top 13 Picks for Best Pillow Protectors
1. Everlasting Comfort Waterproof Pillow Protector
Highlights
Comfortable Pillow Protector
Zippered Design
Prevent Dust Mites and Bedbugs
Hypoallergenic Case Cover
Product Description
Everlasting Comfort's pillow protector comes with a lifetime warranty, which speaks volumes about the product's quality. This pillow cover's soft cotton terry cloth shell is waterproof and provides an extra layer of protection.
An impenetrable but permeable polyurethane lining provides waterproof and hypoallergenic properties. In addition to preventing liquids from penetrating the pillow and ruining it, this particular material also keeps allergens out of the cushion. In the same way, the waterproof barrier will keep bedbugs from making their home in your bed.
This machine-washable pillow protector closes with a zipper for convenience. Because the set comes with two pillow covers, you'll save money while also ensuring that your companion has a restful night's sleep.
Pros
Soft Terry Cotton Shell
Affordable
Ultra-quite Polyurethane Interior
2. National Allergy Allersoft Pillow Cover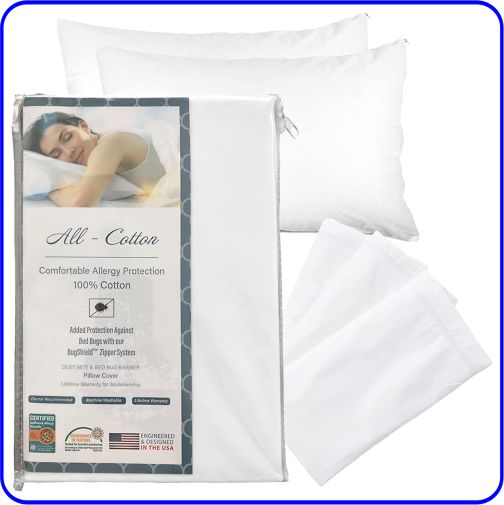 Highlights
Allergy and Bedbug Proof Pillow Cover
Fully-Zippered Protection
100% Breathable Cotton
Certified by AAFA
Product Description
Allersoft's full-zipper design ensures complete protection from external aggressors, unlike other pillow covers. With its 100% cotton construction, this zippered pillow provides comfort while breathable. The breathability of this pillow protector makes up for the fact that it isn't waterproof.
Air cannot pass through a barrier that prevents water from penetrating. It's a great pillow protector if you like to sleep on a cool, refreshing mattress pad. It has a zipper that won't rust, and each pillow is the same size.
Pros
Smooth Cotton Material
Easy Zipper
Dust mite and Bedbug Control
3. Niagara Sleep Solution 2Pack Pillow Protectors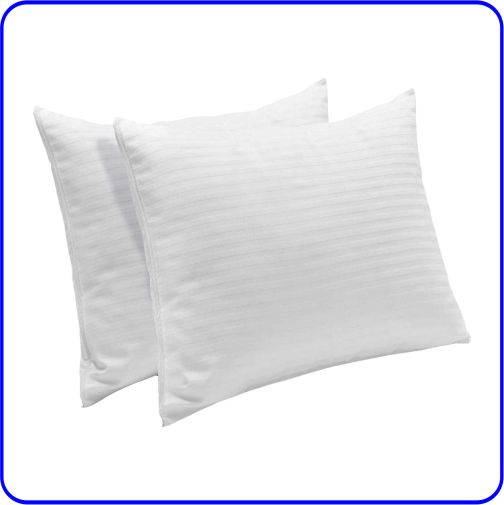 Highlights
Hypoallergenic Cotton
Strictly Woven
Extra Fine Thread
Zippered Style
Oeko Tex Certified Cotton
Product Description
Why do hotel pillows always seem to be the most comfortable and breathable? Precisely what is the enigma here? Could Niagara Sleep Solution help? All of your guests will feel like they're staying in a five-star hotel thanks to these pillowcase protectors made of hotel-quality fabric.
Each protector is constructed of cotton-sateen sateen and zips off to safeguard your pillow. The pillow protectors are available in about any size you might need when it comes to the Niagara Sleep Solution line.
Pros
Premium Cotton Blend Fabric
Breathability
Zippered
4. CGK Unlimited Pillow Protector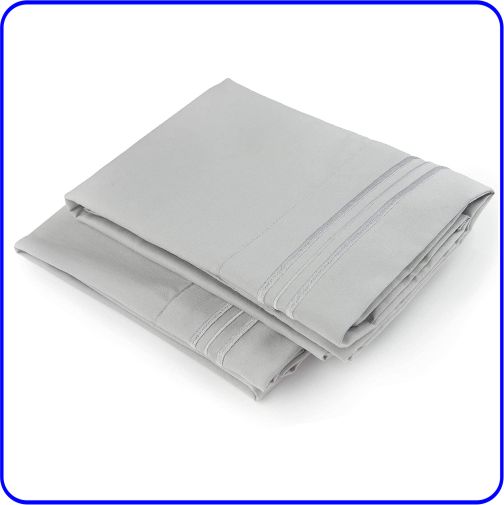 Highlights
Premium Quality Pillowcase Covers
Machine Washable Protectors
Double-Brushed Microfiber Yarns
Universal Fitness
Machine Washable
Product Description
It is built of high-quality, long-lasting fabric and robust, durable construction. The CGK endless queen-size pillowcase set has a robust, sturdy structure.
Instead of using inferior materials that are harsh on the hands and begin to pill after laundering, this pair of two queen pillow shams are made from double-brushed microfiber yarns for an exceptionally soft touch.
Pros
Ultra-Soft
High-quality
Luxurious Sleep
5. UltraBlock Waterproof Pillow Protector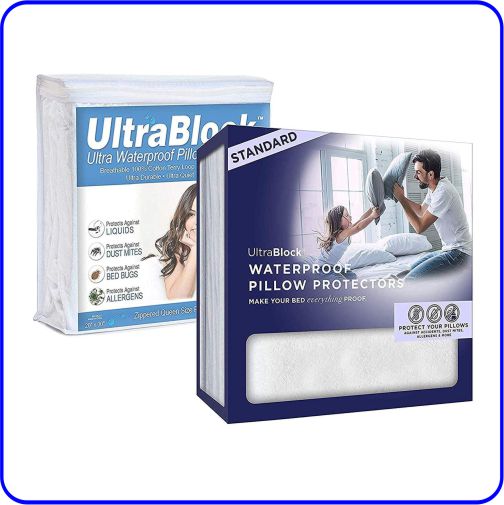 Highlights
Soft Outer Cover
Ultra-Flexible Waterproof Barrier
Zippered Pillowcase
100% Cotton Terry Fabric
Product Description
When used with the ultraBlock waterproof cushion protector, pillows are protected from the spit, sweat, and other liquids penetrating the pillow and damaging it. They come in queen, king, and standard sizes.
Polyurethane is sandwiched between the two layers, ensuring the pillow protector is water-resistant. Protectors also keep dust mites, allergies, bacteria, and mold out of pillows, as well as keeping them clean.
You can wash the pillow protectors in the washing machine, making them an excellent solution for individuals who suffer from allergies or runny noses while they sleep. With a 20-year warranty, UltraBlock surpasses the regular pillow protector's warranty period.
Pros
Very Comfortable
Completely Noiseless
Machine Washable
Also Read: Best Waterproof Mattress Protector
6. Best for Down Feather Pillows- SureGuard Pillow Protectors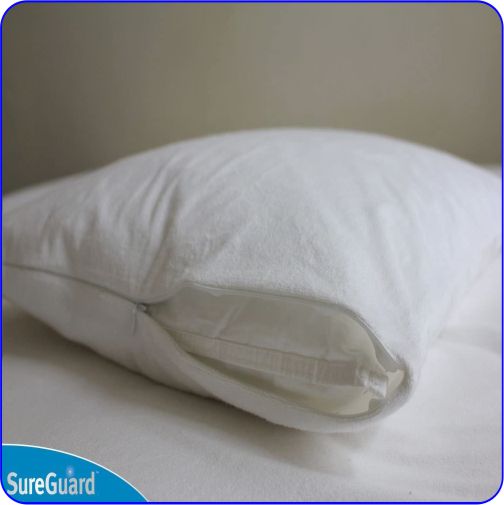 Highlights
Waterproof Pillow Protector
Premium Terry Cotton
Free from Toxic Chemicals
Certified by GREENGUARD Gold
10-Year Quality Guarantee
Product Description
In terms of stain and liquid removal from the pillow, the SureGuard pillow protector does an excellent job. These shields, made entirely of cotton, naturally absorb moisture and liquids when exposed to them. Sleeping overheated or with night sweats?
These blankets can help keep you comfortable by controlling the temperature of your sleeping surface.
A special membrane in these protectors keeps bed bugs out of your pillow. This bite-proof barrier also prevents the transmission of these bugs to your mattress, as well. Invisible zippers and SureSeal technology ensure a peaceful night's sleep by entirely sealing off the bedbugs.
Pros
Soft and Noiseless
Hypoallergenic
Easily Machine Washable
7. Best Anti-Allergic- AmazonBasics Pillow Protector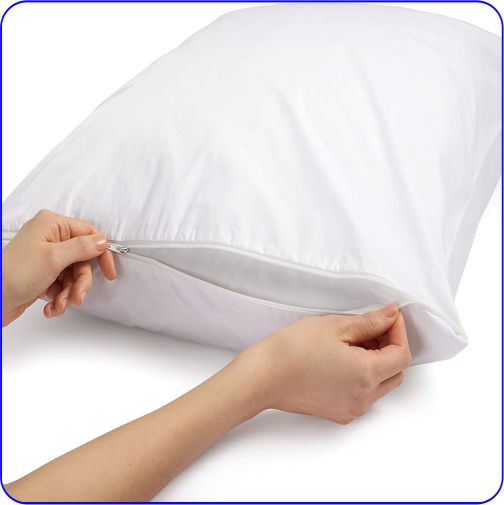 Highlights
Hypoallergenic Pillow Protector Case
100% Cotton Material
The zip closes entirely for a Tailored Look
Standard Sized Pillows
OEKO-TEX Certified Green Products
Product Description
An additional layer of cloth ensures that the AmazonBasics pillow protector is completely allergen-proof. These encasements can be washed and dried in a washing machine or dryer.
These protectors are soft and breathable thanks to their tightly woven 100 percent cotton construction. Their hypoallergenic characteristics make them highly efficient against allergens such as germs and dust mites.
The AmazonBasics pillow protectors provide complete encasing and protection with a full zipper. In addition to the zipper, an additional layer of fabric serves as a barrier against allergies.
Pros
Environment-Friendly Product
Provides Breathability
Cool Comfort
8. Linenspa Premium Pillow Protector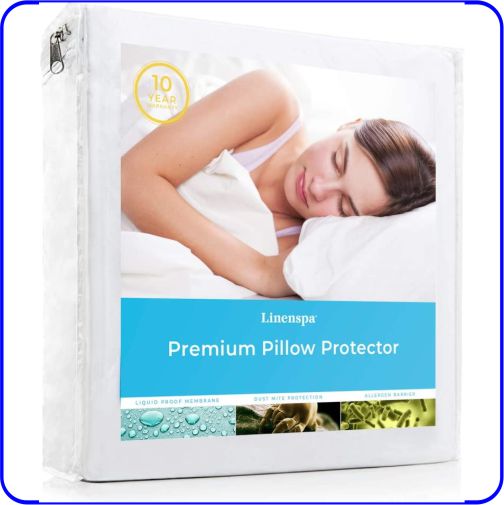 Highlights
Waterproof Pillow Protector
Vinyl Free Pillow Cover
Premium Smoothness
Product Description
Body fluids such as sweat and urine are not a problem because the top surface is soft and waterproof. Protects your pillow with ultra-thin fabric and noiseless polyurethane backing that is safe for the whole family.
Zippered closure on one end of the protector ensures that the pillow is completely sealed from liquids, stains, and other foreign objects. You can wash and dry this crinkle-free protector in the washing machine and dryer on low heat, and it comes with simple care instructions.
Pros
It didn't Stain
Durable
Machine Washable
Cons
Large for Standard Size Pillows
9. Safest for Children- LUCID Premium Pillow Protectors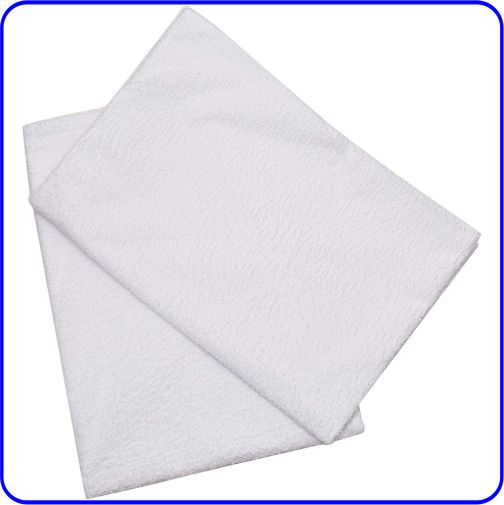 Highlights
Premium Hypoallergenic Protector
Universal Fitness
Cotton Terry Top
15-Year Guarantee
Product Description
The ultra-thin material used in the construction of LUCID Premium pillow protectors ensures a peaceful and comfortable sleeping environment. With a soft Terry fabric top, they provide significant protection against dust mites, allergies, and liquids without affecting the pillow's sound or feel.
A hypoallergenic surface is provided, made of 100% cotton terry. The waterproof, vinyl-free layer beneath the surface keeps liquids and allergens like pollen, dust, and pet dander out of the room.
The waterproof covering protects the cushion from saliva and other liquids. You'll have a clean pillow for a long time.
Pros
Ultra-thin Material
Machine Washable
Safe for Children and Pets
Cons
Material is not Breathable
10. Best for Bed Bug Protection- SafeRest Premium Pillow Protector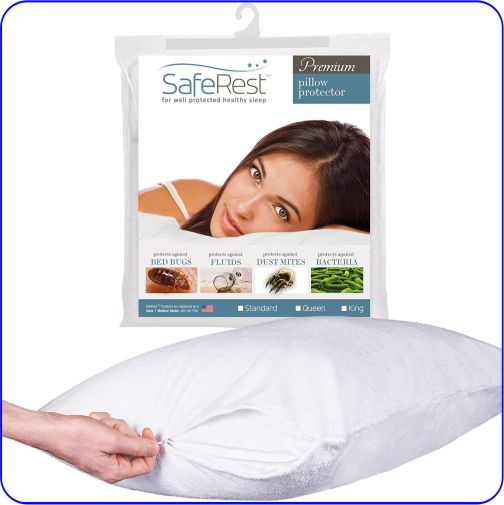 Highlights
Hypoallergenic Premium Pillow
Waterproof Pillow Protector
Soft Cotton Terry
10-Year Warranty
Product Description
People are frightened of bedbugs, and you'd be hard-pressed to find somebody who isn't. Bedbugs are a nightmare for anyone who's ever had to deal with an infestation firsthand.
A waterproof membrane layer on the inside and terry cloth cotton on the outside make this pillow covers ideal for protecting your pillows from bed bugs, as well as allergens and liquids. With its waterproof membrane and Micro-Zippers, this pillow protector keeps anything from entering or exiting the pillow.
Even if you don't have bed bugs, you can use this pillow protector to keep them out of your pillow. If you have bed bugs in your pricey pillow, they won't be able to get out because of the zippers and fabric, which are impenetrable.
Pros
Machine Washable
Micro-zippers
Noise-Free
Cons
No High-Heat Washing or Drying
Also Read: 11 Best Bed Bug Mattress Covers in 2021- Guide
11. FeelAtHome Pillow Protector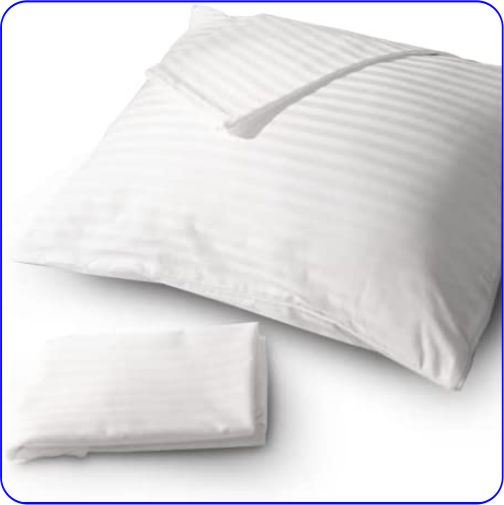 Highlights
100% Cotton Pillow Protector
Luxurious Cotton Sateen Material
Zipper Waterproof Covers
Noiseless Pillow Case Encasement
Product Description
The pillow protector from FeelAtHome ensures a peaceful night's sleep. It's constructed of soft, quiet cotton sateen, so you won't hear a thing while wearing it. You may rest assured that it is completely water-resistant and that your pillow will not retain any fluids that you spill on it.
It will also not retain sweat. The zipper on the pillowcase protector ensures that your pillow is completely covered, preventing dirt and strands of hair from getting into it.
Pros
Cooling Noiseless Fabric
Machine Washable
Zippered Protection
Cons
After Washing, the Fabric may Shrink.
12. Best for Cooling Pillows- CoolShields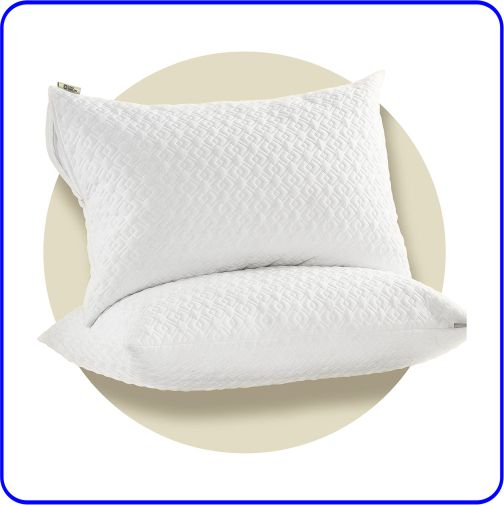 Highlights
Waterproof Pillow Protector
Premium Fabrics
Noiseless Hypoallergenic Case
30-Day Return Policy
Product Description
Pillow protectors are helpful; however, many people find that they restrict airflow, which they ascribe to the waterproof membranes' tendency to absorb and retain heat. This waterproof pillow cover has a polyester and Tencel surface that reduces heat retention.
Eucalyptus fibers are used to create this silky-smooth hand-feeling fabric that is both highly breathable and luxuriously soft. It's a safe bet that people who use the protector will sleep more relaxed than those who use polyester covers.
Dust mites, pollen, and other allergens can be kept out of the cushion by using a microfiber lining in the protector. A zippered closing provides an additional layer of security.
Pros
Noiseless and Super Soft
Inner Microfiber Fabric
Zipper Closure
13. Circleshome Zippered Pillow Protectors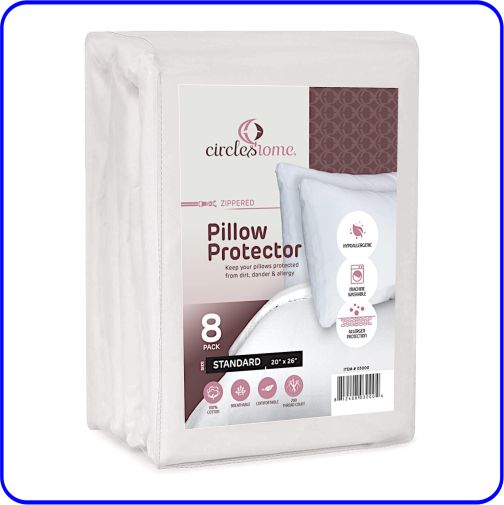 Highlights
Zippered Pillow Protector
Breathable Pillow Covers
Protects from Dirt and Debris
Product Description
It's impossible to find a more opulent pillowcase than one made of this silky-soft 100% cotton. The texture of the fabric is pleasant to the touch. It is impossible to tell that these protectors are used because they are entirely silent and feature an incredibly smooth zipper. It's secure, quick to put on, and there are no wrinkly creases!
They'll not only keep out, but they'll also keep out the air! Unlike other pillow protectors, the cotton is absorbent and won't trap air inside your pillow.
There are numerous other uses for this pillow protector. For goose, down, or any other type of feather-filled pillow, use them to hold the feathers in place. Do you want a pillow that is uniquely tailored to your preferences? It is possible to customize your pillow by filling it with memory foam or another filling material.
Washing these protectors is a breeze, and they won't shrink or lose their shape with time.
Pros
Quiet and Comfortable
Superior Construction
Versatility
What Is a Pillow Protector?
Bedding, including pillows, can naturally absorb allergens in the air no matter how clean the sleeping environment is. An accumulation of dust, pollen, dead skin cells and dander can cause some sleepers to wake up with a runny nose or other symptoms of allergies.
Pillow protectors prevent the pillow from absorbing these allergens by acting as a barrier between the pillow and the allergens. If you're prone to allergies, this is very crucial.
Pillows are inserted straight into the pillow protector. "A zippered closure ensures the pillow is completely safe. So, it may be quickly taken apart for cleaning. The protector is placed on the pillow and then covered with a pillowcase.
Keeping the cushion clean is made easier with the addition of this cover. Additionally, specific waterproof pillow protectors protect the pillow from stains. This cushion has a tight enough weave to keep allergens in the air out. In addition to extending the life of a pillow, this can also aid with odor management.
Also Read: How to Fall Asleep Fast? (28 Simple Ways)
Different Types of Pillow Protectors
There are several different types of pillow protectors. The following are some of the most prevalent varieties of pillow protectors.
Hypoallergenic:
These protectors are designed to safeguard the cushion from absorbing substances that some people find bothersome. Nasal congestion caused by allergens such as dust, pollen, allergies, and dead skin cells might impair a good night's sleep for certain people.
Waterproof:
Protecting the pillow from liquids such as spills, perspiration, and saliva is possible by using pillow protectors with a soft outer layer and a waterproof inner layer. To avoid stains, keep pillows clean, and keep them odor-free, use an anti-stain spray.
Temperature-Regulating:
Breathability-focused mattress covers use fabric and weave that allows maximum ventilation to prevent allergens from accumulating in the cushion.
Those who tend to overheat while sleeping or spend their nights in warm places will benefit from a pillow protector that is made to regulate temperature rather than hold it in.
Buying Guide to Your New Pillow Protector
Still, have questions about how to choose the finest pillow protector for your needs? This shopping guide will assist you in selecting a pillow protector that meets all of your needs while also being a good value for your money.
Size
Before making a purchase, it's essential to think about the item's size. Pillow protectors come in various shapes and sizes, so you should measure your pillow to ensure that you get the correct size cover. For example, a king-sized pillow protector will not fit a queen-sized pillow.
Features
Because different types of technologies are used to make different types of pillow protectors, the features of each protector vary as well. Pore diameters, membranes, thread counts, and other common properties should all be considered while making a decision.
In addition, not all pillows are waterproof. You need to know precisely what functions and characteristics you want them to have for the best pillow protector covers.
Comfort
The level of comfort a pillow protector gives is typically determined by the material from which it is created. Polyethylene, terrycloth, and cotton make up the bulk of the cushion covers.
Choose a fabric that feels good against your skin and that you enjoy the texture, smell, and touch of. Choosing the wrong pillow cover material might harm your sleep quality.
Breathability
Breathability and comfort are inseparable. The material or fabric used to manufacture the pillow cover significantly impacts the cushion's breathability. There is a distinct difference between pillow coverings made of tightly woven textiles and those made of membranes for airflow and breathability.
Because breathable pillow protectors keep the pillow odorless and fresh for a more extended time, they are often considered the best and most preferable choice.
Material
Various fabrics, such as Terry, Cotton, Wool, Tencel Fabric, and Polyester, can make pillow protectors. You can tell a lot about a pillow protector's comfort level by looking at the sort of material it is made of.
Warranty and Sleep Trial
Several companies currently allow buyers to test out their products before buying them. Customers can generally return a pillow protector after using it for a few nights if they aren't satisfied with it. Any time you're on the fence about buying a pillow protector, try it out first and see how you feel about it.
Another thing to keep in mind while shopping for the best pillow protector covers is that some brands offer warranties, while others don't.
Also Read: 11 Best Twin XL Bed Frames of 2022
Conclusion
Keep odors and dirt away, decrease allergens and prevent bed bug infestations by using these handy accessories. Pillow protectors are great for anyone who has allergies to dust, dust mites, pollen, or dander, prefers feather or down pillows, or experiences night sweats or drools. They keep your pillow clean and fresh while improving your sleep quality.
The best pillow protector for you boils down to personal preference and decision. As long as you know what kind of pillow protector you want, shopping for one shouldn't be too difficult. There is no way you can go wrong with any pillow protectors listed above.