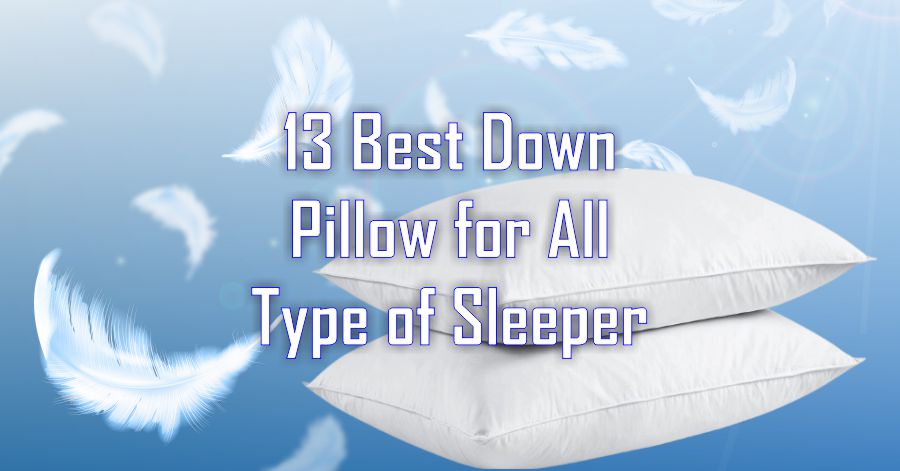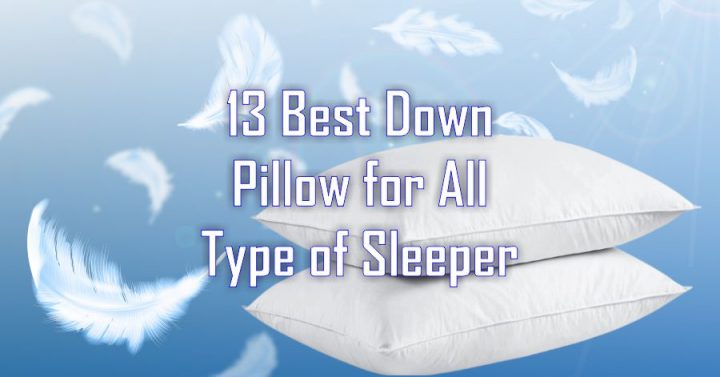 Do you prefer to rest your head and neck on pillows that have a fluffy, squishy feel? Do you like soft, cuddly pillows that you can mold to your body? It's possible that you'd benefit greatly from a down pillow if you said yes to either of these questions.
Ducks and geese are known for their downy feathers, incredibly soft and light. Down pillows must take ethical sourcing into account while selecting materials.
Consumers should look into how different pillows are obtained and built because down and feathers must be sourced from animals.
But if you're going to spend that much money on a down pillow, you'd better make sure you get the correct one. It's essential to think about your sleeping position and any allergies before purchasing. Ethical considerations may also be worthwhile.
Whether you're a light sleeper or a heavy snoozer, we've rounded up the Best Down Pillows on the market for you to choose from.
Disclaimer: We independently review all recommended products. If you buy through our links, we may gain a commission. For more details read our Affiliate Disclosure.
List of The Best Down Pillows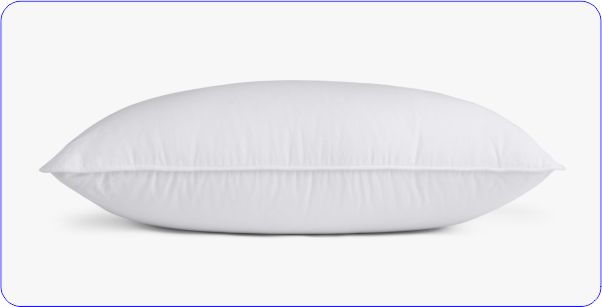 Best Overall- Parachute Down Pillow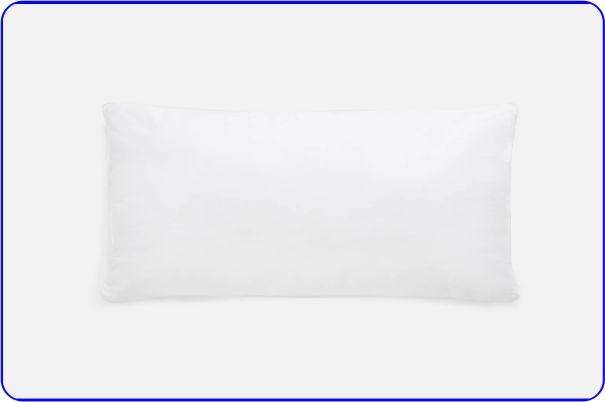 Best Less-Expensive- Brooklinen Down Pillow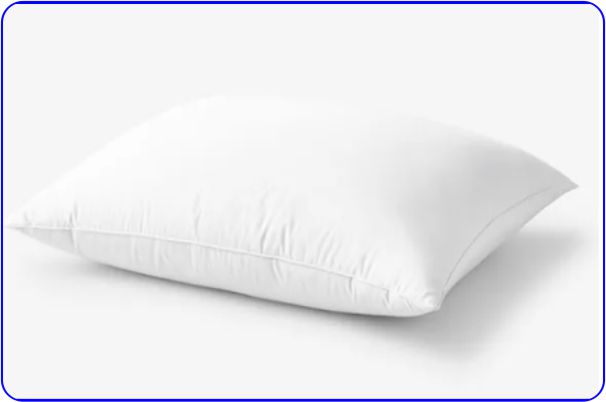 Down Pillow for Back Sleepers- The Company Store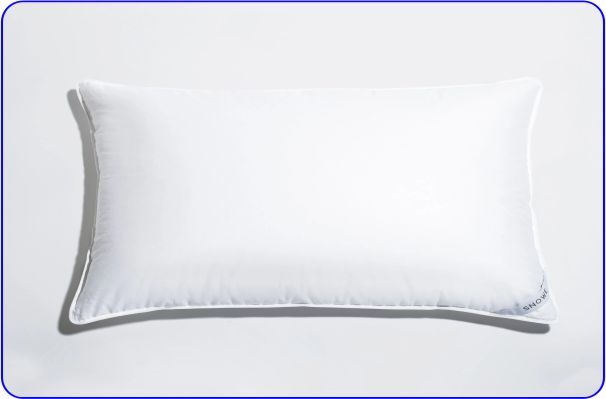 Snowe Down Alternative Pillow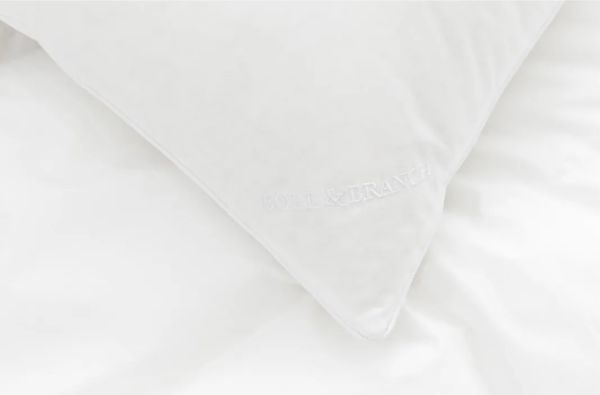 Best Luxury- Boll & Branch Down Pillow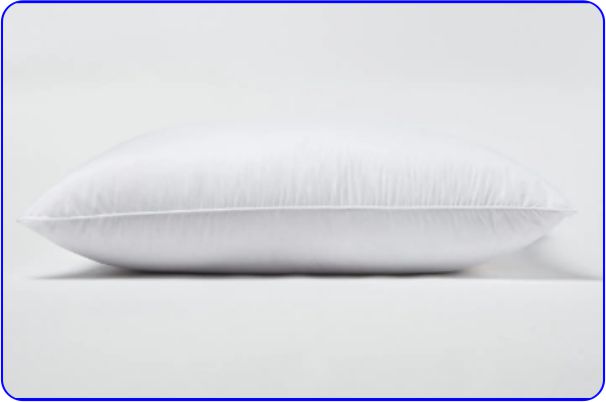 Best Value- Quince Premium Down Pillow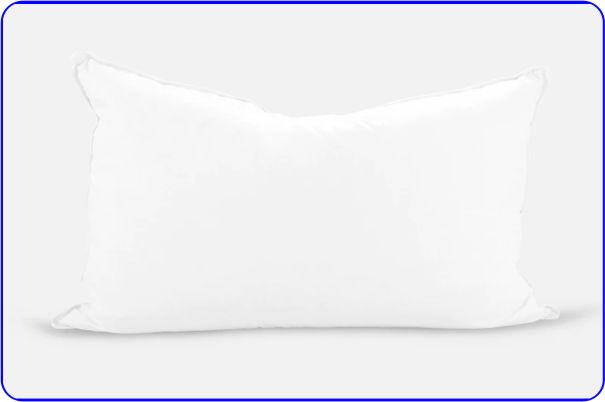 Most Comfortable- Helix Down & Feather Pillow
Best for Side Sleepers- Luxe Down Pillow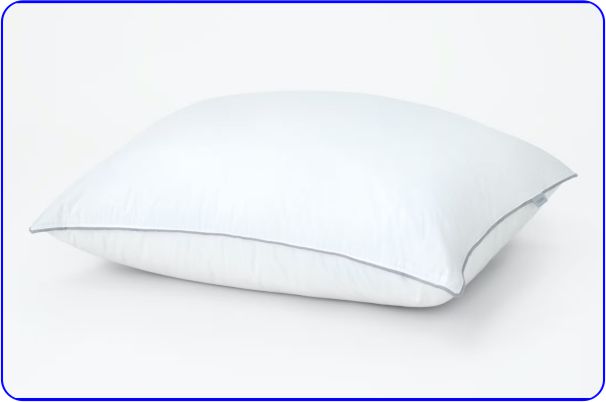 Best Soft- Tuft & Needle Down Pillow
Product Details
1. Best Overall- Parachute Down Pillow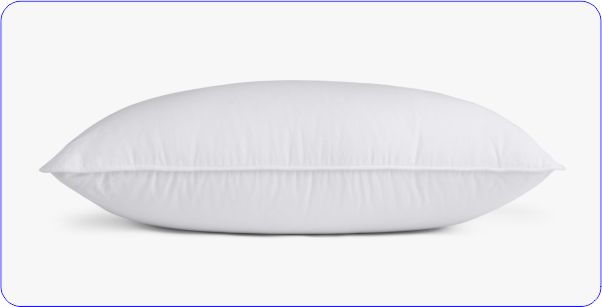 Highlights
Premium European White Down
100% Sateen Cotton Shell
Double Piping Seam
3-Year Warranty
Made in the USA
Product Description
The Parachute Down Pillow has a lot to offer. You can rest assured that the down filling is RDS-certified European white down, sourced from sustainable sources. For this reason, you may rest assured that it's filled with high-quality and insulating down.
As a consumer, it can be challenging to find a pillow that fits your needs, but Parachute solves this problem by offering its down cushion in various densities.
Choose between a pillow that's soft enough to sink into, a cushion that's firm enough to provide support, or that's somewhere in the middle. You shouldn't have a problem finding it, either, because it comes in standard and king sizes.
It is encased in a soft cotton shell, and the whole thing is machine washable for your convenience. To clean the pillow, use a moderate cycle in the washing machine and low heat in the dryer.
2. Best Less-expensive- Brooklinen Down Pillow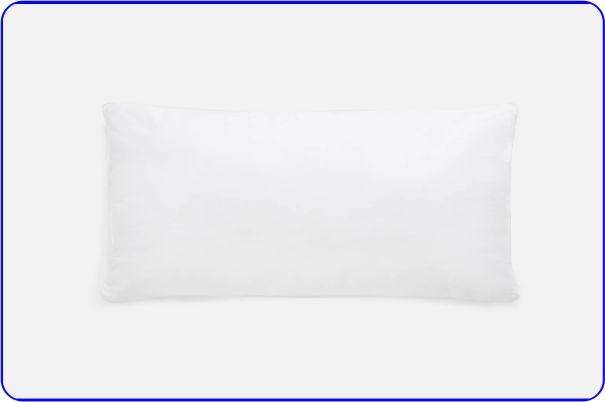 Highlights
Plush Down Pillow
Dual-core Structure
Supportive, Comfortable, and Durable
100% Cotton Sateen Shell
Product Description
Brooklinen is a reasonably priced solution that does not sacrifice quality for a lower price tag. Brooklinen's cushion, like Parachute's, is available in three densities: plush, mid-plush, and firm — each of which has a different fill content than the others.
The company does not specify when it comes to filling power. However, the company does not set; the plush option is stuffed with only clusters.
The mid-plush option provides more support in a layer of feathers beneath its outer down layer. The healthy option has a similar construction but a higher proportion of feathers to down.
The cover is made entirely of 100 percent cotton in a sateen weave, and it is wonderfully smooth and silky to the touch, no matter what density it is manufactured to.
3. Best Down Pillow for Back Sleepers- The Company Store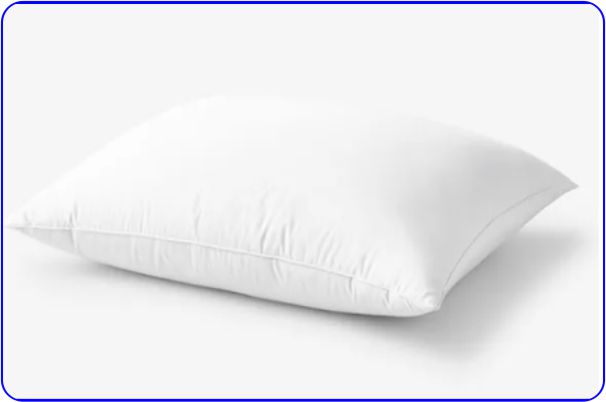 Highlights
Company Conscious™ Down Pillow
Hypoallergenic
Dust-mite Resistant
Cotton Sateen Woven Shell
Medium Firmness
Product Description
The Company Store Conscious Down Pillow uses recycled down filling and a Tencel lyocell covers to create an environmentally friendly pillow. Back sleepers can rest easy because of their medium-firm construction.
In terms of comfort and feel, one couldn't tell the difference between the down used in the filling and the down used in the shell (manufactured from a sustainable fiber derived from wood pulp).
The lyocell is better at protecting against dust mites than cotton. The pillow is available in various sizes to accommodate multiple head and bed sizes.
4. Best Pillow- Snowe Down Alternative Pillow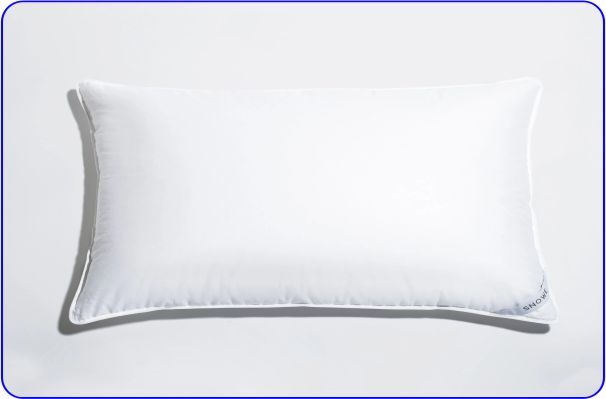 Highlights
Down Alternative Pillow
Hypoallergenic Fill
100% Microfiber
Machine Washable
Made in the USA
Product Description
A down replacement is an excellent solution when you want the feel of down but don't want to deal with the hassle of actual feathers. There are also medium and firm varieties available if you require additional support.
This microfiber-filled pillow receives high marks for providing a comparable soft, velvety sensation with the added benefit of being vegan-friendly. It also has hypoallergenic properties.
5. Best Luxury- Boll & Branch Down Pillow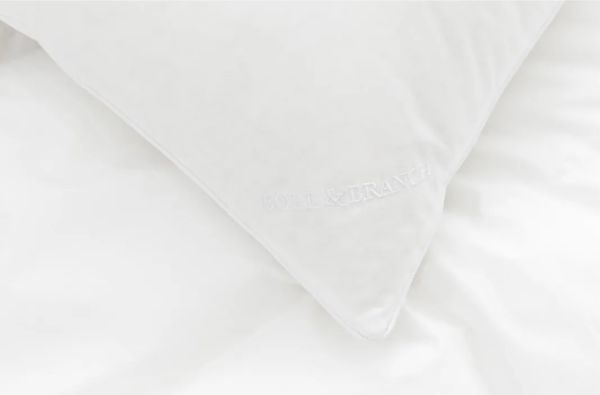 Highlights
100% Organic Cotton Shell
Different Levels of Firmness
100% Organic Cotton Shell
Assembled in the USA
Product Description
Due to its velvety design, down pillows have a reputation for being overly soft. In contrast, the Boll & Branch Down Pillow offers three density options. The fill power of the soft option is around 600, which is the lowest of the three options.
With a fill power of 700, the healthy option gives you tremendous head and neck support, while the medium density gives you a mid-level comfort.
The Global Organic Textile Standard, a leading authority on organic materials, has confirmed the cover's organic cotton content. There is also a Responsible Down Standard accreditation that ensures that no animals are abused or mistreated while the down is gathered.
Thus, the pillow's filling is hypoallergenic and durable. The pillow is machine washable and dryable.
Given its high-quality materials and workmanship, this pillow's pricing varies depending on the density you choose. If you live in the continental United States, Boll & Branch offers free shipping and allows returns within 30 days of delivery.
6. Firmest Support- Tempur-Pedic TEMPUR-Down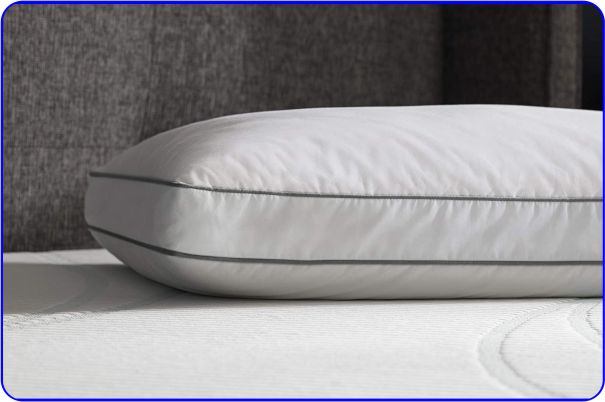 Highlights
Tempur Material Down Pillow
Premium Cover
Down Filling
Customized Height and Fitness
5-Year Warranty
Product Description
The Tempur-Pedic TEMPUR-Down is an excellent option for people who like a firm mattress. A new take on the typical down pillow, the TEMPUR-Down incorporates waterfowl feathers with TEMPUR's proprietary memory foam to create an innovative product.
With a down-filled cover over a memory foam inner cushion, you get the best of both worlds: comfort and support. This medium-firm cushion is ideal for back and side sleepers who enjoy the feathery sensation of down but avoid it since it is so soft and compressible.
However, stomach sleepers may rest easily because the center insert is removable. The memory foam core of this pillow may be removed to create a cushion that is both soft and low-lofted.
7. Best Budget- Puredown Feather and Down Pillow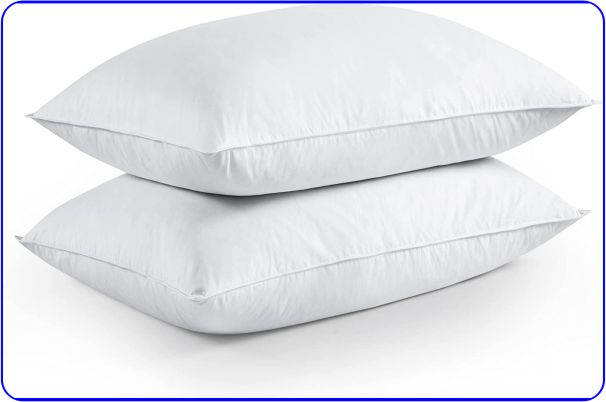 Highlights
Durable Fabric
Down and Feather Filling
Good Malleable Pillow
Ethically Sourced Down
Machine Washable
Product Description
Although down pillows can be pricey, other options available are less expensive. On Amazon, you can find a great deal on a two-pillow set consisting of a feather and down blend that feels luxurious and supportive.
Those who like a firmer pillow may want to search elsewhere, as it only comes in one firmness level (medium).
It's easy to maintain these pillows because of their 100 percent cotton shell, which can be machine-washed. Finally, these pillows are RDS-certified, which is uncommon for low-cost down pillows.
8. Siberian White Goose Down Pillow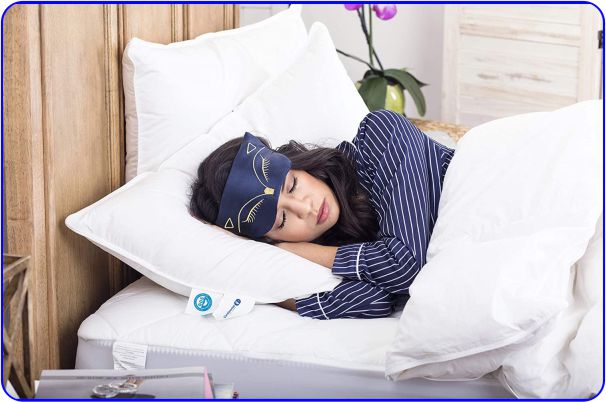 Highlights
800 Fill Power
Perfect Level of Softness and Firmness
Great for Side, Back & Stomach Sleepers
Standard Size
Product Description
An 800 Fill Power and white goose-down filling ensure that your head won't sink into the bed while you sleep. It's great for those who sleep on their sides, backs, or stomachs, as well as those who have back or neck trouble.
Breathable fabric allows air to flow freely. Regardless of whether you sleep hot or cold, this down pillow will keep you cozy all night long. Seasonal allergies, hay fever, or susceptible skin may be a problem for you. So, if that's the case, this cushion is for you. Allergens and dust mites will be kept at bay.
You've just received your new favorite pillow for the night. The pillowcase is encased in 450-thread count 100% cotton sateen, a luxurious material for sleeping on.
At their factory in Brooklyn, New York, they take great delight in designing and manufacturing a wide range of down and feather items.
9. Best Value- Quince Premium Down Pillow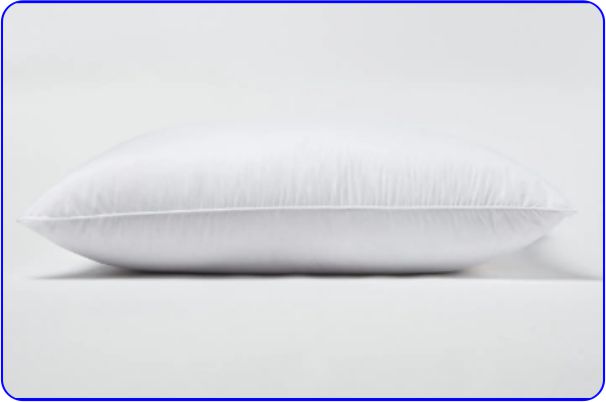 Highlights
650 Fill Power Soft Down Cover
Cool Cotton Sateen Weave
365-day Return Policy
Product Description
Pillows made with real down or synthetic fibers are available from Quince. If you prefer a luxurious surface, the Premium Down Pillow is the best option for you.
Classic white down is used to fill the pillow. The pillow's fill power is 650, giving it a medium-firm feel while allowing for plenty of softness. Its sateen weave and 100 percent cotton shell give it a smooth, velvety feel.
The price is fair compared to other down pillows, given the quality of its materials and craft.
Standard and king-size pillows are available, which come with double-stitched edges and piping for durability. However, this cushion may be cleaned gently in cold water on low heat and tumbled dry at home.
Quince ships for free and offers a lengthy sleep trial period. Customers can return pillows for a full refund within 365 days after purchasing them.
10. Best for Stomach Sleepers- Casper Down Pillow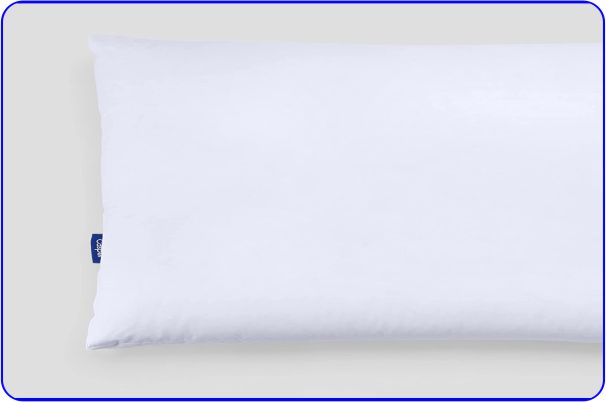 Highlights
Fluffiest Pillow
5-Chamber Design
Ethically Sourced Down
Machine Washable
Soft and Fluffy
Product Description
The Casper Down is an excellent option for stomach sleepers searching for an extra-soft cushion. The ethically sourced down used in the Casper Down pillow is encased in a 100 percent cotton cover.
However, the extra-soft texture and modest 2-inch profile make this suitable for stomach sleepers. The best pillow for stomach sleepers is a soft, compressible one that helps you maintain a good sleeping position all night long.
This pillow's easy-to-clean design makes it stand out from the others. Many cushions (including those in this roundup) can only be dry or spot cleaned to avoid damaging the down. On the other hand, this can be cleaned and dried using a machine, making it easier to maintain.
11. Most Comfortable- Helix Down & Feather Pillow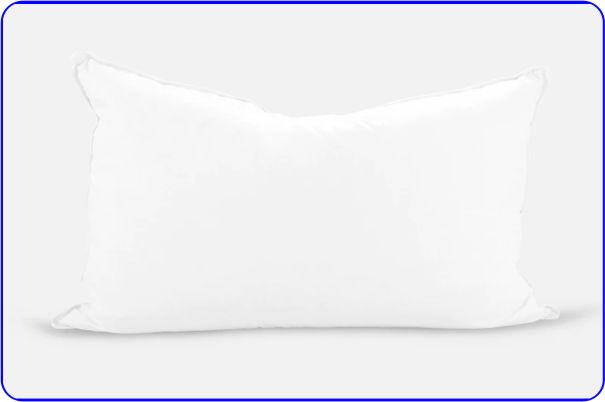 Highlights
Anti-sink Chambered Construction
Double-stitched Edge for Additional Strength
Responsible Down Standard Certified
Product Description
The Helix Down & Feather Pillow delivers exceptional pressure relief and support due to its three-chamber construction. The soft and moldable substance of the mattress is excellent for anyone who has neck rigidity or discomfort.
Each Down & Feather Pillow chamber contains a 95/5 blend of down and feathers.
The addition of feathers prevents the down from clumping together and produces a somewhat more complicated layer that prevents sinking. 500 fill power fills the outer chamber, making it supple and durable.
With the Responsible Down Standard's certification, you know that the birds are treated humanely during their plumage extraction.
The user can customize the Down & Feather Pillow's fill level for a unique loft and feel. The double-stitched piping around the pillow's border provides a sturdy and long-lasting seam. Additional ventilation is equipped with a cover made entirely of cotton.
There are standard and king-sized versions of the Down & Feather Pillow available. US consumers have no shipping expenses, but Canadians may pay charges. Additionally, the pillow comes with a 100-night sleep trial period and a one-year limited guarantee.
12. Best for Side Sleepers- Luxe Down Pillow
Highlights
Ultra-Premium Materials
Supportive for all Positions
Regulates Temperature
Layers of Comfort
Made in the USA
Product Description
If you prefer to sleep on your back or side, this is the Luxe Down pillow. This pillow has a fill power of 600 thanks to a white duck and goose feathers blend.
A down comforter's fill power ranges from 300 to 900, tells you how puffy it is. There'll be more height and fluff if the number is higher!
This specific pillow has a 5-inch-high profile. For those who like their pillows to be a little firmer, this one is ideal for you. This is perfect for those who want a more athletic feel while sleeping on their side or back.
A down-alternative pillow made by this company has a similar feel to natural down, which is worth mentioning.
13. Best Soft- Tuft & Needle Down Pillow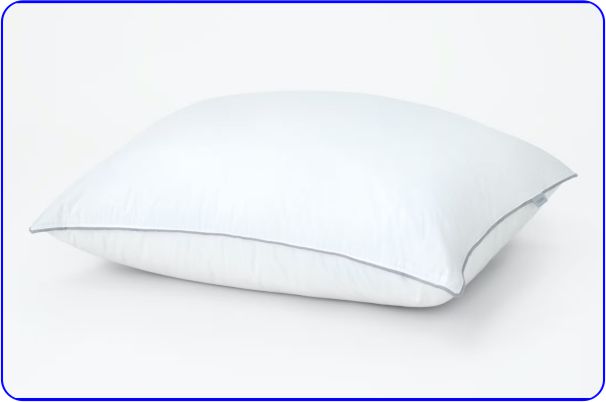 Highlights
Luxury Down Pillow
Lightweight and Temperature Regulating
Responsible Down Standard Supplier
Machine Washable
2-Year Limited Warranty
Product Description
If you want a soft cushion, a firm one, or somewhere in between, there are many various densities of down pillows to choose from. On the other hand, Tuft & Needle's Down Pillow does not offer this option. Squishy pillows aren't what this pillow is all about.
This fluffy pillow has two pieces. You'll discover a strong feather core on the inside, which should help it retain its shape. There is a layer of down feathers just outside of the middle.
The pillow's unique squish is due to the feathers' softer-than-average texture. Tuft & Needle also claims that the feathers' low weight would keep you from overheating while you sleep.
The soft cotton shell protects the two layers of feathers acquired from an RDS-certified supplier.
Machine washing and low-heat drying are also acceptable methods of cleaning this pillow for your convenience. It is also available in two sizes, although the cushion only comes in one density.
What is Down?
Down is used to insulate birds from the cold. It is widely used in winter jackets, vests, gloves, and other clothing. As a result, it's great for pillows, comforters, and other bedding items. Some items are marketed as 100% down; however, most are a mix of down and feathers.
Because of their softness, they will eventually rest on top of your head and neck while you sleep. Other types of pillows, such as memory foam and latex, are firmer and more supportive.
Down from geese tends to be heavier. That's because goose-down pillows tend to be softer and warmer than duck-down ones.
Learn how to pick the greatest down feather pillows below. This article will cover the benefits and drawbacks of sleepers and ethical concerns.
When Buying a Down Pillow, What to Consider
1. Fill
While it may seem unusual, not all down pillows are created equal. Some are made entirely of down, while others have a mixture of feathers and down. If you're looking for a pillow that feels soft and cuddly, go no further than down.
The filling might vary from pillow to pillow as well. How? Goose and duck down are two different types of down that can be used in pillows.
Goose-down pillows frequently have a higher fill power than duck-down pillows because goose-down clusters are more insulating than duck-down clusters. Despite this, a high-quality duck-down pillow can still be found (or a low-quality goose-down pillow).
2. Fill Power
The higher the fill power, the more lofty, insulating, and luxurious the pillow will be. Fill power is a measure of how much fluff a cushion will have.
Keep in mind that fill power has nothing to do with the firmness of your pillow; instead, it tells you how much loft and shape retention your pillow will have. Most people regard 600 and up to be excellent in fill power.
3. Density
When purchasing down pillows, you'll often have the option of choosing between soft, medium, and firm densities. It's not uncommon to find a product labeled "extra-firm."
Pillow densities tell you how much your head will sink into the pillow when you lie down at night, as well as its thickness and stiffness. A more rigid cushion is best for side sleepers, while a softer or medium pillow is best for back and stomach sleepers.
4. Certifications
Some providers source their down more ethically and responsibly than others, which is something to keep in mind while shopping for down.
Choose down pillows that have been certified by the Responsible Down Standard (RDS), Downmark, or IDFL Down Standard if you want to avoid the risk of harming birds during the manufacturing process (IDS).
Down pillows that have gained this accreditation should have ethically sourced down filling.
What Are the Advantages and Disadvantages of Down Pillows?
Down pillows are distinguished from other pillows by their extraordinarily fluffy and lightweight texture. Softness and sinking can comfort some people, while others think the cushions do not adequately support their heads and neck.
The insulating characteristics of down can enable down pillows to sleep overly warm for some people, even in colder conditions.
Pros
Down is likely the best option if you like a softer pillow. Even with feathers, the material provides unsurpassed softness and cushioning for the head and neck. You'll sink reasonably deeply into the pillow.
The primary function of duck and goose down is to keep them warm. As a result, down pillows are a good choice for cooler months.
A down pillow's softness and lightness make it ideal for snuggling. In addition, they can be twisted into a variety of shapes.
Down pillows are often made to last for several years, if not a lifetime. To keep feathers and down in place, the seams of the coverings are piped or double-stitched.
Cons
Most down pillows, especially those with a high percentage of down, are pricey, even if you can locate cheaper alternatives.
This filling material has natural insulating capabilities, which may help the cushion absorb body heat and keep the sleeper warm. In particular, if the shell and liners are composed of polyester, this is a problem.
It may not be supportive enough for certain people because they tend to sink. Fortunately, various loft and firmness options are available from down pillow makers.
This means that you will need to fluff your down pillows frequently. To speed up regaining their original shape, many can be dried.
Down Pillows: Frequently Asked Questions
What is the average price of a down pillow?
The price range for a standard or queen-sized down cushion is typically between $80 and $200. Because of this, pillows with a high percentage of feather fill tend to be more affordable than those with a lower rate of feather fill.
What is the best method for cleaning a down pillow?
If a down pillow becomes dirty or stained, it may only require a spot cleaning or drying cleaning. They can be damaged by washing them in a machine, producing rips in the cover that allow the fill to escape.
On the other hand, most down pillows can be dried to restore their shape. See if your down pillow can be cleaned and dried at home by looking at the care tag.
Do you know where I can get a down pillow? Online and brick-and-mortar retailers both sell down pillows. To avoid purchasing a "down" pillow that has 90% feathers, you'll need to check out the product's specifications.
Do down pillows last a long time?
To expect a good amount of use from your down pillow, you should be looking at two to three years. The durability of the cover is critical.
The cushion may lose some of its stuffing if the fabric wears out and the seams break apart over time. You can also increase the life of your pillow by using a pillowcase or cover.
Is it possible to modify down pillows?
But many manufacturers give a variety of loft options and allow you to switch the pillow if it is too thin or thick. Only use a down pillow developed with an adjustable loft in mind to be safe. The cushion could be damaged permanently if you do this.
Is it true that down pillows produce an odor?
After being treated and cleaned, duvets filled with down or feathers may have an unpleasant odor. A few days later, though, these scents are said to have faded.
Before using the down pillow for the first time, put it in the dryer for a few minutes. This will aid in the expansion of its form and the elimination of unpleasant odors.
Final Thoughts
Since you've seen our picks for some of the best down pillows on the market, you're probably well on your way to finding the one that's great for you.
Only the materials, fill power, and cluster-to-feather ratio should be closely scrutinized to identify the most appropriate mattress for your specific sleeping demands and preferences. Everyone has a good night's sleep!