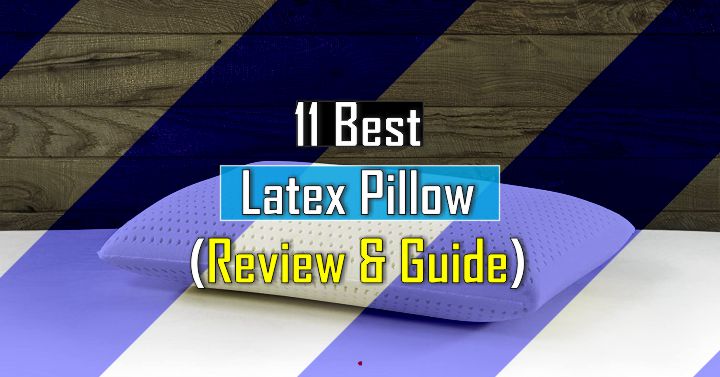 Latex is a type of material that is used in mattresses, pillows, and other commercial goods. It comes from the puss of rubber trees and can be made in two different ways, both of which have unique characteristics and benefits. People think of latex when they think of hospital gloves, rubber bands, toys, and even paint. All of these things aren't good places to sleep.
However, when the latex is inside a pillow, it is very soft, responsive, calm, and durable, essential for getting a good night's sleep. A latex foam pillow is a great middle ground.
It provides more support and firmness than down or down alternative pillows, but it doesn't feel as soft as memory foam. As a material, it's bouncy and robust, but it also relieves some of the pain caused by pressure.
If you want to buy a latex pillow or learn more, this guide should help. People are going to read about some of the best latex pillows on the market, as well as how they work, what they're suitable for (and bad), and more.
Disclaimer: We independently review all recommended products. If you buy through our links, we may gain a commission. For more details read our Affiliate Disclosure.
List of 11 Best Latex Pillow
1. Brooklyn Bedding Talalay Latex Pillow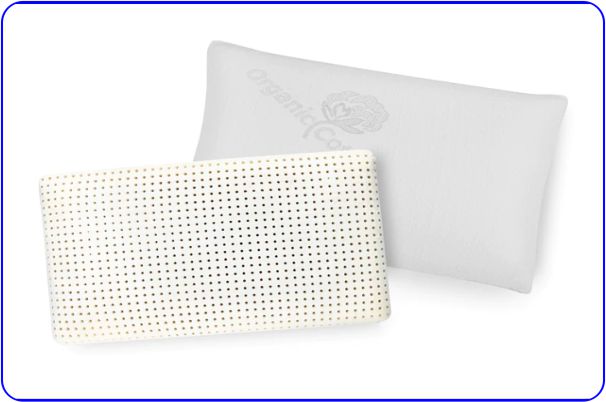 Highlights
Talalay Premium Latex Foam
Firmness Level: Medium
Perforated Design
Close-conforming Feel
3-Year Warranty
Product Description
The Talalay Latex Pillow by Brooklyn Bedding is created from eco-friendly Talalay latex. This has a single piece of latex filling. This gives a denser, more conforming texture. Currently available in two lofts: high and low. Side sleepers prefer the high level, while stomach sleepers prefer the low option. Back sleepers can pick either loft.
Despite its firmness, the Talalay latex pillow provides excellent support and response. The organic cotton cover is removable and machine washable, and it's soft and cool to the touch.
Thanks to the breathable latex, you won't overheat while the cushion molds to your head and neck. The Brooklyn Bedding pillow, like other latex pillows, is hypoallergenic. In the lower 48 states, the company offers free delivery and returns on all purchases.
Pros
Budget-Friendly
Excellent Lab Results
Maintain a Stable Body Temperature
Cons
Too Thin for Side Sleepers
2. Best Latex Pillow for Back Sleepers- Avocado Pillow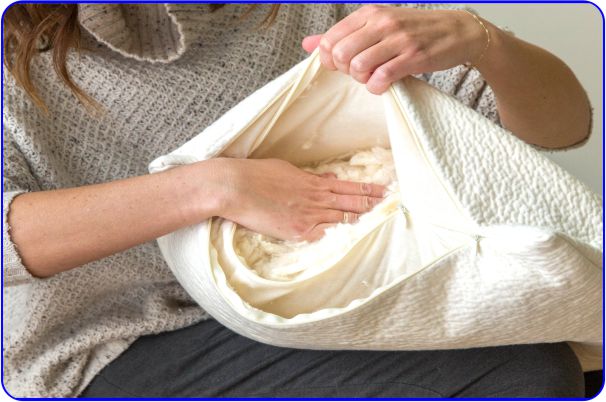 Highlights
Avocado Green Pillow
Medium Plush Feel
Quilted Cotton Cover
GOLS Certified Organic Latex
1-Year Warranty
Crafted in the USA
Product Description
For some, the innate responsiveness of latex makes the material feel overly stiff. The Avocado Green Pillow's fill comprises shredded latex and kapok tree fibers, soft like down. The outcome is a fluffy, supportive pillow.
Both latex and kapok fibers are GOLS and GOTS certified organic. The organic cotton cover is also GOTS certified. Avocado is also a carbon-negative firm, offsets more than 100% of its emissions. The kapok fibers are a vegan-friendly alternative to actual down.
Adding or subtracting fill adjusts the pillow's loft. Each order includes a bag of extra fill, which can help side sleepers and anyone who needs a lot of pillow volume. You may wash the pillow cover and keep it clean without hurting the inside components.
While Avocado is known for its high-end sleep items, the Green Pillow is affordable and ships for free to all 50 states. There is a 100-night trial and a 1-year manufacturer warranty included.
Pros
Premium Organic Material
Customizable
Safe and Non-Toxic
3. Best Cooling Latex Pillow- Harmony Pillow – Purple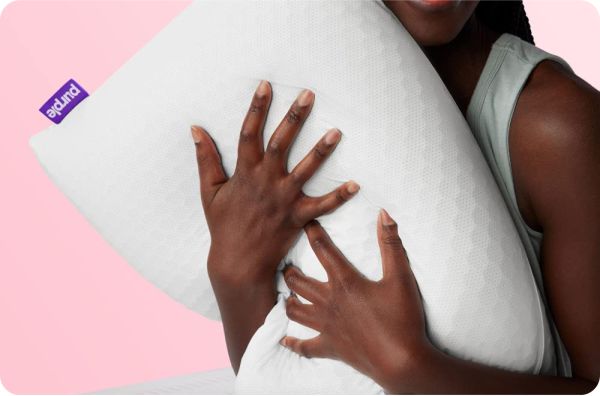 Highlights
Award-Winning Pillow
No Pressure Support
Hypoallergenic
1-Year Warranty
Made in the USA
Product Description
According to testers, this pillow has a strong latex fill that provides good neck support because of Purple's revolutionary polymer grid in the cover.
Because of the moisture-wicking cover that washed beautifully in assessments and the open-air channels running throughout the latex core, it also garnered good scores for its cooling properties.
Pros
Cooling Cover
Innovative Polymer Grid
Open Air Channels
4. Eli & Elm Organic Cotton Pillow for Side-sleeper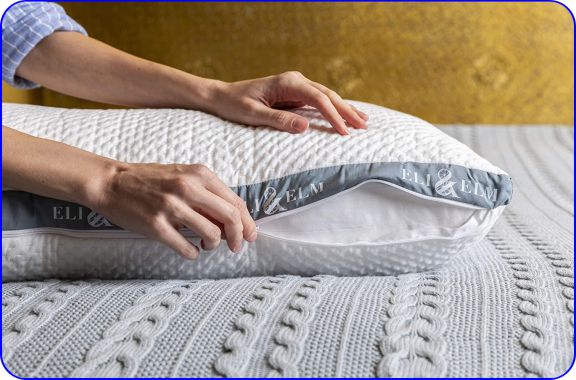 Highlights
Adjustable Filter
Premium Materials
Perfect Contour Curved Pillow
Custom Firmness
Removable Latex and Polyester Filling
Product Description
Those who work at Eli & Elm know that side sleepers require a mattress with good loft (height) and firmness to support the 4 to 6 inches between the shoulder and the head and neck.
To do this, the Organic Cotton Side-sleeper cushion from The Organic Cotton Company uses a unique structure that includes proprietary gel-infused synthetic rubber noodles coupled with polyester fibers.
It is the final result of this process that the soft pillow with a high loft and prominent curved contour that conforms to the precise shape of the side sleeper's head and neck is created:
Pros
Removable Pillow Cover
Machine Washable
Neck Pain Relief Sleep
5. Nest Bedding Easy Breather Natural Pillow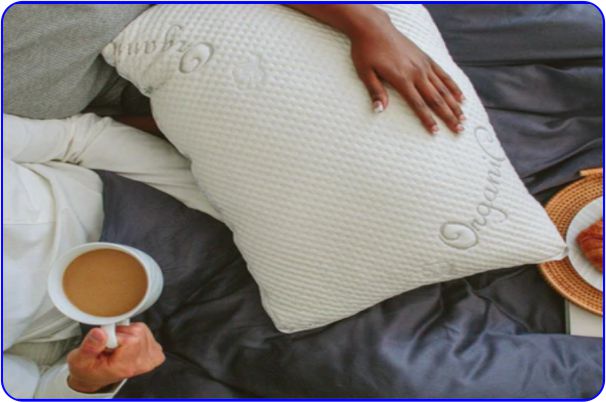 Highlights
Premium Latex Foam
Breathable Knit Cotton
100% High-quality
30-Nights Trial Period
Product Description
Earning a living comes with a lot of stress; therefore, you deserve the best sleep possible. That being stated, the Nest Bedding Easy Breather Natural Pillow is one of the most excellent solutions for optimal nighttime relaxation. The pillow is also adjustable, keeping you cool and comfy.
This Easy Breather cushion is created in the USA from soft fabric and a proprietary blend of components to provide maximum support. It provides proper support like a feather pillow, cradles the neck, and opens up breathing pathways.
Despite being soft on the face and neck, this cushion is supportive, rare in modern pillows. It provides more support than memory foam, which is impressive.
Also, the pillow is lightweight, which is an excellent feature for a premium pillow. It also has a zipper cover, which makes adjusting it simple. The pillow is not washable, which may be a problem for families with children or pets.
Pros
Lightweight
Soft Materials
Zipper Cover
6. Best Luxury- Birch Organic Pillow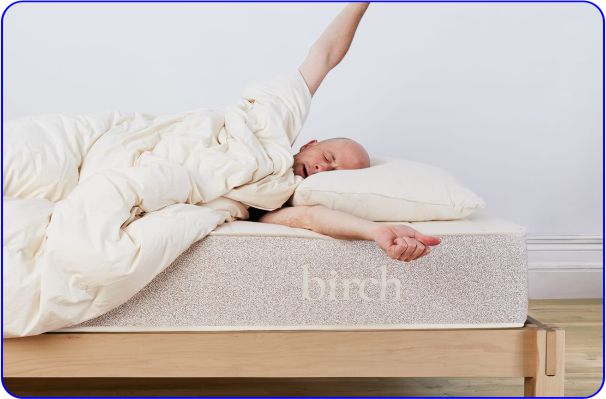 Highlights
Shredded Talalay Latex Fill
Medium Firmness
100 Night Risk-free Sleep Trial
1-Year Warranty
Made in the USA
Certified by GREENGUARD Gold and GOLS
Product Description
The Birch Organic Pillow has filled with GREENGUARD Gold and GOLS certified latex and ethically and sustainably produced New Zealand organic wool. Soft, 100% organic cotton covers the latex and wool stuffing.
The Birch Organic cushion is not only eco-friendly but also relaxed and pleasant. Wool naturally regulates body temperature by wicking moisture and allowing proper airflow.
The cotton cover promotes ventilation, minimizing overheating while sleeping. The filling is supportive without being too stiff. However, back sleepers like the Birch pillow's hardness help maintain good spinal alignment.
Wool filling ensures that the Birch Organic Pillow retains its form. Wool also has a longer life expectancy than the majority of other textiles. Compared to other foams, latex is the most responsive and bouncy.
Pros
Premium Materials
Supportive Consistent Feel
Supports Proper Spinal Alignment
7. PlushBeds Organic Shredded Latex Pillow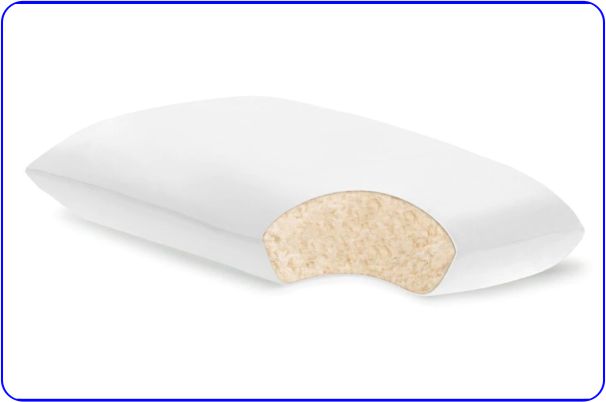 Highlights
Organic Latex Pillow with Shreds
Medium Firmness
Certified by Global Organic Latex Standard (GOLS)
3-Year Warranty
Product Description
Its construction, comfort, and performance make the PlushBeds Organic Shredded Latex Pillow a terrific choice. Made from 100% GOLS certified shredded Dunlop latex. Without the smoothing, clumping, or clustering of a down or polyfill pillow.
Mold, dust mites, and germs are naturally resistant to latex. The pillow can be spot cleaned, but not machine washed. You can fluff the filling to your liking. Compressed shredded latex bounces back quickly, ensuring that the cushion retains its fullness and fluffiness. The latex and shredded material will help keep the pillow cool if you sleep hot.
Although the Organic Shredded Latex Pillow is supportive in any position, side and back sleepers favor latex pillows. A pillow with a lower loft that helps keep the spine in a more natural position may be desirable for stomach sleepers.
All three sizes are available from PlushBeds. All items come with free delivery and a three-year warranty on materials and craftsmanship.
Pros
100% Cotton Cover
Breathable
Promotes Healthy Sleep
Affordable
8. Organic 2-in-1 Adjustable Latex Pillow- NATUREPEDIC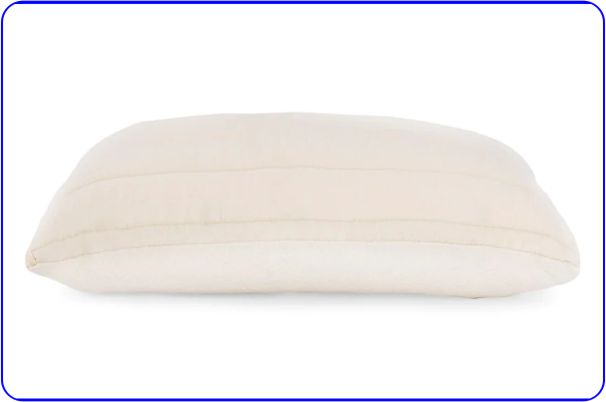 Highlights
Shredded Latex Pillow
Organic Latex Fill
Made in the USA
Product Description
The organic latex content and cotton cover of this latex cushion impressed both the testers and the experts at the Lab. This throw has a soft quilted look, featuring quilted PLA bating (a plant-based fiber manufactured from sugarcane) and shredded latex on the other.
The latex fill can be customized to your ideal height, and testers gave it excellent grades for comfort and support, though some did complain that it was a little messy when removing the filling.
Pros
Supportive
Plush Feeling
Adjustable Filling
Cons
Messy during Adjusting Fill
9. Hollander Sleep Latex Pillows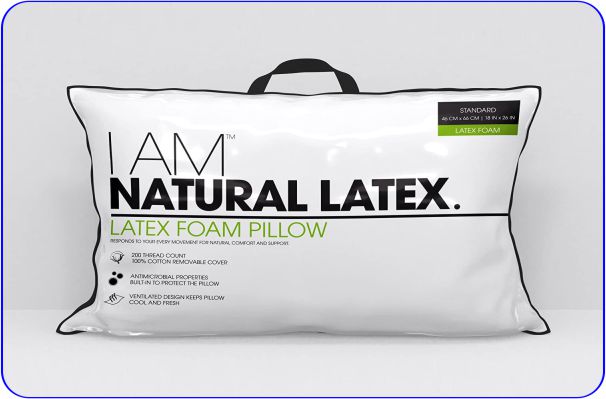 Highlights
Natural Latex Pillow
100% Cotton Cover
Certified by Oeko-Tex Class I
Product Description
The beauty of latex pillows is that they mold to your body, ensuring all-night relaxation. Unfortunately, most of them are expensive, which is why Hollander Sleep Latex pillows are so popular.
They are constructed of natural latex, are medium-firm, and fit all sleepers. 100% cotton cover, machine washable, overall design, and unit structure promote ventilation, comfort, and support.
The Hollander Sleep Latex pillows are made of Talalay, which is hypoallergenic. This type is seven times more breathable than regular foam and latex pillows, keeping you cool all night. It also has antibacterial qualities and a 30-night sleep trial. This cushion is ideal for hot sleepers due to the aeration and circulation design.
Pros
Hypoallergenic
Machine Washer
Breathable Design
Cons
Doesn't provide any assistance.
10. Organic Textiles All-Natural Premium Latex Pillow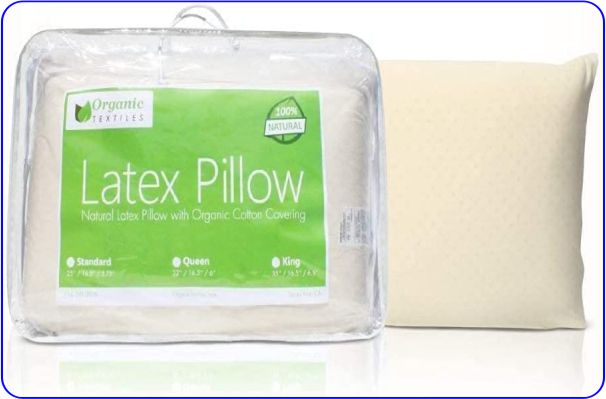 Highlights
Natural Latex Pillow
100% Organic Cotton Cover
Unique Pin-Core Design
Best for Back and Side Sleepers
Product Description
Easily one of, if not the most fabulous latex cushions available today. Comes in a range of sizes so that you can select the perfect cushion for your bed. It also works for practically all sleeping styles.
It is made using the Talalay method. It's also quite breathable. This is a Talalay production design characteristic. Because the pillow mold is not filled, the air channels created when it expands are more significant than other latex products.
This pillow is ideal for people who are always overheated at night. The extra-large air passages will keep you cool and comfortable all night. It also boasts moisture-wicking technology to keep you dry all night long throughout the hot summer months.
This will also be a fantastic travel pillow. It is small and light. It resists mildew and dust mites. If you want to obtain the most satisfactory sleep possible, you must try this pillow.
Pros
Helps Relieve Pressure
Sleeping Support
Zippered Cover
11. Best for Neck Support- Turmerry Organic Latex Pillow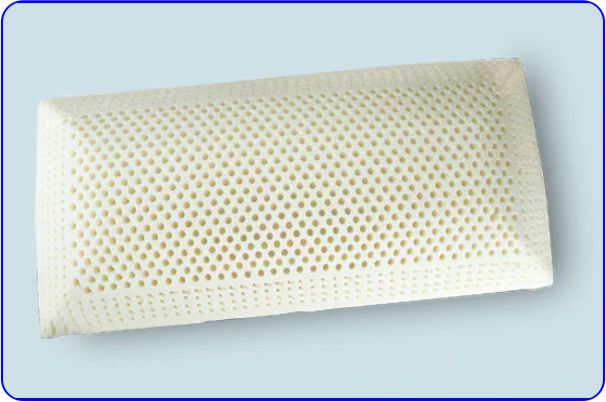 Highlights
Ventilated Organic Pillow
Medium Firmness
Certified by GOLS
1-Year Warranty
Made in the USA
Product Description
The Turmerry Organic Latex Pillow provides medium contouring and support. The core is of Dunlop latex, noted for its density, delicate contouring, and even support. You can expect some were conforming with a medium feel, but not too much.
This pillow is made with GOLS-certified organic latex and produced in a Carbon Neutral facility by Turmerry. Hot sleepers should also like the pillow.
The latex is perforated for even airflow, and the organic cotton cover adds to the comfort. The 5-inch loft and supportive feel will appeal to many back and side sleepers who like medium-thick mattresses.
The Organic Latex Pillow is surprisingly affordable compared to other GOLS-certified latex pillows. The contiguous United States is also covered by free shipping. After purchasing the pillow, Turmerry offers a 30-day money-back guarantee and a one-year warranty.
Pros
Cushioning Support
Breathable Cover
Organic-Certified Materials
What to Look for in a Latex Pillow Purchase
The number of latex pillows available for purchase is still relatively small, but that is expected to change soon. Companies who have latched on to the growing eco-friendly trend use this material to create natural and organic mattresses and bedding. Before making the switch to a latex pillow, consider the following considerations.
Size
Standard
This is the most basic version and works well for most sleepers out there. It's also the cheapest alternative because it's smaller and more compact.
Queen
It's an excellent choice for individuals who need more room than the usual size. Queen-sized beds fit comfortably in a room of these proportions.
King
This mattress is ten inches longer than a conventional mattress, making it ideal for people who move about a lot while they sleep. Watching movies or reading a book in bed is easier with this size backrest.
Travel
Travel pillows are compact and lightweight to fit in a carry-on or suitcase. These are excellent choices for usage on a plane or when camping.
Body
Body pillows are more prominent and more prolonged than standard pillows. If you're a person who likes to snuggle up to something as you sleep, these pillows are for you.
Budget
Latex is a long-lasting material that should maintain consistency over time when purchasing a natural pillow. For a more affordable choice, consider synthetic and mixed products.
What other Types Cost More?
Prices range from $40 to $90 for most latex pillows, with organic certification and size factors playing a significant role. Similar to the cost of pillows manufactured from buckwheat and memory foam, you may expect to pay this much.
Pillows made of down or organically certified feathers are more expensive, while the pillow made of polyester, feathers, or synthetic materials are less expensive.
Proper Support
Latex conforms to your body like a second skin, providing just the appropriate support. Because of its high density, this substance aids in aligning the spine and the skull.
Firmness
As with other pillows, latex is available in various firmness to suit your preferences and demands. In general, Dunlop is heavier than Talalay and the other way around.
Loft
Latex pillows are the best option for those who sleep on their back or side. By removing a section of the material, you may change the loft.
Adjustability
Shredded latex has the advantage of allowing you to remove some of the foam if needed. This allows users to customize their mattress to their liking by adding or removing material.
Durability
Latex is well-known for its strength and long-term usefulness. They should last a long period before changing compared to other solutions.
Comfort
Natural foam is noted for its softness and comfort, making it an excellent choice for bedding. It's been said that sleeping on this material is like resting on a cloud.
Weight
Latex is a hefty material since it is made of dense stuff. Even while it's an excellent choice for those who prefer a pillow that doesn't move around a lot, this isn't the finest choice for those traveling.
Eco-Friendly
The natural material and production methods used to produce 100% latex pillows are environmentally beneficial. This is a simple approach to cutting down on your carbon impact!
Organic and Textile Certifications
A wide range of certifications might bolster buyers' confidence. You should search for certifications like CertiPUR-US, Oeko-Tex, GOTS, GOLS, and Confidence in Textiles if you want to ensure the safety and quality of your bedding.
Lifespan
Latex is a long-lasting material that retains its shape and qualities for an extended time. With these pillows, sleepers can anticipate them to last for many years without sag or flattening.
Final Verdict
Sleeping on foam should be a comfortable and pleasant experience, not one that involves the use of chemical-laden products that could be harmful to you and the environment. Because latex is a natural and environmentally friendly foam, it is well-regarded as a healthier option than memory foam because it does not emit heat.
Latex mattresses are an excellent choice if you want to lower your carbon footprint without sacrificing comfort or support. Due to the many possibilities available, including customized forms and sizes, you should have no trouble selecting the pillow of your dreams.