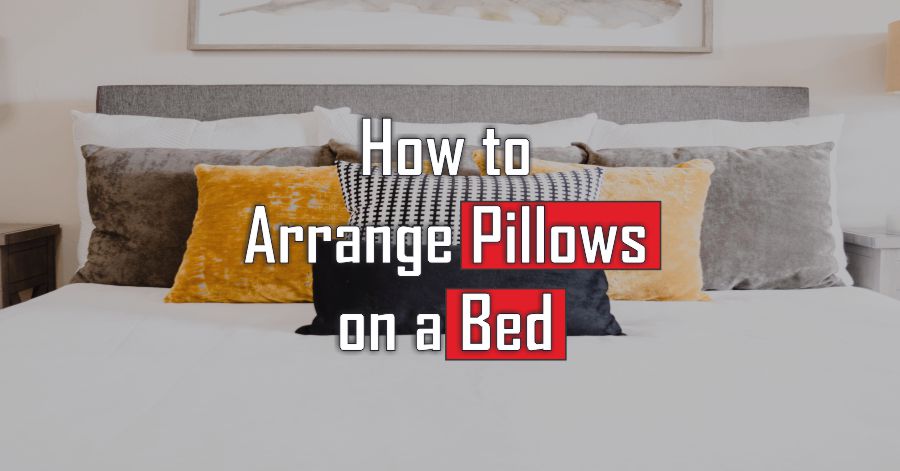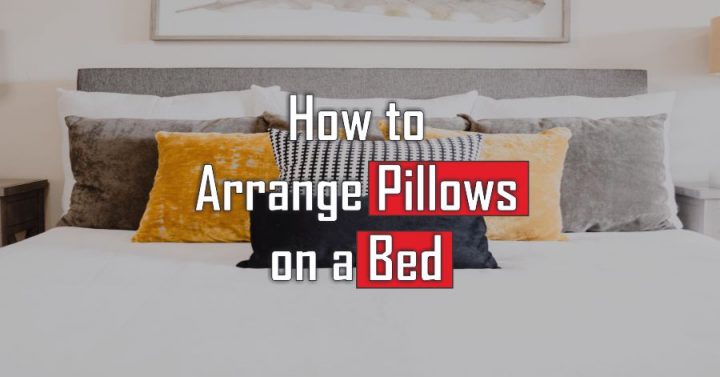 Pillows may be the part of a bedroom that gives you the most freedom to be creative. These soft cushions are not only necessary for a good night's sleep, but they also add texture, sequence, and character to any bedroom in an instant.
But of course, there's more to it than meets the eye when arranging pillows in a way that looks good. There are eleven different ways how to arrange pillows on a bed, each with a different design style.
For example, a set of shams and lumbar layered and symmetrical says "luxury suite," while ditching fancy pillow cases in favor of simple linens says "warm minimalism."
The best thing about putting pillows on your bed is that there's no wrong way to do it. But there are some basic ways to arrange pillows that you can build on to make something beautiful.
How to Arrange Pillows on a Bed for Comfort
1. Luxe Layers
Nothing beats this symmetrical, layered cushion arrangement if you're hunting for an extravagant design for your primary bedroom suite. Although it requires around nine pillows, it's timeless and provides a wide range of color and pattern pairings.
How to achieve the style:
Place four sleeping pillows of the same size in a stack.
Layer two shams of queen or king size to cover the breadth of the bed.
Place two 20-inch-square throw cushions in front of the couch.
To complete the look, place one long lumbar cushion in front of the back.
2. Relaxed Refinement
Double or tripled sham situations have a comfortable and sophisticated quality. It's simple yet visually beautiful nonetheless. There are many ways to incorporate texture into your outfit, but we like anything with tassels or delicate fringe.
How to achieve the style:
Pile four pillows of regular size on top of each other to create a sleeping tower.
The front of the bed should be covered with two queen- or three king-sized Euro shams.
3. Effortless Minimalism
Skip the shams and go for well-made linens for your pillowcase if you're searching for simple elegance. This outfit exudes a Wabi-Sabi aesthetic that is both simple and understated.
How to achieve the style:
Sleeping pillows should be placed horizontally against your headboard.
Arrange two small lumbar pillows, one on top of the other at the front
4. Hotel-Inspired
White Euro shams are often used, and then a fun design or a plush velvet pillow is laid on top to create the bedscapes. Crisp, elegant, and unmistakably classic are some adjectives that come to mind when describing this design.
How to achieve the style:
Place two king-sized pillows against the headboard in a vertical position.
Place three white Euro shams on top of each other.
Use two large square cushions, each 20 inches across, evenly in front.
5. Pattern Play
This style is perfect if you prefer a more layered style that features a variety of colors and patterns. While it's a classic layered style, the warmth, color, and whimsy are all present.
Mix and match patterns, prints, and colors within a consistent color palette, but don't be afraid to experiment.
How to achieve the style:
Sleeping pillows should be placed vertically against the headboard to provide additional support.
The breadth of the bed can be covered by two queen- or king-sized Euro shams layered together
If you'd like to go one step further, use two different patterns of the queen- or king-sized shams.
Add 2 or 3 18-inch square pillows in front of the couch in a different color and texture to add contrast.
6. Asymmetric Elegance
Instead of using symmetrical pillows, those who want an eclectic and carefree layout should use a variety of pillows in various sizes, colors, and textures. Ensure a consistent color scheme or aesthetic to make the appearance come to life.
How to achieve the style:
Pile two or four pillows of standard size on top of one another to make a tower.
Combine four to five cushions of varying sizes and designs in various complementary colors and patterns. You might want to try mixing one 26-inch square pillow plus two 22 to 24-inch squares, one 20-inch square, and a lumbar pillow in the front
7. The Classic Look
This is the go-to method for making pillows for a queen-sized bed. It's essential to gradually shrink down the size of the ornamental pillows as you move from the rear to the front.
To begin, place two large pillows against the headboard, followed by two 26-inch pillows, two 20-22-inch pillows, and one smaller cushion in the center.
With just a simple swapping of the pillow in the front, there are two distinct ways to make this formula work, one of which is a 20′′ navy embellished leafy medallion pillow and the other a lumbar pillow.
In all of the looks, the 26′′ embellished blue and white cushion and the 20′′ linen fringe pillow are the same.
8. The Fully Pillowfied Look
This recipe employs the five most oversized pillows to achieve the most pillowed effect. It's best for beds with a taller headboard, like mine, so the Euro shams still show some of the headboards.
To begin, place two pillows against the head of the bed, followed by two Euro shams, two regular shams, and two lumbar pillows. A single square or lumbar pillow in front of the other six pillows is a good option if you want to add a seventh.
If you're going for an all-white theme, you may go with only five pillows, which is a stunning arrangement.
9. The Minimalist Look
This is a more minimalistic design, starting with two-bed pillows that stand upright, two conventional shams, and a trio of decorative pillows. There are a variety of pillow sizes to choose from depending on the height of your headboard; I use a pair of 26′′ decorative pillows with a smaller one in front.
Even two 20-inch decorative pillows with one centering in front of them would do if your headboard is lower or you prefer the smaller scale.
10. The Eclectic Look
Use two sleep pillows and two 26-inch pillows as your foundation, then layer three different-patterned and sized pillows on top for an eclectic aesthetic. All three front pillows overlap rather than sit side-by-side, which is the key to achieving the eclectic look.
To begin, place your most giant pillow at the back of the bed, followed by your next-largest pillow, which you should overlap slightly, and finally, your most small pillow, which you should also overlap slightly.
This is an excellent look for those who love to play with pattern and color because it allows you to do so much!
11. The Practical Look
Keep four pillows in the guest bedroom for practical reasons, as some individuals prefer to sleep with two pillows. On a queen-sized bed, two sets of two pillows each against the headboard are the most practical configuration, followed by a trio of accent pillows in front. When viewed from the side, it has a very stunning appearance.
For this design, it's excellent to use textured pillow coverings and a checkered top sheet instead of white sheets.
How to Arrange Pillows on a King Bed
A king-size bed has enough room for a gorgeous pillow arrangement and plenty of room for stretching out at night. Standard pillows seem minor against a king headboard, so you'll need king-size ones if you want to use any of these décor ideas.
Option 1
You'll want to have:
Four king pillows
Three euro pillows
One huge bolster
How to Put Your Pillows Together:
The first step is to place two king-sized pillows on your headboard.
The two additional king pillows should be placed after the first three euro pillows.
Make sure that the front of your arrangement has the bolster at its center.
Option 2
You'll want to have:
Two king pillows
Three euro pillows
Three decorative pillows
How to Put Your Pillows Together:
Your king-sized pillows should be placed against the headboard.
Place your three European pillows next to them in an arranged fashion.
A triangle shape is an alternative to placing three cushions side by side in a row at the front of your arrangement.
Option 3
You'll want to have:
Three euro pillows
Two king pillows
One decorative pillow
Two regular pillows
How to Put Your Pillows Together:
Euro cushions are used as the backdrop in this arrangement. The headboard is an excellent place to put them.
Following that, position your two king-sized cushions in front of them.
Next, the essential pillows are arranged, with the accent cushion at the front. The cascading down of pillow heights emphasizes the tiniest and most prominent pillow in the front.
Option 4
You'll want to have:
Two euro cushions
Four king pillows
One support
How to Put Your Pillows Together:
Arrange your king pillows so they are adjacent to one another in two rows, with one pillow in front of the next.
Position the bolster such that it is front and center.
Play around with different sham and pillowcase combinations to get the perfect look.
Before you begin, ensure you have an identical spacing between your euro pillows on the headboard.
How to Arrange Pillows on a Twin Bed
A simple cushion arrangement may spice up a space-conscious twin bed. Even while these designs don't require a lot of pillows and can be put together in only a few minutes, they may make a big impression.
Option 1
You'll want to have:
A standard pillow
One euro pillow
One accent pillow
How to Put Your Pillows Together:
Place a standard pillow against the headboard in the center of the bed.
Arrange your accent pillow and euro pillow in front of it, starting with the euro pillow.
A well-balanced appearance and feel can be achieved by aligning all elements.
Option 2
You'll want to have:
One euro cushion
One regular pillow
Support
How to Put Your Pillows Together:
To begin this setup, place your euro pillow against the headboard.
The regular pillow and bolster should be placed in front of it, as seen in the image. There is no wrong way to go with either a circular or rectangular bolster at your disposal.
Option 3
You'll want to have:
One pillow of regular size
Two decorative throw pillows
How to Put Your Pillows Together:
The first step is to prop your ordinary pillow against the headboard and see how you like it.
Line up the decorative pillows, with the smallest one in the front. When you combine a neutral accent pillow with a colorful striped pillow, your secondary color will stand out.
Option 4
You'll want to have:
One pillow of regular size
Two decorative throw pillows
One bolster
How to Put Your Pillows Together:
Put your regular pillow flat on the bed.
A neutral decorative pillow can be stacked on top for a finished look.
Place your secondary decorative pillow and bolster, either centrally or on each side of the piled pillows, facing forward, on top of this vertical arrangement.
Bed Decoration Basics
When placing pillows on your bed, there isn't a wrong way to go about it. Pillow arrangements can be made using various techniques, some simpler than others. Here are a few things to keep in mind before you start stacking pillows.
To begin, visualize your bed's headboard:
Multiple pillows piled up for maximum ornamental effect work nicely with a headboard at least 2 feet high.
Consider utilizing piled pillows as an alternative to a headboard without one.
Open-frame metal headboards appear best if they're decorated with just a few pillows that don't cover them up completely.
Solid and consistently formed headboards provide excellent flexibility in decorating with throw cushions.
The second thing is to plan the colors of your bed and throw pillows:
It's up to you to design the style you desire for your bedroom if you're starting fresh.
If you've already decided on a color scheme or design aesthetic for your bedroom, you can use throw pillows to accentuate that look. Pillows and shams can make or break the look of a bedroom, so pay attention to their color, form, and fabric.
Alternatively, you can start from the end and build your arrangement around a single must-have throw pillow. The process may be exciting and rewarding regardless of how you express your individuality.
Last but not least, before you start decorating, think about the overall appearance and design you want to achieve:
There are numerous ways to arrange pillows on a bed, whether you want a minimalist style with just a few necessary cushions or a more opulent look with a collection of lovely blankets.
As well as adding visual interest and dimension to your bedroom, throw pillows can provide additional support and comfort.
Conclusion
Pillows can be arranged in an almost limitless way on a bed. Think about it, we only mentioned a few. If you're looking for a starting point, some of these formulas can be a good starting point for you to come up with your unique mix of pillows for your queen bed.