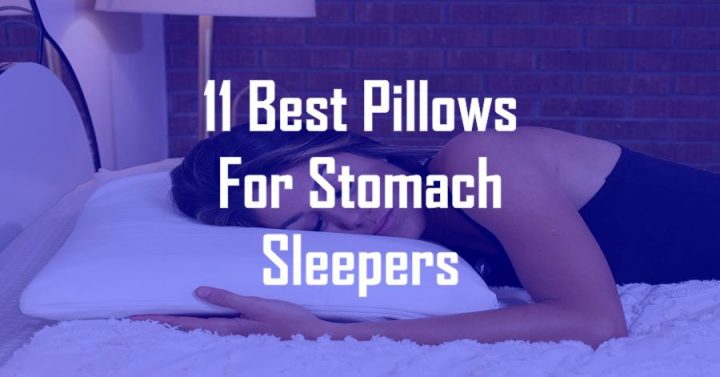 For stomach sleepers, there are possibilities to switch positions at least once. When you sleep on your stomach, it can create pain in your back and neck, making you feel achy in the mornings, and some people even claim that it can induce wrinkles.
Investing in a good pillow, on the other hand, can help you sleep better and prevent you from waking up with aches and pains from sleeping on an uncomfortable pillow—those who sleep on their stomachs like a cushion that is both soft and flat.
Having your neck at an awkward angle for extended periods will cause pain; therefore, this will make you more peaceful when you first lie down.
However, there are so many pillows on the market that it can be challenging to know which one is right for you. As a result, we've assembled shopping tips and product reviews for some of our Best Pillows for Stomach Sleepers to assist you in your search for the perfect pillow.
Disclaimer: We independently review all recommended products. If you buy through our links, we may earn a commission. For more details read our Affiliate Disclosure.
11 Best Pillows for Stomach Sleepers
Product Details
1. Best for Back Pain- GhostBed Ghost Pillow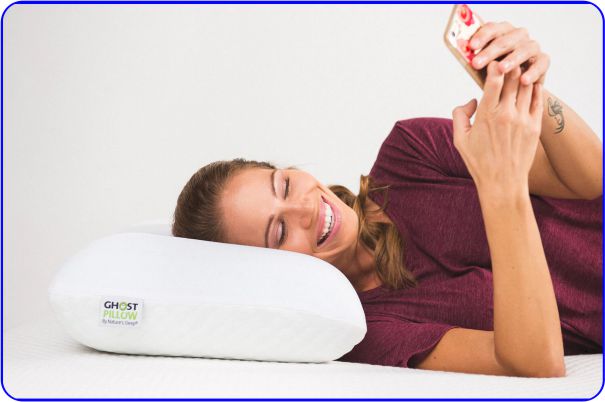 Highlights
Aerated Gel Memory Foam
Firmness Level: Medium Firm
Cover Features a Plush Side
Solid Memory Foam contours the Head and Neck
Heat-Neutralizing Phase Transition Material
Perforated Design
Product Description
To help alleviate back discomfort, some people prefer a cushion that helps to relieve muscle tension and maintain spinal alignment. GhostBed's Ghost Pillow – Memory Foam does both for stomach dreamers who want a firmer pillow.
For hot sleepers looking for memory foam pillows with exceptional qualities, this sort of durable memory foam is an excellent option. There are tiny pores in the foam cores of the gel-infused memory that allow heat to pass. The pillow stays cool because of a layer of phase transition material on top of the cover.
Apart from temperature regulation, this pillow relieves pressure points. You get the famous memory foam close-contouring relief for your head and neck. The cover is made of a Ghost Ice fabric that wicks heat and moisture. The cover has a soft side made of plush cotton for those who desire it.
GhostBed offers only one standard size, and the pillow comes with a five-year warranty. Before returning the Ghost Pillow, customers must utilize it for 30 days to qualify for a free 101-night sleep trial.
2. The Purple Pillow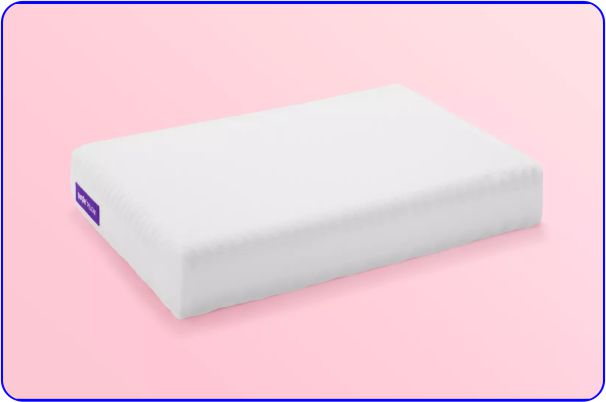 Highlights
Cool and Ergonomic Pillow
100% Purple Grid
Pillow with Adjustable Boosters
110-Night Trial
1-Year Warranty
Product Description
The Purple Pillow with adjustable Boosters offers excellent ergonomic support thanks to its 100% Purple Grid construction. Custom support is as close as you can get to it by adjusting the height of your pillow.
The Purple Pillow is a good choice if you prefer to sleep on your stomach but frequently roll over to your back at night. This pillow is made of Hyper-Elastic Polymer, which fits the shape of your head and neck with a bouncy kind of support.
Unknown to many, Hyper-Elastic Polymer is a Purple-developed proprietary polymer designed to be springy, rubbery, and exceptionally long-lasting in the field of sports equipment. It also has a rapid response to pressure, which aids in the shape retention of this pillow.
3. Amerisleep Dual Comfort Pillow
Highlights
Low and Mid-loft Versions
Pressure-relieving Bio-Pur® Material
Supportive Tapered Edges
10-Year Guarantee
Made in the USA
Product Description
As a result, Amerisleep designed two distinct versions of their phenomenally famous Dual Comfort Pillow, one for side sleepers and one for stomach sleepers.
With this pillow, you can sleep all night comfortably long because of the aerated foam construction, allowing optimal airflow throughout the cushion. Also, the cover itself cools down.
This pillow is unique in that it serves two purposes. The soft side is on one side, while the hard side is on the other. Because the cushion is reversible, you can switch it out based on how you're feeling at the time.
This is an excellent option for those who sleep on their stomachs most of the time but occasionally switch to their side or back.
The thinner of the two pillow profiles is the ideal choice for stomach sleepers. If you're serious about getting a good night's sleep and want the most delicate pillow for stomach sleepers, go no further than this one. It's highly adaptable, calm, and soft.
4. Best Overall- Saatva Latex Pillow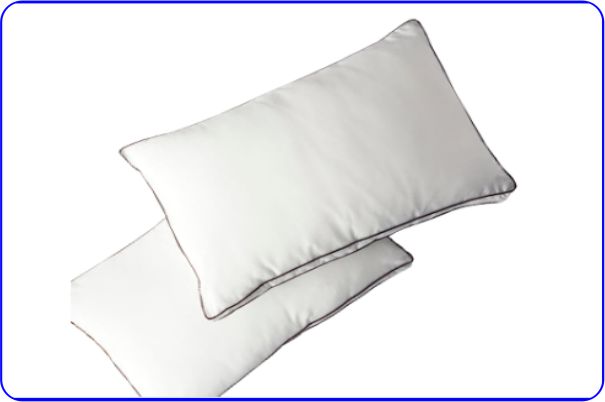 Highlights
100% American Talalay latex
Firmness Level: Medium Soft
Soft Feel Assists with Spinal Alignment
Premium Talalay Latex
The Gusseted Design avoids Clumping.
Product Description
Stomach sleepers can benefit from the medium softness and adjustable loft of the Saatva Pillow, designed to help straighten the spine. A cotton covering, an exterior pillow, and a perforated latex core make up the mattress's three-layer construction.
The core can be removed for a lower loft, or both pillows can be used together. Sateen weaves in the organic cotton fabric help wick moisture away from the skin and allow better breathability. Organic cotton fabric covers the cushion, filled with a down-alternative micro mesh fiber.
It is less likely that the Saatva Pillow would emit scents or allergens because of its natural structure. The shredded latex core inside the outer pillow provides pressure relief. The pillow's rubber core enhances airflow and regulates temperature.
The Saatva Pillow is a luxurious option. This brace is long-lasting and comfortable to wear, constructed from cotton and latex. The pillow comes in two sizes: queen and king. Saatva has a 45-day money-back guarantee.
5. Best for Neck Pain- Layla Memory Foam Pillow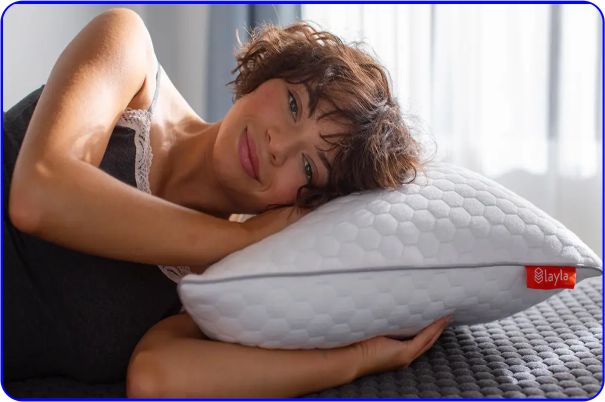 Highlights
Shredded Memory Foam: 70%
30% Polyester Fiber
Supportive Medium Firm Feel
Adjustable Loft for Stomach Sleepers
High Performance at a Low-cost
Product Description
A customizable pillow for stomach sufferers who doubt their appropriate lofts and support levels may be worth the cost. A cushion with an adjustable loft and a reasonable price point combine to make the Layla Memory Foam Pillow.
At any moment, you can add or subtract shredded memory foam and down-alternative fibers to change the thickness and feel of the mattress.
Hot sleepers will appreciate the Layla Memory Foam Pillow's ability to regulate their body temperature. The shredded fill doesn't hold on to much heat, and the cover is also entirely permeable, allowing air to flow freely throughout the interior.
Because it's so cozy and moldable, it's an excellent choice for those who prefer cuddling with pillows.
When cleaning the pillow, Layla advises washing the cover alone. Like washing, the filling can take multiple drying cycles; nevertheless, soaking the pillow can restore its shape after prolonged use. There are options for both queen and king-sized beds.
Layla will send your Layla Memory Foam Pillow to you for free if you live in the contiguous United States. In addition, there is a 120-night sleep trial and a five-year warranty.
6. Puffy Pillow for Stomach Sleepers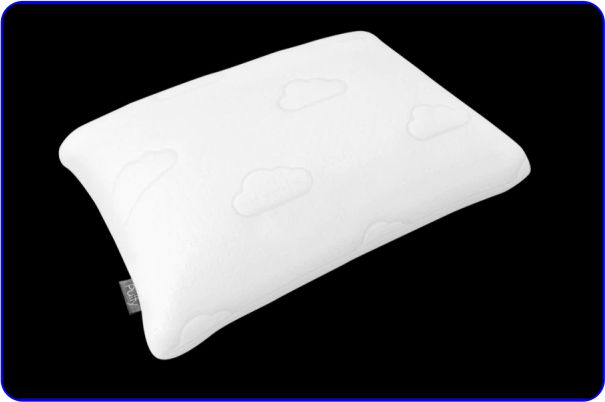 Highlights
Adjustable Comfort
Supports Neck and Shoulder
Cooling Cover
Washable
CertiPUR-US® Certified
101 Night Sleep Trial
Life Time Warranty
Product Description
It is filled with contoured memory foam, which gives a relaxing combination of support and comfort for the head, neck, and arms while sleeping.
As a bonus, it's created in the United States of America and is hypoallergenic, making it an excellent choice for anyone who suffers from allergies. Finally, a cooling cover helps maintain the pillow's temperature consistent on both sides.
7. The Carbon Air Pillow by Eight Sleep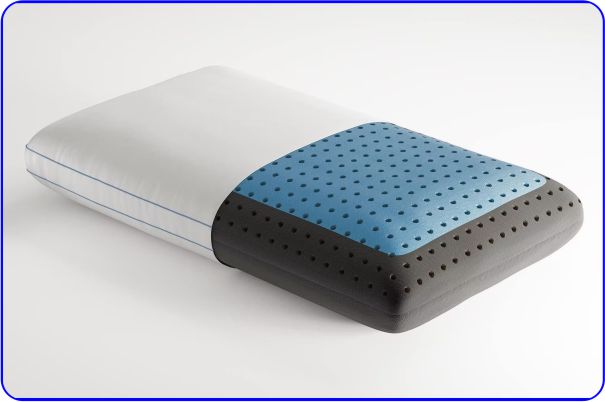 Highlights
Premium Carbon Infused Foam
Air Ventilation System
High-quality Tencel Mesh Cover
5-Year Warranty
Product Description
The thickness of a stomach-sleeping pillow isn't the only factor to consider. Sleeping on your stomach might lead to excessive perspiration. Because of this, Eight Sleep's ultra-cooling pillow is an excellent choice.
It's perfect for stomach, side, and back sleepers because of its great neutral height. In addition to providing comfortable neck support, this pillow also actively works to keep you dry.
This cooling pillow from Eight Sleep is the perfect option for stomach sleepers looking for a cooling pillow.
8. Best Adjustable- Silk & Snow Pillow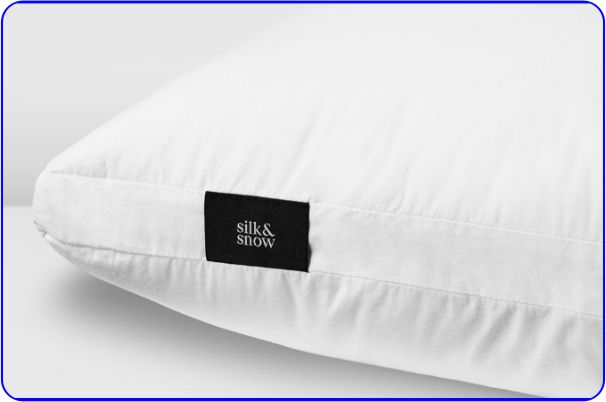 Highlights
Firmness Level: Medium
Microfiber Outer Chamber
Down Alternative Memory Foam Core
Adding or Removing Foam fill adjusts Loft.
Machine-washable Cotton Shell
Product Description
While stomach sleepers preferred low-profile pillows, individuals who rotate between the stomach and other postures may require a flexible head and neck rest. Shredded memory foam fills the center of the Silk & Snow Pillow.
It is possible to modify the pillow's loft by adding or withdrawing foam, so it may be used by those who alternate between side and back sleeping.
Rather than employing animal products or generating allergic reactions, down substitute fibers cushion the exterior chamber. Cotton sateen is used to cover the pillow.
The Silk & Snow Pillow is more inexpensive than equivalent adjustable pillows filled with shredded foam. Within the continental United States and Canada, shipping is available. They back every purchase with a three-year manufacturer's guarantee and a 100-night sleep trial.
9. Boll & Branch Down Pillow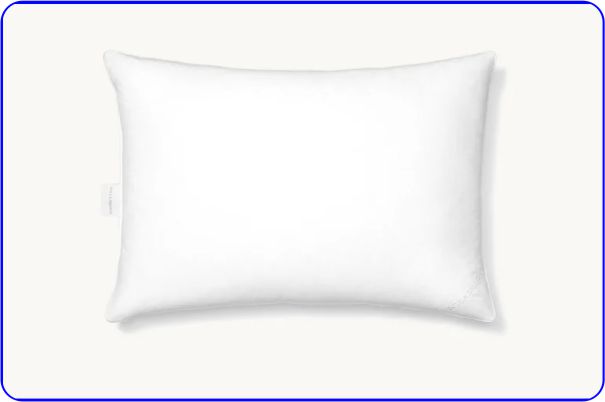 Highlights
100% Cotton Organic Shell
Levels of Support: Soft, Medium, and Firm.
Assembled in the USA
Product Description
The three-chamber construction of the Boll & Branch Down Pillow helps it maintain its structure and silky smoothness over time. Also, it's a comfortable surface to rest your head on as you sleep.
Additionally, the down filling used by Boll & Branch is sustainably sourced from US farms, and the company's production facilities use less energy and water than the industry standard because of this commitment to ethics.
With Down Pillow, you get the best of both worlds: comfort and style. Our down is responsibly sourced from American farms and triple-washed to ensure a cleaner loft.
10. Bluewave Bedding Ultra Slim Gel Memory Foam Pillow
Highlights
Hyper Slim Gel Memory Foam Pillow
Cervical Neck Alignment Using a Flat, Thin Design
Deeper Sleep
Product Description
The thin, flat Bluewave Ultra Slim pillow is loaded with cooling gel, which helps to keep you comfortable and relaxed throughout the night. Its vented design ensures enough airflow, and the memory foam utilized inside is soft yet firm enough to provide adequate support for the neck and upper back.
There are no additives in this memory foam, and it is hypoallergenic. The pillow comes with a removable and machine-washable cover made of various materials to ensure that the cushion remains in excellent shape.
11. Brooklyn Bedding Luxury Cooling Memory Foam Pillow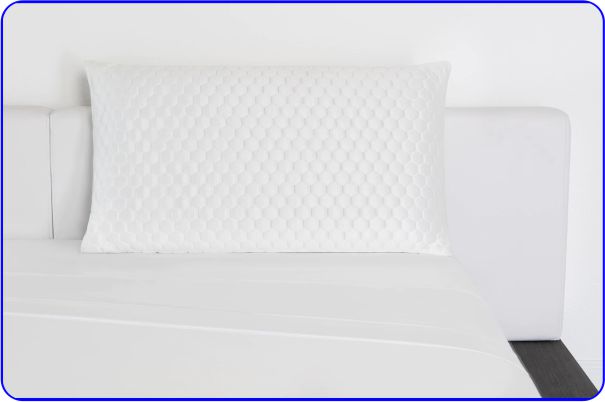 Highlights
Open-cell Foam Architecture
Copper and Graphite Infusions prevent Heat Retention.
Two loft options
1-year Warranty
Product Description
Brooklyn Bedding's Luxury Cooling Memory Foam Pillow features increased cooling technology that helps control temperature. Despite its open-cell composition and breathable knit cover, this pillow nevertheless provides the pressure alleviation that many sleepers enjoy from memory foam.
A sturdy memory foam design and a medium feel should provide support while also helping the pillow maintain its shape as the user moves about on it. Customers can select between 4.5- and 6-inch high- and medium-loft choices.
Those who sleep on their stomachs may find that the thinner mattress aligns their head and spine better. You can easily clean the cover because it is completely detachable and machine washable.
Best Pillows for Stomach Sleepers: Choosing the Right One
Stomach sleepers must take several things into account to maintain proper spinal alignment and full-body support. When looking for a pillow, it's critical to keep these elements in mind.
Other variables that affect the position of one's head include pillows of various sizes and shapes and the ease with which one may mold them.
While stomach sleepers experience many distinct challenges, there are some concerns that all stomach sleepers have in common. Additional precautions may be necessary, such as using a better cushion material.
What to Look for When Buying: BEST PILLOWs FOR STOMACH SLEEPERs
Pillow offers, promotions, and marketing hype about how pillows operate might easily divert your attention when you go out for pillow shopping. Investing in a buffer that meets your preferences and demands will go a long way toward ensuring a successful purchase.
Customers should keep the following points in mind when shopping for a pillow. These factors affect the pillow's overall comfort and support, and other aspects.
Support
Dependent on how much support one receives, the spine's alignment can be maintained or not. A cushion gives support depending on its loft, firmness, and size. All three of these areas must be well supported.
Stomach sleepers benefit from lessened stress in their necks and shoulders, which lessens the likelihood of pain and discomfort.
Firmness Level
Pillows come in a variety of firmness. Firmness is affected by various factors, including the position in which you sleep, your weight, and your particular preferences. As long as the pillow supports the head and neck, stomach sleepers can use a soft to medium-firm pad.
The firmness of a cushion depends on the materials used. While memory foam and buckwheat pillows are known for their firmness, those made with down, down substitute, and down are known for their suppleness.
Pressure Relief
A supportive pillow can alleviate pressure points in the head and neck. Stomach sleepers benefit significantly from a pillow that eases the strain on their necks and spines.
The head, neck, and vertebrae are perfectly aligned with optimal support. Tremendous pressure relief is provided by latex and memory foam materials, which perfectly fit the head-and-neck shapes.
Shape
The shape of a pillow is mainly determined by its materials and construction, but most pillows are rectangular or square. It is necessary to fluff the pillow to achieve the desired level of support and comfort when using materials such as down or down substitutes.
Support for stomach sleepers is more consistent when using latex than other materials. As soon as pressure is removed, memory foam resumes its standard shape and size. Memory foam can be compacted for a more customized fit.
Price
The construction and building methods used to make a pillow impact its price. Pillows are available in a wide range of pricing points, from $10 to $20 for budget pillows to $150 or more for premium choices.
Having a budget in mind before going shopping is essential because of the broad range of prices available. Customers need to remember that higher-quality materials may cost more upfront, but they'll last longer.
Quality Materials
The durability of a pillow is governed by the quality of the raw materials used. The typical lifespan of a pad is three years. Cheap pillows will need to be changed more frequently to maintain their shape and support.
Compared to polyester or low-density polyfoam pillows, down and latex pillows typically have longer lifespans.
Moldability
Moldability is a term used to describe how easily a pillow can be molded to fit a person's specific sleeping needs. So, you can rest easy knowing your bra will have a perfect fit. A moldable cushion might help to ensure the neck and head are suitably maintained for stomach sleepers across the night.
Other Tips for Stomach Sleepers
While choosing the correct cushioning for stomach sleepers is crucial, the following ideas can also help them stay comfortable during sleep.
Choosing a Mattress
A firm mattress to retain the spine in an upright position for stomach sleepers is ideal. The hips and abdomens of stomach sleepers are pressed into the mattress. People who sleep on an overly soft bed can sink in and put a strain on their spines.
Even consistent mattress support relieves aches and pains for stomach sleepers by preventing spinal misalignment.
Use a Pillow Under the Pelvis
A pillow under the pelvis might help stomach sleepers avoid sinking too far into the mattress. As a result, the spine is not under as much stress as it would otherwise be.
Sleep with Head Straight Rather than Turned
Stress on the neck and back can be created by stomach sleepers who tilt their heads to one side during sleeping. When you sleep with your head down, your spine is positioned correctly, and you don't feel any pressure on your neck or shoulders.
Sleepers can raise their heads a little bit by placing a pillow beneath their foreheads while they rest.
Conclusion
Some people prefer to sleep on their stomachs because they feel it to be the most comfortable and convenient way to fall asleep. There are specific differences when choosing a pillow for folks who prefer to sleep on their stomachs vs. their backs or sides. This is because stomach sleepers face a distinct set of issues.
For stomach sleepers, finding a good pillow isn't as simple as finding one for back or side sleepers, for example. For those of you who sleep on your stomachs, this guide can help you narrow down your options and make sure that you're making the right decision.