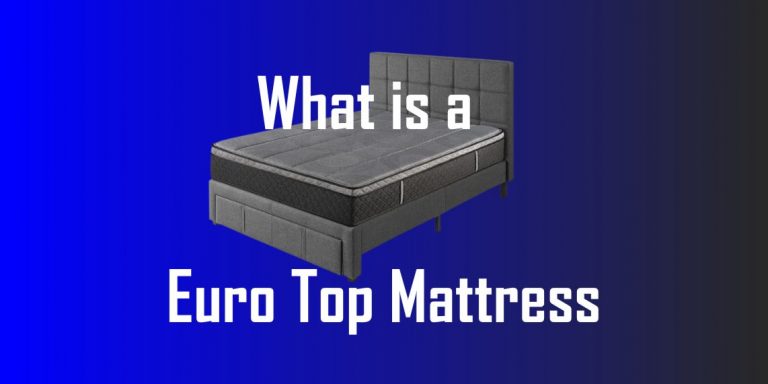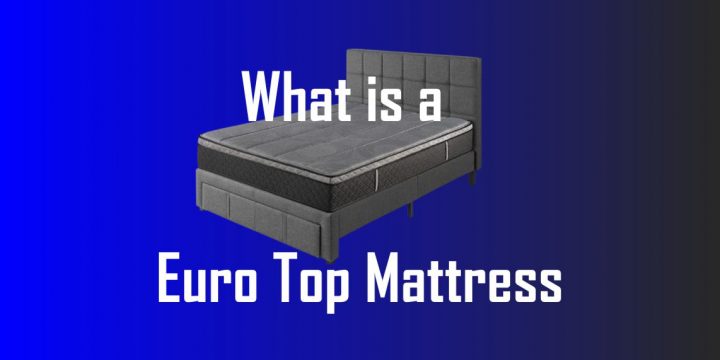 Whenever you're on the market for a mattress, you're likely to come across several jargon-filled phrases. Inside the store, you might hear salespeople discussing innerspring, memory foam, latex, and various mattress sizes like a king, queen, and full, among other things. People frequently refer to "pillow top" and "Euro-top" as synonyms for one another in casual conversation. It may be tempting to get the same pillow-top or Euro-top mattress as you did before, but you should avoid it. The new pillow top mattress and Euro-top mattress are not the same.
Having a bottom layer woven into the mattress makes for soft and comfortable sleeping. If you are in the market for a comfy, long-lasting mattress, then go for the Euro-Top.
Additionally, Euro-top mattresses are beneficial for fostering deep and restful sleep and are also excellent for snuggling with a loved one, enjoying a movie, or reading.
Euro top mattresses are made of layers of soft foam and soft fiberfill. Additionally, this results in the perfect distance between the mattress and pillow top. Conventional pillow top sheets are not constructed of denser, higher-grade materials and are not filled with more material.
When is Euro Tops Best Used?
Euro tops provide additional support, padding, and comfort. It can be quite beneficial for people who suffer from orthopedic disorders, back pain, or extra padding on their mattresses.
The Euro Top mattress is the ideal option for you if you have any of the following characteristics:
You can sleep at any temperature, hot or cold.
You prefer a medium-soft surface on which to sleep.
Dislike turning the mattress regularly.
You require robust edge support.
You're sleeping with a partner and require a larger sleeping space.
You desire a softer sleep environment with excellent support functions.
You are experiencing aches and pains, and it is recommended that you get medical attention.
A Guide to Caring for a Euro-Top Mattress
Because of the additional material in a euro-top mattress, it is even more critical to properly care for the bed to preserve its longevity, durability, and hygiene throughout time and the years.
However, a euro-top mattress that is not properly cared for may begin to sag near the edge of the mattress and function badly after seven to ten years of use.
It would be best if you vacuumed your euro-top mattress regularly to remove dust mites, food crumbs, dead skin cells, and other debris. Vacuuming the euro-top regularly may also be beneficial. The euro-top can be cleaned with a little dish detergent and cold water, as well as a clean rag.
By rotating your euro-top mattress once a month, you can increase the longevity of your mattress. It will help to guarantee that the bed wears uniformly over its life, preventing dips and sags that naturally occur where pressure is given to the mattress.
Euro Top Features
| Features | Description |
| --- | --- |
| Construction | As previously stated, the comfort layer is sewed to the mattress's edges, leaving no space between the euro-top and the comfort layer itself. The comfort layer is stitched to the mattress's edges, leaving no space between the euro-top and the comfort layer itself. |
| Composition | Foam or fiberfill |
| Thickness | Around 3-inches of material remain flush with the bottom layers. |
| Appearance | Uniform stacking |
| Feel | Cushioning in the center and hardness at the edges are important characteristics. |
| Longevity | A longer lifespan is achieved with Euro-tops; however, the edges of the top may sag. |
| Support | Enhanced support of the edge because it comes with the mattress side flush. |
| Cost | The price varies depending on the model and manufacturer. |
Euro Top Materials
Several high-quality materials are available for Euro tops, each with its own set of pros and cons.
Latex Foam
By processing the sap from the rubber tree, natural latex foam can be created. Pure organic latex is one of the most environmentally friendly bedding materials available, and it is also extremely comfortable.
Due to the great responsiveness of latex foam mattresses, they may be a good choice for people who enjoy a lot of bounce. It also has a natural cooling effect, which is beneficial for hot sleepers.
Traditional innerspring mattresses combined with latex Euro tops won't prevent motion transmission because latex does not isolate motion, and memory foam does not do so. Latex does not conform to the body as effectively as memory foam does.
NASA first designed memory foam to cushion and support astronauts during their launch and re-entry into Earth's atmosphere. Since then, it has grown to become one of the most popular bedding materials available, and with good reason.
Memory foam can contour like no other material; compressing beneath your weight, rising to meet your body, and adapting exactly to your shape provides unequaled support and pressure alleviation.
The experience of having your body cuddled while you sleep is likely to appeal to you, which is why a memory foam mattress is a good choice for you.
On the other hand, a Memory Foam Euro-Top may not be the best choice if you sleep hot or like a lot of bounce. It is also less sensitive than latex, and it takes longer to return to its original shape. Memory foam retains more heat than conventional fillings.
Fiberfill
Other synthetic materials meant to simulate the feel of natural down are also known as fiberfill. The fibers included in fiberfill are excellent for reducing pressure, but they cannot offer anywhere near the support provided by memory foam or latex.
Additionally, foams are more fragile than cotton and less breathable. A fiberfill Euro-top has only one advantage: it's cheap. For those not willing to pay a lot of money, fiberfill is generally the best value.
Cotton
Pressure relief and extra plushness are found in cotton Euro tops, but they lack any support like fiberfill. That said, cotton bedding works well for those who want a little extra padding without warming up the bed. It has lots of airflow-inducing strands, so it doesn't retain a lot of heat.
Wool
If you enjoy sleeping warm and snug, choose a European top in wool. In addition, it offers the same type of cushioning as memory foam, helping to relieve stress. Wool does not provide much in the way of support, so if you want to have support added on top of what your mattress provides, then wool will not be ideal.
Pros and Cons of a Euro Top Mattress
Pros
Value-Added Price Tag – For customers who prefer a mattress that has a medium soft feel and offers total-body support, the Euro top mattress is the perfect option.
Provides Ample Edge Support – The Euro-top mattress is guaranteed to have adequate edge support, which means it cannot sag in the middle and lead to mattress softness that is compromised.
Retains Shape – This Euro top mattress offers a medium-soft sensation along with total body support.
To get the best of both comfort and support, you want a mattress that has a medium plush feel.
You're looking for something that will retain its shape, softness, and contouring abilities over time.
Even though Euro-top mattresses are typically less expensive than pillow-top mattresses, you want something worth the money you're spending.
You're looking for a mattress with excellent edge support.
Cons
Need Extra Care – The fact that you've added an extra layer on top of the bed means that you'll have to be extra careful when cleaning.
However, retains Heat – As a result of the additional layer placed atop the mattress, the bed absorbs even more heat. Even if a person does not use a cover at night, it can help them sleep better.
FAQs
Is it possible to get Euro toppers on mattresses other than coils in the future?
A Euro-top mattress can be found on various types of mattresses; however, they are most commonly found on innerspring mattresses. In addition to latex and memory foam comfort layers, hybrid mattresses also include foam comfort layers. As a result, a Euro or normal pillow top would be redundant.
Mattresses with a pillow top or a Euro-top are more common in hybrid mattresses than pure foam mattresses. Hybrid mattresses, like innerspring mattresses, include a coil support layer on the bottom as well.
A built-in foam top layer of at least 2 inches in thickness is found in hybrid mattresses instead of coil mattresses. Any pillow top would be placed on top of this foam comfort layer, resulting in a velvety combination of foam and pillow top fabric.
Also Read: What is a Hybrid Mattress?
What's the difference between Euro pillow tops and regular pillow tops?
Regular pillow-top mattresses differ from Euro-top mattresses in one important way: the extra layer of padding isn't sewed into the mattress's cover like it is with Euro-top mattresses.
Standard pillow tops are stitched directly to the top of the mattress cover, and they are not removable. Due to the gap between the mattress and its pillow top, they appear to be attached to the mattress nearly like an attached topper.
Is a Euro top the same as a mattress topper?
In addition to ordinary pillow tops being put on top of the mattress cover, euro tops are also sewn under the mattress cover in some cases. On the other hand, Mattress toppers are extra padding that is not attached to the mattress in any way.
A topper is available in the same variety of materials as Euro and pillow tops, and it will have a comparable feel, but it can be purchased independently of the rest of the mattress.
Can I flip my Euro top mattress?
It would be beneficial if you avoided flipping any pillow tops. Inverting the correct layout of a Euro or normal pillow top mattress, you place the comfort layer at the bottom and the support layer on top, resulting in a more comfortable sleep experience.
Although a Euro top cannot be flipped, it can and should be rotated. Instead, turn the mattress once or twice a year from the head of the bed to the foot of the bed. When the appropriate moment arrives, reverse the process will aid in preventing your mattress from sagging in the areas where it carries the majority of your weight.
Which is better, a Euro top or a memory foam mattress?
The decision between a Euro top and a memory foam mattress is based on your particular tastes, as well as whether you place more value on support and pressure relief over responsiveness and air circulation.
Although memory foam mattresses are warmer and less responsive than innerspring mattresses with a Euro top, no pillow top can match the support provided by a memory foam mattress. By just putting a memory foam Euro-top to a memory foam mattress, it is not possible to replicate the contouring capabilities of the mattress.
Bottom Line
If you like the temperature and feel of an innerspring mattress but would like an additional cushion layer, a Euro top mattress might be right for you. A Euro-top mattress combines the traditional sensation of an innerspring mattress with the support and cushioning provided by softer materials.
If you're looking for a mattress that provides bounce, circulation, and support, a Euro top mattress might be the best option for you.
Also Read: Pillow Top Vs. Euro Top Mattresses