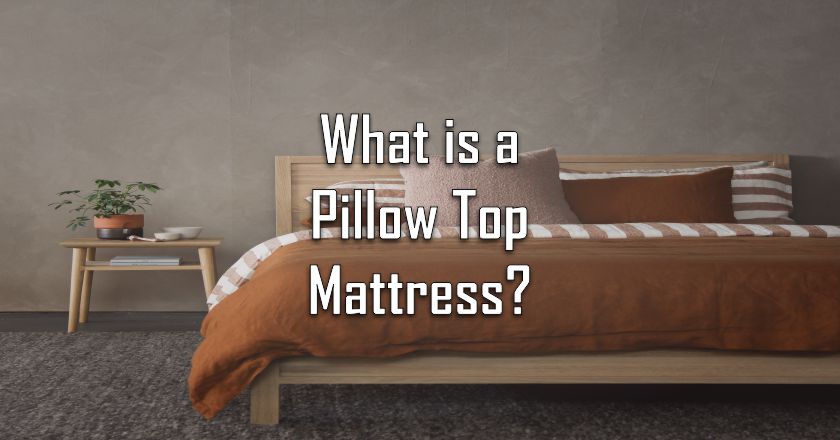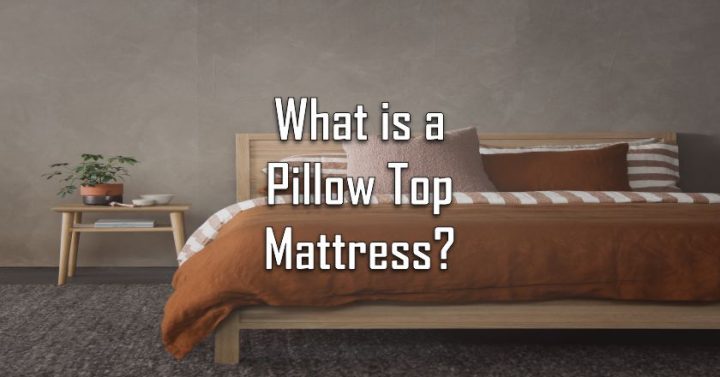 If you're looking for a new mattress, you may have encountered the term "pillow top" in your study. What is a pillowtop mattress, though?
A pillow-top mattress, in short, is a type of mattress with an extra layer of padding on top of the usual layers. In this article, we'll learn more about the suitability of pillow top mattresses.
What is the Definition of a Pillow Top Mattress?
The soft material is stitched and packed into the cover of a pillow top. This creates a mattress surface that is as soft as a cloud.
A memory foam pillow top is the most popular form of the pillow top. A memory foam pillow cover is sewn with a thin layer of memory foam. You can also get pillow tops made of latex, cotton, cashmere, wool, goose down/ feathers, and memory foam.
Spring support systems are commonly found in the center of pillow-top mattresses; however, a pillow top can also be found atop a foam mattress (it is just not very common).
Pillow Top Mattresses: Pros and Cons
Pillow tops on mattresses offer both advantages and disadvantages to their owners. However, pillow toppers can be obtained in various densities, from soft to firm, depending on your preferences. Let's look at some of the details that could affect your decision.
Advantages
Comfort:
The introduction of the pillow top raises the bar for mattress comfort. The bed's innerspring or pocketed coils serve as the bed's foundation, while the top layer, which might be constructed of a variety of materials, gives it a cloud-like feel: light, fluffy, and incredibly soft.
No Breaking In:
Pillow top mattresses have the distinct advantage of being more comfortable right out of the box. As long as you don't have a memory foam top, pillow tops are known for being supportive and comfy right out of the box.
Less Off-Gassing:
Luxury mattresses that are similar in quality can have an unpleasant odor for weeks or even months. It doesn't appear that this is the case with the average pillow top, and customers frequently rate them as having no unpleasant smell or odor.
Affordable:
While a pillow top mattress will cost about 30% more than a conventional mattress, it provides luxury at a far lower price than most memory foam or hybrid mattresses with equal comfort. However, a pillow-top mattress can be expensive.
Less Motion Transfer:
Adding the additional topper lowers motion transfer, mainly if the pillow top contains a foam component. When more than one person sleeps in the same bed, this allows for a more peaceful night's rest.
Pressure Relief:
Pillow top mattresses are well-known for promoting sound sleep. These mattresses are ideal for side sleepers because they offer excellent hip and shoulder support and a reduced risk of back and joint pain. Their total effectiveness in relieving pressure points is outstanding.
Can Combine Comfort and Support:
It is possible to combine the support of an innerspring with the softness of a top layer by adding a top layer to the mattress. It's a combination of support and comfort that many people find ideal in a bed.
Disadvantages
Heavier:
If you're concerned about the weight of your mattress, you should realize that pillow toppers are 20% heavier than ordinary mattresses. As a result, moving or rotating them may be more challenging.
Require Rotation:
Indeed, rotation is essential. Pillow toppers need to be head and foot turned regularly. They don't need to be flipped unless the mattress has a two-sided pillow top. The bed will last even longer and provide you with much more relaxation if you rotate it in any direction.
Sagging:
One severe disadvantage of the pillow top type is the risk of sagging. Compression of the top layer materials occurs over time due to wear and tear and human weight. The sag may cause back pain if it is large enough.
Not Good for Heavy People:
Individuals carrying extra weight do not have the same support and comfort as those in a more significant weight range. The consensus is that hefty people should look into other solutions to have the best possible support.
Fit:
Your sheets and bed frame may be too small for a pillow-top mattress. While sheets now come in stretchy fabrics to fit a variety of mattress depths, a pillow top may be much more profound than your current mattress. If so, it may be too big for your current sheets.
Also, depending on your bed frame, the mattress may not fit. This can significantly increase the cost of a new mattress if a new mattress pad, sheets, or frame is required.
Less Durable:
Customers have observed that pillow-top mattresses wear out more quickly than standard mattresses. However, this has yet to be proven.
Traps Heat:
The pillow top absorbs heat and makes for a warm sleep surface for many. People who slept on pillow-top mattresses were more likely than those who slept on traditional mattresses.
To report this problem, at 8 percent each. If the pillow top is foam, it will be more often the case that this does trap heat.
Pillow Top Mattresses: How Much Do They Cost?
Inexpensiveness is a significant selling point for pillow-top beds. Unlike latex and gel memory foam mattresses, most pillow-top mattresses are considerably less expensive.
Two key drivers of the ultimate price are the pillow top and the rest of the mattress. The cost of a product can be heavily influenced by its brand and size. A king pillow-top mattress, for example, can cost anywhere from around $1,000 to over $1,400, depending on the manufacturer.
Do Pillow Top Mattresses Work?
In actuality, pillow-top mattresses give minimal advantage to you. Apart from the first comfort, they have a relatively short shelf life. They look like a luxurious soft topper but are glued or machine stitched to your mattress, so you're stuck with them, especially as new mattresses settle.
We can't think of a good reason to use pillow tops to keep toppers in place. This only applies to restless sleepers or beds on moving platforms like ships.
We can only imagine it happening at sea, even then, in a choppy sea? We considered preventing retailers from forgetting to bag up the topper with the mattress, but that sounded absurd.
What is a Pillow Top Mattress's Alternative?
There is no need for a pillow top if you can buy a separate topper that can be rotated. An excellent handmade two-sided mattress that can be turned in is now available. You get all the benefits of a pillow top without any disadvantages.
As with a mattress, these toppers can be flipped over. Only this one part needs replacing, not the whole mattress when they need replacing.
There are no pillow tops in any of our mattresses because they are a significant design issue in building a long-lasting mattress. When necessary, toppings can be removed, rotated, and repositioned with relative ease.
Also Read: Pillow Top Vs. Euro Top Mattresses