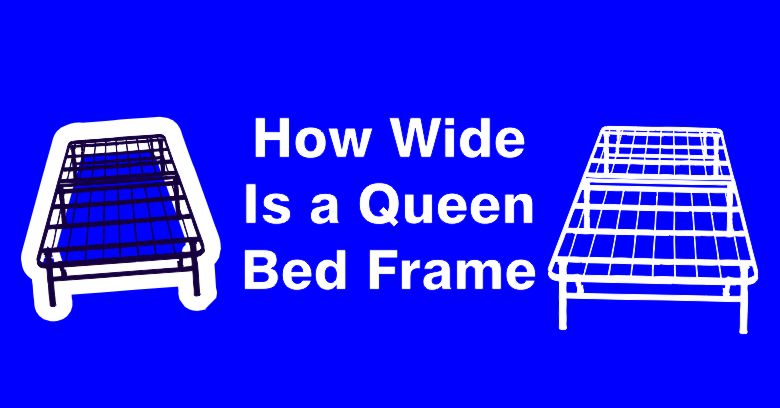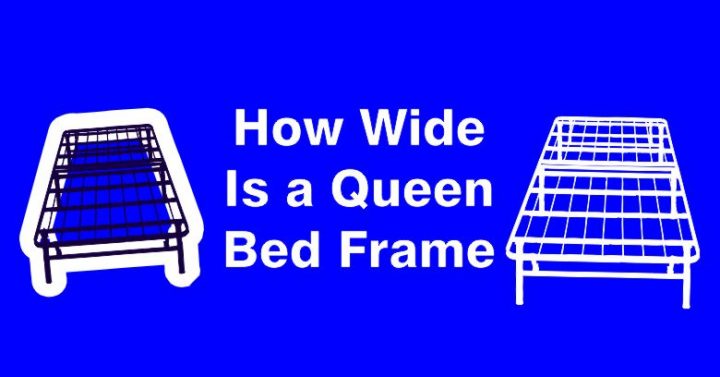 The standard width of a queen bed frame is 60 inches. This measurement refers to the width of the structure itself, not the mattress that sits on top of it.
The size of a queen bed frame is typically 80 inches long, but this can vary depending on the design and manufacturer.
Measurements of Queen Bed Frames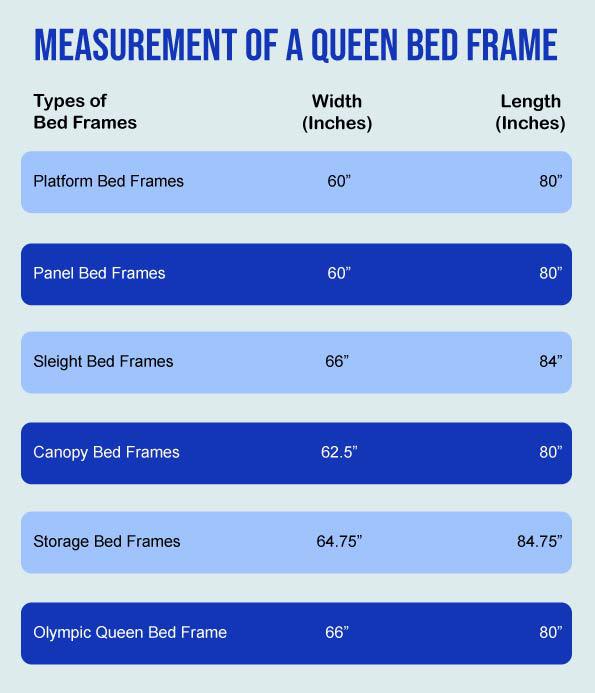 | Types of Bed Frames | Width in Inches | Length in Inches |
| --- | --- | --- |
| Platform Bed Frames | 60" | 80" |
| Panel Bed Frames | 60" | 80" |
| Sleight Bed Frames | 66" | 84" |
| Canopy Bed Frames | 62.5" | 80" |
| Storage Bed Frames | 64.75" | 84.75" |
| Olympic Queen Bed Frame | 66" | 80" |
Also Read: Queen Size Mattress Measurement Ultimate Guide
Types of Queen Bed Frames
Several queen bed frames are available, each with unique features and dimensions. The most common types of queen bed frames are:
Platform bed frame
A simple, low-profile platform bed frame supports your mattress. It typically consists of a flat, rectangular platform with no headboard or footboard.
Panel bed frame
A panel bed frame has raised or lowered panels for the headboard and footboard. It typically has a slat support system that runs from the headboard to the footboard.
Sleigh bed frame
Sleigh bed frames have curving headboards and footboards like sleighs. It typically has a slat support system that runs from the headboard to the footboard.
Canopy bed frame
A canopy bed frame has four tall posts that support a stand at the top. You can hang curtains or fabric from the frame to create a cozy, enclosed sleeping space.
Storage bed frame
A storage bed frame is designed with built-in drawers or shelves underneath the mattress platform. This allows you to maximize your storage space without adding additional floor space in your bedroom.
Conclusion
When selecting a bed frame, knowing the right size is crucial. The standard width is 60 inches, but variations depend on the frame's design and construction.
You may select a queen bed frame size that suits your space and fulfills your demands by considering these variables and other elements like style, material, and budget.
With the right queen frame, you can create a comfortable and stylish bedroom that meets your needs.
FAQs
Can a queen mattress fit a full-size bed frame?
Queen mattresses do not fit on full-size bed frames. Choose a bed frame that matches your mattress to guarantee a good fit.
How do I measure the width of a queen bed frame?
You can determine the width of a queen bed by measuring the space between its two longest sides.
Also Read: 15 Best Queen Size Mattresses