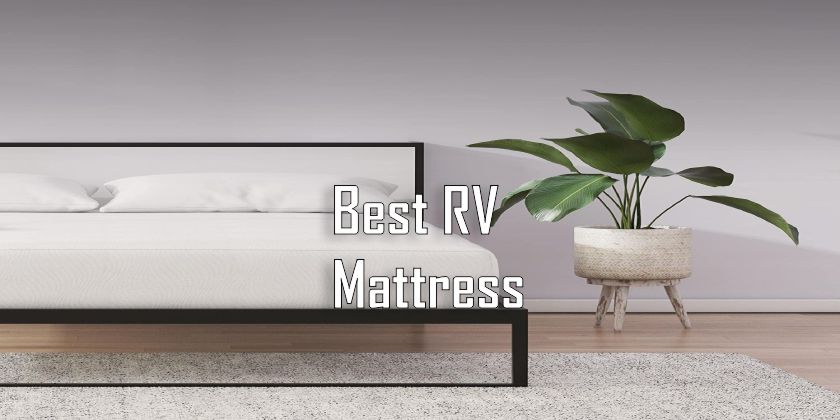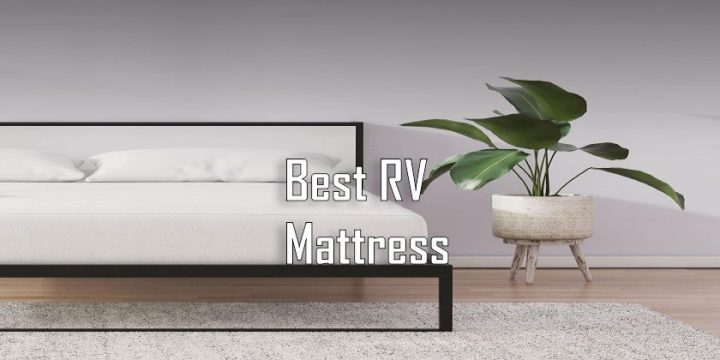 A common mode of transportation for many Americans is recreational vehicles or RVs. An estimated 9 million households in the United States own recreational vehicles. RVs are popular with people of all ages. When used recreationally, these vehicles allow customers to bring the comforts of home with them wherever they go.
They can also be utilized as a primary residence in certain circumstances. The ability to travel in the luxury of one's own home is a big part of the allure of RVing. In addition, a comfy mattress is provided to ensure that RV owners have an uninterrupted night's sleep.
Getting a good night's sleep is something to look forward to for those who are out adventuring all day before returning to their RV or those who have been driving between destinations.
Most individuals will want their RV mattresses to have the same attributes as their mattresses at home, if not better, and occasionally even better features. When choosing an RV mattress, factors like temperature regulation, motion isolation, pressure alleviation, and durability should all be considered.
In this article, you'll learn about the different types of RV mattresses available today, purchasing factors to bear in mind, and how to buy the perfect model for your RV and personal tastes.
Disclaimer: We independently review all recommended products. If you buy through our links, we may earn a commission. For more details read our Affiliate Disclosure.
The 11 Best RV Mattresses
DynastyMattress CoolBreeze Gel Memory Foam RV Mattress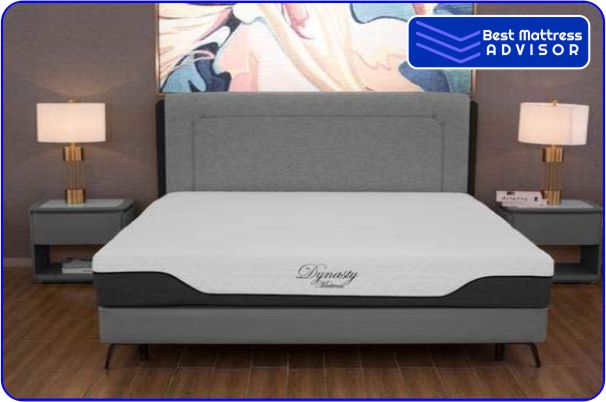 Highlights
Pressure alleviation is achieved through close conformance and precision contouring.
design that is breathable to give a cooling effect
luxurious, quality materials for reliable, long-lasting performance;
easy to clean due to the removable cover
For your peace of mind, we have provided an extended warranty.
For Hot sleepers
Those who are prone to aches and pains
Fans of the memory foam feel.
Overall Thought
Every person is familiar with the most prevalent problem associated with memory foam mattresses: they tend to sleep hot, which has a negative impact on the overall quality of your sleep.
This memory foam RV mattress from DynastyMattress is perfect for anyone vacationing someplace in or around the Arizona deserts who does not want to wake up every morning sweating.
The CoolBreeze model lives up to its name by providing you with a level of comfort that we like to refer to as 'Mediterranean villa vibes.'
How could this be?
Our prediction is 2.5 "a layer of open-cell CoolBreeze gel memory foam undercoated in CoolBreeze. Heat is quickly transferred through the open-celled construction, making sure you never feel like you're burning alive.
Additionally, two "Cool AirFlow foam layers use their convoluted form to maximize air circulation. It is supportive and durable, making it an excellent base for the pillow. Overall, the mattress feels medium.
This cover is removable and machine washable, and because of the brown suede design, it appears nice. DynastyMattress CoolBreeze is well worth the money you spend on it. If you're searching for a comfortable RV mattress that feels more like your regular bed, this is the one to choose, especially if you tend to sleep cool at night.
Pros
Affordable
Conform to the shape of the body
Covered with a fire-retardant material
Cons
Improvements are required in quality control.
Some people have expressed concern about sagging.
Best RV Innerspring Mattress -Parklane Mattresses The Explorer RV Mattress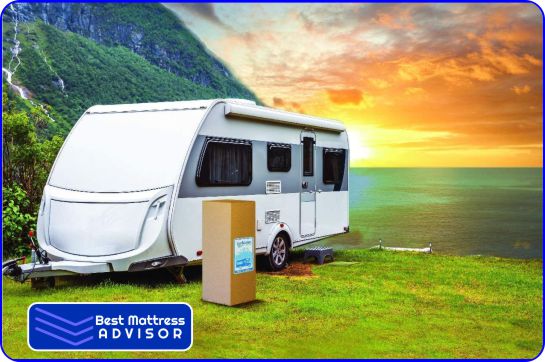 Highlights
Layers of soft, high-density foam
The reinforced lumbar support layer
Handcrafted in the USA
CertiPUR-US
Overall Thought
The Explorer mattress from Parklane Mattresses is unquestionably the ideal choice for long, hard journeys that necessitate restful sleep after a long day.
Parklane's The Explorer RV Mattress delivers noteworthy back support and minimizes motion transmission since it employs a blend of soft high-density foam and individually wrapped coils. It also provides dependable stability when exposed to severe loads because the innerspring is placed between layers of foam.
The Explorer's ventilation is suitable for summer use due to its permeable cover and cooling gel memory foam lumbar support. For post-purchase assistance, this Parklane RV mattress comes with a 5-year warranty, which is somewhat mediocre compared to other mattresses available on the market.
Despite this, the high-quality construction and positive feedback from other RVers should ensure more than acceptable contentment with the product. This Parklane mattress is delivered in a unique "Box and Roll" packaging that makes handling easier and allows for a hassle-free setup in your recreational vehicle (RV).
Pros
High level of comfort
Consistent air flows
Well made and firm
Cons
Quite expensive
5-year manufacturer's warranty
Best Value – Zinus Gel-Infused Green Tea Mattress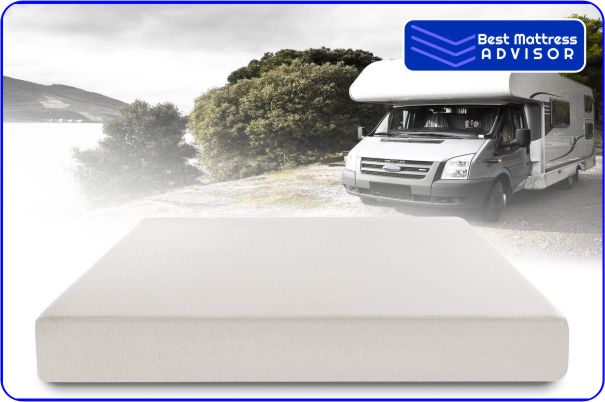 Highlights
Pleasant Pressure Relief
10-Years Warranty
CertiPUR-US
Inspired by Nature
Pressure Relieving Foams
Support up to Max 500 lbs
Overall Thought
The Gel-Infused Green Tea RV Mattress from Zinus is available in three different profiles: 6″, 8″, and 10″ for RV owners to select from.
The foam used in its construction has been certified by CertiPUR-US for performance and durability, and the material has been infused with green tea extract and gel to help prevent odors and maintain a consistent temperature.
In addition to its inexpensive price, the Green Tea mattress possesses several remarkable attributes. RV sleepers will benefit from its gel infusion, which helps lessen the amount of body heat they absorb.
Zinus provides an exceptional 10-year warranty on this product, which is significantly longer than any other RV mattress warranty we've seen so far. This Zinus Gel-Infused Green Team Mattress is a great value pick for everyone who sleeps on their side, regardless of their weight or height, and who wants a good deal.
Pros
Negligible Sagging
Comfortable and Adaptable
Responsive Customer Service
Cons
It might be too soft for some
Expanding issues
Best Memory Foam – LUCID Gel Memory Foam RV Mattress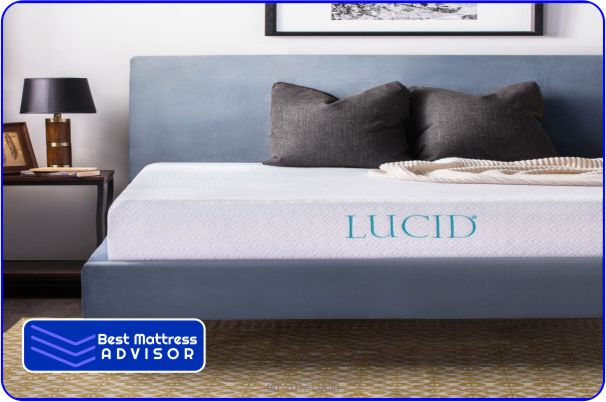 Highlights
Dual-Layer Mattress
MEDIUM-FIRM feel
Gel-Infused Memory Foam
Hypoallergenic and CertiPUR-US
Overall Thought
The Lucid, created specifically for RVs and campers, contains 2.5 inches of gel-infused, vented memory foam and 7.5 inches of high-density foam that functions as a base and provides a medium-firm sensation. The mattress is encased in a TENCEL blend fabric that aids with temperature regulation and moisture management for sleepers.
The LUCID Gel Memory Foam mattress is extremely portable, which is a significant advantage. When compressed and rolled, it is thin enough to pass through small halls and staircases without squeezing.
Full XL and Short Queen sizes are available for purchase with this RV mattress and Twin through California King. It comes with a ten-year warranty and is packaged in a handy package for quick and simple installation.
Pros
Excellent support and breathability.
Expand properly and consistently within several days
Low cost
Cons
Too firm for some
Barely acceptable customer service
Signature Sleep RV Mattress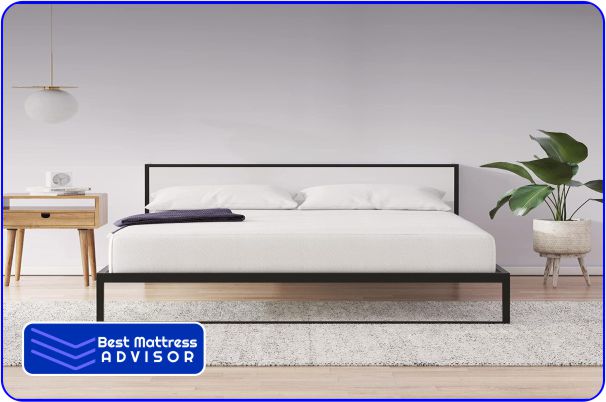 Highlights
Relieves pressure points
Foam is low in VOC emissions
This mattress has a soft, knit fabric cover
Overall Thought
Signature Sleep's RV mattress is one of the most popular and highly-rated RV mattresses offered on Amazon.com, although it is not the most economical option.
Due in part to a large number of sizes and profiles available, which range from Twin to King sizes and 6″ to 12″ profiles of either charcoal-gel or memory foam, the mattress has become quite popular.
Memory foam and high-density foam are mixed in all models, regardless of the profile thickness, to provide increased comfort and durability. The mattress has a weight range of 40 to 79 lbs with a soft fabric cover, depending on the size and design you choose.
Pros
Subtle Smell
Fast expansion
Nice shipping service
Cons
The cover contains fiberglass
ZinusDeluxe Memory Foam RV Mattress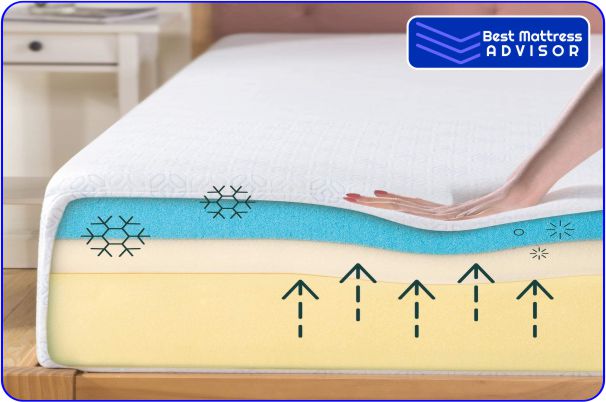 Highlights
As Cool as it Gets
Pressure Relieving Foams
CERTIPUR US Certified
10- Years Limited Warranty
Overall Thought
This Zinus Deluxe Memory Foam RV Mattress, which can mold itself to the shape of the sleeper's body, is one of the best alternatives for individuals who place a high value on comfort and support.
In addition, the Zinus mattress incorporates high-density foam, which allows it to remain in excellent condition for years without showing indications of sagging. There is also a 10-year limited warranty on this durable RV mattress, which will enable you to claim a replacement warranty in the event of a manufacturing defect.
You will find it to be reasonably priced for the regular model, and you will also have access to excellent aftermarket customizations.
Even though this Zinus mattress is sent compressed in a box and will expand to its original size in 48 hours, the manufacturer recommends that you open the packing within 72 hours of receipt of the product.
Pros
Firm and Comfy
Easy to Unpack
Fresh and Pleasant Scent
Cons
Expanding issues
Some find it to be too firm
Best for Back Pain – Live & Sleep Ultra RV Mattress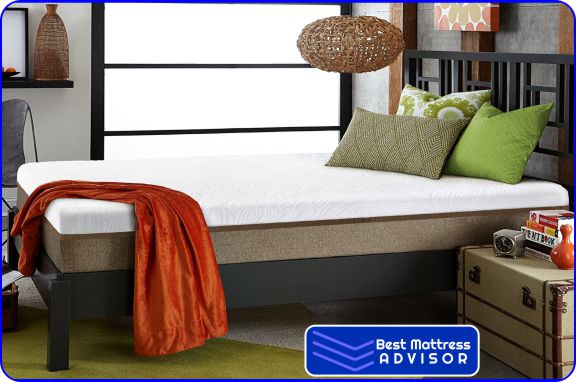 Highlights
Perfect contour
Cooling innovation
Soft knit cover
Certipur-us certified
20-year warranty
30-days trial period
Overall Thought
As our top option for the Best Luxury RV mattress, the Live & Sleep Ultra RV Mattress is great for RV owners who are willing to spend a little more money on their RV mattress to ensure that they have complete support and comfort RV mattress.
The Live & Sleep is offered in various sizes ranging from Twin to California King and a Short / RV Queen size. The Short Queen RV mattress is made up of 2.5 inches of airflow memory foam on top of 1 inch of gel-infused, cooling Visco memory foam, all of which is supported by a high density, supportive base.
In addition to high-quality foam meant to allow for airflow for a cool night's sleep, this mattress comes with a removable linen cover that makes washing the mattress a breeze. The Live & Sleep comes with a 30-night risk-free trial and a 20-year warranty, which is one of the longest we've seen in the mattress market thus far.
Pros
Admirable Ventilation
Versatile and flexible
Nice Packaging
Cons
Costly
Consistency is lacking
Zinus Spring RV Mattress
Highlights
Durable comfort
Top-quality layers
CertiPUR-US certified
10-year limited warranty
Overall Thought
Innersprings RV mattresses are ideal for anyone who love the feel of a regular mattress, and Zinus Spring is our top recommendation for the best. The heavy-duty coil springs provide excellent, strong support for your body.
Mattress padding is made of CertiPUR-US Certified foam infused with green tea extract and natural castor seed oil. These substances have a natural odor-retarding and anti-bacterial effect. The mattress is completely covered in a fiber quilt, and it comes with a 10-year warranty.
Serenia Sleep 6-inch Mattress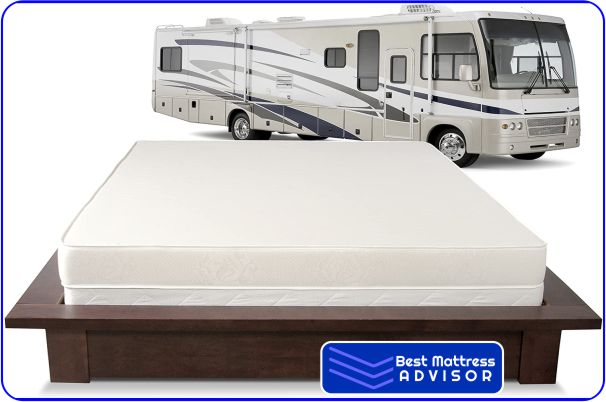 Highlights
Travelers on a budget
Those who want a firm mattress
People with allergies
Overall Thought
Want a high-quality mattress for your RV but don't want to spend a lot of money on a temporary sleeping solution? The Serenia Sleep RV mattress, on the other hand, provides the finest value while providing the ultimate comfort and convenience.
The Serenia is a firm mattress that provides pressure alleviation as well as support for your body. Its high-density foam core is specifically engineered to target pressure areas on your shoulders and hips, while the rest of the mattress is contoured to fit your body's natural form.
Not only that, but it is also dual-sided, which means that the mattress may be flipped over, so extending its lifespan.
This memory foam mattress is manufactured in the United States, and it is CertiPUR-US certified, hypoallergenic, and dust mite-proof. Not only is this mattress reasonably priced, but it is also lightweight and portable, and it is available in a range of sizes to accommodate any RV of any size.
Pros
Extremely supportive of the back
Simple maintenance is required.
Excellent value for the money.
Cons
Minor issues in the valley
It's a little Pricey
Travel Happy RV Mattress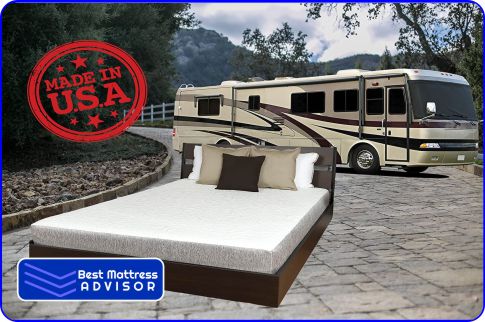 Highlights
Certi-PUR US
10-year Warranty
100% Hand-Made in America
7x cooler and more comfortable than Foam
Overall Thought
Because this Travel Happy RV Mattress is only 8 inches deep, it is significantly lighter than the other models on the list. It is a medium-firm mattress made of graphite-infused gel memory foam that has a medium-firm feel.
The graphite helps to regulate your body heat while also absorbing moisture and odors, ensuring that your mattress and you smell fresh in the morning. The 1′′ top layer of memory foam rests on top of a 7′′ high-density foundation layer, which provides stability and durability.
The only drawback is the strong odor that these foam mattresses emit when they are first unpacked. When it comes to getting rid of the smell, it may be beneficial to open some windows in your RV.
It is important to note that this mattress is created entirely in the United States, so you can feel good about your purchase knowing you are helping a local business. This mattress is a little more expensive than some of the other mattresses reviewed in this article, but it is still a great value for money in overall terms.
Pros
Fantastic comfort
Fulfilling support
Fit standard accommodations
Cons
Might lose firmness over time
Some mattresses have incorrect dimensions
Classic Brands Cool Gel Mattress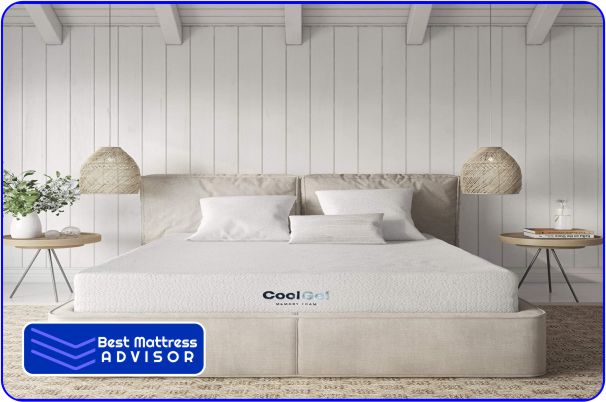 Highlights
Best for Kids Room
Beautifully detailed all around the cover
Gel foam draws heat away from the body
Medium-Firm Feel
CertiPUR-US
Orthopedic Support
Low Motion Transfer
Overall Thought
These Classic Brands Cool Gel Ventilated Gel Memory Foam Mattress is frequently cited as the best alternative for RV bunk beds and children's rooms because of its superior pressure point alleviation, back support, and spinal alignment.
This Classic Brands mattress features top-of-the-line conforming capabilities, thanks to a magnificent arrangement of all-around cover as well as 4-way stretch works.
These Classic Brands Cool Gel Ventilated Gel Memory Foam Mattresses are ideal for allergy-prone RVers due to naturally hypoallergenic foam in its production.
This RV mattress from Classic Brands is constructed entirely of 2-foam layers: a top layer of gel-infused memory foam and a base layer of high-density memory foam.
The mattress's ventilated top layer effectively pulls heat away from your body, keeping you cool throughout the night. The adjustable base layer supports the mattress's overall stability, ensuring excellent comfort. Additionally, this RV mattress features superior motion isolation.
CertiPUR-US certified memory foam is used in the Classic Brands Cool Gel Ventilated Gel Memory Foam Mattress, easily making it one of the top RV mattresses for health-conscious shoppers.
Pros
Fairly Cool
Pretty manageable price for most RVers
No chemical fumes
Cons
Contain fiberglass
Kind of Hard
How to Select a Mattress for a Recreational Vehicle-RV
RV owners must take special concerns into account while searching for a new bed. When traveling, trekking, or staying in warmer climates, features such as pressure relief and temperature regulation become more significant.
It is possible that those who travel in an RV together will discover that noise and motion isolation is particularly significant features. The individual arrangement may require a lower profile, less weight, or a smaller RV mattress.
It is necessary to take into account the comfort preferences of each individual. It is critical to consider the following considerations while purchasing an RV mattress:
What to Look For in an RV Mattress
When selecting an RV mattress, the following factors are the most important things to keep in mind: Mattress businesses will occasionally use deceptive phrasing or make exaggerated marketing claims to sell their products.
Customers who are shopping for an RV mattress may find this difficult and daunting. Concentrating on the fundamentals of the mattress and how it performs will assist buyers in selecting a high-quality mattress that finest meets their demands and RV lifestyles.
Price
If you are not planning on using your RV full-time, you may want to spend less money on an RV mattress than you would on a mattress for your house. From budget-friendly selections to high-end solutions, RV mattresses are available in a variety of pricing ranges.
Setting a budget ahead of time will assist customers in narrowing down their options, but keep in mind that a high-quality mattress is a significant financial investment. Beds manufactured of high-quality materials will last longer and require less replacement over time.
Profile
The RV mattress must fit into the available space in the RV. a Some RVs have bunk beds or pop-up trailers, which necessitate the use of a mattress with a low profile. Taking measurements of the bed frame and available space in advance will allow customers to choose which shape will fit them comfortably.
Although many RV mattresses have a six-or eight-inch height profile, some places can handle a mattress with a ten or twelve-inch height.
Contouring
The amount of pressure relief provided by a mattress is determined by how well it adapts to the body's shape. A contoured mattress can help active RV owners reduce the aches and pains of hiking and other outdoor activities.
It can also help to relieve tension in persons who have been driving for extended periods. Many RV mattresses are made of memory foam, which provides support and comfort for the shoulders and hips while also helping to keep the spine straight.
Weight
When searching for a mattress, keep in mind that all recreational vehicles have a weight limit. When driving an RV, less weight is preferable. It's also important to evaluate where you're going to put your mattress.
Lifting the mattress overhead may be required for bunk beds and pop-up trailers, for example. Foam mattresses are frequently the most lightweight of the mattress options. Weight might be a concern with hybrid and latex mattresses.
Sleeping Position
Sleep posture influences what mattress type and firmness is ideal for you. Side sleepers frequently need a generous shoulder and hip padding, while back sleepers appreciate more lumbar support.
Alternatively, stomach sleepers want a solid surface to protect their hips and abdomens from sinking in. Combination sleepers should seek out mattresses that facilitate ease of movement to changing positions.
Noise
An RV is frequently used as a shared area by families that seek to avoid sleep disruptions throughout the night. When it comes to tossing and turning, a silent mattress that can support your weight is excellent.
It decreases the likelihood of waking up people who are still sleeping in the vicinity. Mattresses made of foam or latex are normally silent; however, mattresses made of coils are more prone to generate noise as they bear weight.
Firmness Level
The majority of RV mattresses are available in a range of firmnesses ranging from medium to firm. Personal tastes, sleeping posture, and body weight are all factors that influence the firmness degree that is selected.
Mattresses that are soft to medium soft are frequently preferred by side sleepers and people who weigh less than 130 pounds.
Mattresses that are medium to medium-firm in firmness are recommended for back sleepers and persons who weigh between 130 and 230 pounds. Those who sleep on their stomachs or weigh more than 230 pounds often find that a firm mattress is beneficial.
Durability
A mattress for an RV will need to be able to endure the elements. RVers who utilize their vehicles for enjoyment and road vacations will contact various climates, weather patterns, and factors.
They may also choose to use the mattress on a seasonal or year-round basis. Because of this varying use, the mattress should be long-lasting and built of materials that provide continuous comfort and support.
Temperature Regulation
It is critical to consider temperature regulation when traveling in an RV, especially during the summer months when temperatures are high. A temperature-regulating mattress helps to keep hot sleepers from overheating and keeps them comfortable while they sleep.
Gel, graphite, and phase-change materials are all used in some mattresses to keep you cool while sleeping. Comfort is enhanced by the use of breathable coverings that wick away heat and moisture.
Pressure Relief
RV owners may anticipate a mattress that relaxes pressure points and decreases tension throughout the body after a day spent trekking trails or exploring a new location.
It is possible to find relief from aches and pains by sleeping on a mattress that cushions the hips, lower back, and shoulders. Pressure-relieving features of memory foam and latex mattresses have made them popular choices for many consumers.
Popular Sizes Of RV Mattresses
RV mattresses are meant to fit into smaller places; therefore, their dimensions are slightly different from conventional mattresses. Do not be deceived by the identical name: an RV King, for example, is five inches shorter than a standard King.
The following sizing chart can help you anticipate what you will encounter. Remember to obtain measurements of the space where the mattress will be placed before shopping for one to verify that it will fit properly.
Bunk
Twin
Full
Three-Quarter
Short Queen
28″x75″
30″x75″
30″x80″
34″x75″
38″x75″
38″x80″
40″x80″
53″x75″
55″x75″
48″x75″
48×80″
60″x75″
Queen
Olympic Queen
King
Eastern King
California King
60″x80″
66″x80″
72″x75″
72″x80″
76″x80″
72″x80″
72″x84″
What Types of RV Mattresses Are Available?
Foam, latex, hybrid, innerspring, and airbed mattresses are some of the most common mattress types. RV mattresses can be chosen to meet any need, but some are better adapted to the rigors of the road than others. A foam mattress is typically the best because of the limitations of an RV.
Also Read: Top 15 Best Air Mattress for Everyday Use
Lightweight mattresses are especially good for situations where it is necessary to lift the mattress. It also ensures that the RV does not add too much weight. Most foam mattresses are lower profile because of their simplicity of construction.
When considering the various benefits and drawbacks of each type of mattress, below are some facts about each type of mattress:
A) Hybrid
A hybrid mattress consists of parts of a traditional innerspring mattress combined with latex or foam mattress components. Minimizing motion transfer and providing a supporting feel are both enhanced by the pocketed coil base.
A thicker comfort system is often used on mattresses with innerspring coils to provide better pressure relief. Comfort layers could comprise memory foam, polyfoam, and/or latex. Micro coils are also used in some hybrid mattresses in the transition layer.
Also Read: What is a Hybrid Mattress?
Temperature Regulation
A hybrid mattress's coil support base allows airflow, which helps keep the mattress from getting too hot or too cold. Comfort layers, such as latex or open-cell foam are frequently used to make these products. Hot sleepers and RV owners in warmer climates will benefit from this.
b) Foam
Foam mattresses are constructed completely of foam. Memory foam, which molds to the body and relieves pressure, is also considered viscoelastic. It commonly incorporates polyfoam, and foams are often impregnated with gel, graphite, or copper. A higher-density core helps improve the mattress's durability. Foam is an excellent alternative for RV owners because of its flexibility.
Pressure Relief
To relieve stress, foam cushions mold the body to the user's shape to decrease pressure points. This type of mattress can avoid aches and pains and increase sleep quality for RV owners who walk, climb, or lead active lifestyles.
c) Innerspring
Innerspring mattresses have a coil support base. Comfort systems are usually constructed of padding that is either foam, fiber, or something else. The construction and shape of these mattresses are useful for RVs. the coils add flow to the mattress
Affordable
Innerspring mattresses are common. More traditional mattresses are cheaper, as value-conscious customers might be put off by paying more for one.
d) Airbed
The support base of an airbed is equipped with air chambers. Because the chambers may be inflated or deflated to vary the overall hardness of the mattress, it is considered an adjustable mattress.
Airbeds are frequently adjusted using a remote or a smartphone app, and most of them require electricity to work. RVs are less likely to have them than other types of vehicles.
Adjustability
Users can customize the stiffness of the airbed to their liking. Some models include twin chambers, which allow couples with varying preferences to personalize their respective sides of the bed.
The ability to modify the firmness of an airbed is particularly advantageous for sleepers who are unsure of their preferred hardness level or who have shifting needs.
e) Latex
A latex mattress is made of 100% latex. Rubber tree latex is obtained from and is processed in two ways. Talalay latex is more homogeneous and lighter than Dunlop latex. Latex is better at breathing than synthetic foam. It also offers minor pressure alleviation.
Durability
The durability of natural latex is unsurpassed. Away from moisture, however, latex fabrics perform differently. RV owners must now repair their mattresses less frequently.
How to Pick the Right One
You should first determine whether an RV mattress, rather than a topper, will work best in your area before looking for and comparing different types, sizes, and brands can be determined the sizing standards listed above.
Once you've determined that an RV mattress would work for you, we recommend setting a budget for your mattress to help you narrow down your options regarding material, size, and special features.
After that, think about your priorities and your sleeping habits. Do you have a hot night's sleep? Is it necessary for you to be comfortable? How often do you intend to use the RV mattress for sleeping? The mattress you choose should be tailored to your specific needs.
FAQs
What is the greatest RV mattress on the market?
The best RV mattress is one that meets all of the requirements: It will fit in your RV, camper, or trailer; it has enough space for you and your sleep companion; supportive enough to support your weight; it is pleasant enough to provide you with a good night's sleep, and it has received positive customer feedback.
Can you use a regular mattress in an RV?
It is not necessary for all of the mattresses in an RV to be RV-specific mattresses. You can get a conventional mattress with mattress sizes compatible with your RV area, but make sure to measure the room before you purchase the mattress.
How can I make my RV mattress more comfortable?
By adding any of the mattress accessories listed below to your existing RV mattress, you can make it more comfortable. Mattress toppers, made of foam, provide additional pressure alleviation, while mattress pads offer extra cushioning.
If you sleep overheated, choose a mattress made of open-cell foam or a breathable substance.
What thickness should I choose for my RV mattress?
Your body type, tastes, and RV all play a role. For example, a regular 8-inch mattress may not support people who weigh more than 100 pounds. It may also be ineffective for tiny folks (since such models often don't wear thick enough comfort layers to compensate).
RV mattresses that are 10 or 12 inches thick may typically provide a nice blend of support and cushion, making them among the most popular options.
How can I make my RV mattress more comfortable?
To customize the feel of your RV mattress, you can add a topper or a pad. However, in the majority of situations, this is only a temporary remedy. Purchasing a new RV mattress may be a better option if your current one is old and no longer supports your body adequately (or simply feels lumpy and uncomfortable).
Do I have to follow certain rules while washing mattresses?
RV mattresses are shipped with comprehensive cleaning, washing, and general care instructions; simply following these instructions will keep your mattress in good condition.
In addition, it is crucial to remember that, rather than being washed, most mattresses for recreational vehicles require simply spot cleaning. In any event, maintaining overall sanitation while traveling will be a breeze; just make sure to keep food and drink away from the sleeping area.
When putting your RV into storage, make sure you cover the mattresses with mattress covers.
Conclusion
In our search for the best RV mattresses, we hope that this list of the top RV mattresses and our buyer's guide to RV mattresses have been useful. Having trust in your final choice is made possible with a little information and know-how, and we hope that this guide has put you on the right track to finding a mattress for your RV that you'll be happy with for years to come.
When you get your hands on the best one, your journey will take a quantum leap forward. RVs are fantastic for road vacations and creating family memories, so make sure you have the right mattress for your temporary home.