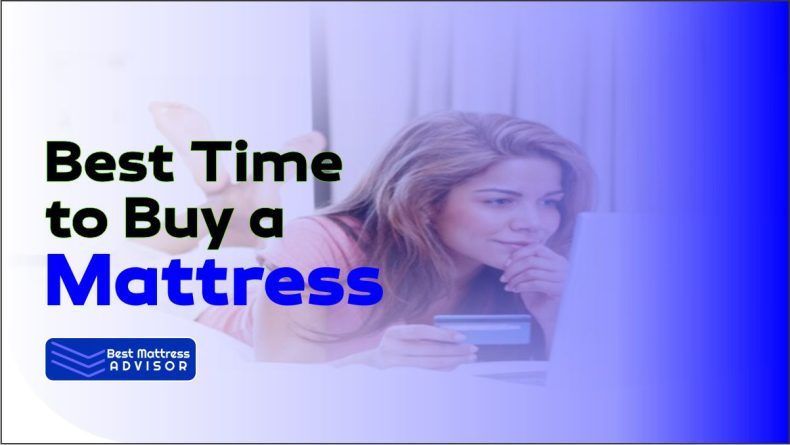 Identifying the ideal time to purchase a mattress that offers both cost savings and improved sleep quality is important.
In this article, we'll guide you through the ideal times to make that purchase, whether you prefer online or in-store shopping.
When is the Best Time to Buy a Mattress?
The last few weeks of winter, the beginning of spring, and around the winter holidays are some of the greatest periods to purchase a mattress.
So, when should you pull the trigger on that new mattress purchase? Here's a breakdown of the best time to buy a mattress:
1. Spring Savings
Spring is synonymous with renewal, and it's also an excellent time to renew your mattress. Many mattress retailers release new models in the spring so that you can find great deals on older models. Look out for Memorial Day and Labor Day sales for some fantastic discounts.
2. Black Friday and Cyber Monday
If you're willing to wait until November, Black Friday and Cyber Monday are renowned for their massive discounts. You'll find not only deals on electronics but also mattresses. It's a perfect time to score significant savings.
3. New Year, New Mattress
As the new year begins, many people make resolutions to improve their health and well-being. This often includes upgrading their sleeping arrangements. Retailers are aware of this trend and frequently offer mattress deals in January. Start your year off with a good night's sleep.
4. Mid-Year Bargains
July isn't just about fireworks and barbecues; it's also a time for mid-year clearance sales. Keep an eye out for Independence Day promotions, which often include mattress discounts.
Where to Buy a Quality Mattress: Online vs. In-Store
Now that you know the best times to buy a mattress, let's explore where you should purchase it—online or in-store.
Online Mattress Shopping
Online mattress shopping has gained immense popularity in recent years, and for good reason. Here's why you might prefer it:
Convenience: Shop from the comfort of your home, avoiding the hassle of visiting multiple stores.
Wide Selection: Online retailers often offer a broader range of brands and models.
Reviews: Access to customer reviews can help you make an informed decision.
Competitive Prices: Online retailers frequently offer competitive prices and special online-only deals.
In-Store Mattress Shopping
Traditional in-store shopping still has its advantages:
Test Before You Buy: You can physically try out mattresses before deciding.
Personalized Assistance: Sales representatives can provide expert guidance and answer your questions.
Immediate Delivery: You can take your mattress home the same day.
How to Get the Best Deals on Mattresses?
Finding the finest mattress discounts requires some research and savvy buying. To assist you get the best bargain possible, consider the following:
Compare Prices: Don't settle for the first offer you come across. Compare prices from different retailers, both online and in-store.
Read Reviews: Customer reviews can provide valuable insights into the comfort and durability of a mattress.
Negotiate: Don't be afraid to negotiate the price, especially when shopping in-store. Many retailers are open to haggling.
Consider Extras: Some retailers offer freebies like pillows or mattress protectors with your purchase. Factor in these extras when evaluating deals.
Check Warranty and Return Policy: Ensure you understand the warranty and return policy before buying. A generous warranty can offer peace of mind.
When Should I Replace a Mattress?
You should replace your mattress every seven years, but it may last longer based on its materials, how you use it, and how well you take care of it over time.
Many people don't replace theirs for up to 10 years. While individual factors can vary, here are some general guidelines:
7-10 Years: On average, most mattresses last between 7 to 10 years. However, this can vary depending on the type and quality of the mattress.
Visible Wear and Tear: If you notice sagging, lumps, or visible wear and tear, it's time for a replacement.
Uncomfortable Sleep: If you wake up feeling achy, tired, or unrested, your mattress might be the culprit.
Where Should I Shop for a Mattress?
Choosing the right place to shop for a mattress depends on your preferences and priorities. Consider the following factors when making your decision:
Comfort and Preference: Test mattresses in-store if you prioritize comfort and want to try them before you buy.
Convenience and Variety: Online shopping offers convenience and various options.
Budget: Compare prices at different retailers to find the best deal that fits your budget.
Customer Service: Research customer reviews to gauge the quality of different retailers' customer service.
Conclusion
Buying a mattress is like putting money into your health. By planning ahead and purchasing a mattress during The Best Time, you can ensure years of restful sleep.
Remember to watch for those seasonal sales, do your research, and don't be afraid to negotiate for the best deal.
Whether seeking better sleep or replacing an old mattress, timing your purchase wisely can lead to a more comfortable and budget-friendly experience.
FAQs
How Much Is a Good Mattress Cost?
At the low end, a new mattress can cost between $500 and $850; at the high end, it can cost $2500 or more.
Should You Buy a Used Mattress?
It might seem like a good idea to buy a used bed because it's cheaper than a new one, but it can cause more problems than it's worth. You might find bed bugs, mold, pet dander, other allergens, or body fluids.
Do mattresses go on sale for Cyber Monday?
Many mattress brands offer their best offers and discounts on Black Friday and Cyber Monday, the major online shopping holidays.