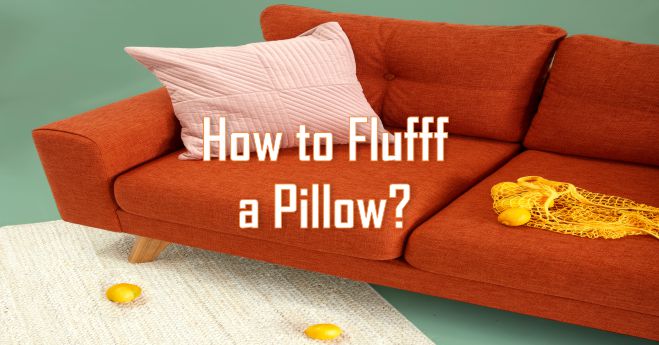 After a long day at work, nothing feels better than putting your head on a soft, comfortable pillow. Whether you just bought them or have used them for years, fluffy pillows are a great way to make your bed more comfortable and better sleep.
When you lay your head on a fresh, fluffy pillow, your bedroom feels like a 5-star hotel. That feeling lasts for the first few weeks after you buy your pillows, but it gets less exciting once they lose their fluff. You learn how to make a bed and fold a fitted sheet, but have you ever been taught the right way to fluff a pillow?
Fluffing your pillow makes it more comfortable to sleep on, but it keeps it in its best shape until it's time to throw it away.
Even though these things can lose their fluff over time, you can bring them back to life with a few easy tips. In this guide, we'll show you how to fluff a pillow in different ways so that you can keep getting the best sleep possible.
How to Make Pillows Fluffy Again
Because discomfort in the back or neck can interfere with daily living, adopting measures to prevent pain from appearing or worsening is a step toward the correct path.
1. Use Your Hands
Refluffing your bed's head support with your own hands is easy to get the most out of your mattress.
Place the cushion on your lap to begin. Repeatedly, you'll push the cushion in and out. Thirty seconds on both long and short sides is recommended.
Continue striking your pillow to help expand the stuffing after that. Punch the cushion as hard as you can until it swells back up to its original size.
Massage Your Pillow
When it comes to our health, a good massage can be a lifesaver, and it can also help us sleep better. Try this next maneuver if your pillows have major lumps that need to be broken apart.
In the cushion's interior, start by looking for the larger areas that protrude. After that, you'll thoroughly massage them. The idea is to disperse the fill more evenly by breaking it into smaller bits.
Additionally, the pillows should feel more comfortable as a result of this.
2. Place it in the Dryer
Many people have limited time and energy and choose to use a different approach. Let your dryer do the work for you if that's the case.
Check the tags first to make sure it's okay to put the cushions in the dryer. Then, do what the manufacturer tells you to do. Pillows that can go in the dryer should be set to no heat or low heat, so they don't get burned.
If you like, you can do this while also washing your pillows.
Use a Tennis Ball in a Sock Method
To get the most out of the dryer's fluffing power, add another item that will knead the pillows while they are being fluffed.
Tennis balls are hard enough to pound the pillow and break up any clumps of stuffing, so they'll be ideal for this task. Sock it up with a tennis ball and throw it in the dryer with your pillows.
Fluff Pillows in Dryer Without Tennis Balls
If you don't have any spare tennis balls in your house, there are several alternatives you can use. You can also clean the floors with flip-flops or shirts that have been rolled into balls. Using a stuffed toy is convenient for those with young children because the dryer may also fluff up the item.
Keep in mind that whatever you use must be dryer-safe at all times.
3. Fluff the Pillow Outside
You could also open the windows and let some fresh air in to let your pillows breathe. Aside from making them fluffier, this is also an excellent way to get rid of bacteria and unpleasant odors. The weather should be dry and sunny before trying this technique.
Place your bedding in the sun for a few hours after drying it in the dryer or using one of the earlier indicated manual techniques. Your headrests should expand due to the outside wind promoting separation between the fill components.
Also Read: What to Do With Old Pillows? 17 Ways
Easy Everyday Maintenance
Make it a morning ritual to knead your pillow from both sides to keep it fluffy. You can also arrange them vertically on a sofa because they deflate if left in the same position for an extended period. If you do this regularly, your high-quality pillows will last much longer.
However, if you haven't already invested in high-quality pillows, you won't get the same effects. While fluffing your pillows, use your pillow as a punching bag to release any tension you may be feeling. It's a success.
Pillow Protectors Work
As a result, pillows retain their fluffiness for a more extended time, thanks to the protection provided by pillow covers.
On the other hand, Pillows without coverings will flatten out far sooner than you might expect. Pillow protectors aren't always necessary, although the quality of the stuffing does play a factor.
Extra Tips
Check your pillow's care instructions before using the dryer to puff it up.
Do not dry it on the hottest heat setting to avoid burning or damaging your pillow's cover or filling. Does anyone want some burnt feathers? Please disregard!
If a rolled-up or compressed pillow has pieces of foam filling, it's best to leave it outside or in a well-ventilated place to expand. A chemical smell (sometimes known as "off-gassing") may appear from time to time. Allowing your pillow fluff to air out will help you avoid the odor in the short term.
FAQs
What are the different types of pillows that need to be fluffed?
Pillows made of fibers need to be fluffed to keep their shape. Pillows can be made from different things, like down, cotton, a substitute for down, wool, memory foam, or a mix of these. Fluffing the fibers regularly is necessary to maintain their loft and prevent them from flattening out.
Pillows made from block memory foam or other foams don't need to be fluffed because they are already fluffy.
Is it necessary to wash pillows?
If you wash your pillow once every four to six months, your method will depend on its filling. If you wash your pillow incorrectly, it can wear out faster and lose its warranty.
You only need a light detergent and warm water to clean pillows most of the time. You don't need a fabric softener. To wash various pillows, follow these general guidelines: Always refer to the pillow's tag for specific care instructions.
You should wash pillows made of down or feathers in cold water and let them dry without heat or a dryer.
To care for down replacement pillows, use warm water and a low heat setting in the washing machine.
To clean memory foam pillows, use a damp towel with mild detergent and dry them in the open air.
Are new pillows washable?
No, pillows that are brand new from the factory don't need to be washed. When you first receive some pillows, you may notice that they have a strong aroma.
Place your pillow outside in the sun for a few hours or even a few days to get rid of an odor. The only other thing you need to do before using your new pillow is to put a pillowcase on it.
When is it time to get rid of your old pillows?
On average, you should get a new pillow every two years. Even if you take care of your pillows, they will ultimately flatten out and no longer support your head and neck.
In the long run, sleeping on a flat, non-supportive pillow will only contribute to soreness, stiffness, and difficulties concentrating in the morning.
As well as collecting dust mites and other allergens, worn-out pillows can harbor dampness, filth, and other microorganisms. Mold and mildew, which are not safe to sleep on, result from this.
How do you extend the life of your pillows?
Maintaining your pillow regularly is the simplest approach to ensure it lasts as long as feasible. Using pillow protectors and covers, fluffing your pillows, and properly washing your pillows are all part of this.
Although you'll have to replace your pillows at some point, taking excellent care of them might keep them from becoming worthless too soon.
Conclusion
Usually, fluffing your pillows keeps them from becoming lumpy and uncomfortably flat. Fluffing your pillows is also essential for cosmetic reasons, as it keeps them looking full.
While you can do a lot to improve your pillow's quality, support, and lifespan, there will come a time when none of that will matter since the life of the filling in your pillow has expired. It's time to say your final goodbyes when you notice dings and balls that seem like bumps you can't break apart.
Squeezing the cushion from both ends and applying pressure will allow you to determine if it returns to its original position. If it doesn't, its fluffiest days may be coming to an end.
Fluffing your pillows regularly can help them last longer, but it has its limits. You should know when to get-go off your favorite pillows because they don't last forever.