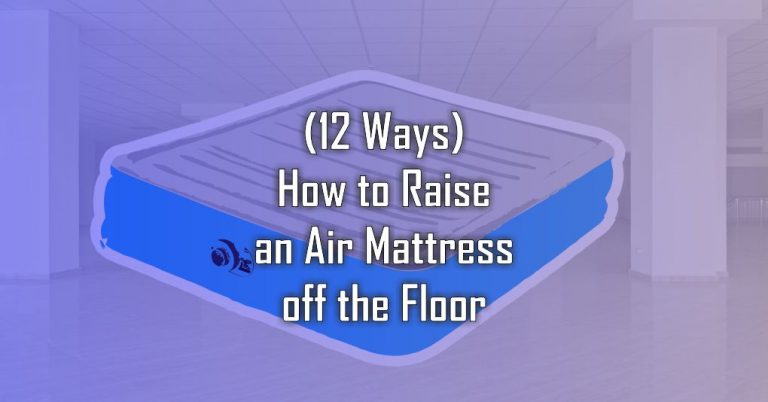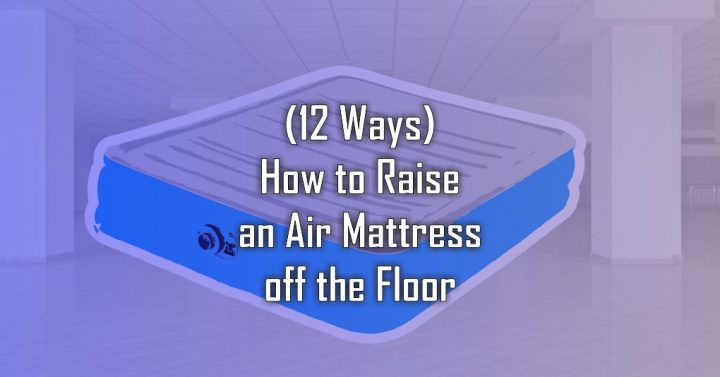 Air mattresses are a handy and comfortable choice for guests or camping trips, but you may want to raise the mattress off the floor for more comfort or convenience.
But lifting an air mattress without the right tools or knowledge can be challenging. In this piece, we'll look at some good ways to get an air mattress off the floor so you can sleep on a comfortable surface higher than the floor.
11 Ways to Raise an Air Mattress iff the Floor
1. Metal Bed Frames
A mattress riser or bed frame has been designed specifically to ensure the safety and comfort of airbeds and mattresses. Using this method, you can easily elevate any airbed off the ground.
This item is essential for campers who enjoy taking their children on camping trips because it is lightweight, easy to fold, and portable. The price of it can vary based on the type of material used to construct the frame and the maximum weight it can support.
Our recommendation is for you to go for a metal frame because it is pretty durable and reliable, and it will last you for a long time with your blow-up bed. When purchasing a mattress, make sure it's the right size for your bed.
Some frames have built-in air mattresses or airbeds attached to the frame. The attached ones are a good option if your current blow-up bed is too old or if you are planning on purchasing a new one with a frame. It has the potential to save you some money.
2. Using Plywood as a Base
For added safety, you can use plywood to raise your air mattress off the floor. This is a low-cost, high-quality alternative. However, you may want to think about enhancing it.
To keep the air mattress from deflating unexpectedly, you'll need to protect it somehow. Even plywood has its own set of sharp edges. A bed cover or a tarp can protect your base from this. If you don't put your air mattress on a piece of plywood, it's still doable.
Make sure you get the thickest one possible to give your air mattress a good rise from the ground.
3. Box Spring
If you want to raise your air mattress 5-9 inches off the floor, you can use a box spring underneath it. The box spring will be protected, and its deflation will be reduced as the height of the bed is raised.
Depending on the individual, they are available in various widths and heights. Box springs can be pricey and hefty, so they aren't ideal for every bed.
These are available in various heights, widths, and lengths, making it simple to find one that meets your needs. A low-profile box spring will allow you to raise your air bed a few inches off the ground.
Think about obtaining a standard box spring if you want to build your bed higher than this. It is the most expensive option because an air mattress with a box spring raises the mattress off the ground.
You should expect to pay between $100 and $150 for a box spring like this one. If you already own one, a box spring is a viable option. Additionally, box springs are cumbersome and large, making them difficult to move and store.
Because of its size and inability to be stored when not in use, a box spring is not the most excellent solution for people who have a small living space.
Also Read: Do you Need a Box Spring? Things to Know in 2023
4. DIY Wood Frame
Making your wooden frame can be an excellent way to raise your air mattress off the ground if you're skilled in woodworking. Using a few simple DIY techniques, you can build a unique wood frame to hold your mattress in place.
The dimensions and features of the air bed necessitate the modification of the DIY wooden frame. When lifting an air mattress, wood frames are an affordable option. To prevent the air bed from being destroyed, sand and seal your wood frame. Rough edges and splinters can produce holes, punctures, leaks, or tears.
You can build a custom-made wooden frame to raise the mattress. Customizing your air mattress's dimensions and features is a breeze when building your bed frame from scratch.
You can also use chalk paint to paint the frame to match the rest of your room's decor. DIY wood frames are a low-cost option that allows you a wide range of customizing options. One can be made even on the most limited of budgets.
However, if you hire a professional to build the bed frame or have to purchase all the necessary tools, a do-it-yourself frame assembly may be more expensive. However, compared to pre-assembled beds, this method is still more cost-effective.
Wood splinters are a common cause of holes, punctures, and tears in air beds, so many individuals opt against building their own DIY wooden air bed frames. To avoid this, use fine-grit sandpaper and wood varnish to create an as-even and smooth surface as feasible.
Also Read: How to Build a Memory Foam Mattress Foundation: 6 Steps Guide
5. Foam
Foam sheets are the most cost-effective option for raising an air mattress. This can be utilized as a short-term fix like plywood has been. Under your air mattress, you may buy foam padding for roughly $20-30.
Foam is a cost-effective, adaptable, and portable option for raising an air bed. These sheets are available in a wide range of widths, thicknesses, and colors, making them a versatile and cost-effective solution. Comes in a wide variety of colors and patterns, so you may select one to complement your room's decor.
It is more portable than plywood if you plan to keep your air bed in one area. If you're going camping, this might be ideal because it acts as an additional layer of protection from the cold.
6. Use a Rug or Carpet
To prevent damage to your air mattress, place a rug or carpet underneath it. You can use a thick rug or carpet as a barrier between you and the floor.
Air mattresses benefit from additional protection provided by carpets or rugs. A wide range of carpet and rug styles, colors, and sizes are offered. These require frequent cleaning because of how quickly they get soiled.
Placing old rugs under an air mattress is an excellent way to recycle them. It will remove the carpet and then protect an air mattress with an additional layer of protection. Rugs of this thickness are ideal for protection from dust when camping because of their portability.
7. Use a Bed Frame and Bed Risers
To raise an air mattress off the ground and maximize storage space, consider using a bed frame and a set of bed risers in conjunction.
Bed risers are an inexpensive way to raise the height of an air bed, which is the primary benefit. In addition, you obtain additional storage capacity without spending a lot of money or time.
Adding bed risers, such as these, to the legs of your bed frame will enhance the amount of storage space you have under the bed. This article will show you how to hide your under-bed storage with a simple bed skirt trick.
When an air mattress is raised above the ground, it is shielded from damage. Bed frames alone may not be enough to keep your child safe from harm.
Consider using a non-slip pad like this under the air mattress to keep it from swaying around on the ground. The faster the air bed deflates, the more even the surface must be.
8. Use a Non-Slip Rubber Pad
A non-slip pad can be placed under the mattress to raise it. No matter how low you place it, it'll help keep your mattress safe and provide a non-slip surface. There are numerous benefits to using this pad since it is versatile; it takes up minimal space and is non-slippery.
The lack of elevation provided by the non-slip rubber pad is damaging. Although a non-slip pad does not lift an air mattress off the ground, it is a good solution for creating a barrier between the mattress and the floor.
Additionally, the cushions are lightweight, making them ideal for camping. Non-slip rubber pads made of neoprene keep the air mattress from moving around.
9. Use a Mattress Topper
Though it doesn't lift an air mattress off the ground, this method provides a more comfortable surface for resting or sleeping on.
It is advantageous to use a mattress topper on top of an air mattress because it adds height, provides additional comfort, and shields the mattress' top from damage.
Using it like this will raise your air bed even higher if you've already used a bed frame or other support system. A bed topper will make the bed comfier and raise the total height of your sleeping surface.
If there's anything wrong with them, they don't do anything to raise your mattress off of your floor. You still need something to hold your air mattress off the ground and shield the bottom from harm even if they raise it in height.
10. Use a Bed Frame, Box Spring, and Rubber Pad
To lift an air bed off the ground, use a non-slip bed frame, box spring, rubber pad, an extra storage place under the bed, and a non-slip surface to ensure that the bed does not slide. Increase the height of the air bed to improve accessibility, give it the look of a conventional bed, and protect it from harm.
The cost of employing it is one of the disadvantages. They are also huge and take up a lot of room. They're also inconvenient for camping because you'll have to carry everything. If you have a bed frame, box springs, and a non-slip rubber mat, consider utilizing them to lift your bed off the floor, raise it, and safeguard it from harm.
11. Using a Special Frame
A picture frame can be unique in its own right, just like you. A unique bed that will give your rest an unforgettable experience. In most cases, these bed frames are designed to lift or raise the level of your mattresses.
Investing in one-of-a-kind frames can sometimes feel like a challenge and even a gamble. It is up to you to decide which options will be the most suitable for your air mattress.
Why Raise Your Air Mattress?
Many people have the misconception that pumping up an air mattress will be an expensive and time-consuming job. It is a chore that should be left to people who do not have any other priorities to attend to. Nevertheless, that is not the situation.
A lot of individuals pump up their air mattresses because they believe it will provide them with long-term advantages, including the following:
Longevity
This is the primary reason why individuals tend to raise their air mattresses. They make it possible for them to last for longer. A thin air mattress does not fare well on floors as a sleeping surface.
Even the meticulously cleaned floor can harbor a surprising number of needles, pins, and sharp objects. If you leave your air mattress lying on the ground, there is a more significant risk of it being stuck on something and getting punctured. The fact that the mattress is raised offers some protection from these dangers.
Posture
If you sleep on an elevated mattress, your posture will be supported more effectively. Incorrect posture during sleeping can lead to various health issues, including headaches, joint pain, and pain in the lower back.
When compared to sleeping on the ground, the pressure applied by someone sleeping on an air mattress that is elevated is far less.
Comfort
Elevated beds are more comfortable. You only have to ask someone who spends the night in a camping tent cot to know this. While sleeping, one's body feels more at ease when the mattress is elevated.
As a bonus, you'll be able to sleep soundly knowing that you're on higher ground. Crawling critters won't be able to eat the crumbs that fall to the ground, so you won't have to worry.
Hygiene
The best way to keep your airbed clean is to raise it. Regardless of how hard you try to keep the dirt, sand, and even mud out of your tent, it will eventually get dirty.
It is necessary to clean air mattresses more frequently if they are placed on the floor. Since mattresses on the ground are more susceptible to collecting dirt, they are more challenging to clean.
Deflation
It is faster for an air mattress to deflate when it directly touches the floor than when it is separated from the floor. An increase in deflation is generated by a temperature conflict between the ground and the air above it.
The increase in deflation is caused by the collision between the ground's temperature and the air inside temperature.
Conclusion
An air mattress can be raised off the floor in various ways. There are only three options above to lift your air mattress from the ground. If you prefer, you can always choose the best method.
While raising your mattress with a DIY effort is possible, purchasing a mattress frame from a retailer is usually preferable. These frames have been specifically designed for this purpose; thus, they offer less risk to your mattress. Think about the advantages of an air mattress and how you can raise it off the ground the next time you buy one.