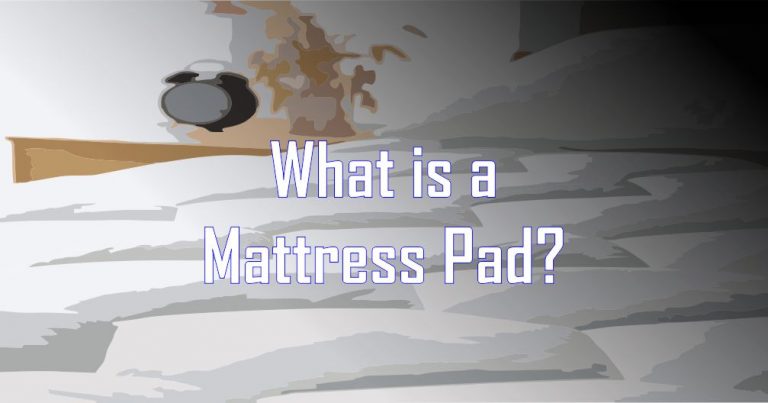 You're getting ready for a night of restful sleep, but as you lie down on your mattress, you notice a sinking feeling. You realize that it's not just the bed that needs to be changed- it's the mattress pad! What is a mattress pad? It may seem like an unimportant item in your bedroom, but if you want to have a good night of sleep and wake up refreshed in the morning, then investing some money on mattress pads makes all the difference.
Most people who purchase a mattress pad do so because they are dissatisfied with their current mattress. They find that it is an excellent short-term solution for improving the comfort of an older or uncomfortably designed bed.
Read on to learn more about what mattress pads are and how they can help improve your quality of life by providing increased comfort.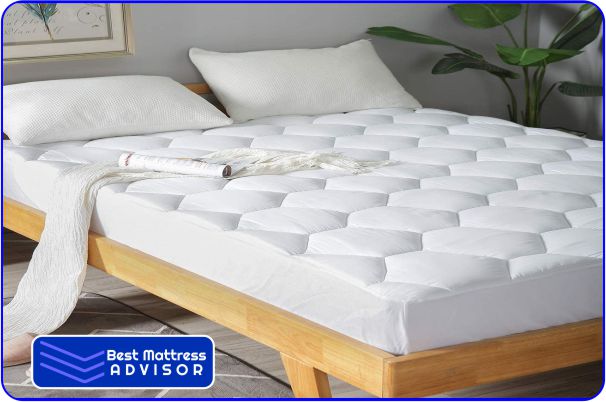 There is no need to buy a mattress pad if you purchase a brand-new mattress, whether made up of foam, innerspring, or another material.
The Purpose of Mattress Pads
Mattress pads are designed to provide added comfort and cleanliness underneath your mattress. They can prevent dust, dirt, pet hair, allergens, and other contaminants from getting into the bed while you sleep; they also protect your mattress by prolonging its life span due to its water-resistant properties.
When it comes time for cleaning up after pets or children in the bedroom (or even adults!), a mattress pad will help keep any messes contained on top of the pad.
Reasons Why you will Require a Mattress Pad
The mattress is substantial; you can add a place to help soften up your mattress by putting it in a bed frame.
You require additional support and comfort due to a medical condition.
Waterproof and protective of your existing bed, but you do not want a mattress protector on your current bed.
The mattress protector makes a lot of noise, and you want a comfortable mattress pad.
Types of Mattress Pads
Mattress pads consist of various substances, such as cotton, wool, feathers, fiber, latex, and memory foam. Cotton is the most commonly used material in mattress pads.
Cotton Mattress Pads
Due to their silky smoothness and reliability, cotton mattress pads are top-rated. These mattress pads are long-lasting and reasonably priced, though pure cotton mattress pads are more expensive. Cotton mattress pads do not offer proper protection unless they are treated or mixed with yet another material.
Wool Mattress Pads
Wool mattress pads are smooth and waterproof, and they help keep moisture away from the body—wool, which is a costly natural resource from the shearing of sheep. These mattress pads can be challenging to keep clean because primarily people can not wash them. A washing machine can wash it. Wool mattress pads are also ineffective at preventing spills from soaking through to the mattress beneath them.
Feather Mattress Pads
Duck and geese fur mostly use in the production of feather mattress pads. In some cases, down or softer feathers found beneath the plumage may use instead. Feather mattress pads are soft, cozy, and warm, but they are also expensive and ineffective at keeping spills from leaking through the mattress.
Fiber Mattress Pads
These mattress pads are from polyester, rayon, and down alternative solutions, referred to as fiberfill. Some synthetic fibers are stained resistant to a high degree, but the fiber mattress pads they produce may be noisy. Because they cannot be machine cleaned, they may also be challenging to maintain.
Latex Mattress Pads
Latex mattress pads are a combination of two types of material of natural or synthetic latex. It conforms to your body and provides bounce guess it depends on their thickness. They may be costly and complex to maintain, but they protect against spills and general wear and tear. When used in conjunction with latex mattresses. Latex mattress pads are most effective.
Memory Foam Mattress Pads
Memory foam mattress pads are not widely available. They conform to your body and add plushness to your bed, but they aren't thick capable of providing adequate maximum comfort for your body. Because they cannot be cleaned easily and are ineffective at stain blocking, their upkeep may be time-consuming and expensive.
Why Do People Use Them?
The most common reasons people use mattress pads are to protect their mattresses from stains and spills, as well as for comfort. Mattress pad covers can also help with the appearance of a bed by adding an extra layer between your sheets and mattress where dust mites might gather in microscopic crevices.
How to Choose the Right One For You
There are two Types of Mattress Pads: Topper and Protectors. As the name suggests, protectors provide a barrier to keep your bedding dry or stop spills from seeping into the fabric beneath it. Some may also have additional functions, such as cooling properties or odor protection.
The material is usually thin cotton with polyester fibers for extra comfort. On the other hand, toppers only offer some cushioning rather than protecting against moisture seepage or keeping you warm during winter months (although there are exceptions).
It typically has thicker padding that can add more height on top of your existing mattress while providing support in certain areas where needed – especially if you're heavier than average and need better back alignment at night time when you sleep.
Benefits of using a mattress pad
It's the perfect way to protect your investment in a high-quality mattress.
In certain climates, it can also provide additional comfort and insulation from drafts.
A good quality pad will ensure that you get the best experience possible when sleeping on your bed for years to come.
Many people find they sleep better with a thin layer between them and their sheets or blankets. If this is true for you, then a mattress pad may be right for you!
It provides additional cushioning for your bed
Some are washable in machine, while others are not
Some designs toward wear & tear are protected
Why do you need a mattress pad?
Most people purchase a new mattress pad as they either have a new mattress that they'd like to protect or because they want to start making their bed a comfier environment.
What are you protecting your mattress?
| | |
| --- | --- |
| To protect | Consider |
| Everyday wear and tear | A simple cotton mattress pad is all you need |
| Liquids and spills regularly | A waterproof mattress pad |
| Dust, dust mites, and pet dander are examples of allergens | A mattress pad has anti-allergen properties |
| Bedbugs are a type of parasite | A mattress defender that is resistant to bedbugs |
What would make your mattress more comfortable?
If Yu Want
Temperature regulation: A mattress pad that remains comfortable regardless of how hot or cold I am during the night.
Consider
Natural fibers are filled in mattresses such as cotton, wool fill mattress pads to provide extra comfort.
A Bed that Conforms to My Body: I'd like a mattress pad that helps make their bed experience more like according to my specific needs.
When you sleep, use a down-filled mattress pad that is fluffy and comfortable—and that will help maintain the price consistent throughout the night.
(If you have allergies, you can also choose a mattress pad with a down option.)
A Viscoelastic mattress pad (also known as Memory Foam) can help your mattress conform more closely to your body.
More Firmness: I'd like my bed to have a stiffer experience than it does now.
A latex mattress pad or a Viscoelastic bedding pad can help firm up a mattress and give you a much more backed feeling by adding more stiffness.
Reducing Motion: I'm looking for a way to make my partner's tossing and turning less jarring for me during the night.
Using a mattress pad made of Foam Padding or polyurethane will decrease the exchange of motion, which means that one side of the bed will not keep moving as much if the other does.
Technology
3M SCOTCHGARD ™ Treatments: assist in stain repelling and releasing, and wicks moisture away from the skin for a more comfortable night's sleep Mattress pads with anti-microbial, allergen-free strategy or plan are also available, which can aid in the elimination of odor-causing bacteria and the protection against allergens.
Waterproof Protection: Protects your mattress from spillage and other mishaps, allowing you to keep your mattress clean, prolong the life of your mattress, and maintain your warranty in effect.
Beautyrest Heated Mattress Pad: Imagine sleeping in a toasty comfy bed on those chilly winter nights; this heated pad has all of the features you'd expect from a wild product. It is a Secure Comfort technology, which virtually eliminates electromagnetic field emissions.
Also Read: 11 Best Heated Mattress Pad – An Ultimate Guide
Another part is choosing between five temperature settings, an automatic shutoff after ten hours, and the dual controls in the queen and king sizes. It is also machine washable, making cleanup a breeze. Beautifully comfortable, the Glamour Rest hot mattress pad is suitable for use with beds of any size and shape.
How To Choose a Mattress Pad
Mattress pads are beneficial for various reasons, including providing additional support by adding extra cushion to your mattress, defending your mattress from mud, wash, the bed bug, and smudges, and extending the life of your mattress. These are also inexpensive and can be purchased online.
Mattress pads generally have elastic edging around the perimeter to help keep each mattress pad in place (mattress toppers are merely a foam layer and typically do not have elastic edging).
Additionally, the number of threads is an interesting topic to look at at that time. The thread count of a piece of fabric, such as duvet covers, comforters, or a set of sheets, is the number of strands woven into a square meter of fabric. The thread count of a bedding pad is an essential aspect to consider when purchasing one.
Higher thread counts indicate tighter weaves, which show higher quality and more extended durability for mattress pads. Because higher thread counts imply tighter weaves, a high thread count will help keep fill-in and debris out of the weaving.
FAQ's
Do Mattress Pads Work?
A mattress pad does not make a significant difference in the comfort of a mattress, but it can provide extra cushioning. Soften your hips and shoulders, side sleepers may choose a thicker bedding pad than back and stomach sleepers, whereas back, and stomach sleepers prefer a stiffer sleeping surface.
What Should make of a Mattress Pad?
A mattress pad is a tiny amount of cushioning pure cotton, sheepskin, whiskers, synthetic fibers, latex, or memory foam. A mattress formation material is listed below. A quilted fleece protects this surface of comfort. Mattress pads end up making your bed experience softer while also protecting it from harm, spills, and stains that may occur accidentally.
Does a Mattress Pad Make You Sweat?
The fluid sensor integrated into the mattress pad causes air movement, making it challenging to maintain a comfortable body temperature. Because of this, you may sometimes sweat more than you would typically do while sleeping without the need for a mattress pad.
Do Mattress Pads Make a Difference?
Mattress pads end up making your bed experience lighter while also defending it from harm, spills, and stains that may occur accidentally. Mattress pads are slimmer than mattress top brands, and they are also easier to keep clean. Some of them are even machine-washable.
Bottom Line
The mattress pad is a soft cover that goes over your current bedding. It helps to keep the sheets and other materials clean, so you can sleep comfortably without worrying about getting dirty from sweat or spills on your mattress. Now, we know what a mattress pad does! Do you have any questions? Feel free to leave them in the comments section below for us to answer ASAP!
The whole article is for discussion purposes and must not consider replacing your doctor's or other health expert's advice.
Also Read: Best Mattress Toppers for College Students