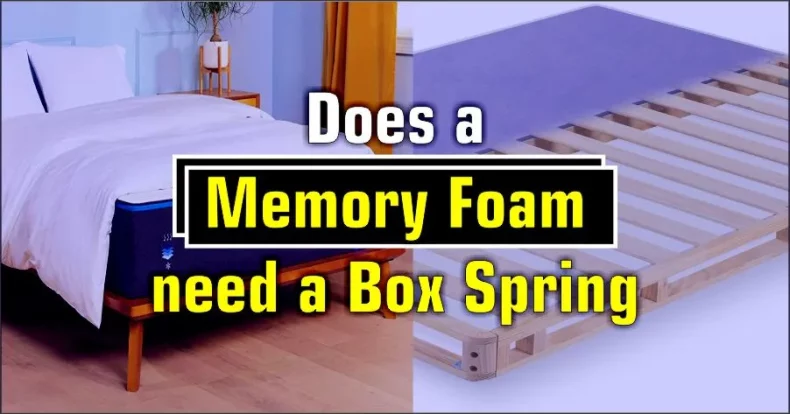 The question "Does a memory foam mattress need a box spring" is now becoming a hard answer to find. Some are saying you should, and many recommend not going for it.
The quick answer is "it varies on the brand type" you are shopping from. If they support a Box Spring good to go and if not it's better to check your mattress warranty.
Many brands offer their own specifically made foundations for memory foam mattresses. Following the Casper mattress brand, they claim that memory foam beds already have the capability to absorb shocks.
A box spring with foam mattress can only change the feeling rather than provide better sleep. Here is how to build a memory foam mattress foundation for yourself.
Moreover, we dug into CNet, Sleepolis, and other big names all recommend seeing the warranty first although not recommended with foam mattresses.
Reasons: Why You Should not Put a Memory Foam Mattress on a Box Spring?
More spaces between the slats in a box spring can tend the mattress to sag.
Most of the mattress brands prohibit the use of a new mattress with a box spring in their warranties.
An older box spring can only change the feeling rather than provide better sleep.
Additional Foundation Options for Memory Foam Mattresses
A memory foam mattress needs a solid, flat foundation to absorb stress on any surface. Some alternative bed frames will work with your foam mattress to make it firmer.
Platform Bed
The platform bed base doesn't feature a headboard but does provide a level surface upon which to rest. The only bad thing about this type of foundation is that it has no ventilation.
If you have a typical memory foam mattress rather than a gel or a plant-based mattress. The lack of spaces between the slats may allow the mattress to retain more heat.
Also Read: Platform Bed vs Box Spring – What Exactly is the Difference?
Panel and Slatted Foundations
You don't need a box spring to put a memory foam mattress on a panel or slatted base. However, the slats must be no more than 2.75 inches apart.
Panel foundations resemble standard mattress frames. There is a headboard and several slats.
Go for a panel bed with slats no more than 3 inches apart to ensure your memory foam mattress has enough support.
Slatted foundations typically consist of wooden boards with wooden slats. Air may flow freely between the slats, reducing heat and moisture buildup.
We recommend looking for a wood slat foundation that can hold at least 500 pounds, which is the weight of the mattress and one or two people sleeping on it.
Adjustable Bases
Just like platform foundations, adjustable bases give your mattress a flat, stable surface to sit on. But if you have an adjustable bed, you can raise or lower the head or leg sections to suit your needs.
With a remote control, you can move your bed into a sitting position, tilt your head to help with breathing problems or acid reflux or lift your feet to improve circulation.
Bunkie Boards
This frame, which looks like a pallet, goes right between the bed's surface and the mattress. It works with or without a bed frame, making it ideal for usage with or without a box spring.
Metal Frames
Metal bed frames often have grid or slat systems that can create pressure points and harm the material of the mattress.
To protect your bed frame from pressure points, you should install a Bunkie board on top of it before placing the mattress on top.
The Floor
Even though putting a regular mattress on the floor might not be the best idea, this is an excellent place for a memory foam mattress.
Again, ventilation may be an issue, but this can be remedied with a gel mattress, a plant-based memory foam mattress, or a cooling mattress cover.
Also Read: Box Spring vs Foundation – What's the Best Choice?
FAQs
Do memory foam mattresses work well on metal bases?
No, metal foundations sag foam mattresses. These foundations provide inconsistent support and cannot sustain big foam beds. We recommend sturdy wood foundations.
Can you replace a box spring with a piece of plywood?
Plywood can support a mattress on a bed frame or base. Use moisture-resistant plywood and verify for at least a thickness of 75 inches.
A mattress resting on too-thin plywood would sag, gradually crack, and eventually break.
Does a mattress need a box spring?
Most modern beds, such as those that come in a box, don't need a box spring. In fact, standard box springs don't give many new foam and latex beds the rigid support they need.
Conclusion
So, do you need a box spring for your memory foam mattress? No, is the simple answer.
However, it needs a firm, flat, and stable base to stay reliable and comfortable. Whether or whether your foam box spring is usable will be determined by the type of base you have.
You can place your mattress on whichever frame you like, so long as it provides a firm foundation for support. You will sleep better as a result.