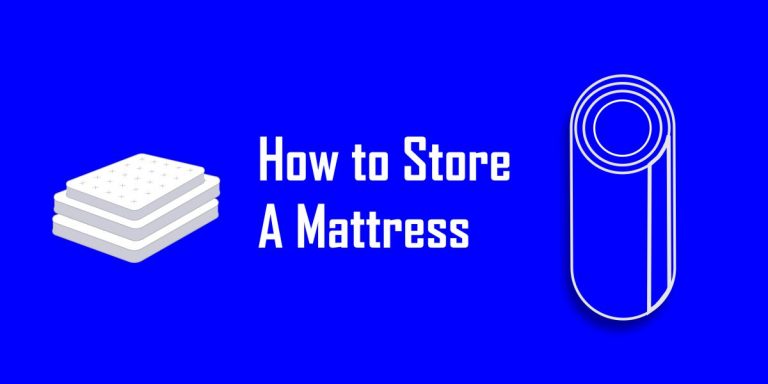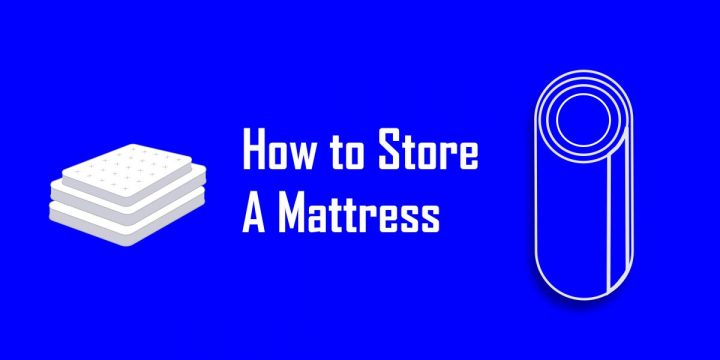 Every person requires a decent night's sleep. Your mattress must be properly stored if you want to get a good night's sleep after moving. If your mattress is not correctly stored, it might become lumpy and uncomfortable.
However, suppose you don't take all of the necessary steps before putting your mattress in storage. In that case, even a couple of months in improper conditions might entirely damage your mattress's shape.
Don't be concerned, though! We are here to assist you, which is why we created a comprehensive guide that includes tips on how to properly keep a mattress so that it remains in good condition.
Best Practices for Storing Mattresses
Preventative steps will help you retain the quality of your mattress during its storage life. These techniques include completely cleaning the mattress before storing it, protecting it with protective layers, and improving the structural integrity of the mattress.
Step 1. Vacuum your Mattress, Use a Cleaner, and Air Dry
When a dirty mattress is stored, it is possible that mold and fungus can grow on it or that an unclean mattress could emerge from the storage space.
Take the following simple steps to ensure that your mattress is clean and ready for use when it is brought out of storage to avoid this problem in the future:
Vacuum the mattress thoroughly.
Upholstery cleaning products or baking soda can be used to clean the upholstery.
Extend the mattress's life by allowing it to air out and dry.
Transport to storage should be done in a covered moving truck.
To clean the upholstery, first vacuum it well and then use an upholstery cleaner to clean it. To properly clean your mattress using an upholstery cleaner, go slowly and cautiously; it can be tough, so follow the manufacturer's instructions carefully and avoid soaking the mattress to the point where it becomes unfit for sleeping.
With a brush, work the cleaning solution into the mattress, then set it aside to dry entirely. Continue to wait even if you think it's dried out completely. Floor fans, open windows, and, if possible, leaving the mattress out in the sun will help expedite the drying process.
If you have a smelly mattress, sprinkle baking soda over it and allow it to settle for a few minutes to absorb the odors before vacuuming it up. Compared to other options, it is more suitable and less difficult. Because it eliminates all forms of allergens while removing them from the upholstery, a steam cleaner is an excellent alternative to manually applying upholstery cleaner.
Alternatively, you may hire these cleaners from a variety of supermarkets and hardware stores; however, this is only worthwhile if you're keeping a significant amount of furniture in addition to your mattress.
Cleaning your mattress with a portable attachment will save you both time and energy. Make sure the mattress does not become soaked again.
Also Read: How to Clean Mattress a Step by Step Guide
How to Move Your Mattress to Storage
What about your mattress protection when moving? It is safer to protect your bed against dirt and damage using blankets, sheets and other moving materials – preferably a covered truck. You still don't have one?
The free use of the truck covers our tenants. The bungee cord mattress can be put at risk to you and other drivers and the structural integrity of the mattress. Moreover, you never know if the weather will be unfavorable on a moving day!
Step 2. Wrap the Mattress in Plastic
Before moving a mattress to its storage place, wrap the mattress carefully in plastic and bind the material with wrapping tape to form a tight seal. Whenever possible, avoid using heavy plastic coverings because they are more prone to trap moisture than light ones. It is preferable to use lightweight, breathable plastic.
Similarly, the mattress must remain covered most of the time. In the long-term, consider buying a high-quality mattress bag, which would cost less than $20, without any holes or tears. These covers are meant to avoid mold and ensure that the mattress remains dry.
Bonus Tip: When a mattress is stored for longer periods, unzip the plastic wrapping to air the mattress every few months. Make sure you reseal afterward completely.
Step 3. Keep Your Mattress Flat
The padding and the coils can be settled when you stand it up, and the mattress never becomes the same. Storage on its side, even with memory foam mattresses, may cause the mattress to lose its form if left in this position for an extended time.
To ensure that this mattress remains in good condition, you should position it in a manner that mimics its natural posture, perhaps even placing your bed frame within your storage space. Another option is to create a loft or perch out of your moving boxes and lay your mattress on top of it.
Do not place your mattress straight on the ground. Your mattress will not only be wet but in the unlikely case of a flood.
Step 4: Don't stack items on top
Items should never be stacked on top of your mattress. The impressions left in your mattress will remain there permanently, rendering it unusable in the future. Mattresses, as we all know, take up a lot of space.
Due to the size of your bed, your mattress may occupy a significant portion of your 10×10 storage space, so be sure your storage space will accommodate your mattress before purchasing it.
Also Read: How Much Does a Mattress Cost
If you are tight on space or unsure, remember to stack your mattress on top of the stacks, boxes, or other equipment in the same storage, but don't put anything in the mattress.
OPTIONAL Step 5: Consider the Addition of a Waterproof Mattress Storage Cover
Depending on how long you wish to save your mattress, an additional cover may be required, particularly true if you have to prepare to give peace of mind for extended times. Even the best-wrapped plastic can admit fine dirt and dust in microscopic cracks and holes over time.
Another layer will provide additional protection to ensure that fine dirt and dust remain in the openings too far. It also helps maintain your plastic in place and snugger against the coat itself when placed above a wrapped mattress and keeps any tape that is not completely sealed from peeling back and revealing your material.
Remember: It is also very important to store your mattress, but this extra coverage may be what you need if you have limited storage choices and added transport protection.
Step 6: Apply Climate Control
Moisture and mildew are the biggest threat to your mattress. You are always certain that your mattress is wrapped when you know it is dry to retain moisture.
However, it would help if you also inspected where you store it before placing your mattress in stock for a long period to make sure that it stays dry.
Keep it in a temperature-controlled storage facility or the house instead of the garage, attic or cellar if dampness is a problem where you live. Or use a dehumidifier in the same room to prevent humidity and humidity from causing a problem.
Step 7. Freshen up your mattress with baking soda and deodorizing spray.
You shouldn't be concerned if, despite your best efforts, the mattress emerges from storage with a musty odor. Here's how to give it a new look:
Add a small amount of baking soda to each side to absorb the odor.
Vacuum the entire mattress after 10 minutes.
Spray the mattress with a natural deodorizing spray and allow it to air-dry thoroughly to remove any remaining odor.
Remove the mattress from stock at least 24 hours before using to make sure it has time to air out.
How to Store a Mattress Depending on Its Type
Generally, the method you store your mattress is the same irrespective of its type: don't set it on an uneven surface or the ground and ensure that it is protected against molds and dust mites.
However, the distinctive properties of each type of mattress can encourage you to arrange the optimum storage space for it:
Memory foam mattresses have no coils within and can conform to your body curves. However, if you set a mattress on uneven surfaces, the softness of the memory foam will work against you. In addition, memory foam is particularly sensitive to mildew growth; therefore, cover the mattress in plastic or put it in a bag for storage.
Latex Mattress
Natural latex is dense and hefty, which makes it more likely to bend below weight. On a flat supporting platform, place a latex mattress and don't store it on one side or the right.
Hybrid mattresses belong to the heaviest and include a hard coil layer for a core as well. The coils within a hybrid mattress are nonetheless often wrapped separately, so they are more prone to change when a mattress is placed on its side.
Spring Mattress
In contrast to hybrid mattresses, Spring mattresses contain a reinforced wired perimeter unit that keeps their shape better. However, they are yet prone to bend and break through the mattress.
How to Store Big Mattresses?
The biggest worry is their weight for large sizes like King or California King and all high-profile mattresses. If you put these mattresses on a luminous surface or choose to store them sideways, they may bend under their weight and lose their support capabilities.
As a result, the best thing you can do to store a King-sized mattress properly is to lay it flat on a flat surface with nothing else on top of it to prevent the top layers from becoming deformed.
Where to Store a Mattress
Mattresses require a very specific set of circumstances to maximize their longevity and durability. The fact that these circumstances are so precise, and much more so depending on the sort of mattress you buy, means you will not be able to store your mattress just anywhere.
Some considerations to make when deciding on the best place to store your mattress include the following.
Plenty of room
Access to A.C./heater
Low humidity
Away from direct sunlight
Free from dirt and bugs
Use Neighbor to Store Your Mattress
Do you need help to identify a space that can give all these things? Try to find storage space lists close to you using Neighbor! You may refine your search with particular facilities, sizes and pricing.
You can contact the host when you find the ideal location and relocate your mattress or other ASAP furnishings. Payments are automatic, so you won't have to stress that more after this mattress is removed.
FAQ
Can you store a mattress in an upright position?
Although some manufacturers recommend it, it is preferable not to store your mattress in an upright position or on its side. The risks of bending or croaking are substantially larger than if your mattress were just on the ground.
How to prevent bed bugs while the mattress is in the storage unit?
Purchase a hidden zipper mattress protector enclosing the mattress on all sides. Bugs can't gnaw into dense fabrics and plastic flakes, so your mattress is safe. When you take it home, substitute a new mattress protector, and you're all set.
Also Read: 11 Best Bed Bug Mattress Covers in 2021- Guide
Can you fold a mattress for storage?
No, both because it's very difficult to perform and because the mattress would damage.
Conclusion
As you can see, storing a mattress is a straightforward process! Wrap it in a dense plastic bag or set it within a waterproof mattress encasement and store it in a cold, dry location for as long as you need it to survive.
Depending on the mattress type, you may need to take a slightly different strategy, but after reading this post, you will know how to get the most of your mattress and extend the life of your bed.
How are you planning to store your mattress, and for how long? Answer below!
Also Read: