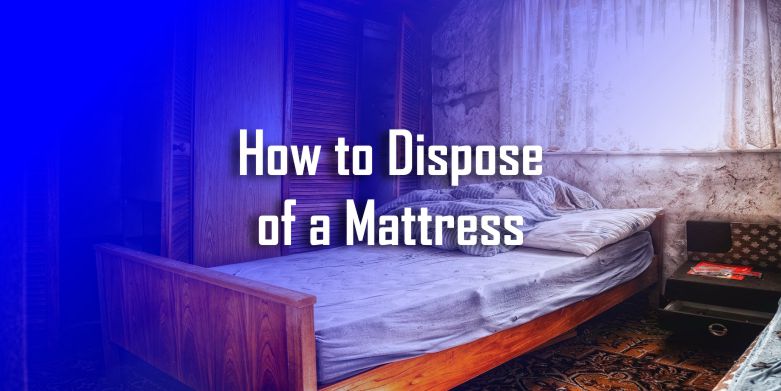 According to the Mattress Recycling Council, around 15 to 20 million mattresses are disposed of annually in the United States of America, and as per the Environmental Protection Agency, the average mattress takes up 40 cubic feet of space, which means that a year's worth of discarded mattresses will take up more than 132,000 square miles of landfill space. Mattress owners in the United States are being urged to dispose of their old mattresses to make them more environmentally friendly to reduce trash and conserve landfill space.
While looking for a new mattress can be a frustrating experience, every mattress owner eventually realizes that it is time to upgrade.
Some people decide to replace their mattress because they are interested in a different model or mattress type, and others seek out a new mattress because their comfort requirements have changed over time due to factors such as age, weight gain or loss, or injuries.
Choosing a new mattress is a personal decision. Even someone who is not very interested in different mattresses may ultimately need to replace their current mattress. It is recommended that you change your mattress every eight years. Of course, this figure will vary from person to person and depending on the sort of mattress you are sleeping on.
Do you have any questions on how to dispose of a mattress properly?
Leaving trash on the curb will not suffice, and transporting it to the city dump can be time-consuming and frustrating. Non-compliance with the correct disposal of your mattress can result in significant fines; therefore, it's important to research before doing so.
Before you get rid of your mattress, you should make sure that its manufacturer's warranty still covers it. If your mattress is damaged, you will be entitled to a replacement under the terms of the warranty provided by the mattress provider. This number is usually between 5 and 10 years; however, each warranty is different.
You wish to examine whether your warranty covers the removal and replacement of mattresses. If your guarantee does not cover removal, the mattress must be disposed of independently.
Examine the mattress removal policies in your state before disposing of your mattress. Mattress recycling is a no-brainer in several places, such as Connecticut, California, and Rhode Island, which have extensive regulations and recycling systems that can take your mattress off your hands. But this is not true in every state. It is, therefore, necessary to conduct your investigation to see any policies implemented by your state.
After you've completed your research, it's time to get rid of your mattress. We've described the mattress disposal option available to you below to make things easier for you.
Option 1: Donating Your Mattress
If your mattress is in good shape, try giving it to a local charity or business that takes donations of mattresses. Some firms will pick up your mattress for free, and you may be able to claim a tax benefit if you donate the mattress.
You can give your mattress to several organizations:
Donation Town
Salvation Army
Catholic Charities
Goodwill
Habitat for Humanity
Furniture Bank Association of America
Another alternative is to make contact with businesses in your community. For example, you could contact local hotels, hospitals, universities, thrift stores, and homeless shelters to see if they would be interested in receiving an old mattress.
Alternatively, if they do not require one, you may always inquire about where they dispose of their mattresses; they may be able to put you in the right direction.
Option-2: Recycling Your Mattress
If you cannot find an appropriate place to donate your mattress, or if your mattress is no longer acceptable for sleeping on, recycling is the next best option. Unfortunately, around 20 million mattresses end up in landfills every year, with each mattress consuming up to 40 cubic feet of space.
Because of this, landfill mass increases dramatically, posing serious ecological and environmental issues, in addition to creating hazardous working conditions for people all over the world.
The majority of mattresses can be dismantled and recycled to the extent of 80 to 90 percent. Recycling rules, regulations, and standards, on the other hand, differ widely from state to state, county to county, and even from specific city and town ordinances.
In most cases, however, there are two broad approaches to recycling your mattress that you can take to save money.
Recycling Centers in Your Community
Certain recycling centers accept as-is mattresses. There are numerous recycling facilities in various places that will get a complete mattress; however, it may take some searching. A nominal service fee (normally no more than $40.00) is charged by certain facilities to contract with companies that will collect up mattresses and recycle them on your behalf.
Additionally, certain states (particularly Rhode Island, Connecticut, and California) have legislation making mattress recycling and pick-up free or extremely low-cost through Extended Producer Responsibility Programs (EPRs).
If you have problems finding recycling facilities that take a mattress, you can browse a few helpful databases.
Local Residential Facilities:
Earth 911
Bye Bye Mattress
Municipal Offices:
DIY Recycling
In some situations, you may not find an installation close to you that accepts complete mattresses or may not be able to transfer an entire mattress to a facility that does not offer a pick-up service. In this situation, you are not completely out of luck yet: recycling solutions can still be available!
Break down the mattress and spring box and recycle the parts.
Upcycle your mattress:
Option 3: Resell It or Give It Away
Reselling your mattress may be an option if your mattress is in good condition and recycling or donating it are not viable options for you. However, you never know when someone in your network might be interested in acquiring a used mattress from you. You might not make a lot of money, but who knows?
Make use of your social media networks by announcing that you are offering a used mattress for sale. Use online markets such as OfferUp, Facebook Marketplace, NextDoor, or Craigslist to sell your items. Upload a photo of your mattress to one of these websites and give a price. It's that simple. Even if all other options fail, you can post it on Craigslist as "free."
Option 4: Repurpose it
Let's look at some fun and innovative ways to recycle your used or old color.
Mattress springs can be utilized for a variety of different arts and crafts projects. These include beautiful candles and plant containers, wall sconces, picture frames, and patios.
Those who appreciate holiday decorating may be interested in knowing that mattress springs can be utilized to create metal wreath displays and tree ornaments as well.
It is possible to create a comfortable bed for your dog or cat out of an old memory foam mattress.
Old memory foam padding can also be used to make plush home products such as bean bags, chair cushions, pillows, dishwashing sponges, and stuffed animal filling.
Green Diary recommends that you use old mattress components to boost the quality of your backyard compost pile. First, build a solid compost bin out of the wooden slats, and then distribute mattress stuffing and fibers around the compost to keep pests away from it.
Throwaway rugs for your entryway, garage, shed, or utility room can be made out of the resilient fabric upholstery of an old mattress.
More than 1,000 ideas employing old mattresses have been posted on the DIY design website Pinterest, which has more than 100,000 followers.
Make a painting or other art project out of an old mattress by stretching it out on a canvas. Video instructional titled 'Mattress Street Art,' YouTube user KIPTOE provides some creative ideas for creating your own.
Option 5: Throw It Away
If you are unable to donate or recycle your mattress, there are other options available. For example, it is possible that your mattress is not suitable for donation or that you cannot locate a recycling center that would accept it in your area. If you are unable to donate, give away, recycle, or upcycle your mattress for whatever reason, you always have the choice to throw it away.
However, it is not always as simple as simply tossing the mattress on the curb and calling it a day. Many states, cities, and towns have unique legislation and rules regarding how to dispose of a mattress, with some prohibiting removing an entire mattress in the trash. It is possible that an uncurbed mattress may not be collected on garbage day in specified locations and that a ticket or a fee will be issued in those cases.
The standards for waste disposal differ from state to state and city to city, and you may find the guidelines for your state and city by conducting a quick Google search. If you reside in an area where you can dispose of a mattress with your usual trash, carefully understand any additional laws to prevent being fined or having your trash picked up by the garbage truck.
For individuals who cannot curb their mattress in any way, there are a few different alternatives.
Use a Waste Disposal Service

Load Up
1-800-Got-Junk

Request Mattress Hauling from Your New Mattress Company
The decision to throw away your mattress should be your final option. However, if you are forced to do so, make sure to do so in a responsible manner.
How to Tell When You Need a New Mattress
The majority of us were taught that we should replace our mattresses every 8-years or so. The truth is that a multitude of circumstances determines the best time to replace your mattress, and it may be more frequently than you think. If you can identify with any of the following, it is most likely time to purchase a new mattress:
Body Aches: You or your partner may find yourself waking up stiff, achy, or numb after a night of sleep.
Sleep Deprivation: The fact that you are exhausted even after eight hours of sleep.
Dust: Your mattress appears to be dusty, and you find yourself coughing or sneezing frequently.
Sagging: You find yourself rolling to the mattress's center.
Wear and Tear: Rips, stains, bumps, and worn edges are visible on your mattress.
Comparison: Sleeping on an alternate mattress, or even on a couch, has provided you with more restful sleep than sleeping on your current mattress.
Age: Over seven years, you have owned your mattress, or you can't recall how long you had it.
You have a mattress with broken coils.
Your mattress has the sensation of a hammock.
You are having trouble getting asleep and staying asleep at night time.
You may wake up tired or with allergies.
The type of mattress you choose will also influence how long it will last. The following chart illustrates the average lifespan of each type of mattress:
| | |
| --- | --- |
| Innerspring | 5.5 Years |
| Memory Foam | 7 Years |
| Airbed | 7.5 Years |
| Latex | 8.5 Years |
| Latex Hybrid | 6 Years |
There is no specific period when you should replace your mattress; however, if you begin to notice any indications affecting your sleep, it may be time to replace your mattress.
Also Read: How to Clean Mattress a Step by Step Guide