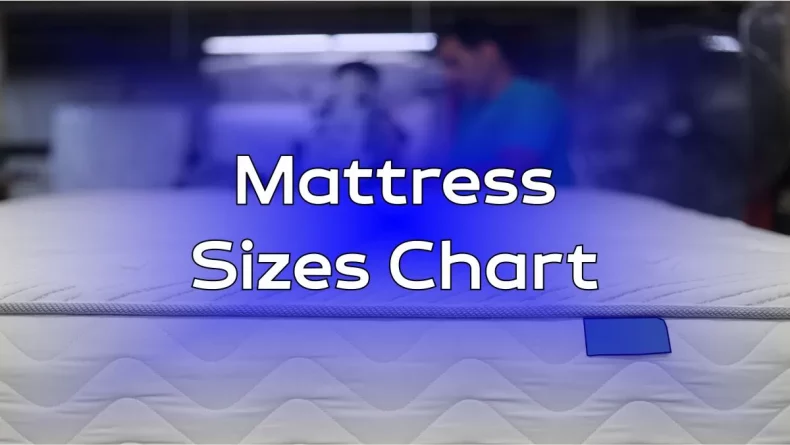 Mattress sizes can vary significantly, and choosing the right one is essential for a good night's sleep. A mattress that's too small can leave you feeling cramped, while one that's too large may not fit in your room.
In this detailed article, we will examine a variety of mattress sizes and measurements and address some frequently asked issues so you can make an informed decision.
Standard Mattress Sizes
| Mattress Size | Dimensions (Width x Length) | Dimensions in Centimeters (Width x Length) |
| --- | --- | --- |
| Twin | 38" x 75" | 96.5 x 188.0 cm |
| Twin XL | 38" x 80" | 96.5 x 203.5 cm |
| Full | 54" x 75" | 134.5 x 190.5 cm |
| Queen | 60" x 80" | 152 x 203.5 cm |
| King | 76" x 80" | 193 x 203.5 cm |
| California King | 72" x 84" | 183 X 213.5 cm |
How Many Mattress Sizes are there?
Most manufacturers provide mattresses in six different sizes. Here is more information about each mattress size:
1. Twin Size Mattress Dimensions
A twin mattress, also known as a single mattress, is the smallest standard size available. This size is perfect for children's rooms, guest rooms, or bunk beds.
2. Twin XL Size Mattress Dimensions
A twin XL mattress is similar to a twin mattress but offers an extra 5 inches in length. It's an excellent choice for taller individuals or college dormitories.
3. Full-Size Mattress Dimensions
A full mattress, sometimes called a double mattress, provides more room for a single sleeper or is suitable for couples who prefer sleeping closer together.
4. Queen Size Mattress Dimensions
A queen mattress is one of the most popular sizes and offers more space for single sleepers and couples, ensuring a comfortable night's rest.
5. King Size Mattress Dimensions
A king mattress is a spacious option, ideal for couples who want extra space to spread out and enjoy a peaceful night's sleep.
6. California King Size Mattress Dimensions
The California king mattress, the longest available, is ideal for those who prefer not to sacrifice comfort for their height.
What are the Other Mattress Sizes Available?
There are a variety of mattress sizes beyond the standard options to meet a wide range of requirements and tastes. Some more common mattress dimensions are as follows:
1. Crib Mattress Size
There are about 52 inches of length and 28 inches of width on a crib mattress, which is made just for babies. It provides a snug and safe sleeping space for babies in their cribs.
2. Full-XL Mattress Size
The full-XL mattress is a variation of the full-size mattress, offering additional length. It's 54 inches wide and 80 inches long, which gives bigger people more room for their legs.
3. Texas Mattress Size
The Texas mattress is a unique and oversized option, perfect for those who love extra space. It measures 80 inches in width and 98 inches in length, offering an expansive sleeping surface.
4. Olympic Queen Mattress Size
Olympic queen mattresses are specialty beds with dimensions of 66 inches by 80 inches. Olympic queens are six inches broader than standard queen-size beds, and offer additional sleeping space for a small child or pet.
5. RV Mattress Size
RV mattresses are designed for recreational vehicles and come in various sizes to fit the limited space available. The standard measurements of RV mattress sizes are available in Twin, Full, Queen, and King, which correspond to the dimensions of RV beds.
6. Super-King Mattress Size
The super-king mattress is an oversized option, providing ample space for couples. It measures 72 inches in width and 78 inches in length, ensuring a luxurious sleeping experience.
7. Alaskan King Mattress Size
The Alaskan king mattress is the largest standard mattress size available. It measures 108 inches in width and 108 inches in length, offering an immense sleeping area suitable for more oversized bedrooms or families who prefer to co-sleep.
8. Wyoming King Mattress Size
The Wyoming King is the most compact of the extreme-sized options. Wyoming king mattresses are 84 inches wide by 84 inches long, making them 12 inches wider than California king mattresses but the same length.
Wyoming king beds are 8 inches wider and 4 inches longer than regular, 76 inches by 80 inches. It's an excellent choice for families crowded with enormous standard-sized beds.
Best Mattress Sizes for Single Sleepers
We recommend the full, twin XL, or twin sizes if you sleep alone. A full mattress can accommodate two people, but a twin XL or twin mattress can only accommodate one person. Several more things to bear in mind regarding these sizes are as follows:
Features
Full Mattress
Twin XL Mattress
Twin Mattress
Best For
Single adults under 6″ tall
Adult singles above 6″ tall; teenagers
Adults who are under 6″ tall; kids and teens
Benefits
🔵 Not expensive.
🔵 Flexible; might be utilized as a couple's or guest bedroom.
🔵 Space for the legs of taller persons.
🔵 Room for single people and pets to share a bed.
🔵 The exact length of a queen or king mattress
🔵 A large selection of inexpensive bed frames and accessories
Drawbacks
🔵 Almost as expensive as a queen, but with far less room.
🔵 Worse for people taller than six feet.
🔵 Accessory options may be limited or more expensive.
🔵 Not suitable for couples
🔵 It's not good for couples.
🔵 Eventually outgrows.
Best Mattress Sizes for Couples and Families
The California king, Queen, and king sizes are spacious enough to accommodate multiple people sleeping comfortably. The most important consideration with these three sizes is how much additional space you require and how well the larger sizes will fit in your bedroom.
Features
California King Mattress
King Mattress
Queen Mattress
Best For
Taller couples with pets in bed
Couples who desire lots of space; couples with children in bed
People sharing a bed who don't have kids or pets
Benefits
🔵 More length is perfect for taller individuals.
🔵 Ideal for people whose pets sleep at the foot of their bed.
🔵 Families with young children and couples benefit from maximum width.
🔵 Accessory options are many.
🔵 Most popular mattress size, making accessories affordable and commonly available.
🔵 Moves easier than King beds
Drawbacks
🔵 It could be challenging to locate accessories.
🔵 The size of the priciest mattress.
🔵 Challenging to move.
🔵 More expensive than Queen.
🔵 Makes small rooms feel crowded.
🔵 Hard to move
🔵 Much smaller than King/King XL.
🔵 It can be cramped for couples with little children.
Choosing the Right Mattress Size for Your Space
When selecting the perfect mattress size, several factors come into play. Here are some essential considerations to help you determine the ideal mattress size for your space and needs:
Bedroom Size
Take a close look at your bedroom's dimensions. Measure the available floor space to ensure your chosen mattress size fits comfortably within the room. Consider leaving enough space for other bedroom furniture like nightstands and dressers.
Sleeping Partner
If you and your partner share a bed, consider what they want or need. A queen or king-size mattress is often the preferred choice for couples, providing ample space for both individuals to sleep comfortably without disturbing each other.
Bedroom Position
The position of your bed within the bedroom matters. If your bed is against a wall, you may choose a smaller mattress size. However, if you can position your bed centrally, you can choose a more significant mattress size for added comfort.
Your Height
When choosing the appropriate size mattress, your height should be considered. Mattresses measuring Twin XL, Queen, King, and Full XL can be more comfortable for taller people since they prevent their feet from hanging off the side of the bed.
Mattress Type
Consider the type of mattress you prefer. Different mattress types, such as memory foam, innerspring, latex, or hybrid, may have varying dimensions. Check the specific measurements for the type of mattress you desire.
Budget
Your budget is another critical factor. More oversized mattresses tend to be more expensive than smaller ones. Determine your budget constraints and find a mattress size that meets your needs without exceeding your budget.
Conclusion
Choosing a mattress size is crucial and can significantly impact your sleep quality and comfort. If you're searching for a large king-sized bed or a comfortable single mattress, knowing the measurements and features of each model is essential to helping you make an informed decision.
Now that you have a comprehensive overview of mattress sizes and their characteristics, you can confidently select the perfect mattress for your needs.
Don't forget to measure your room space and consider your personal preferences before making your final decision.
FAQs
What is the biggest mattress size?
The Alaskan King, which is 108″ x 108″, is often said to be the biggest bed. It is the longest bed and has a nice wide width. The Family XL, on the other hand, is the biggest bed. It's 144″ wide but only 84″ long.
What is the most popular mattress size?
Standard queen beds are recommended for couples, so they can easily accommodate extra sleepers in the oversized bedroom or guest room for a few nights. The most popular standard-size mattress fits in most rooms and can sleep many people.
How Do You Measure a Mattress?
Measure your mattress in inches with a tape measure (Measure the height inches from the bottom to the mattress top, including any pillow top). Measure the mattress's head-to-foot length in inches. Measure the mattress's side-to-side width in inches.
What is the best mattress size for two people?
As a queen bed is 5″ longer and 7″ wider than a full bed, each person has around 30″ of personal space, making it ideal for couples. Today's most common mattress size is the queen bed, which fits nicely in smaller master bedrooms and guest rooms because of its adaptability.
Are double and full the same size?
Yes, double and full-size beds are the same. Both titles refer to 54-by-75-inch mattresses. Often, a full or double bed is not twice as big as a twin/single mattress, despite the word "double." The length of a full and twin mattress is identical. However, a full mattress is 15 inches wider.
Is a 3 4 mattress the same as a double?
A ¾ bed is a small double bed. They are more comprehensive than long, about the same size as a standard double bed.