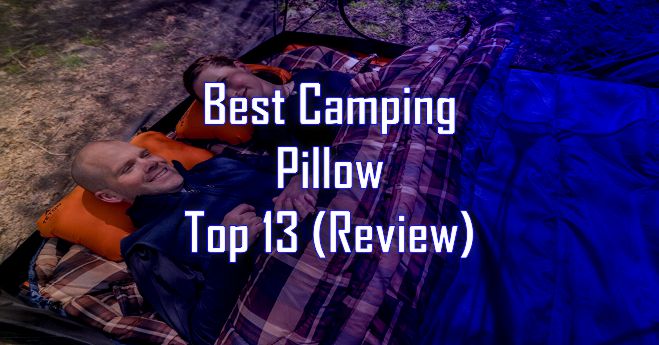 Camping is sometimes referred to as "roughing it," it doesn't mean you can't have a good night's sleep. A camping pillow is a must-have in addition to your tent and sleeping bag. It doesn't matter if you're camping in the wild or on a family vacation; the most incredible camping pillows may make or break your trip.
The best camping pillow is designed to be light and compact, but most importantly, they are comfy. Adding one to your camping gear is a smart move now that spring has sprung and summer vacations are just around the corner.
Inflatable pillows take up almost little space in your backpack, as memory foam pillows and the lightest pillows for campers weighing every gram. It doesn't matter how big or small your pillow is; it all does the same thing, which is to provide a comfortable place for your head to rest.
Top 13 Picks for Best Camping Pillow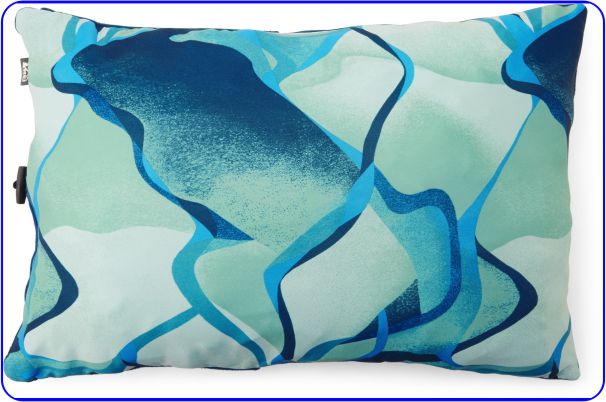 Best Budget- REI Co-op Trailbreak Foam Pillow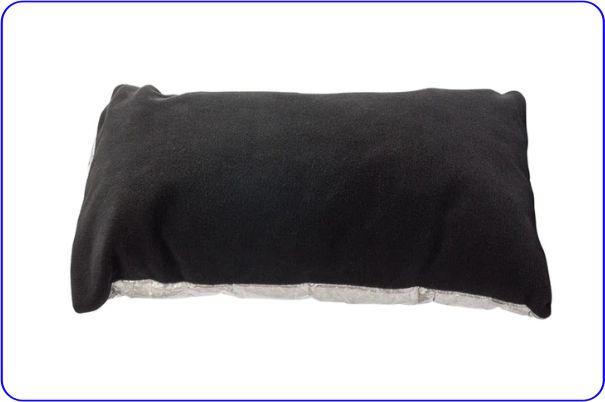 Ultralight Backpacking Pillow- Zpacks Medium Pillow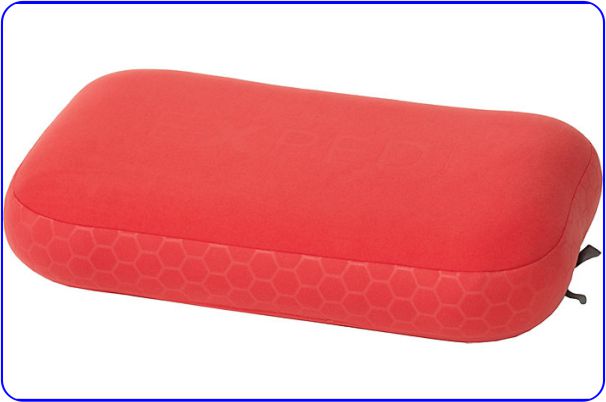 Best for Side Sleepers- Exped Mega Pillow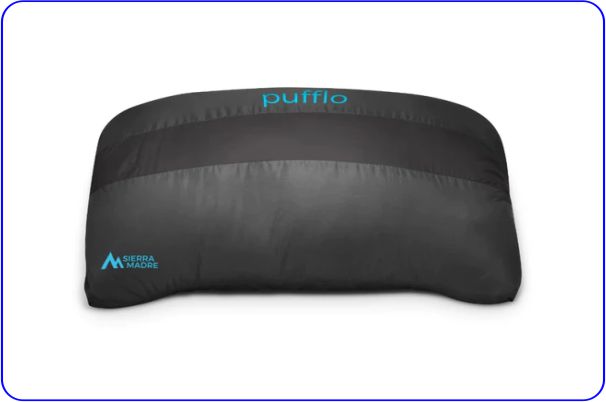 Best Luxury- Sierra Madre Pufflo+
1. Best Overall- Coop Travel and Camping Pillow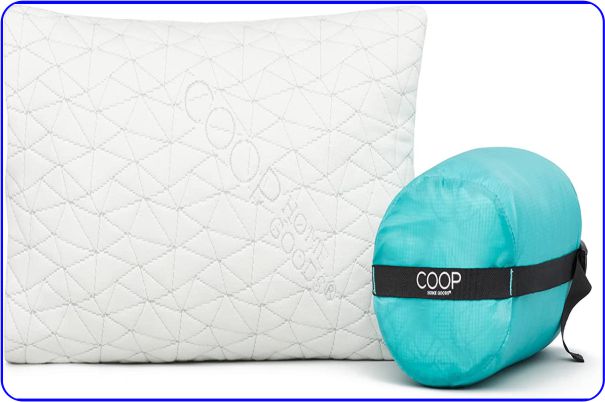 Highlights
Adjustable Travel Pillow
Medium Memory Foam
Washable Cover
Certified by CertiPUR-US/ GREENGUARD Gold
Product Description
Because it's so similar to a regular pillow (and so very comfortable), the Coop Travel & Camping Pillow is one of our favorite camping essentials. This pillow will keep you aligned while you sleep because of the medium-firm density and the ability to alter the support.
It also comprises a hypoallergenic cross-cut memory foam and microfiber blend, so it won't readily flatten out. A stuff bag with buckles is included with this pillow, which measures 19 x 13 inches (uncompressed) and is lightweight and compact.
Pros
Adjustable Support
Microfibers Filling
Pillow with Compressible Stuff Sack
2. Best for Backpacking- Sea to Summit Aeros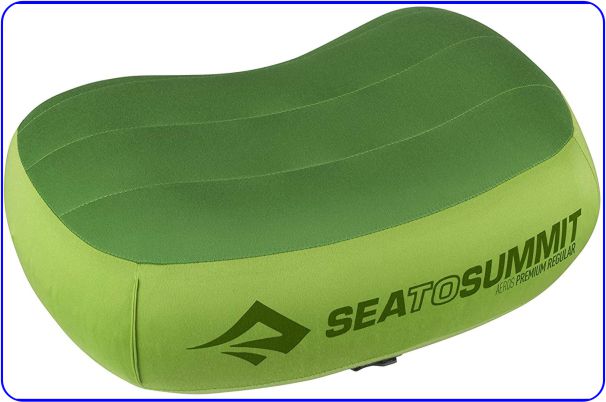 Highlights
Premium Inflatable Travel Pillow
Multi-functional Pillow
Minimal Weight
Made in the USA
Product Description
Although it is lightweight, the Sea to Summit Aeros provides incredible comfort. This pillow, which weighs just a few ounces, expands considerably. You won't even notice it in your bag because it shrinks to the size of a plum when it's packed.
According to experts, the cell's flexibility sets this cushion distinct from its competitors in addition to the soft polyester cover. A pillow greatly enhances a restful night's sleep with contoured lines.
This pillow holds your head off the ground and offers a cradling layer of support, but it's not as comfy as most of the collapsible or hybrid choices designers evaluated. The Sea to Summit Aeros is available in Ultra-Light, Premium Deluxe, and Down Top varieties, so you may choose the one that best fits your needs.
Pros
Packs up Small
Great Adjustable Support
Hand Washable
3. Best Budget Pillow- Wise Owl Outfitters Camping Pillow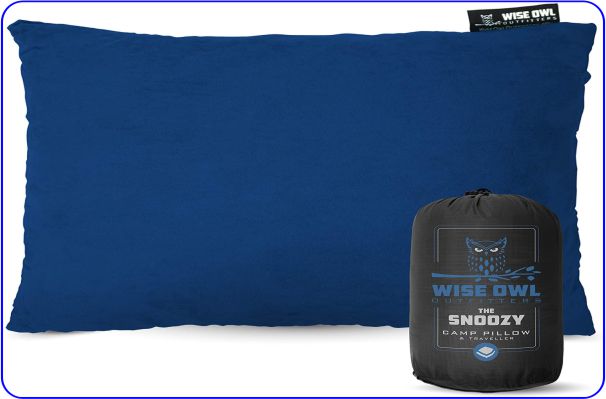 Highlights
Backpacking and Camping Pillow
Compressible Memory Foam Travel Pillow
Packable and Portable
100% Polyester
Machine Washable
Product Description
With a microsuede cover and a 5-inch-thick memory foam core, it provides a comfortable night's sleep.
Wise Owl Outfitters' Camping Pillow, When placed in the supplied waterproof stuff sack, the giant pillow's foam compresses to 12 x 7 inches. It can be washed in the machine and dried is a massive plus for customers.
The stuff sack, which does not compress the pillow as much as it should, contributes significantly to this problem. Consider purchasing a compression bag for the Wise Owl Camping Pillow if you decide to use this pack.
Pros
Cheap
Thick and Supportive
Soft Comfortable
4. Best Ergonomic Shape- Sierra Designs Animas Pillow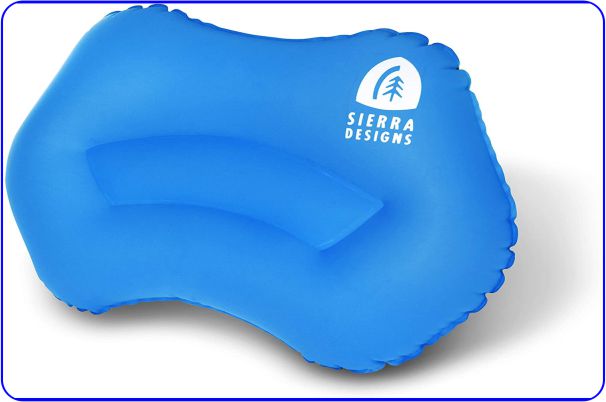 Highlights
Comfortable Pillow for Camping
20D Brushed Polyester
Product Description
Regarding ergonomic form, the Sierra Designs Animas Pillow is virtually incomparable to other camping pillows on the market. In addition to being made of lightweight stretch fabric on the top and bottom, it has a brushed texture for enhanced comfort and molds perfectly to the shape of your head.
The siliconized pattern helps to keep this pillow firmly in position. Its dimensions are 15 x 10 x 4 inches, making it the ideal size to go along on camping vacations.
Pros
Ergonomic Shape
Non-Slip
Lightweight
Cons
Available in only 1 Color
5. Best Inflatable Pillow- Trekology ALUFT 2.0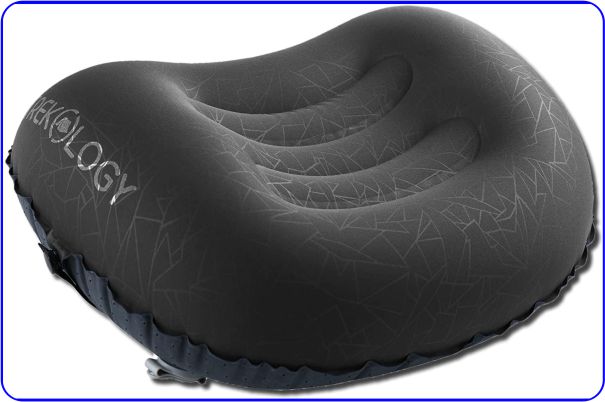 Highlights
Inflatable Camping Travel Pillow
Compact and Comfortable
Lumbar Support while Camping
Product Description
The ALUFT 2.0 from Trekology is the perfect inflatable pillow we've seen under $20. Incredibly durable TPU fabric with just enough elasticity to provide some give when you lay your head on it.
It was evident that the designers put their degrees to good use from the start. Its design includes sticky dots on the back and elastic closures to keep it in place while you sleep. With just three to five breaths, the contoured shape keeps your head in position while you sleep.
The pillow compresses down to the size of a drink can when not in use. This shape is also great for side and stomach sleepers.
Pros
Durable
Straps to keep the in place
Contoured
6. Lightweight Luxury- Therm-a-Rest Air Head Down Pillow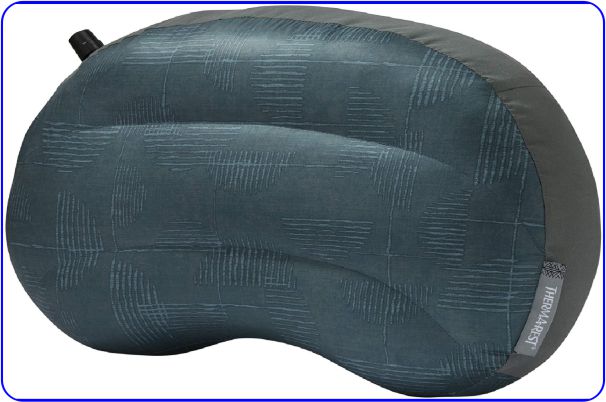 Highlights
Head Down Inflatable Camping Pillow
Polyester Fabric
Packable and Lightweight
Removable Polyester Cover
Machine Washable
Made in the USA
Product Description
Therm-a-Rest Air Head Down is like eating cake and sleeping too. This luxury is rare in an inflatable cushion, making it an obvious favorite for comfort and weight. The Air Head Down almost has it all. It is lightweight, compact, supportive, easy to use, and pleasant.
The manufacturer of the Air Head Down does not apologize for its high price. The dense layer of feathers quilted beneath delicate silky fabric undoubtedly raises the price, which may deter customers.
Also, some consumers may be allergic to down. A comfortable pillow that doesn't weigh a pound is hard to come by, but this one does.
Pros
Comfortable Down Pillow Top
Easily Adjustable Air Volume
Light and Compact Pillow Packs
Cons
Expensive
Down may be Allergenic for some Users
7. Best Camping Pillow for Side Sleepers- NEMO Fillo King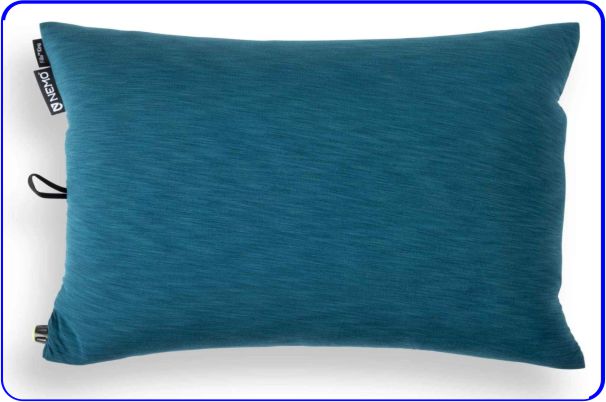 Highlights
Foam and Inflatable
Natural Support
Integrated Storage
Versatile Design
Product Description
The Fillo King from NEMO is a king-sized version of the famous Fillo camping cushion. It has 6 inches of loft, which is ideal for side sleepers. Filled with recycled foam and an inflatable inside, the Fillo Series pillow is the first camping pillow we've encountered that provides softness and support.
For those who prefer to sleep on their side, this blend allows you to inflate the pillow to just the proper amount of loft to keep your head from dangling toward the floor. The polyester jersey exterior feels impressive against your face and absorbs drool.
A stuff sack is built into the bottom of the pillow to stuff the pad. For those who've sifted through the tents seeking the pillow's tiny stuff sack, only to discover it attached to the bottom of your sleeping bag, this is a lifesaver. In terms of feel, it's very similar to your favorite down-filled pillowcase.
Although the Fillo King is best known for its versatility outdoors, its compact size and portability make it an excellent travel companion.
Pros
Tons of Loft
Huge Expanded Size
Integrated Stuff Sack
Cons
Large Packed Size than Standard Pillows
8. Best Budget- REI Co-op Trailbreak Foam Pillow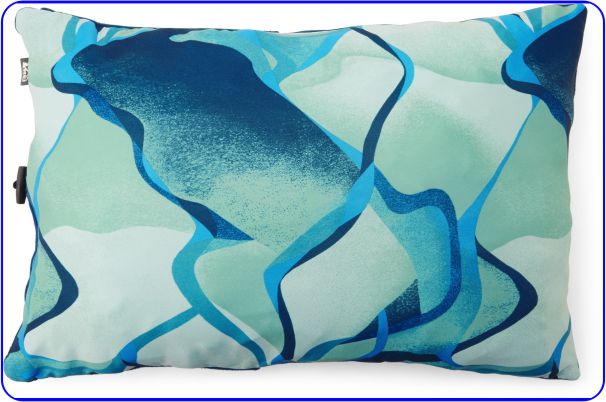 Highlights
Traditional Foam Pillow
Synthetic Filling
Machine Washable
Product Description
Those who are looking for a comfortable camping experience that is also budget-friendly? Purchase the REI Co-op Trailbreak Foam Pillow, which can be compressed to a fifth of its original size and stored in its pocket for convenient storage or transportation. There is no need to inflate it; it simply expands to its full size once it has been unpacked from its packaging.
Furthermore, this cushion is produced from leftover pieces of foam that the company previously used to create their self-inflating sleep pads, which helps save landfill space while also increasing sustainability.
Pros
Packs Down Easily
No Inflation Required
It comes in Multiple Colors
9. Best Ultralight Backpacking Pillow- Zpacks Medium Pillow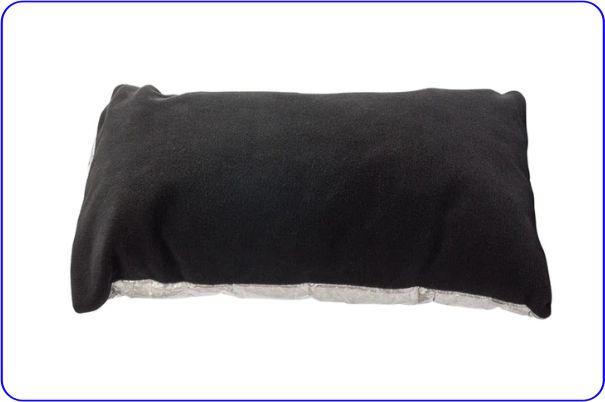 Highlights
Medium Pillow
Soft Microfleece Sewing
2-Year Limited Warranty
Made in the USA
Product Description
Zpacks' Medium Pillow is your only option if you want to lose weight. Zpacks used their dry sack for their pillow and added soft microfleece to one side of the interior.
This design eliminates the need for a separate pillow by using the items already in your bag to act as a cushion. The taped seams keep your belongings dry even if you take a dip in a creek while using it as a standard stuff sack
It's time to go to sleep, so open up the bag, stuff your garments in it, and then seal it shut. You won't even notice it's there because you'll be using it as a stuff sack, and it weighs less than an ounce. While it's OK to sleep on a pile of week-old socks, it's not ideal.
Pros
Lightweight Pillow Available
Doubles as a Stuff Sack
Cons
Only as comfortable as what you pack inside it
10. Best for Side Sleepers- Exped Mega Pillow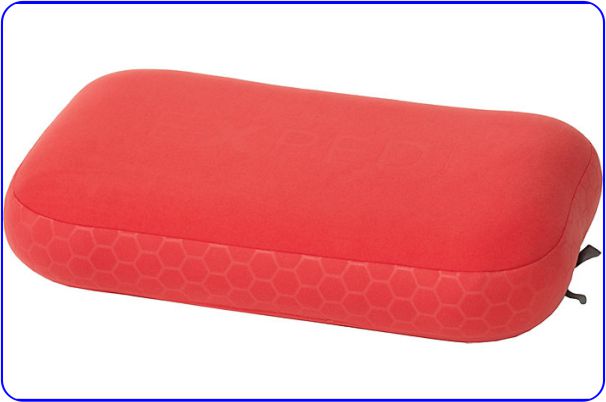 Highlights
Fleece-Padded Air-Core Pillow
Synthetic Fleece Insulation
Velvety Softness
Double Valves
Product Description
Firmness and extra height are critical elements for the ideal camp cushion for side sleepers. With the Exped Mega Pillow, you can sleep soundly on your side with all-night comfort and support thanks to its 3D design fleece padding and air core.
There are three eyelets on the polyester tricot fabric, making it easy to attach to your sleeping pad. An inflatable cushion may be inflated quickly and easily thanks to a low-profile Flat Valve that is convenient to use while sleeping on the cold, hard ground.
Pros
Soft and Comfortable
Can be Attached to Sleeping Pad
Easy and Quick Inflation
Cons
Only Available in 1 Color
11. Best Luxury- Sierra Madre Pufflo+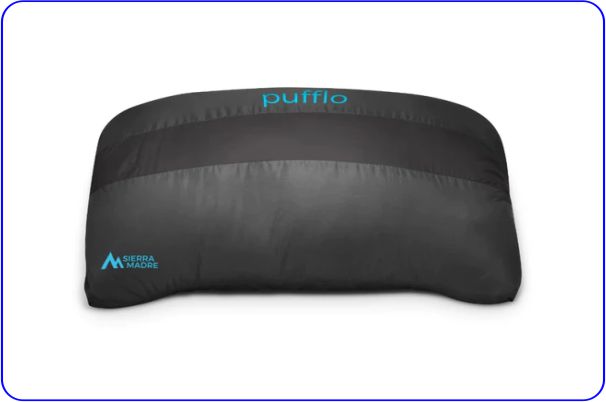 Highlights
Ultra-Soft Packable Camping Pillow
Adjustable Support
Perfect Blend and Comfort
Product Description
The Sierra Madre Pufflo+ is the closest camping cushion you're going to get to sleeping on a (supporting) cloud if you don't mind spending a little extra money. With its two-phase, super-soft top and supporting air bladder, the Pufflo+ is the perfect combination of comfort.
By touching it, the air valve may be quickly and easily adjusted to your preferred firmness level. In addition, the pillow's shape follows the contours of your neck and head.
Pros
Soft
Adjustable Support
Weather Resistant Fabric
12. Kelty Luxury Pillow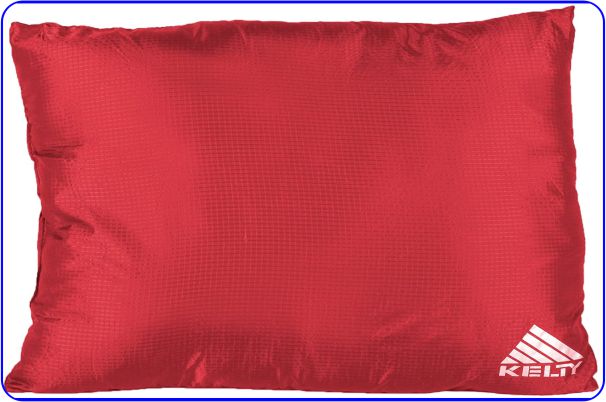 Highlights
Polyester Cotton Fabric
Insulation of Cloud Loft
Thermoplastic Polyurethane (TPU)
Product Description
It's the Kelty Luxury pillow that's right for you if you're on a tight budget. It weighs at a hefty 300 grams (10 ounces) and doesn't fold up very compact either. Insulation from Kelty Cloud Loft Pro along with 550-fill down makes up for it.
In the end, you will have a cushion that will give you a sense of comfort and familiarity. In addition, the soft filling makes it perfect for both stomach and side sleepers. A down jacket or sweater can be stuffed into the sleeves to keep it from flattening overnight.
Pros
Comfortable Camping Pillow
Compressible and Lightweight
13. Teton Sports Comfortlite Pillow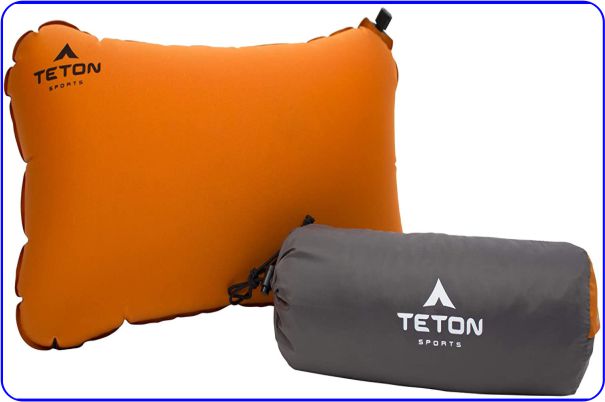 Highlights
Self-Inflating Pillow
Support Your Neck and Travel Comfortably
Take it on the Airplane, in the Car
Backpacking and Camping
Washable
Stuff Sack Included
Product Description
The brushed organic cotton shell covering the top of the Comfortlite pillow contributes to its wonderful comfort. With the non-slip bottom, you're guaranteed a stable and sturdy foundation. As a result, you can use the Comfortlite as a fireside seat or bedside chair.
When completely inflated, side sleepers can get 4 inches of support. If you prefer to sleep on your back or stomach, you can quickly deflate it. Heavy for long-distance hikers, yet light enough for canoe and kayak trips or even vehicle camping trips.
Pros
Custom Fitted Back Support
Portable and Packable
Also Read: 13 Best Down Pillow for Every Type of Sleeper
Conclusion
Choosing the best camping pillow that is appropriate for your camping or backpacking needs and your sleeping style is a subjective option in this gear area. Instead of looking at the overall scores, try to concentrate on the goods that received high marks in the criteria that matter the most to you.
Choosing the proper one will increase the quality of your sleep, reduce aches and pains, and improve the overall pleasure of overnighting in the great outdoors.
We hope that this evaluation has assisted you in determining which cushion will keep you comfortable on your after-hours escapades at campgrounds and the outdoors!
"This article contains affiliate links, which means that Best Mattress Advisor will be compensated if you buy something after clicking on one of the links. Read full disclosure statement."