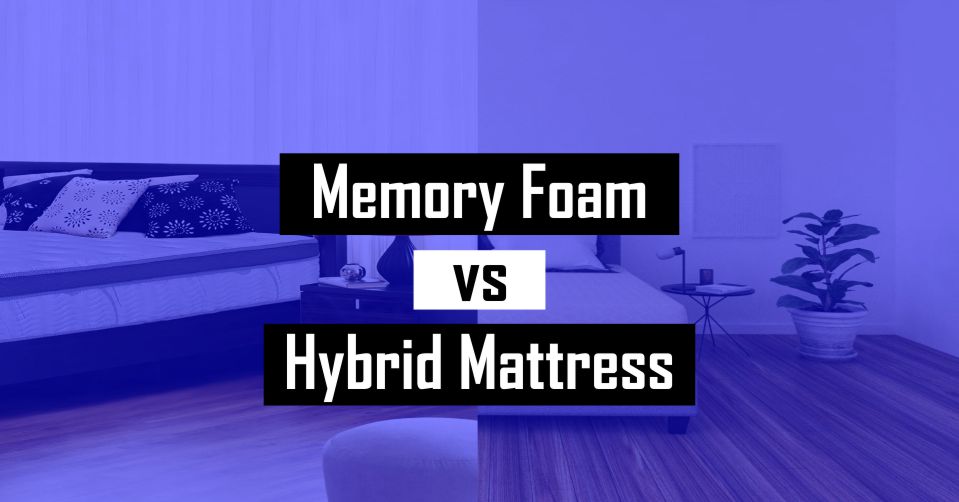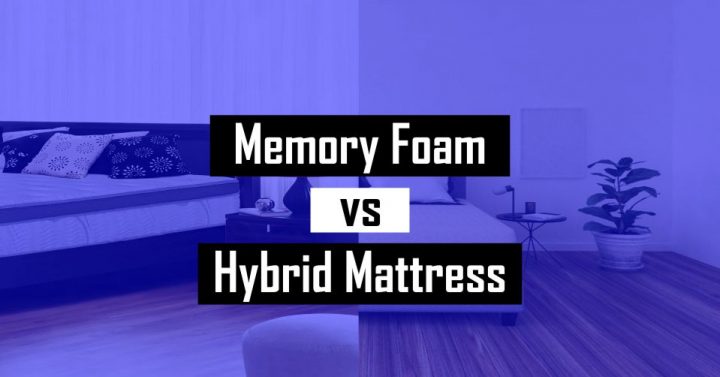 Choosing the right type of mattress is one of the first steps in purchasing a new bed. Memory Foam and Hybrid mattresses are two of the most popular types of mattresses available on the market, and each has its own set of potential advantages.
While they have certain similarities in structure and performance, customers should consider the significant variances before purchasing. The differences between memory foam vs hybrid mattresses will be discussed in detail to assist you in deciding which is best for you.
To help you decide which of these popular designs is best for your needs, we'll analyze the features and performance of both designs, as well as discuss pricing, availability, and other relevant information.
Also Read: How to Choose a Mattress
What is Memory Foam Mattress
Also called Viscoelastic Foam, NASA invented memory foam to be used in aircraft cushioning seats. Memory foam has increased in popularity in the mattress business as a result of its close-conforming pressure alleviation.
While each model is unique, most memory foam mattresses are constructed of a memory foam comfort system on top of a high-density polyfoam support core. Several different materials, like latex and specialized polyfoam, are used to produce memory foam mattresses to improve durability, responsiveness, and/or temperature neutrality.
Sleeping on memory foam mattresses can help to distribute weight away from pressure areas by cradling the body while sleeping. Some people may find it hard to sleep because of the heat trapped by the conforming features.
Because of this, several foam producers incorporate chemicals such as gel or copper into their foams to pull heat away from the body. Increased temperature neutrality may also be achieved through cooling covers and other materials designed to wick absorbs heat.
Mattresses made of memory foam are popular and easily available. The cost of a queen-size all-foam mattress can range from $800 to $2,500, depending on the brand and model.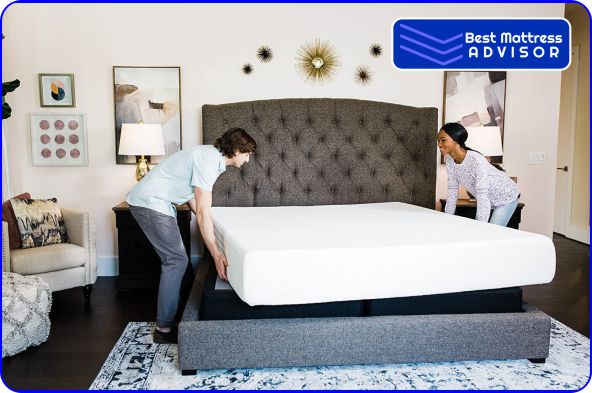 Memory Foam Mattress Pros
Conformability and Contouring
The ability to sleep comfortably during the night is dependent on maintaining spinal neutrality. With its capacity to mold and contour, memory foam aids in maintaining spinal alignment while reducing pressure on the shoulders, hips, and back of the user.
The memory foam mattress conforms and relieves pressure when the sleeper moves or stays in one position all night.
Also Read: Best Mattress For Hip Pain
Great for pain relief
Because memory foam molds your body, it relieves pressure on your shoulders, back, and hips while aligning your spine. This pressure alleviation may assist in reducing pain, particularly for side sleepers, who normally need more to make themselves comfortable in their mattresses.
Motion Isolation
The foam absorbs the motion naturally. Couples will not notice a restless partner as the memory foam minimizes movement across the mattress.
Sound Absorption
As a result of sleeper movement, innerspring mattresses may creak or generate noise. In the same way, that memory foam absorbs and decreases sound, and it also does the same for movement. A memory foam mattress will give you not only a motionless night's sleep but also a silent one.
Dust mites, dust, and other allergies might be a natural collector point. All of these substances are naturally resistant to memory foam, which makes it an excellent hypoallergenic alternative.
Memory Foam Mattress Cons
Temperature Regulation
Memory foam mattresses have long been renowned for their ability to retain body heat. They can produce warm sleep without some design involvement and the correct formula. However, manufacturers of memory foam mattresses use several cooling strategies.
Gel, copper, or graphite may be infused into the memory foam to absorb and move heat away from the sleeper. Other types of memory foam are constructed with larger individual cells to provide greater space for heat to escape.
Memory foam mattresses can retain heat more readily than hybrid mattresses, but a memory foam mattress may be cool and supportive with the appropriate combination of structure and technology.
don't have as much longevity
Since memorial foam mattresses have no coils or other structural support system, they can decrease over time, especially if you are always in the same place. After a few years, you may realize that your mattress has an indent that will not go away.
There is good news in that many mattress manufacturers give warranties on this issue, and if the sag reaches a particular depth, they will repair the mattress at no additional cost to you.
Also Read: How to Dispose of a Mattress: Guide
Responsiveness
Memory foam is a material that responds slowly to sleeper movement. Your body feeling stays on the mattress surface so that sleepers can feel trapped or stuck.
Hard to get out of
Because memory foam sinks into you and the material wrap around you, getting in and out of bed might be difficult. In addition, because there is no bounce, it cannot be easy to engage in midnight activities with your spouse.
Edge Support
Memory foam mattresses may have insufficient edge support to be comfortable. When you sit on the bed, the foam molds to your shape, causing sinkage and ultimate breakdown near the edge.
It is occasionally necessary to utilize denser foam at the mattress's edge to combat this issue. On the other hand, a memory foam mattress may be more prone to disintegrate around the bed's edge if not properly cared for.
What is Hybrid Mattress
The hybrid mattress includes design aspects from many mattress kinds, combining the innerspring's coil-based support foundation with a dense comfort system similar to latex or foam versions.
This combination is frequently used to achieve a good balance between pressure alleviation and responsiveness.
The pocketed coil support core included in most hybrid mattresses contributes to a resilient, springy, and breathable surface with low motion transmission and robust edge support.
Hybrids may also employ alternative coil types, such as Bonnell, offset, or continuous wire, which is frequently more inexpensive but more susceptible to motion transfer.
The materials used in hybrid comfort systems and their composition vary from model to model. Memory foam, polyfoam, latex, micro-coils, fiber, or any combination of these materials may be used to construct a mattress.
Most hybrid comfort systems have been intended for cradling the body, reducing pressure, and limiting motion transmission.
Hybrid beds are quite popular and are available for most mattress stores online and in-store. Customers should be aware that each model differs in terms of feel and performance, making it necessary to examine the unique design to select a hybrid that meets your demands.
Hybrid models typically range in price from $1,200 to $2,000 for a queen-size mattress.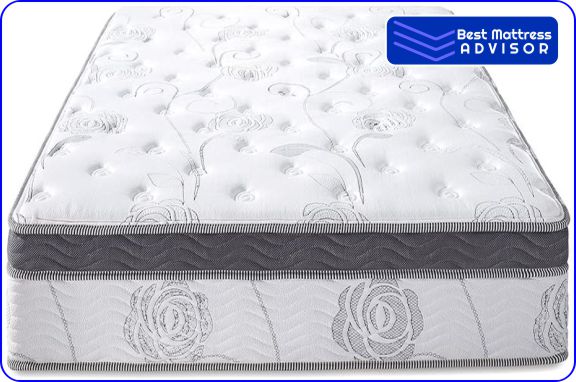 Hybrid Mattress Pros
They are Durable Mattresses
Coils are also an extremely long-lasting and resilient material. It means that hybrid mattresses will be able to endure many more years of use and will not sag excessively.
Responsiveness
In hybrid mattresses, coil support systems, such as those found in pocketed coil mattresses improve the sleeper's movement responsiveness. Because of this, foams return to their original positions in less time.
As a result, hybrid mattresses are a wonderful choice for people who don't like to sink too much into their beds.
Breathable
The coils help to improve airflow and prevent the mattress from retaining excessive heat. The cooling technology found in many hybrid mattresses can assist you in keeping the temperature down while you sleep.
If you tend to get hot and sweaty at night, hybrid mattresses can help keep things cooler during the night.
Temperature Regulation
The comfort and transition layers of hybrid mattresses include cooling technology such as gel infusions or swirls of copper or graphite and other materials.
With the open gaps around the coils of a hybrid mattress, air and heat can circulate more freely. An advantage of hybrid mattresses over memory foam mattresses is the better airflow around the coils.
High-quality, luxurious feel
Because hybrid mattresses are developed with comfort and luxury in mind, many people find them more pleasant than memory foam mattresses. It is especially true if you prefer to sleep on top of your mattress rather than sinking into it.
Support
Because of the coils in their support systems, hybrid mattresses often provide a firmer sleep surface. That is not always the case since some hard memory foam mattresses and soft hybrids are on the market.
Nonetheless, when speaking in broad terms, mattresses with coils tend to be firmer in general, even if they fall into the same hardness category as a memory foam mattress.
Thicker, stiffer coils are often used around the edges of hybrid mattresses to provide more edge support and avoid sagging. For the same reason, certain memory foam versions may contain dense poly foam around the edge of the mattress.
Hybrid Mattress Cons
Motion Isolation
Continuous Bonnell and offset coils might be a difficulty for couples. Because the pocketed coils are not interconnected, the move is reduced.
And hybrids move less than an innerspring model. But even with pocket-packed coils, there is still greater movement on a hybrid from a partner than on a memory foam mattress.
Sound Absorption
Although foam layers absorb some sound, hybrid mattresses are not as quiet as memory foam mattresses. Noise and motion transfer potential both grow over time as the coils weaken and break down.
They have a Higher Price Tag
While this is not always the case, hybrid mattresses often cost more than memory foam mattresses. As a result, a hybrid mattress may not be affordable to everyone.
Factors to Consider
Consider the following when selecting whether to purchase memory foam or hybrid mattress:
1. Memory foam mattress
According to research, memory foam mattresses may minimize snoring by improving spine alignment and respiratory assistance.
Offer to contour: This helps to support the back while also reducing pressure on it.
Reduce motion transfer: A memory foam mattress may be appropriate for people who share a bed with a partner who moves about a lot during the night.
Less Cost: Some memory foam mattresses are less expensive than hybrid mattresses, but some are more expensive.
Relieve back pain: Memory foam may be preferable for people who suffer from back pain.
Easy to clean: Memory foam has a high level of dust resistance.
2. Hybrid mattress
Edge support: Many hybrid mattresses include additional support around the borders of the mattress, which improves the sleeping surface area and helps avoid sagging while you are sleeping.
Personalization is available: Hybrid mattresses offer a variety of features that cater to certain needs.
Different levels of firmness: A hybrid mattress provides more firmness options.
Prevent overheating: The mattress's layers of coils promote airflow and provide a cooler sleeping surface.
Support sleeping positions: There are a variety of hybrids available to accommodate various sleeping postures.
Bounce: Hybrid mattresses include springs, which may appeal to individuals seeking a tiny bounce from their mattress.
How To Make The Right Decision For You
All mattresses include trade-offs, and there is no definite answer to the question of whether you should buy a memory foam mattress or a hybrid mattress. Each has its advantages and disadvantages, but I've put together some checklists to help you make your selection a little easier.
You may want to try a memory foam mattress if:
You want to save some money.
You're a side sleeper.
You remain in the same position throughout the night.
You're a cool sleeper.
Like to sink into your mattress.
You have allergies.
You may want to try a hybrid mattress if:
You're a hot sleeper.
You don't want to sink into your mattress.
You sleep with someone else, and you're looking for a compromise.
You're plus size or heavier than average.
Budget isn't a concern.
You toss and turn at night.
FAQS
Does a hybrid mattress experience off-gas?
If a hybrid bed's comfort layer is made of memory foam, it may experience some off-gassing, which occurs when the chemicals used to produce the foam are released into the air after it has been unpacked.
Off-gassing is not associated with any major health consequences, though it may induce minor nausea and dizziness in certain persons in particular situations.
Does a memory foam last longer than a hybrid?
The strength of the materials used in the building of a bed determines how long it will last. Unlike high-quality memory foam, a hybrid mattress features a pocket coil layer that is more sensitive to wear and tear than memory foam.
Furthermore, because a hybrid bed typically has numerous layers, if any of those layers do not work properly, it will hurt the bed's overall durability.
Which Type of Mattress is Suitable for me?
Finding the ideal mattress for your needs can be a difficult undertaking. As a starting point, consider what kind of feel you prefer in your mattress. If you like a body-conforming and cradling feel, memory foam may be the right choice for you.
However, if you choose a bit extra bounce in your new mattress, a hybrid mattress may be the ideal choice for you. Before purchasing a new mattress, make sure to read through all of the reviews, features, and specifications.
What's better, hybrids or memory foam mattresses?
In the end, it comes down to individual preference. Mattresses made of memory foam provide a cradling, "cloud-like" effect, whereas hybrid mattresses combine the cushioning of foam layers with the bounce of innerspring.
The lifespan of memory foam mattresses is also slightly longer than that of hybrid mattresses, although only by a year or so. It all comes down to how you want your bed to feel when choosing between the two options.
Are hybrid mattresses good for back pain?
Yes, hybrid mattresses can help to relieve back discomfort since they contain layers of pressure-relieving foam. As a result, we typically recommend memory foam mattresses when it comes to finding the best mattress for back pain.
Memory foam provides superior contouring and pressure alleviation, which can help to alleviate aches and pains. It also has the added benefit of being solid enough to support a healthy backbone.
Should side sleepers have a hybrid or memory foam mattress?
Even side sleepers can get a good night's sleep on both hybrid and memory foam mattresses, as long as they choose a mattress that is appropriate for their sleep style and body type. Both hybrids and memory foam beds are available in a variety of firm settings, so you should have no trouble finding a mattress that is perfect for you.
The Bottom Line
Memory foam mattresses adapt to the body and provide spinal support, and they also trap heat. Hybrid mattresses incorporate layers of spring coils with foam or natural fibers. They offer more benefits but are also more costly.
Additionally, hybrid mattresses can have a variety of extra characteristics, such as back support or temperature control, to meet the needs of certain people.
Also Read: How Much Does a Mattress Cost