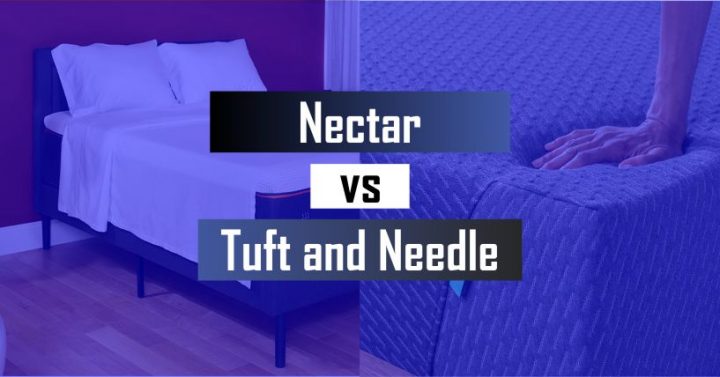 Nectar and Tuft and Needle are two of the best online mattress brands that come in a box. Even though some of the models from these companies are made of similar materials and have similar firmness levels, a lot sets them apart.
Nectar's first bed, the Nectar Mattress, came out in 2017. Two layers of memory foam provide comfort, while transitions are more manageable with a third layer of memory foam. The mattress is not too soft and not too hard.
Since then, the company has made the Nectar Premier and the Nectar Premier Copper, both made of foam. These models also have a medium-firm feel thicker than the flagship Nectar Mattress.
Since 2012, Tuft & Needle has been in business. The T&N Original Mattress is the best bed that the company makes. Three inches of high-density polyfoam cushioning sits on top of a high-density base. The Mint Mattress from Tuft & Needle has a top layer made of graphite and cooling gel to keep the surface from getting too hot.
T&N Hybrid is the third mattress from Tuft & Needle. It has a polyfoam comfort layer, a layer of mini coils, and a pocketed coil support core. The Hybrid mattress is very responsive because it is made with coils on coils, but it feels slightly softer than the other Tuft & Needle beds.
If Tuft & Needle and Nectar are the only two brands you're interested in. We hope this comparison will help you choose the right brand and model.
Tuft and Needle vs Nectar Mattress Overview
If you're looking for the best mattress-in-a-box, these two mattresses will not disappoint. For those looking for an alternative to memory foam, Tuft and Needle have a patented Adaptive Foam. With its slow-recovery memory foam, the Nectar is a luxuriously soft mattress, a great option for couples.
Even if both mattresses are of exceptional quality, customers will only select one. In this post, we'll discuss why they're better suited for different people:
Who Should Purchase the Tuft and Needle Mattress?
Those who are looking for an affordable mattress and want to save money on their purchase
Those who prefer a bed in a box mattress with a balanced foam feel
People with mobility issues and those who have trouble moving around at night
Who Should Purchase the Nectar Mattress?
Those who prefer a classic, slow-moving memory foam feel that lets them sink in.
Side sleepers who want to feel excellent pressure relief on their shoulders and hips
Couples who want a mattress to cut down on motion transfer during the night
Nectar Mattress Construction
Materials: Memory foam
Cover: Quilted Memory Foam Cover
Comfort Layer: Gel Memory Foam
Transitional Layer: Adaptive Hi-Core Memory Foam
Support Layer: Base Layer
Mattress Thickness: 12″ inch
Five layers of softcover the 12-inch Nectar mattress. All year-round, the quilted cover on the top layer helps regulate body temperature thanks to its softness, airiness, and breathability. If you're worried about an uneven sleep surface because of the gel memory foam in the following layer, you won't have to be.
The Adaptive Hi-Core memory foam rests beneath the mattress's top layer to keep your body from sinking in. The foundation layer helps maintain the mattress's overall stability while providing additional support and longevity as a final step.
Tuft & Needle Mattress Construction
Materials: Memory foam
Cover: Ultra-soft cotton cover
Comfort Layer: T&N Adaptive foam
Transitional Layer: N/A
Support Layer: Open-cell Memory Foam Layer
Mattress Thickness: 10 inches
Both the cover and the base layer are Tuft & Needle's materials. T&N Adaptive Foam, breathable, flexible, and supportive, is used for the top layer. Open-cell support foam is used in the mattress's foundation layer, which is long-lasting and resilient. If you're a light sleeper and sleep on your back or stomach, the Tuft & Needle should keep your spine aligned.
Nectar vs Tuft & Needle- Similarities and Differences
These all-foam mattresses have a lot in common but also have some critical variances discussed below. Check out the complete Nectar mattress review and Tuft & Needle mattress review for more in-depth analysis.
Main Similarities
Nectar and Tuft & Needle both rate as medium-firm on the hardness scale with a firmness score of 7. When I get to the ingredients, you'll notice that some of the foams are incredibly similar, so the firmness scores are likely to be the same.
These mattresses are medium firm, perfect for those who prefer to sleep on their backs.
Tuft & Needle's graphite infusion in the top layer likely results in a more comfortable sleep temperature, but both mattresses are good at regulating body temperature.
Main Differences
However, the Nectar's gel memory foam might better suit heavy side sleepers than the Tuft & Needle's. However, lighter side sleepers may prefer a softer mattress.
Although both beds have the same level of firmness and similar materials, the structure of the beds differs—the Nectar has three layers, while the Tuft & Needle only has two.
If you or your pet share a bed, the Nectar is a better choice because of its superior motion transfer performance than the Tuft & Needle.
Who the Nectar Mattress is Most Appropriate For?
Best For
Side sleepers will appreciate this mattress's multiple memory foam components for enhanced comfort.
Couples will like that the memory foam design reduces the amount of transferred motion.
The Nectar is one of the top mattresses for hip discomfort because its all-foam, cushioning construction relieves pressure points.
It May Not Be Best For
This mattress may not provide adequate support for back or stomach sleepers to keep them upright and have healthy spinal alignment.
Those heavier than average may select a more supportive mattress, such as one with coils.
Some people may find the Nectar's cooling features insufficient for hot sleepers.
Who the Tuft & Needle Mattress Is Most Appropriate For?
Best For
This model is great for people who sleep on their backs and don't want their spines to sink into the mattress.
The T&N's open-cell base foam layer provides cooling comfort for those who sleep hot.
The hardness of the Tuft & Needle adaptable foam is ideal for stomach sleepers who are under or about 150 pounds.
It May Not Be Best For
The all-foam T&N may not be the best option for heavy sleepers, especially those who want a more supportive hybrid or innerspring mattress.
More cushioning layers surrounding sensitive pressure points will likely be more comfortable for side sleepers.
Tuft & Needle's memory foam isn't for those who want a slow-moving, classic memory foam experience.
Deciding Between Nectar and Tuft & Needle
Firmness/ Feel
The firmness of a mattress is measured on a scale from 1 to 10, with 1 denoting the softest mattress and 10 designating the firmest mattress. Back sleepers prefer a firmer mattress, while side sleepers prefer a softer mattress.
Side sleepers who need hip and shoulder support will benefit from the Nectar memory foam mattress, which has a firmness level of about six on the firmness scale.
The Tuft & Needle has a firmness rating of 7, making it more suited for people who prefer to sleep on their backs or stomachs. When using the Tuft & Needle, heavier sleepers may experience hip sinks, which can cause problems with spinal alignment.
Those who want a firmer mattress, such as an innerspring or hybrid model, may look at the best mattresses for stomach sleepers.
Motion Isolation
Motion isolation is the ability of a mattress to stop motion from spreading across its surface. As a couple, you want to avoid waking your partner up when you get out of bed. Therefore, motion isolation is essential for you.
Nectar's memory foam mattress is somewhat more comfortable for couples than Tuft & Needle's original model. As a result, all-foam mattresses should be able to isolate motion in general effectively.
Edge Support
Edge support is essential for persons with back discomfort or difficulty getting out of bed. Hybrid and coil mattresses with a reinforced mattress border typically have better edge support. A somewhat higher level of firmness in the Tuft & Needle mattress makes it a little better at providing edge support than the Nectar and Tuft & Needle mattresses.
Pressure Relief
The Nectar mattress incorporates adaptive contour memory foam to reduce pressure areas on your lower back and thighs. With its open-cell construction, the tuft and Needle adapt to your body as you sleep.
Nectar's milder feel makes it an excellent choice for those who suffer from joint pain. If you find yourself changing positions throughout the night, the Tuft & Needle mattress is better.
Spine Alignment
Both mattresses can provide appropriate spinal alignment depending on your sleeping position. Side sleepers will benefit from the Nectar mattress's ability to align their spine while supporting their shoulders. In contrast, back sleepers will appreciate its firmness and ability to keep their spine in the correct position.
Durability
A mattress that lasts for seven to ten years is likely to be a key consideration for buyers. There is a lifetime "Forever warranty" on the Nectar, while the other two have extremely resilient foundation layers that help keep them from dropping with time.
The 10-year limited guarantee provided by Tuft & Needle is industry standard. It may not last as long as a mattress with steel coils, but these beds' dense foam layers impressed us.
Temperature
Memory foam mattresses have the potential to be uncomfortable due to their tendency to "hug" their users while they sleep, trapping heat from the body. The Tuft & Needle Original uses open-cell foundation foam and graphite to dissipate body heat. In contrast, newer mattresses use more revolutionary memory foam that sleeps more excellently.
A hybrid mattress is a top pick for a comfortable sleep on a hot summer night. Hybrid mattresses have a coil structure that naturally enhances ventilation throughout the body.
Nectar vs Tuft & Needle Mint
Nectar vs Tuft & Needle Mint (one of the brand's most upscale bed models) is all about the feel and hardness of the mattresses. How much firmness do you prefer in your skin? Do you want a more traditional foam feel or one that is more like memory foam? To assist you in deciding, answer the following questions.
However, the Tuft & Needle Mint mattress offers a soft feel. This mattress is a good choice for those who sleep on their sides because it is medium-soft. On the other hand, Nectar is excellent for those who sleep on their backs or stomachs.
Nectar vs Tuft & Needle Mattress Pricing
Mattresses exist in various price ranges, from the cheapest to the most expensive. While Tuft & Needle is a more affordable option, Nectar is an example of a mattress that falls somewhere in between the two price ranges. Here's how much Tuft & Needle and Nectar charge for queen-sized beds:
| | | |
| --- | --- | --- |
| Size | Nectar (Discount) | Tuft & Needle |
| Twin | $599 ($499) | $645 |
| Twin XL | $669 ($569) | $695 |
| Full | $799 ($699) | $795 |
| Queen | $899 ($799) | $895 |
| King | $1,199 ($1,099) | $1,095 |
| Cal King | $1,199 ($1,099) | $1,095 |
Shipping, Returns, Trial Periods, and Warranties
Shipping, refunds, trial periods, and warranty policies are widespread in the internet mattress sector. It's time to get the specifics on these two brands:
Shipping: Free shipping is provided by both of these companies.
Returns: Nectar returns can be requested after 30 days but before 365 days. A third-party provider removes the mattress. In addition, a third-party return service is utilized by Tuft & Needle.
Trial Period Length: There are only 100 nights in Tuft & Needle, yet there are 365 nights in Nectar.
Warranty Policy: As long as you own the mattress, Nectar provides a lifetime warranty. An extended warranty of 10 years is available for Tuft & Needle products.
Also Read: 12 Best Mattress for Guest Room of 2022
Final Thoughts
You may get a good night's rest on either the Nectar memory foam mattress or the Tuft & Needle Original mattress, but whether one is superior will depend on how you typically get your rest. If you sleep on your side or if you and another person share a bed, the Nectar mattress might be the most suitable option for you.
The Tuft & Needle Original is the bedding that we would recommend for you if you tend to sleep hot, favor sleeping on your back or stomach, and are interested in finding a more reasonably priced mattress.