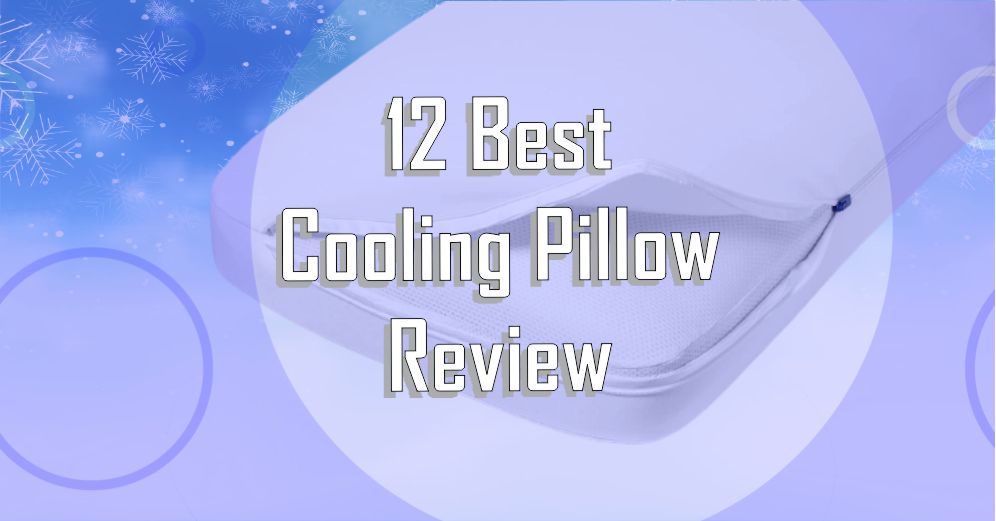 If you tend to get hot at night, a comfortable cooling pillow can make a significant difference in your ability to sleep. It doesn't matter if you sleep on your side, your back, or your stomach; the best cooling pillow is comfortable, supportive, and ventilated to prevent you from warming while you sleep.
Gel-infused memory foam is the most common material for cooling pillows, but they can also label as hybrids, with one side commonly made of foam. Moisture-wicking and breathability are essential since they help keep your body temperature in check, just like other cooling bedding.
Our goal is to help you find the best pillow for your bed by comparing memory foam, shredding latex, down alternatives, and polyester pillows. Cooling gel and permeable covers are among the features of these pillows so that you can expect a comfortable night's sleep.
List of 12 Best Cooling Pillows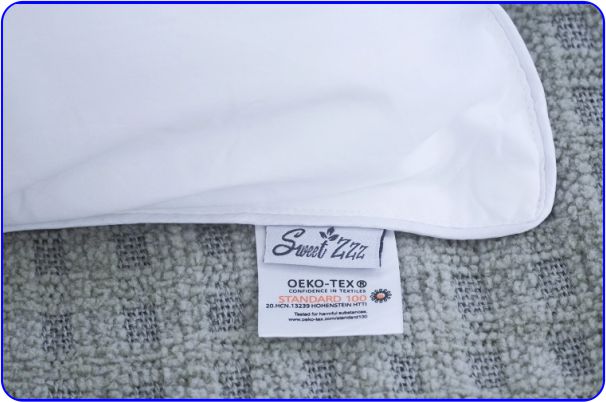 Sweet Zzz Plant-Based Pillow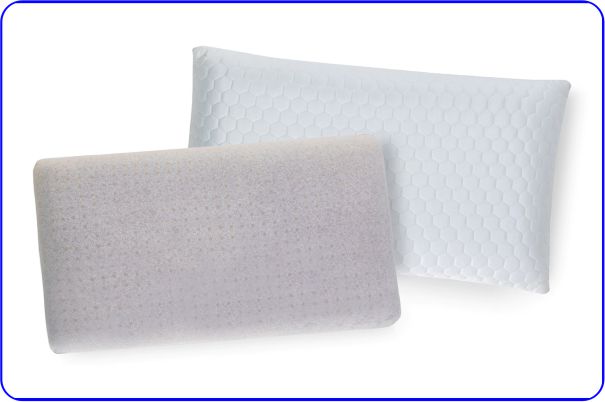 Brooklyn Bedding Luxury Cooling Pillows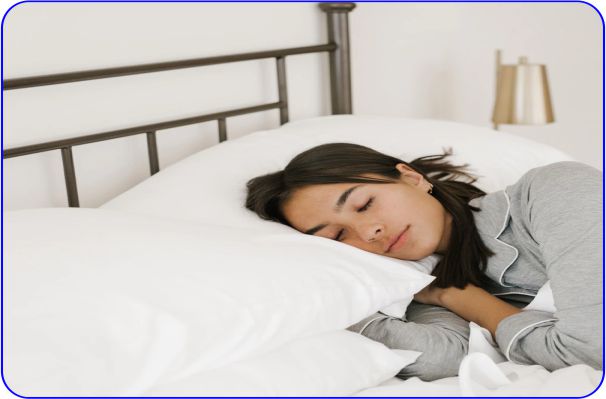 Best Luxury- Cozy Earth Silk Pillow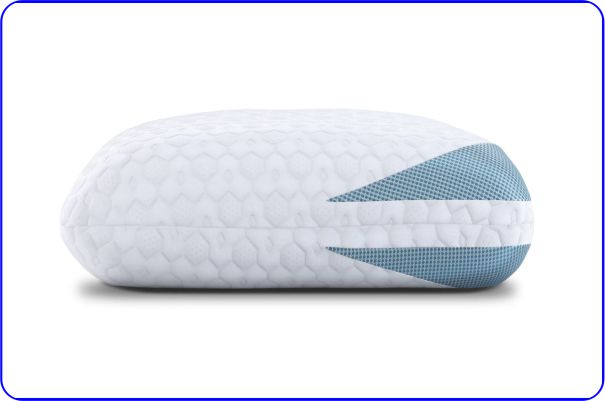 Best for Side Sleepers- Bear Pillow
1. GhostBed GhostPillow- Memory Foam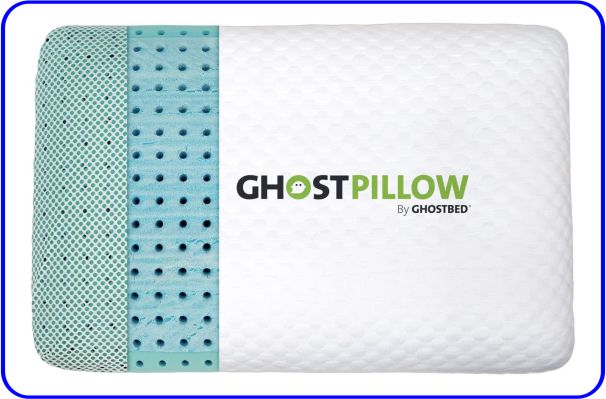 Highlights
Aerated Gel Memory Foam
Firmness Level: Medium Firm
Cooling Cover Regulate Temperature
Solid Memory Foam Contours Deeply
6-inches Loft
Product Description
A memory foam pillow with a cooler operating temperature than the standard foam cushion is the GhostBed GhostPillow Memory Foam. For those who prefer a medium-firm feel and loft, the Pillow is created with various cooling characteristics that are supposed to keep the sleeper cool and comfortable.
An aerated layer of memory foam serves as the Pillow's core, allowing the air to flow freely. The zippered outer cover is made of Ghost Ice fabric, which is meant to feel cool to the touch, and an inner surface composed of mesh cotton fabric for further ventilation.
In addition, the cushion has a phase change material that adjusts to changes in body temperature during the night. Medium firmness and a 6-inch loft characterize this Pillow.
Back and side sleepers choose pillows with medium and high thickness and medium hardness, which are both suitable with these properties.
People with hypersensitive pressure areas in the head and neck area will benefit from the foam's deep contouring. GhostBed offers free shipping and returns for orders placed within the 48 contiguous states.
2. Snuggle-Pedic Ultra-Memory Foam Pillow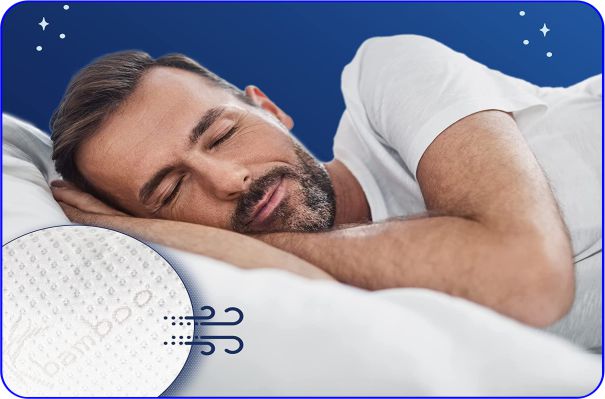 Highlights
Luxury Bamboo Shredded
Original Memory Foam Pillows
Luxurious Kool-Flow Bamboo Bedding
Sizes Available: Standard, Queen, and King
Greenguard Gold Certified
Made in the USA
Product Description
The memory foam pillows have passed extensive third-party testing procedures and are Greenguard Gold Certified to protect your family, quality, and comfort, so you can sleep soundly.
This bamboo pillow is the stuff of dreams. Shredded memory foam added to the mix offers additional buoyant support and was created with you in mind (as well as your sleep regimen).
Medium firmness and a 6-inch loft characterize this Pillow. Back and side sleepers choose pillows with medium and high thickness and medium hardness, which are both suitable with these properties.
People with hypersensitive pressure areas in the head and neck area will benefit from the foam's deep contouring.
The queen pillows are incredibly sturdy, designed for everyone, and, best of all, created in the United States, ensuring the highest quality pillow!
3. Best Overall- Layla Kapok Pillow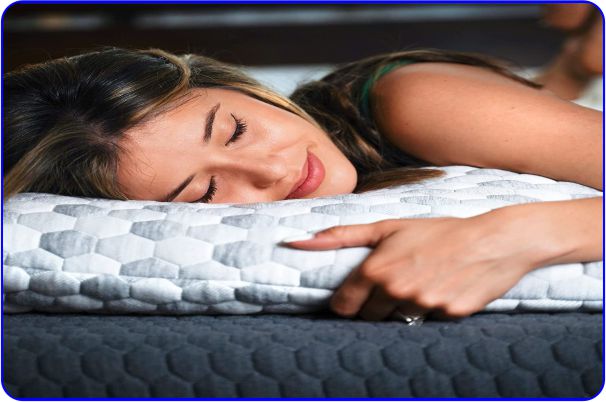 Highlights
Layla Sleep Kapok Pillows
Cooling Capabilities
Natural Puffing
Comfortably Customizable
Refreshing Sleep with a Cloudy, Light Atmosphere
Size: Standard and Queen
Product Description
A unique combination of Kapok fibers and responsive memory foam fill not only looks like a dream come true, but it also allows this Pillow to mold to you and keeps its shape all across the night.
The very soft fabric is a polyester/ viscose blend with our unique hexagon stitching that not only looks and feels great but is also highly breathable to allow optimum airflow through the cushion.
When you thought the cooling Pillow couldn't get any cooler now. The time has come! With the zipper-free, self-adapting bed pillows, you'll be able to sleep comfortably on your back, stomach, or side.
The Layla® Kapok Pillow features a breathable cover and a blend of light and airy Kapok fibers and shredded memory foam for a more peaceful night's sleep. There are no more days of switching a pillow over to the "cool side" to keep you cool.
4. Cooling Pillow- Casper Foam Pillow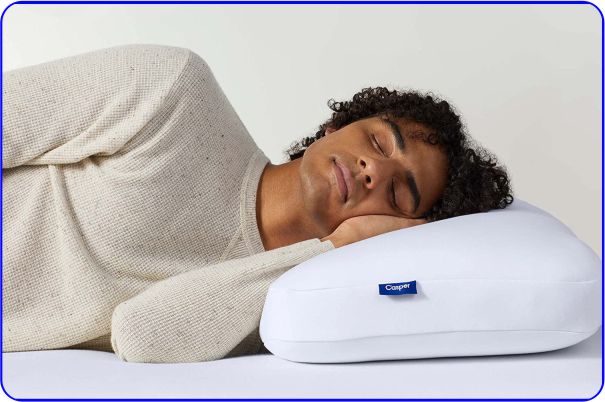 Highlights
Foam Pillow for Sleeping
Helps keep your neck and head in Good Alignment.
AirScapeTM Perforated Foam
A soft feel makes you Comfortable
Product Description
Using Casper's unique AirScape foam, this Pillow has breathable and air-circulating qualities that prevent heat from building up.
Head and neck alignment are further helped by the Pillow's two pillow heights, Mid Loft and Low Loft, which you may select based on how much support you need. A quick survey is available from the company to help you determine which product is right for you!
To minimize overheating, tiny holes in the foam flow air out and away from the body. The extra ventilated jersey knit cover is both stylish and comfortable to wear.
5. Sweet Zzz Plant-Based Pillow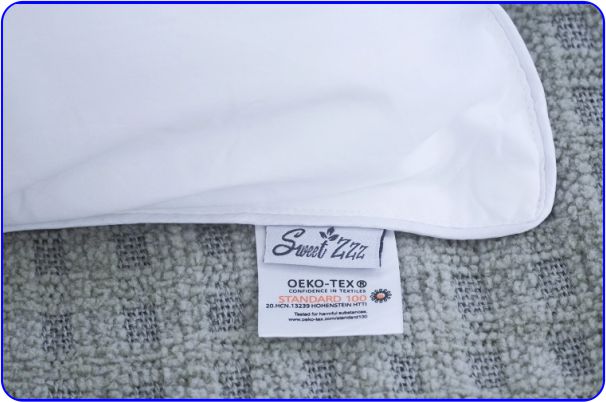 Highlights
Plant-based Down Alternative Fibers
Firmness: Medium
Animal-free Down Alternative Fill
Cotton Cover
Longevity and Affordability
Product Description
Generally, down replacement pillows are inexpensive, although some are of better quality and function than others. The Sweet Zzz Plant-Based Pillow is an excellent example of a well-made, affordable product.
The fill comprises plant-based down replacement clusters that are free of genuine down, appealing to both down allergy sufferers and animal lovers. An excellent cotton cover encompasses the packing and encourages air circulation.
In addition to back sleepers, side sleepers who like more head and neck cushioning will appreciate the Plant-Based Pillow's high fill and thick profile. There are two-bed sizes to choose from queen and king.
The Pillow's cover and contents are both machine washable, making it both inexpensive and easy to maintain. You can also use your household dryer to restore the item to its original shape periodically.
Additionally, the Plant-Based Pillow is eligible for free ground shipping in the contiguous United States. For Canadian buyers, shipping costs are equally reasonable.
Each order includes a 50-night sleep trial and a manufacturer's guarantee covering structural problems for up to a year for those who decide to keep the Pillow.
6. Best Gel- Coop Home Goods Shredded Memory Foam Pillow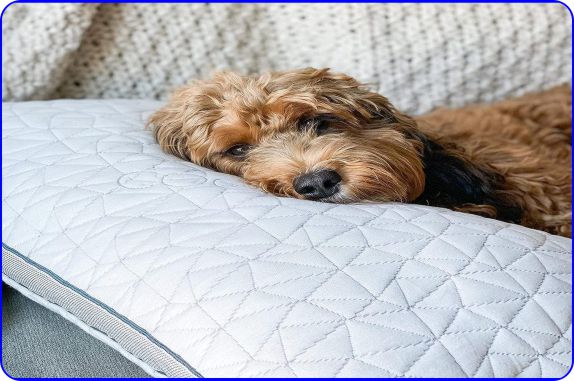 Highlights
Queen Size Bed Pillow for Sleeping
Adjustable Cross Cut Memory Foam Pillows
Cooling Gel
Washable Cover from Bamboo Rayon
5-Year Guarantee
Made in the USA
CertiPUR-US/ GREENGUARD Gold Certified
Product Description
Your quest for the perfect customizable Pillow is over. A gusseted construction provides edge-to-edge support, and the soft, gel-infused memory foam and microfiber fill combination keep you more relaxed.
Sleeping poorly causes pain, snoring, tossing, and turning. Our innovative adjustable design lets you add or remove memory foam filling to fit your size, shape, and sleeping position.
The Coop Home Goods Eden Pillows are CertiPUR-US and GREENGUARD Gold certified for safety and quality. The case comprises ultra-fabric, bamboo-derived viscose rayon and a breathable and comfortable polyester blend.
Refreshed by premium materials Unlike other pillows, the foam is not reused. If you require a higher loft, a 12 lb. bag of fill is included.
It's now possible to buy with complete assurance. You can exchange the Pillow for a full refund if you don't fall in love with it in the first 100 nights (we're confident you will).
7. Best Budget- Linenspa Shredded Memory Foam Pillow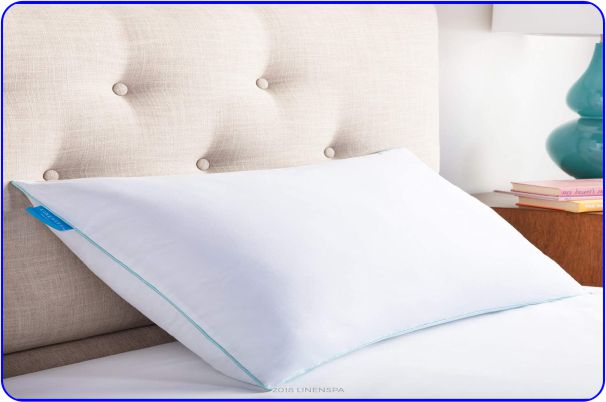 Highlights
Conforming Shredded Memory Foam Filling
Cooling Gel Encasement Layer
Fluff and Pat for Customized Comfort
3-Year Warranty
Product Description
Linenspa's shredded memory foam cushion is an excellent option at a reasonable price point. Comfortable, hypoallergenic shredded memory foam and gel-infused memory foam cover the Pillow's perfect sleep surface to keep you cool throughout the night.
Soft and supportive, the shredded memory foam padding can be fluffed into the shape that best suits you. A removable and machine-washable cover made of 100% cotton is included.
This Pillow still has another perk. You can rest assured that the foam is free of heavy metals because CertiPUR-US has verified it. These beds are available in three different lengths: twin, queen, and king.
8. Brooklyn Bedding Luxury Cooling Pillows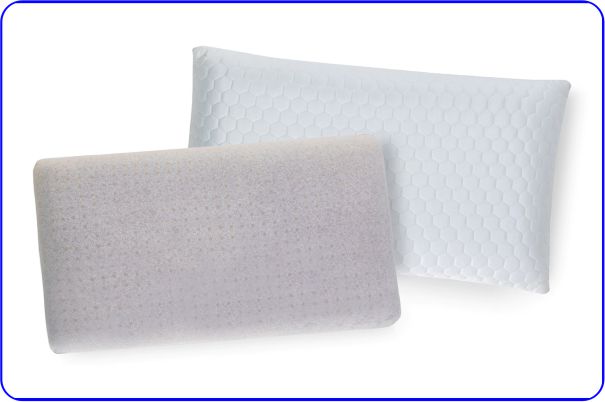 Highlights
Luxury Cooling Pillows
Memory Foam Pillow
Responsive Contouring
Exceptional Cooling
Product Description
Both pin core ventilation for enhanced airflow and an excellent gel surface infusion takes heat from your head and neck away from you. Copper-graphite is an antibacterial and breathable material.
The silky smoothness and superb breathability of a superior circular knit cover give cooling advantages to the touch. Allergens, mold, germs, and dust mites have no chance in these materials since they are naturally antibacterial.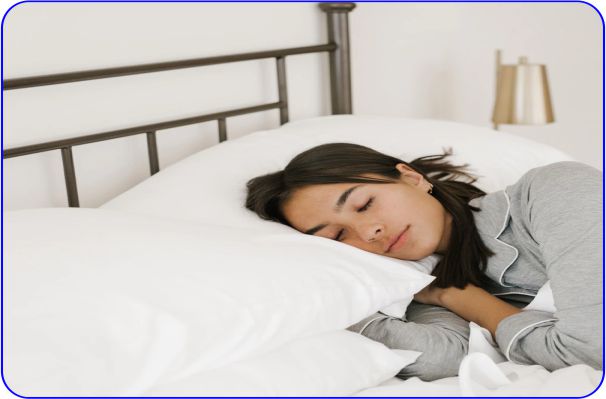 Highlights
100% Mulberry Silk
Luxurious Mulberry Silk Filling
Bamboo Viscose Cover
Fully Washable
Product Description
Few fabrics are as naturally excellent as silk. The Cozy Earth Silk Pillow is filled with Grade AAA long-strand mulberry silk, a soft, breathable material that provides a fluffy head and neck cushion.
This silk is also solid, so the buffer should not lose shape quickly. A bamboo viscose cover adds to the luxury.
The Silk Pillow's initial cost may appear high, but its performance and estimated lifespan make it a worthwhile purchase. Each order also includes a 100-night sleep trial and a 10-year guarantee against problems like pilling and discoloration.
The fill resists clumping and shifting, requiring less frequent fluffing. The bamboo used to make the cover fabric is cultivated without pesticides, and the Pillow is free of toxic colors or chemicals, making it an eco-friendly choice.
Wash and dry it in any household appliance to clean the cushion. Available in standard and king.
10. Best for Side Sleepers- Bear Pillow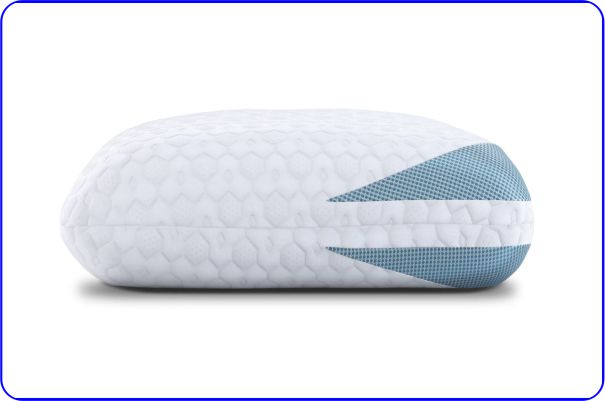 Highlights
Double-Ice Fabric
Loft-X Foam
Dual Mesh Corner Accents
Hypoallergenic/ Anti-Microbial
Cool to the Touch Cover
Lifetime Warranty
Product Description
The Bear Pillow features a Double Ice fabric covering with mesh panels on both ends for optimal airflow while you sleep. Memory foam provides the contouring support, while latex provides the durable bounce of a latex cushion.
The medium hardness of this supporting Pillow makes it ideal for side sleepers, but it's suitable for all sleeping positions. Moreover, the Pillow is free of allergens and microorganisms.
11. Weekender Ventilated Gel Memory Foam Pillow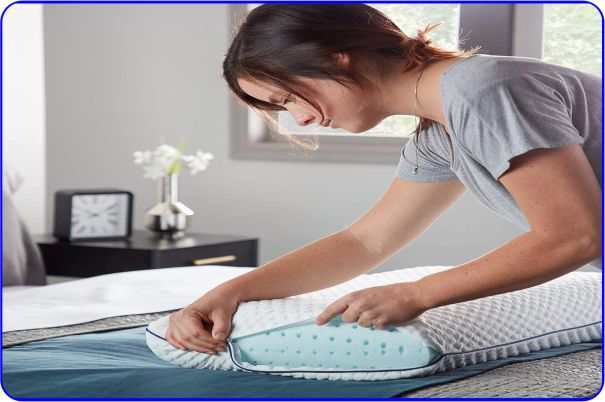 Highlights
Ventilated Gel Memory Foam Pillow
Washable Cover
Standard Size
Product Description
Soft while also being supportive, Memory foam that has been certified by CertiPUR-US delivers improved pressure reduction and comfort. Temperature-regulating gel has been infused into the pillow to provide more pleasant sleeping conditions.
The design is ventilated to ensure maximum air movement. The cooling side helps to remove body heat. The removable cover is machine washable; the standard mid loft pillow dimensions are 16 inches by 25 inches with a 5-inch loft, and the pillow dimensions are 16 inches by 25 inches with a 5-inch loft.
3-year warranty; firmer than regular down or down substitute materials.
12. Best Customizable- Xtreme Comforts Hypoallergenic Bamboo Pillow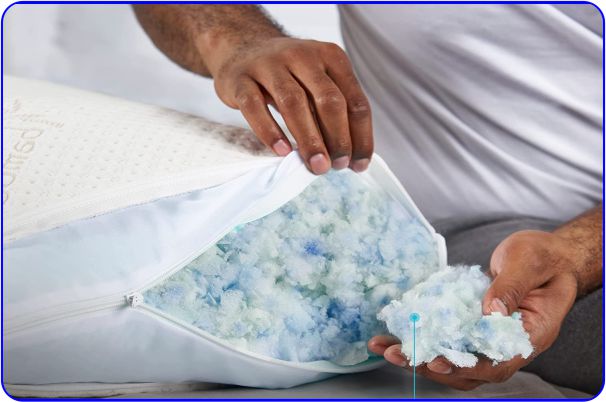 Highlights
Xtreme Comforts Pillows for Sleeping
Greenguard Gold Certified
Removable Cooling Zipper Cover
Bedside, Back & Stomach Sleepers Memory Foam King Pillow
Made in the USA
Product Description
This Pillow may be modified to fit your sleeping position, whether you prefer to sleep on your stomach, back, or side. The shredded memory foam stuffing can be added or removed as needed to get the optimal degree of support.
Although the filling is not infused like the other options on the list, the ventilated bamboo cover makes up for unique cooling systems that increase airflow and help regulate body temperature. Hypoallergenic and machine-washable, this item is a great choice.
What is a Cooling Pillow?
A cooling pillow helps to keep you cool while you sleep by preventing heat retention and providing a cold or temperature balance sleep surface. This cushion is designed to take heat from its surroundings and promote ventilation to avoid heat retention.
The fabrics used to make the pillow cover are frequently moisture-wicking and breathable. The appropriate Pillow is only one part of establishing a pleasant sleeping environment.
There are many other factors to consider as well. The temperature directly correlates with sleep quality, and your bedroom should be kept at a temperature that is just right. Many studies show that sleeping in a colder room (65 degrees Fahrenheit or lower) improves the quality of life.
When it's time to go to sleep, your body's circadian cycle lowers your body temperature.
A sweltering room can help you stay awake. As a result, the body's sleep-wake process is thrown off, resulting in restless nights. A person's sleeping temperature might vary widely. This may make it more difficult to drift off to sleep. Bedding with a cooling effect can help you get a good night's sleep.
What Are the Advantages and Disadvantages of a Cooling Pillow?
The ability to regulate one's body temperature is a significant selling point for cooling pillows. Pillows like this help keep the temperature in the room at a pleasant level while you sleep.
Because of their superior cooling and higher-quality materials, cooling pillows are a bit more out of reach for most people. Before choosing a cooling cushion, there are a few things to consider.
Pros
Temperature Neutrality: Cooling pillows move heat away from the body, preventing it from becoming too hot while sleeping.
Long Lifespan: Cooling pillows are constructed of long-lasting materials, resulting in longer service life.
Pressure Relief: It is possible to ease tension in the shoulders and neck by using cooling pillows made of latex or form composition.
Adjustable Loft: Perforated foam, buckwheat, or woolen fill can be taken from or added to a customizable pillow to create a more personalized experience.
Cons
Cost: Because of the high quality of the materials used in cooling pillows, they are more expensive than the usual Pillow.
Maintenance: It's tough to clean many cooling pillows, especially if they contain a firm foam or latex core that can't be machine washed.
Not for Everyone: All those who don't sleep hot could find that a cooling cushion is not necessary for their situation.
Odor: The components used in cooling pillows can release gasses or have a natural fragrance, depending on their composition.
Conclusion
Phase Change Material technology, humidity fabrics, and ventilated fillings are just a few of the ways a pillow can assist a sleeper in staying calm. If you want to sleep cool, there are many options available. I've compiled a list of the 12 best cooling pillows, each of which adds a unique element to the overall experience.
For side sleepers, back sleepers, stomach sleepers, and, perhaps most importantly, heat sleepers, we have a selection of pillows that will meet the needs of even the most demanding sleeper.
"This article contains affiliate links, which means that Best Mattress Advisor will be compensated if you buy something after clicking on one of the links. Read full disclosure statement."