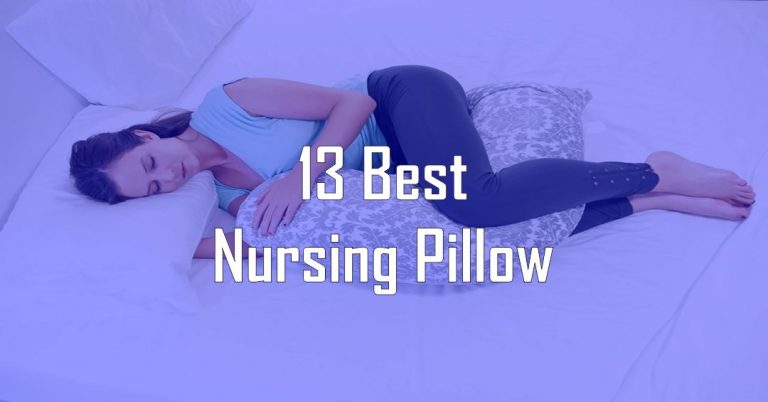 There are many benefits to breastfeeding your infant. Still, the physical discomfort of cradling your baby in the ideal posture can be a nuisance. With a nursing cushion on hand, you'll be able to provide yourself with the necessary support when breastfeeding your child.
The best nursing pillow is one of the few baby goods that provides a high return on investment. One baby item you'll use every day for weeks, if not months, is a high chair.
Nursing pillows can save your back and shoulders, aid in a restful night's sleep, and get your breast milk flowing—all while keeping your baby happy and content. A feeding cushion makes it easier to feed on your arms by cradling your infant in a comfortable position.
A variety of breastfeeding positions can be accommodated by the best nursing pillows we've compiled here.
List of 13 Best Nursing Pillow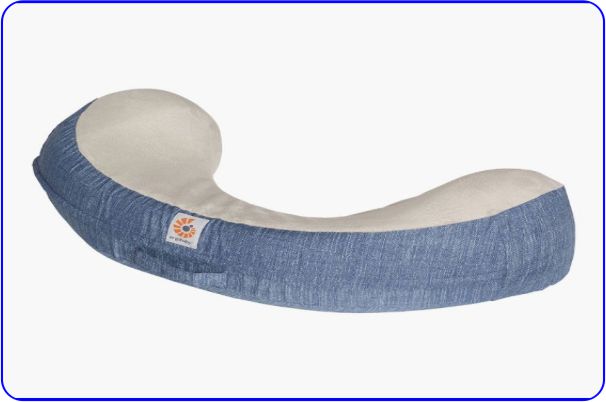 Budget-Friendly Posture Pillow
1. Best Overall Nursing Pillow- Nook Niche Organic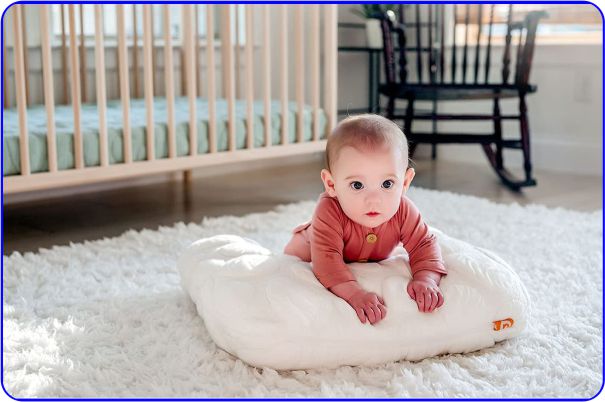 Highlights
Niche Nursing Pillow
Organic Kapok Filling
Water and Stain Resistant
Organic Cotton and Eucalyptus Fabric
Removable and Machine-Washable Cover
Product Description
U-shaped, the Nook Niche Organic is made of primarily natural materials and is ideal for breastfeeding. Natural wax covering the organic kapok core prevents moisture from absorbing, making it hypoallergenic and lighter than cotton.
Compared to other polyfill pillows, this one provides a firmer level of comfort and support. The pillow's arms are long enough to provide elbow support, and the outer fabric is sticky enough to keep the cushion in place.
If you have an armchair, the U-shape will fit perfectly, and the pillow's flexibility will allow it to work around a wide range of body shapes.
With its long and wide surface, this pillow can support your baby's entire body while they are nursing. Tummy time, support for babies learning to sit independently, and a cushion for toddlers all benefit from the shape's versatility.
Pros
The Majority of the Materials are Natural.
It is Simple to Position and is Versatile.
Cons
Delicate Design on the Cover
Expensive
2. Blessed Nest The Nesting Pillow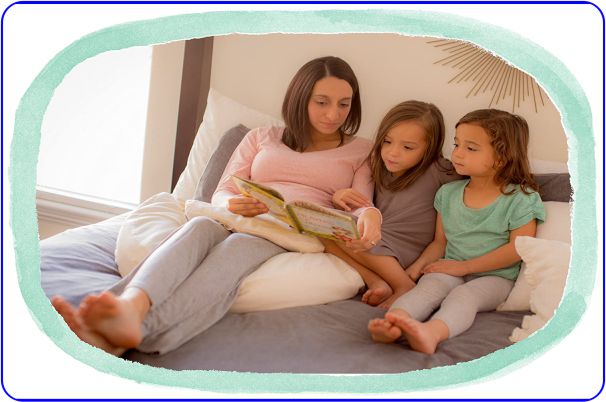 Highlights
The Nesting Pillow
Natural Organic Breastfeeding Pillow
Washable Slipcover (Paloma)
Organic Buckwheat and Cotton
Made in the USA
Product Description
The high-quality materials used in the production of this pillow set it apart from the crowd. Changing the pillow's shape to accommodate your body and elevating your infant to different heights is easy with the buckwheat filling's moldability. Some parents even likened it to a bean bag.
All of the pillow's materials are certified organic, and the cover is made of organic cotton canvas. The negative of this cushion is that it is heavy and pricey.
Pros
100% Organic Cotton
Stable and Flexible Support
Certified Organic Fabric
3. Best Wrap-Around Nursing Pillow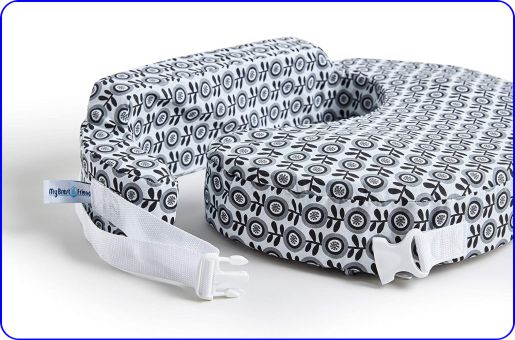 Highlights
Nursing Pillow, Midnight Poppy
Wrap-around Design
100% Cotton Fabric
Product Description
For women concerned about their infant rolling off of other nursing pillows because they do not have a level surface, the comprehensive style of the My Brest Friend nursing pillow will gain massive points.
This popular nursing cushion is designed to be worn around your waist to provide lumbar support for your lower back as you breastfeed. Burp cloths, binkies, cell phones, and even a bottle of water can be stored in a bit of a side pocket that is hard to see.
Pros
Help to Maintain Baby Positioning
Convenient Pocket for Accessories
The strap is used to eliminate the gap between baby and Mom
4. Boppy Original Nursing Pillow and Positioner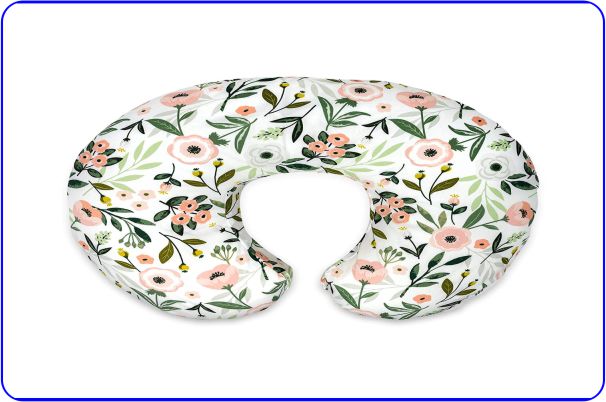 Highlights
Original Nursing Pillow and Positioner
Pink Garden Flowers
Breastfeeding, Bottle Feeding, Baby Support
Removable Cotton Blend Cover
Awake-Time Support
Product Description
For more than 25 years, the Boppy has been a go-to for breastfeeding mothers. As a result, mothers can comfortably carry their infants in various ways while still ensuring that they are both safe and secure.
You can use it to prop newborns up, aid them with tummy time and provide some soft padding when they're learning to sit with this award-winning device.
A wide selection of colors and prints are available for the slipcovers, including this adorable animal-themed one, which is machine washable.
You can purchase them separately if you need a second cover while the first is being washed. It's firm yet soft and pliable and a "lifesaver" for parents' arms and back, according to the pillow's fans among mothers.
Pros
Versatile
Removable slipcover
Pillow and Cover are Machine Washable
Cons
No Water Protection
May not Feel Comfortable for Every Body Type
5. My Brest Friend Supportive Nursing Pillow for Twins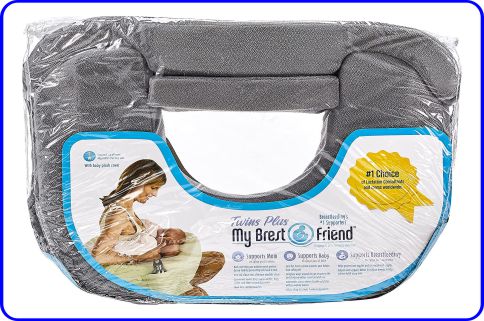 Highlights
Nursing Pillow for Twins 0-12 Months
Wrap-around Design
Plus-Size, Dark Grey
Product Description
Unlike other crescent-shaped nursing pillows, My Brest Friend's unique design allows it to nestle snugly against the wearer, reducing the gap.
Consistent feedings are made possible by ensuring that the latch is secure. They are assuring the safety and well-being of your child while breastfeeding is the company's priority.
Convenient side pocket stores all of your maternity necessities for quick and easy access when you need them most. In order not to disrupt your baby's feeding routine by getting up in the middle of it, store additional bottles, nipple cream, or even your smartphone.
Having a design wrap around your back and shoulders provide much-needed comfort and relief. Your baby will be in the best possible posture when you use My Brest Friend Original Nursing Pillow.
When your baby falls asleep, clever silent-release straps allow you to sneak away without awakening the baby silently.
Pros
Supportive Feel
Convenient Pocket
Easily Feed to Twins
6. Leachco Cuddle-U Original Nursing Pillow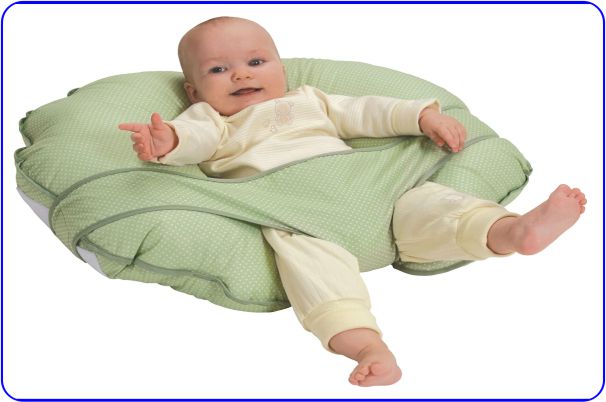 Highlights
Leachco Cuddle-U Basic Nursing Pillow
Sage Pin Dot
Polyester and Cotton Material
Product Description
As the manufacturer of one of the favorite pregnancy pillows, it should come as no surprise that the brand's flexible, extra-thick nursing cushion is also a hit with moms-to-be.
The Leachco Cuddle-U is similar to the Boppy in that it is U-shaped and can be used for nursing, tummy time, and seat support. Parents of wiggly babies will love the innovative seat wrap designed to keep the baby in place while you're nursing the baby.
Pros
It can be used as a Seat or a Breastfeeding Pillow.
Ideal for a Restless Infant.
Cons
The cover is Not Removable
Pillow is Not Machine-Washable
7. Frida Mom Adjustable Nursing Pillow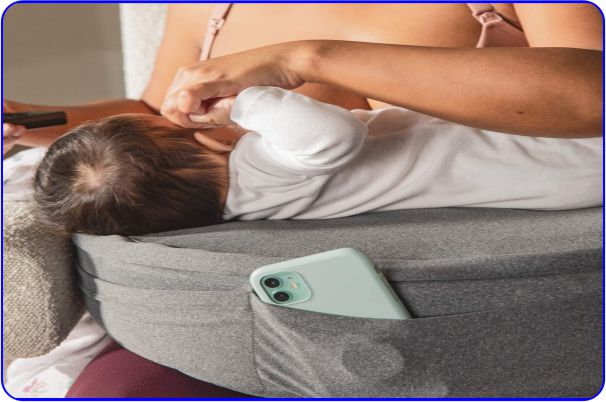 Highlights
Customizable Breastfeeding Pillow for Mom
Baby Comfort with Back Support
Adjustable Wrap-Around Waist Strap
Pockets for Heat Relief
Product Description
You can find the optimal breast lap-to-latch posture with just one breastfeeding cushion. Besides having three removable layers to assist you in finding the ideal height for your size, it also has variable cushioning levels to accommodate the baby's demands, whether cradled heavily or lightly.
Back support and adjustable waistband help to keep mom comfortable. There are also storage pockets for her phone and water and an optional bag for heat packs to help ease postpartum pain.
Pros
Storage Pockets
Provides Back Support
Different Cushioning Levels
Cons
Back Support can Feel Too Small for Some Users
Heat Pad Sold Separately for Heat Pad Pocket
8. Luna Lullaby Bosom Baby Nursing Pillow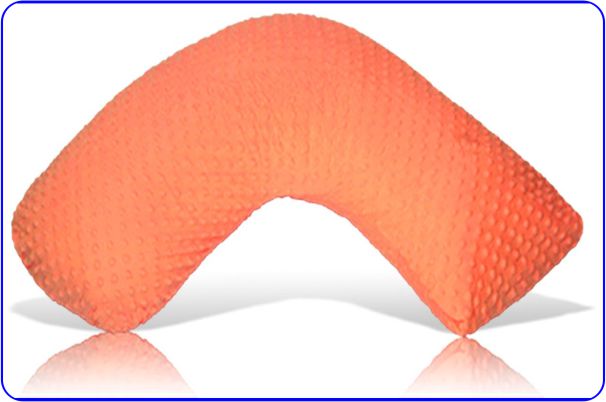 Highlights
Baby Nursing Pillow
100% Polyester
Made in the USA
Product Description
Even though there is no one-size-fits-all nursing cushion, most testers overwhelmingly preferred the Luna Lullaby Bosom Baby Nursing Pillow.
Designers found it to be the most versatile nursing pillow we evaluated because of its L-shaped design, which provides a larger surface area than its competitors' body-hugging C- or U-shaped designs.
As one of the most adaptable pillows, the form and plush bouncy fill make it supportive enough for most breastfeeding parents while also being comfortable for baby tummy time or resting on the couch.
For one thing, the fabric used to cover it is soft and cuddly, and there are an infinite number of designs to choose from.
Pros
Luxurious Breastfeeding Pillow
Removable and Washable Luxurious Cover
9. Twin Z Pillow The Cream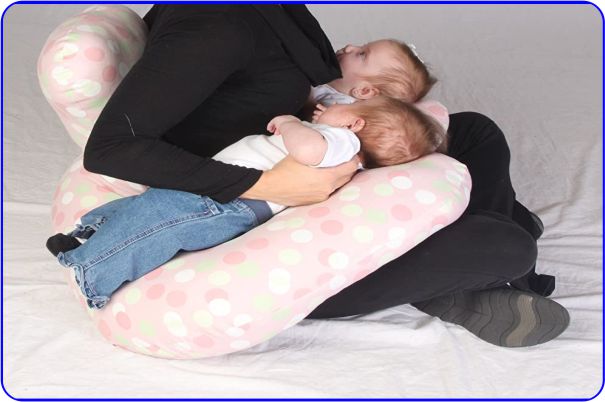 Highlights
Six Uses in 1 Twin Pillow
Breastfeeding, Bottle-feeding
Tummy Time
Reflux, Support, and Pregnancy Pillow
Cuddle Cream DOTS
Product Description
While breastfeeding one child might be difficult, adding a second child to the mix can make things even more difficult. That's why so many moms of multiples swear by this pillow made just for nursing their babies.
One baby can nurse at a time on either side, and a backrest keeps mom comfortable. C-section moms will benefit from it since it helps relieve pressure on the stomach when breastfeeding.
Many multiples swear by this product after seeing it on the hit TV show Shark Tank. There are numerous testimonials from parents who say it was the best investment they've ever made for their twins.
It is used for tummy time and to support newborns as they learn to sit and further explore the environment and feed.
Pros
Six Different Uses
Specifically Designed to Feed Twins
10. Humble-Bee Nurse-Sling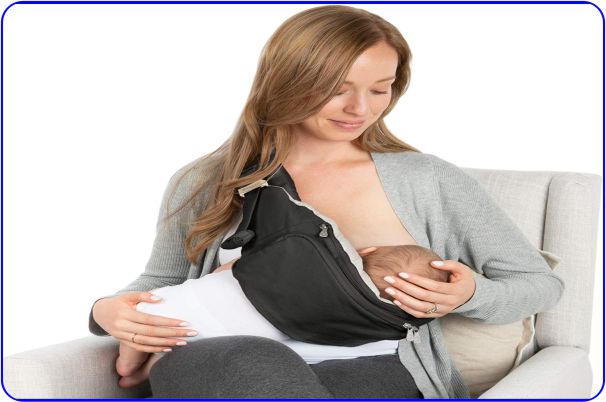 Highlights
Nursing Pillow
Sling Bag
Ergonomic Support
100% Machine Washable
Product Description
Mothers may breastfeed in complete comfort and support with the Nurse-sling thanks to a patent-pending, revolutionary nursing pillow. Whether you're a mom or a dad, the ultra-plush shoulder strap may be adjusted to match your needs.
The Nurse-sling is small and easy to carry anywhere. It comes with a small carrying case, so you can take it with you wherever you go.
While traveling, you can have a private meal thanks to the well-thought-out design. It features a parent pocket with a zipper for storing small items. Yes, the Nurse-sling can be washed in the washing machine.
Pros
Packable
Versatile
Hands-Free Nursing
Cons
Minimal Support
Difficult to Position Correctly
Extra-Long Strap
11. Budget-Friendly Posture Pillow- Ergo baby Natural Curve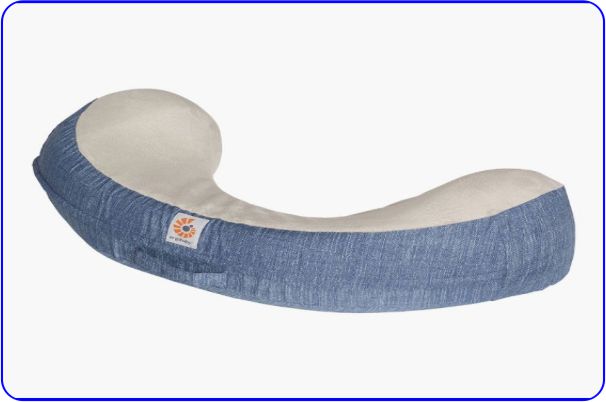 Highlights
Nursing Comfort
Quality Construction
Machine Washable Cover
Product Description
The Ergo Baby Natural Curve makes a contoured polyurethane foam breastfeeding cushion. It's solid, non-flammable, and features a machine-washable cover.
It is ingeniously engineered to allow belly-to-belly breastfeeding while keeping the baby's head above the tummy. Also, the material's hardness does not degrade with time.
The increased support from Ergo Baby is supposed to help reduce slouching and back pain during nursing. This cushion is not as adaptable as others due to its purpose-specific design.
Its properties as a nursing cushion exclude its use in other capacities. It's too stiff to be a comfy backrest for mom and too soft to be a baby support cushion.
The Natural Curve lacks a belt strap, which some mothers found challenging to adjust. Overall, we found this cushion to be good. The Ergo infant is an attractive choice if you want a single-purpose product that supports good posture.
Pros
Highly Supportive Pillow
Ergonomic Shape
Helps to Maintain Good Posture
12. Infantino Elevate Adjustable Nursing and Breastfeeding Pillow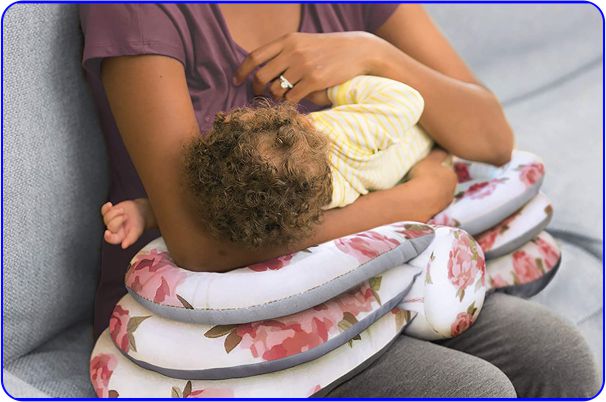 Highlights
Multiple Angle-altering Layers
Proper Positioning
Polyester Material
Easy to Clean
Product Description
Layers in this cleverly designed breastfeeding cushion aid mums in getting their infant precisely correct. The multilayered pillow may be changed to meet the needs of any mother, whether they like to cradle their infant or hold them upright.
When nursing, elevating your baby's head closer to your body is as simple as adding more clothes on one side.
Pros
Multiple Adjustable Layers
Machine Washable
Cons
Material may Feel Scratchy to Some
13. Daddy-O Bottle Feeding Pillow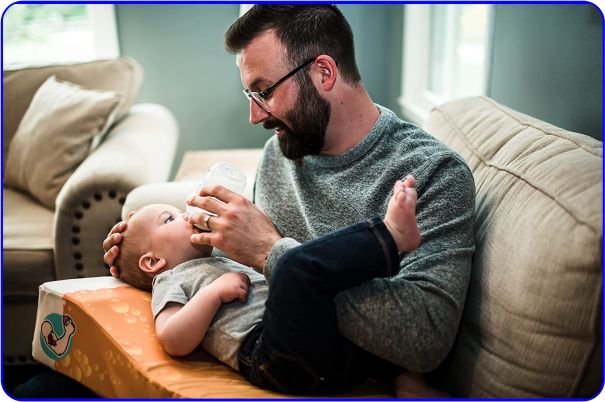 Highlights
Designed for Bottle Feeding
Machine Washable
Made in the USA
Product Description
The bottle-feeding pillow is just that: it's made for that. Allows you to feed the baby with a bottle while still freeing your hands. They are designed to raise the baby's head by gently sloping.
Foam cores with low density are ideal for supporting a baby. It's velvety soft, yet it's machine washable, thanks to the interlocking polyester slipcovers. Experts believe parents are often overlooked when it comes to feeding their children.
Everything that can be done to make breastfeeding more comfortable is something we should be in favor of. On the other hand, dads also feed babies, and there is a distinct lack of products on the market to assist them in this role.
Moms, grandparents, friends, babysitters, and other family members can all use the Daddy-O Pillow. This is designed to make bottle feeding as convenient and comfortable as possible.
Pros
Supports Baby during Feeding
Comfortable
Choosing a Breastfeeding Pillow
Size/ Shape
The size and design of a breastfeeding cushion are two of the most crucial things to consider. Breastfeeding might put you in some awkward positions, so you'll need a pillow that's comfy around your midsection.
Some breastfeeding pillows have a moon shape, while others are designed to be worn on or under the arm. And because pillows come in a variety of forms, this lets you compare the sizes of each one. A cushion that's overly heavy or too large is not what you want.
Support
All kinds of forms and sizes and sorts of support are available for nursing pillows. Some provide back support, while others offer additional support for the upper arms. Make sure that both you and your baby are comfortable while you're taking care of the newborn.
It is the objective of a breastfeeding cushion to assist you and your baby when you breastfeed. Pillows vary in firmness, so keep that in mind when selecting one for you and your unborn child.
Washable
Whether or not a breastfeeding pillow can be machine washed is a crucial consideration that you should not ignore. Cleaning up after use will be much simpler if you can machine wash the garments.
The cushion or cover should be machine washed before putting them in the washing machine or the dryer. If you skip any of these processes, you run the risk of ruining your pillow or cover.
Conclusion
Being a mother is an emotional roller coaster, one that involves a lot of trial and error and a lot of learning. Babies often eat for more extended periods than you expected, whether they are breastfed or bottle-fed.
Designers believe you'll appreciate having an appropriately supportive accessory by your side, especially given that some feeding sessions can last up to 40 minutes.
A breastfeeding cushion can be a lifesaver in this situation since it gives you the extra support you need when feeding your baby.
Make the correct decision for you and your baby by letting us help you with the facts and specifics. It can be challenging to get a good night's sleep while nursing.
You don't have to let your shoulders, neck, back, and arms ache unnecessarily because there are a variety of shapes, features, and pricing points to choose from.
"This article contains affiliate links, which means that Best Mattress Advisor will be compensated if you buy something after clicking on one of the links. Read full disclosure statement."