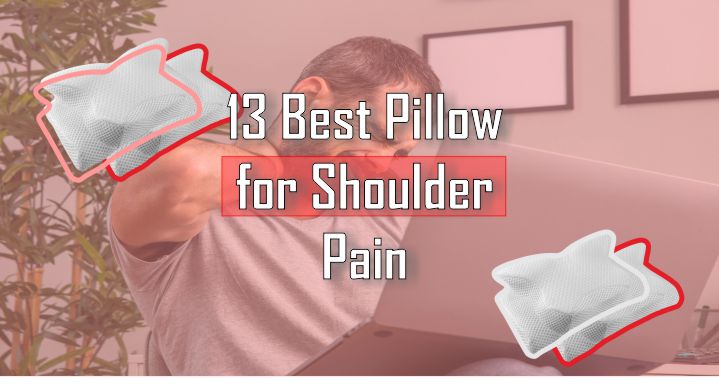 Chronic shoulder pain is a common ailment that affects a lot of people. Surgery, physical therapy, and other techniques are sometimes used to treat shoulder pain. See if changing your pillow can help with the pain in your shoulder every day. Many modern pillows support the head and neck to alleviate pressure on the shoulders and other portions of the body.
Bones, cartilage, tendons, and ligaments make up the shoulder joint. If you use the wrong pillow, it could make your pain worse. Shoulder pain is usually worse at night and can make it hard to sleep. Choosing a pillow that is more suited to your needs can help relieve pain and help you get a good night's sleep.
We've put together a list of the best pillows on the market today that can help with shoulder pain. We made this list based on what people have said and how they have rated things.
In addition, our guide to the best pillow for shoulder pain answers common questions from first-time pillow buyers, such as the reasons and remedies for various forms of shoulder discomfort.
Disclaimer: We independently review all recommended products. If you buy through our links, we may gain a commission. For more details read our Affiliate Disclosure.
Top 10 Picks for Best Pillow for Shoulder Pain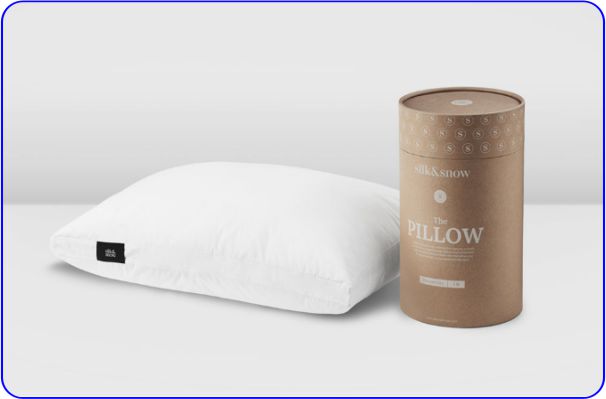 Best Value- Silk & Snow Pillow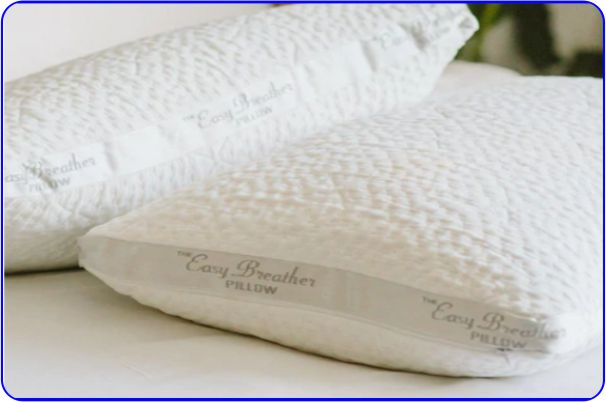 The Nest Bedding Easy Breather Pillow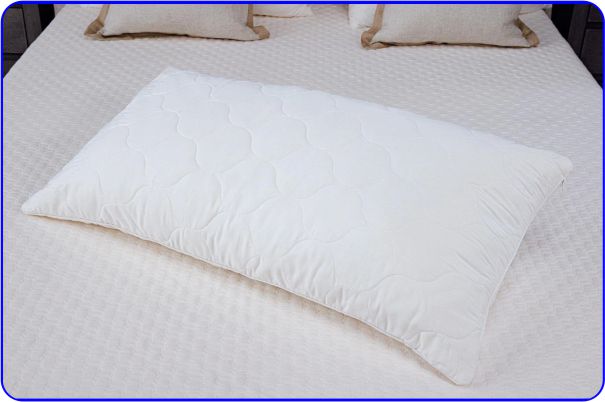 Best Pressure Relief- PlushBeds Wool
1. Best Cooling- GhostBed GhostPillow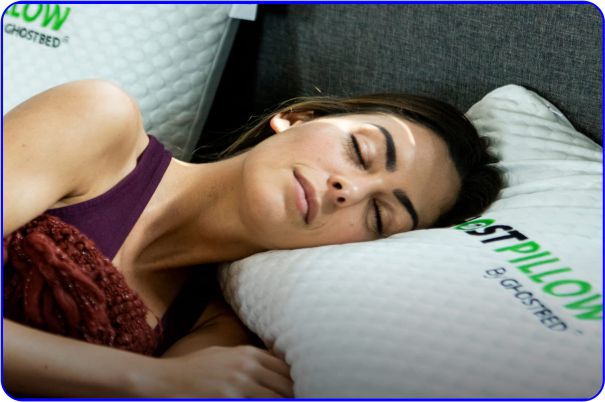 Highlights
Aerated Gel Memory Foam
Medium Firmness
Contouring for Head, Neck, and Shoulder
This Material Reduces Heat Buildup.
Zippered Cover
101-night Trial Period
Product Description
Shoulder pain might be relieved by utilizing a high or medium loft pillow for side or back sleepers. Thicker pads that cushion the adjusting the posture of the head and neck might help realign the spine.
The GhostBed GhostPillow – Memory Foam comprises a 6-inch-thick memory foam high-density foam filling. The material conforms to your body without trapping heat – a common complaint with these pillows.
Phase change technology is infused into the foam, absorbing and releasing heat to keep the cushion at a comfortable temperature. Extra ventilation is provided via a mesh inner layer.
2. Best Overall- Eli & Elm Cotton Side-Sleeper Pillow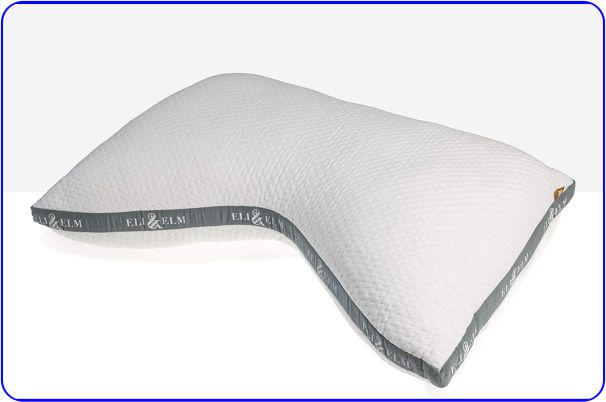 Highlights
Medium Firmness
Adjustable
75% Latex
25% Polyester Fiber
Premium Sourced Materials
Product Description
For side sleepers, misalignment is a particular source of pain in the shoulders. Eli & Elm's Side-sleeper Pillow solves this problem. The cushion has a notch at the bottom edge to maintain proper head and neck support. It can help you sleep better, reduce back pain, and improve your posture.
It's also adjustable. To adjust the pillow's loft, you can add or remove perforated latex or light cotton fibers. It's ideal for most people regardless of preference. However, it is designed for side sleepers and may be adjusted to accommodate other sleeping positions.
This pillow also regulates temperature. The latex and fiberfill should not retain too much body heat, and the cotton-blend cover is breathable. The surface can be machine washed and dried, but not the fill.
3. Best Value- Silk & Snow Pillow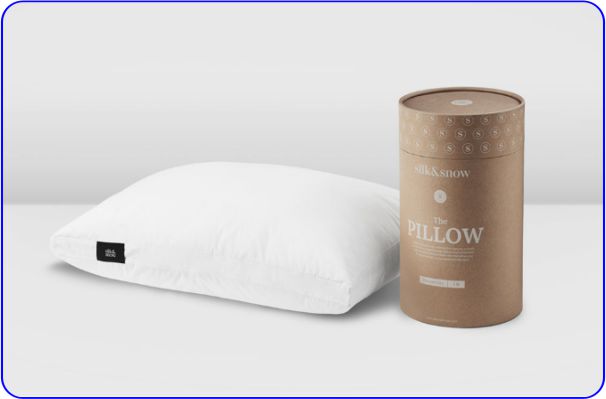 Highlights
Memory Foam Shredded
Medium Firmness
Washable Cotton Cover
100-Night Sleep Guarantee
3-Year Warranty
Product Description
Silk & Snow, a mattress and bedding firm based in Toronto, Canada, invented The Pillow to customize comfort. Those looking for value in a pillow may want to explore this one because of its adjustable design and reasonable price.
The pillow is made of cotton with a removable and machine washable cover. The filling contains shredded memory foam and down-alternative microfiber in place of actual down. Standard and king size available.
Shipping to the 48 contiguous states and Canada is always free at Silk & Snow! The Pillow is backed by a 100-night rest trial and a three-year warranty.
4. The Nest Bedding Easy Breather Pillow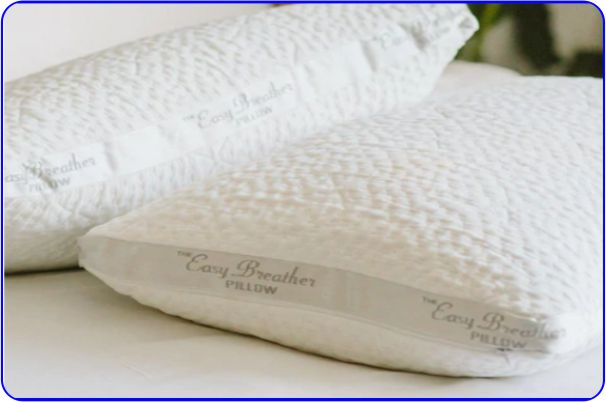 Highlights
Shredded Memory Foam Polyfill Blend
Adjustable Loft
Comfort for all Positions
Body Support and Contouring
100-night Trial Period
Product Description
If you like the feel of a classic cushion, don't worry; we've got you covered! Working with your body's comfort is essential while dealing with shoulder pain. Try using a flexible, responsive material as an alternative to the typical pillow.
Using shredded memory foam and a soft polyfill, Nest Bedding's Easy Breather is an adjustable pick that can be adjusted into support for any sleep position or level of support you desire.
You can get the relief you need from using this cushion in various ways, including supporting your airways and neck alignment. Allergy-free and moisture-wicking, thanks to the natural wood fiber mix casing, you'll sleep more comfortably.
5. Therapeutical Orthopedic Sleeping Pillow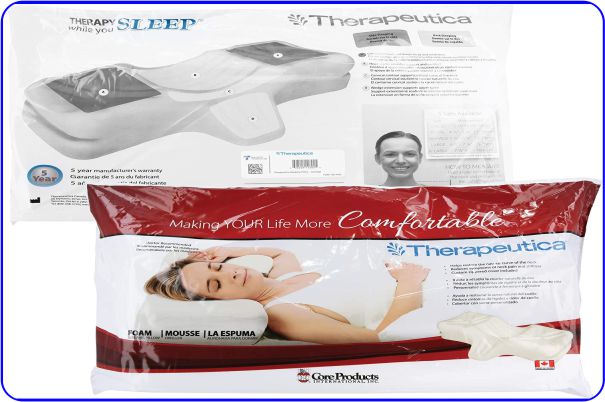 Highlights
Firm Orthopedic Support
Soft Memory Foam Pillow
Back or Side Sleeping
Non-allergenic and Non-toxic Molded Foam
Zippered Pillow Cover
5-Year Warranty
Product Description
Back sleepers will like this memory foam pillow's headrest and wedge design, cradle, and wedge for upper back support. The cushion also has raised edges that may be particularly beneficial for side sleepers because they provide additional support for the shoulders.
6. Best for Side Sleepers- Layla Kapok Pillow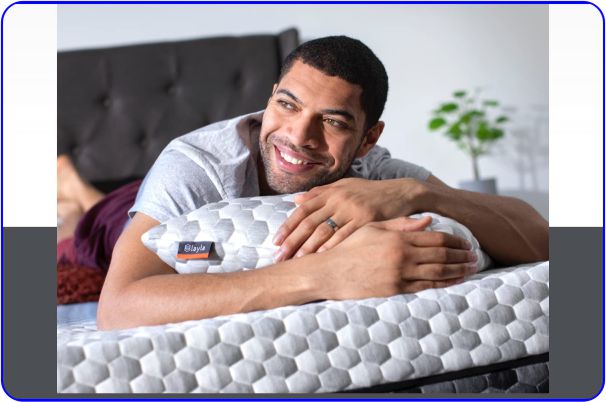 Highlights
Kapok Tree Fiber Blend
Shredded Memory Foam
Firmness Level: Medium Soft
Natural Kapok Fibers
120-night Sleep Trial
5-Year Warranty
Product Description
To reduce shoulder pain, align the neck and head with the spine. Shoulder pains and pressure points can develop if not aligned properly. The Layla Kapok Pillow is shredded memory foam and soft kapok tree fibers. For side and back sleeping, adjust the loft to relieve shoulder strain.
The open-cell nature of the memory foam and the heat-resistant properties of the kapok fibers make heat retention unlikely. The cover is a polyester/viscose combination.
Cleaning and drying the cover at home will save you time and money. You can also wash the whole pillow. If you go with this approach, Layla advises numerous drying cycles to ensure no moisture remains when you return it to your bed.
This pillow's affordable price and free shipping anywhere in the continental US make it a budget-friendly choice. Layla offers a 120-night sleep trial and a 5-year structural warranty for your peace of mind.
7. UTTU Sandwich Pillow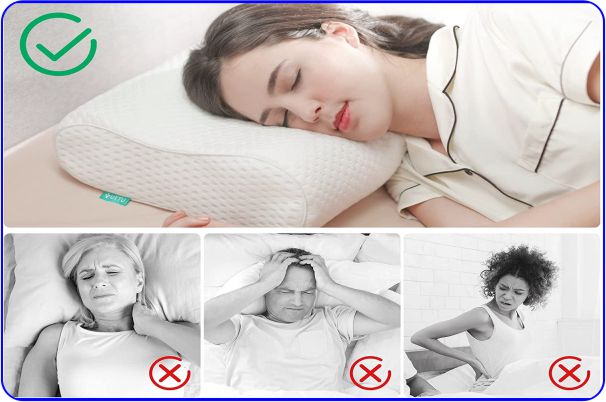 Highlights
Bamboo Sleeping Pillow
Memory Foam Adjustable Pillow
Neck Support for Back, Stomach, and Side Sleepers
Cervical Pillow for Neck Pain
Certified by CertiPUR-US
Product Description
The UTTU pillow has unique, customizable lofts to suit many sleepers. Instead of 4.7 inches of high contour and 3.9 inches of low shape, you'll now have 2.8 inches of a soft body once you remove the middle layer.
They utilized UTTU DYNAMIC FOAM, which never hardens in the cold. While most memory foams lose their firmness and comfort with time, this one does not.
With a cover made up of 40% bamboo viscose, this bamboo pillow is a cooling pillow that will keep you cool at night. It's wholly Detachable.
8. Coisum Cervical Contour Pillow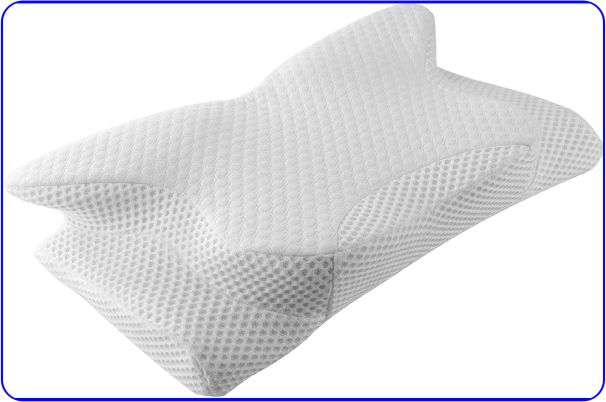 Highlights
Coisum Orthopaedical Memory Foam Pillow
Ergonomic Bed Pillow
Neck Support Pillow
Breathable Pillowcase Included
High-quality Memory Foam
Product Description
A cushion that supports and cradles your body can provide natural pain relief as you sleep. Since sleeping is the most relaxed position, wouldn't you want a pillow that does the same? Natural pain treatment for the shoulder area can be found in the Coisum cervical contour pillow.
A memory foam-filled pillow has a medium firmness ideal for neck and shoulder sleepers. A little out of the ordinary, its purpose is to give your arms a place to rest, whether resting on the back or the side, back or side.
The pillow's incline is designed to keep your head in a steady posture as you sleep. The primary function of this cushion is to support your neck and spine as you sleep, regardless of your posture.
9. Best Pressure Relief- PlushBeds Wool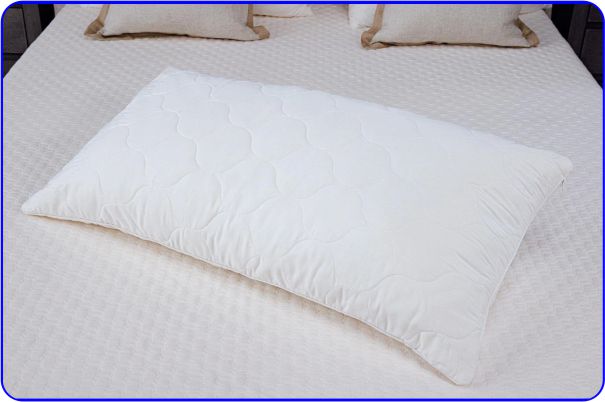 Highlights
Shropshire Wool
Natural Latex Shredded
Latex Side Sleeper Pillow
Medium Firmness
Soft and Washable Cotton Sateen Pillowcase
Product Description
Comfortable and supportive, the PlushBeds Wool & Latex Side Sleeper Pillow features a contoured ergonomic shape that helps to relieve neck and back problems. This pillow is designed for side sleepers, although back sleepers may also find it pleasant.
The stuffing is superior to Shropshire wool with natural latex shreds. Wool's plushness blends with latex's responsiveness to comforting softness and support. The pillow is a good choice for those who want to sleep heated. Those who care about animals will appreciate the pad because the wool is sourced humanely.
To get the desired loft, either more or less fill can be added or withdrawn. The filling is wrapped with natural cotton. The sateen weave of the cotton lends a luxurious look and feel. PlushBeds recommends using a pillowcase or protector to machine wash the cover instead. Each order includes a wool pillowcase.
PlushBeds offers free ground shipping within the US. Returns are not authorized on Wool & Latex Side Sleeper Pillow transactions; however, you will receive a manufacturer's warranty covering structural problems for up to 5 years.
10. Best for Neck Support- Zoey Curve Pillow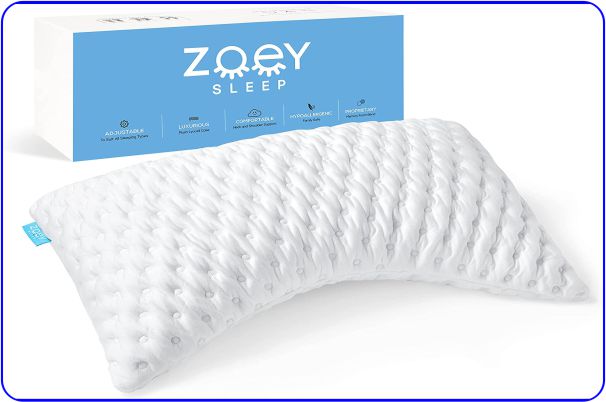 Highlights
Shredded Memory Foam
Medium Firmness Level
Adjustable Pillow Loft
Curved Design Relieves Pain
Washable Cover
Product Description
The Zoey Curve Pillow has a unique curved shape that provides more support for your neck and shoulders. The Zoey Curve may help relieve neck pain while you sleep.
The loft can be changed by adding and taking away memory foam shreds inside. Thus, the burden is taken off. If you want to choose the right thickness for your body, you can change the loft. Polyester, lyocell, and spandex make up the outside of the Curve.
The ergonomic shape makes it easier for the head and neck to bend, appealing to people who often have neck or shoulder pain. With the Curve, you can sleep on your side or back. In some cases, people who sleep on their sides may want a higher loft than people that sleep on their backs.
Zoey shipping is accessible to all 50 states, as well as a 30-day free trial of the Curve Pillow, both of which are available for purchase. A 5-year guarantee is included with the purchase.
11. Best Hypoallergenic Pillow- Dream Rite Shredded Memory Foam Pillow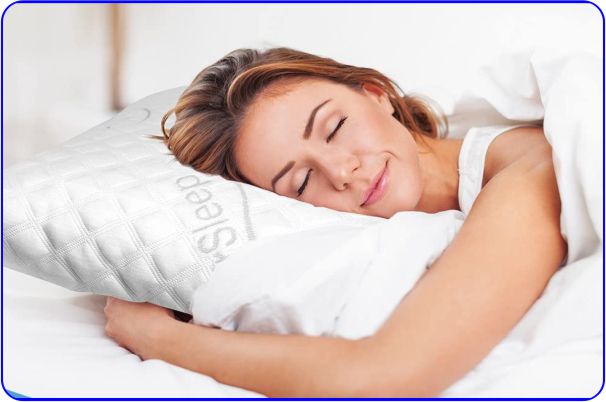 Highlights:
Hypoallergenic Memory Foam Pillow
Customizable Loft
Cool Bamboo Rayon Cover
Product Description:
In appearance, this pillow is indistinguishable from any other. You wouldn't believe what an incredible piece it is, far outperforming any regular pillow.
The pillow is made to be relaxing and soothing to rest your head on. It is constructed from high-quality material that allows air to circulate as you sleep.
Material breakdown: 60% polyester, 40% viscose-rayon for a comfy feel. It's soft and durable, making it perfect for lengthy periods of wear.
Memory foam and natural fiber conform to your body, keeping you cool at night. Shredded memory foam provides back, neck, shoulder, and head support for a pleasurable night's sleep. Remove pillow filling to adjust comfort. This will make your sleep more personalized.
The pillow is also hypoallergenic. You may rely on it to give you a restful night's sleep in a secure environment. You no longer need to worry about pests gnawing at your pillow. At least once a month, tumble-dry the pad in low heat if you want to maintain it solidly for an extended period.
12. Best for Stomach Sleepers- SmartDelux Orthopedic Pillow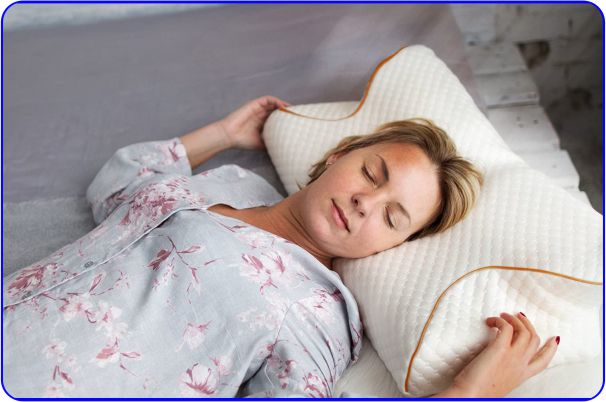 Highlights:
Memory Foam Pillow
Cervical Contour Pillow
Removable Pillow Protectors
Product Description:
One of their most obvious drawbacks is that some of the pillows in this list cannot be utilized for all sleeping postures. Most of them require the sleeper to lie on their back or side.
While this is the ideal course of action, these positions aren't feasible for everyone because they assist remove stress from their shoulders. This orthopedic cushion is an excellent option for people who have to sleep on their stomachs.
This pillow is the greatest for stomach sleepers since its contours are not quite as harsh as those of other pillows, making it simpler to use from any sleep position. This hypoallergenic pillow will relieve your shoulder ache regardless of how you decide to rest on it.
13. Best Latex- Saatva Latex Pillow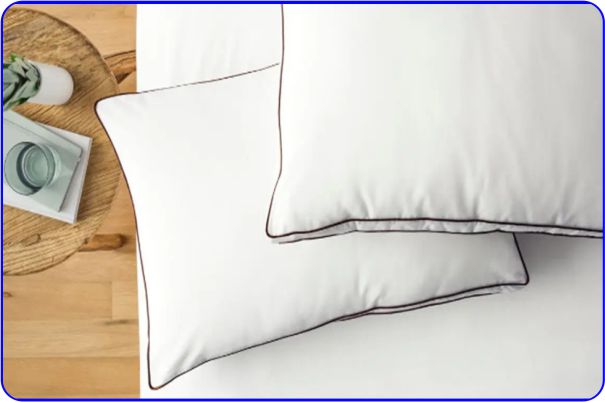 Highlights:
Shredded Talalay Latex
Down Alternative Pillow
Machine Washable
45 Nights Sleep Trial
1 Year Warranty
Product Description:
The Saatva Latex Pillow's adjustable design can be customized to meet the needs of any sleeper, from side sleepers to back sleepers to stomach sleepers and everywhere in between. The pillow's filling is shredded Talalay latex, which molds to the shape of the neck and head without pressing too firmly and has a reasonably responsive feel.
Micro denier fibers, which have the same softness as down, are used to line the outer chamber. If you need more or less loft in your pillow at different times of the year, you can take the inner cushion out of the outer room. The pillow's total height is ideal for side and back sleepers, while the hollow center may be all that's needed for stomach sleepers.
The outer cover is made of Global Organic Textile Standard-certified organic cotton. Because the surface and the outer micro denier chamber can be washed in a machine, you won't have to worry about dirtying your pillow. For an extra fee, clients can include a set of two cotton sateen pillowcases in their purchase.
Saatva offers free standard ground shipping to any location in the 48 contiguous states. The pillow has a 45-day sleep trial with free shipping and a 1-year warranty for those who keep it.
How to Pick the Best Pillow for Shoulder Pain
A new pillow might help with your shoulder pain, so let's say you want to buy one. In that case, you'll need to think about your body type and how you sleep, as well as your firmness and thickness needs and how much pain you're in.
We'll talk about the most important things to think about when you buy a pillow, as well as the most popular styles of pads and the materials used to fill them.
What to Look for When Buying a Pillow for Shoulder Pain
According to the company's claims, shoulder pain and restless nights can be alleviated by every pillow on the market today. On the other hand, a few pillows are made with shoulder pain in mind. Overly soft, rigid, thick, or thin cushions can cause extra discomfort depending on your body type and sleeping position.
The following specifications should be checked before purchasing a shoulder pillow, and if they aren't, you should contact the manufacturer.
Loft
How supportive the pillow is determined by its loft (thickness). As a result, side sleepers often require a higher profile mattress to keep their spines appropriately aligned and alleviate stress on the hips, spine, and shoulders. Because it keeps the head and neck in line with the rest of the body, back and stomach sleepers prefer less loft.
Support
Your head and neck will be supported while you sleep using a supportive pillow. If you use a less supportive pillow, your head and neck will be supported while you sleep. A pad that supports the head and neck and padding for the shoulders is ideal for those who suffer from chronic shoulder pain.
Firmness Level
Personal preference plays a significant role in determining the optimal hardness level for a particular sleeper. Softer, plusher pillows suit certain people better than firmer ones with more support and more muscular neck and head support.
Shoulder pain sufferers may benefit from a firmer cushion, which provides more support and leads to more aches and pressure points if used excessively.
Pressure Relief
Choosing a pillow that doesn't sink too much is essential to relieving strain on the head and neck. It's possible to get appropriate pressure relief with a soft cushion. A firmer pillow is preferred for those with larger heads and shoulders because it offers additional support.
Shape
Neck-pain sufferers may choose customized pillows with irregular forms rather than the standard rectangular cut. There are body pillows you may wrap over your neck and shoulders, as well as wedge pillows that keep your head and neck slightly tilted.
Price
Pillows that help with shoulder pain can be found for less than $100, so shop about. Many examples are wedge pillows, body pillows, and other oddly shaped versions. Expect to pay a little more for a specialty pillow with many components.
Quality Materials
Choosing a pillow's construction materials might give you an idea of how long it will last and how supportive it is. Pillow filling materials will be examined in further detail in a subsequent section.
Frequently Asked Questions
Can a lousy pillow make shoulder pain worse?
Absolutely. Shoulder aches can be caused by a cushion that doesn't give enough support for the head and neck. Increased discomfort might also result from a less long-lasting cushion that flattens or loses shape over time.
Shoulder support, spinal alignment, and stabilization are critical features of the best pillow for shoulder discomfort.
What should People look for in a shoulder pillow?
The most significant variables to consider when buying a shoulder cushion are loft (or thickness), stiffness, form, and fill material. It's best to experiment with a few various types of pillows to find the one that works best for you.
Pillows that provide free or nearly free returns for sleep trials are an excellent place to start if you're just getting started. You won't have to spend any money to begin using these models.
Which pillow is worst for shoulder pain?
Because of their support and inclination to flatten out throughout the night, down, down substitutes and feather pillows are usually regarded as the worst alternatives for persons suffering from shoulder pain.
Is a mattress topper effective for shoulder pain?
A mattress topper is a thin layer of softening material placed on the mattress. In cases when your mattress lowers excessively or is very stiff, you may get relief from shoulder discomfort by utilizing a mattress topper that alters the bed's firmness. Even if you're using a topper, be sure you're using an appropriate cushion for your needs.
Also Read: 11 Best Pillow for Combination Sleepers 2022
Conclusion
You've learned about the best pillows for shoulder discomfort from this article. It would be best to consider the pros and cons of each pillow before making a decision. It would help if you studied the descriptions of each pillow attentively before making a decision.
Your sleeping position and personal preferences will influence the pillow you choose to treat your shoulder ache. The above pillows can accommodate a variety of sleeping postures.
It's typical for people to suffer from shoulder pain, affecting their sleep. Choosing the correct cushion may assist in alleviating pain, and the person's desired sleeping posture may play a role. If your shoulder discomfort doesn't improve with rest and home care, you should consult a doctor.