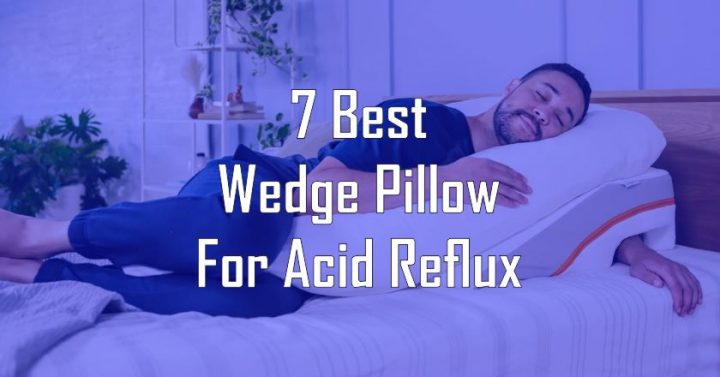 Even if you don't have acid reflux or other health problems that keep you from getting enough sleep, the right pillow can make a big difference. Using a wedge pillow can help relieve your acid reflux and help you get a better night's sleep by moving your body while you sleep.
It has a unique shape that lifts your upper body, head, and neck. You need to find one that is right for you. Most wedge pillows are made of memory foam or traditional polyurethane foam, but some are made of both.
If you like to sleep on your back, traditional polyurethane foam pillows will give you a lot of support and are best for you. Memory foam pillows are best for people who sleep on their sides because they can easily mold your body shape.
Here, we look at seven of the best wedge pillows for acid reflux that can raise your head and give you support.
List of 7 Best Wedge Pillows for Acid Reflux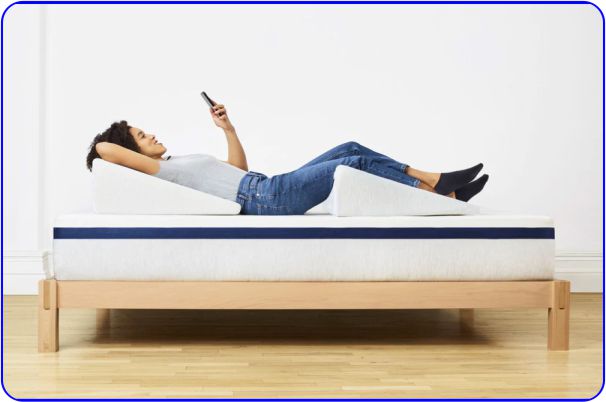 1. AllSett Health Bed Wedge Pillow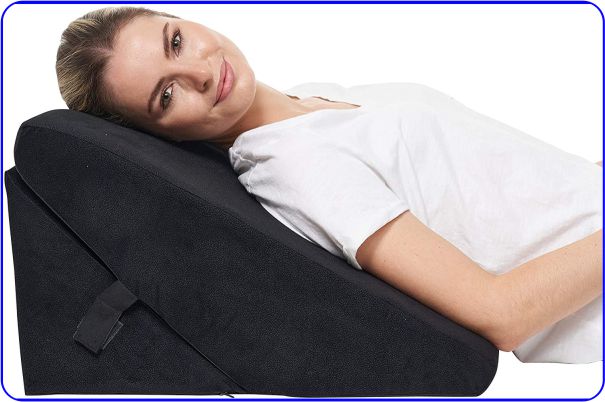 Highlights
Adjustable Wedge Pillow
Memory Foam Incline Cushion System
Leg and Back Support Pillow
Heartburn and Acid Reflux
Anti-Snoring
Machine Washable
Product Description
Everyone has a distinct preference for their neck or back position to fall asleep. If you're looking for a bed wedge cushion that may be used for a moderate or steep slope, go no further than this one! Side sleepers will love this cushion.
When you sleep or lay down with a wedge pillow, blood flow increases, the breathing improves, and snoring and heartburn are less likely to occur.
Foam-scented bed wedges and sleep wedges are standard. These odor-free wedges result from their significant foam manufacturing experience and understanding.
2. Helix Wedge Pillow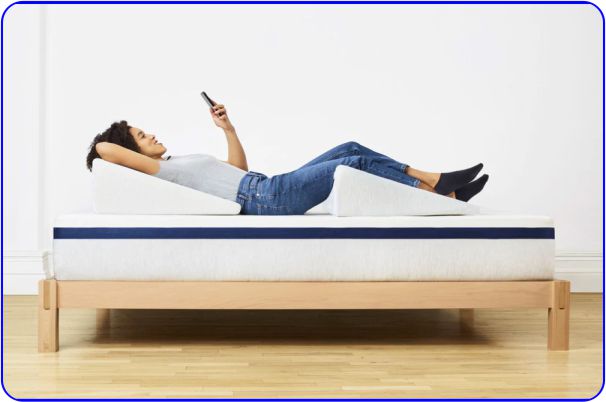 Highlights
Gel Memory Foam Wedge Pillow
Medium Firmness
Contouring Foam
100-Night's Sleep Trial
1-Year Warranty
Made in the USA
Product Description
Constructed with gel-infused memory foam, the Helix Wedge Pillow is designed to minimize snoring and acid reflux symptoms by providing relief from pain and pressure.
Keeping the upper body raised is crucial to maintaining the airway open. Preventing the esophageal reflux of stomach acid is also a benefit.
The rayon and polyester blended cover is machine washable and breathable for cleaning. As well as relieving pressure points, the gel-infused memory foam layer helps cool sleepers by wicking away heat.
The base of the cushion is made of high-density polyurethane foam, which makes it more durable while still offering adequate support.
Medium-firm, the Helix Wedge Pillow is ideal for both back and side sleepers. The contoured foam helps alleviate neck strain when placed under the head.
The cushion can also alleviate pressure on the back by placing it beneath the knees and legs. Makes this pillow the best for alleviating lower-back discomfort.
3. Avana Kind Bed Comfort System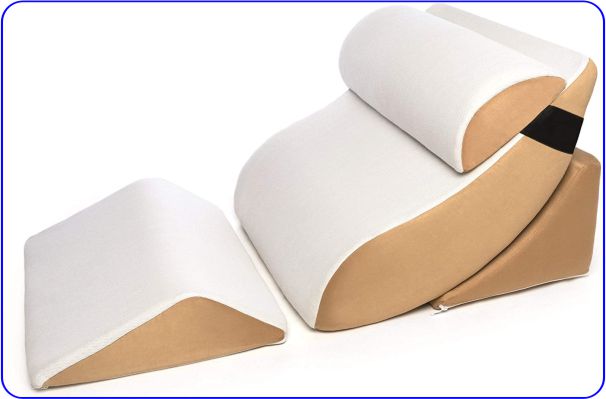 Highlights
Orthopedic Support Pillow
Comfort System
Bamboo Rayon Cover
Lumbar Support
Removable and Washable Cover
Made in the USA
Product Description
A 14-piece system of adjustable therapeutic cushions provides total support while sitting in bed. Includes a headrest, a knee rest, and a scoop cradle. The lumbar support may be adjusted by sliding or flipping the back scoop upside down on the chair.
Soft and breathable bamboo-rayon cloth covers the polyurethane foam base and memory foam layer.
Atlanta, Georgia, is the source of this product. A one-year manufacturer's warranty is included with the purchase.
Don't hesitate to contact Avana customer support if you have any questions or concerns about warranty claims or returns. Returns are permitted within 30 days of purchase from the seller.
4. MedCline Wedge and Body Pillow Reflux Relief System
Highlights
Reflux Relief Wedge Pillow
Gel Infused Foam
Therapeutic Body Pillow
Available in Three Sizes
Optimal Comfort
Protection against Harmful Acid
Product Description
Designed to keep people on their left side while keeping their heads elevated, this cushion has a wedge pillow and a body pillow built-in into it.
With the body pillow supporting the full-body, this is one of those systems that keeps the sleeper from slipping down from a wedge pillow.
The innovative design of the dual-component system allows for an elevated and side-to-side sleeping position to alleviate acid reflux symptoms. Snoring and sleep apnea can also be treated using the device.
Using this pillow, you won't have to worry about slipping out of the ideal position throughout the night, allowing you to get the most out of your sleep.
Keep your knees tucked in to relieve pressure on the lower spine with the help of the body cushion. It is also possible to wash the pillow.
5. Coisum Memory Foam Pillow
Highlights
Orthopedic Memory Foam Pillow
Ergonomic Bed Pillow
Contouring for Neck and Shoulder Pillow
Suitable for Side and Back Sleepers
Pillowcase is Included
Product Description
These breathable Coisum pillows give breathable support that may help relieve shoulder pain and pressure, as well as heartburn and congestion in those who prefer a slightly lower angle with less elevation while sleeping.
The wedge pillow has an armhole and is cheaper than many other wedge pillows on the market. It is suitable for both back and side sleepers.
The breathable, machine-washable surface may provide a pleasant cooling sensation for persons who tend to sweat while sleeping.
6. Kolb's Bed Wedge Pillow with Memory Foam Top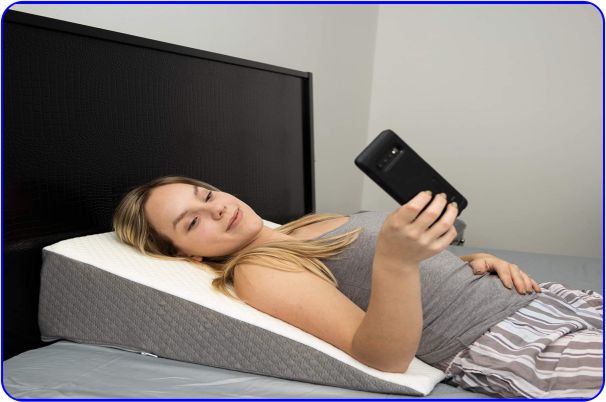 Highlights
Memory Foam Wedge Pillow
Stylish Chic Jacquard Cover
Acid Reflux and Heartburn
Luxurious and Stylish
Elevated Pillows for Sleeping
Product Description
The design of Kolb's Wedge is both traditional and cutting-edge. In addition to protecting the incline pillow from stains, the removable jacquard pillowcase promotes a restful night's sleep. The triangle pillow core may be detached from the pillow cover and washed in the washing machine.
The pillow wedge has a 1.5" thick layer of luxurious memory foam for a peaceful night's rest. A high-density medical-grade foam wedge is used with memory foam for the right firmness and support.
Makes it easier to get a decent night's sleep under challenging situations. Snoring, neck and back pain and post-surgery complications are all included in the list.
The most fantastic sleeping wedge pillow. It's ideal for elevating your head, feet, or legs. A great snoring pillow for people with sleep apnea. Comfortable wedge pillow for bedtime.
7. FitPlus Premium Wedge Pillow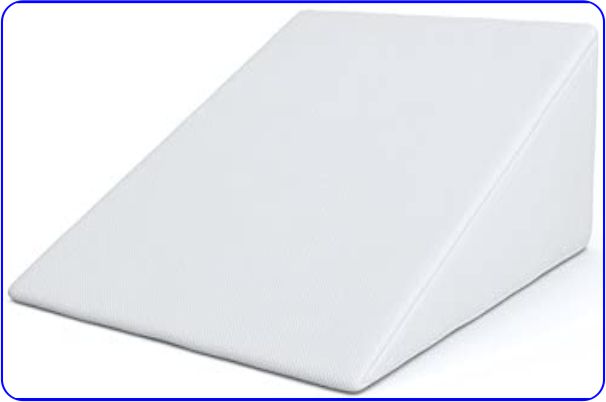 Highlights
Premium Memory Foam Wedge Pillow
High-Density Foam
Acid Reflux Pillow
Removable Cover
2-Year Warranty
Product Description
Two inches of memory foam are sandwiched between two layers of high-density polyurethane foam in this wedge cushion. Memory foam immediately molds around your shoulders, neck, and head to ensure a peaceful night's sleep.
The bed wedge pillow supports your upper back and shoulders, allowing you to sleep in a more comfortable position. As a result, it can assist in treating a variety of conditions, including back and neck pain, acid reflux, snoring, allergies, and other difficulties breathing.
The ergonomically constructed pillow enhances your sleeping posture, reducing your risk of developing spinal, neck, and shoulder-related orthopedic health disorders.
An excellent, airy cover is provided for the memory foam pillow. In addition to keeping you warm while you sleep, this cover is also machine washable.
What is a Wedge Pillow?
Wedge pillows are triangle-shaped pillows with an inclination used for orthopedic purposes. The name "wedge pillow" refers to the pillow's resemblance to a wedge of cheese.
Pillows that raise the upper body to a 30 to 45-degree angle make it easier for gravity to maintain acid in the stomach and keep it from regurgitating.
Those with obstructive sleep apnea can also benefit from wedge pillows. Aside from boosting circulation and relieving pressure on your lumbar spine, they can also be used to raise your legs.
It is possible to find a wedge cushion with a different slope, weight, materials, form, firmness level, and a different pricing point. Wedge pillows come in various shapes and sizes, and we'll go through the pros and cons of each one so you can make an informed decision.
Incline
Wedged pillows are commonly seen with a 30 to a 45-degree angle, approximately six to twelve inches. A 35 to 40-degree wedge pillow is for people who suffer from acid reflux or sleep apnea.
It is preferable to use pillows with a lower slope, such as 30 to 32 degrees, for the knees or legs, while a higher incline (43 to 45 degrees) is better for supporting the neck and back while sitting up in bed.
Size
It's common for wedge pillows to be between 20 and 24 inches long. The breadth is generally between 20 and 24 inches; however, the incline can range from 6 to 12 inches.
It would help if you considered your preferences for pillow size and the size of your mattress before selecting a wedge pillow.
People who often toss and turn might benefit from the large wedge pillow with a queen or king-sized bed. If you have a smaller bed, such as a twin or complete, a smaller wedge pillow may be the best option for you.
Weight
Depending on how steep the slope is, the weight of a wedge pillow can vary. The heavier the pillow, the steeper the incline.
Wedge pillows with a steep incline, such as those ranging from 43 to 45 degrees, often weigh 10 to 12 pounds. For children's models, the weight ranges from 2 to 4 pounds.
Although the pillow's weight might vary, wedge pillows are heavier than regular pillows. To ensure that the pillow does not move while you sleep, you'll want to add some extra weight to the top of your mattress.
Contoured vs. Flat
There is a moderate slope to all triangle-shaped wedge pillows. However, the spine can remain neutral if the surface is curved or shaped to keep the head, neck, and shoulders properly.
Side sleepers and those who use a combination of the two will benefit from using a contoured wedge pillow. Flat-surfaced wedge pillows, which are better for back sleepers because they don't have a curved surface, are available.
Materials
Poly-foam or a combination of the two is the most common material for wedge pillows. Both foam varieties are designed to adapt to the user's contour to produce the highest possible comfort and pressure relief.
In addition, both types come in a range of firmness, from ultra-soft to firm. Manufacturers can create a soft but long-lasting wedge pillow from these materials, allowing their customers to sleep comfortably raised all night long.
Firmness Level
Most wedge pillows are medium-firm to firm to maintain their structural integrity. Medium-firm wedge pillows are popular among side sleepers because they are soft enough to cradle and cushion the shoulder joints. Due to the risk of sinkage, back sleepers choose a firm wedge pillow.
Also Read: 12 Best Firm Mattress (Septemeber 2021)
Temperature Regulation
As a result, sleepers frequently wake in the night due to night sweats and overheating due to the foam. Because plant-based oils or gel infusions are used, foams tend to be less prone to overheating. Improved airflow is another benefit of using pillows with built-in ventilation channels.
Price
A premium wedge pillow price ranges from $50 to $100. The pillow's cost will be affected by the size and quality of the product. Although memory foam wedge pillows are more expensive, they are also more resilient and endure longer than poly-foam pillows.
Conclusion
If acid reflux is keeping you up at night, a wedge pillow may be the solution you've been looking for. These pillows can be used in various ways and at a reasonable price. Many other ailments, such as spinal misalignment, nasal congestion, and snoring, can be alleviated by elevating the head while sleeping.
You may not sleep comfortably at night if you are experiencing physical discomforts such as acid reflux or back pain. This, in turn, can worsen your pain or discomfort perceptions.
A more comfortable night's sleep is possible with the proper sleeping position. A healthy diet and regular exercise are crucial for physical health as good sleep.
Wedge pillows can help alleviate the symptoms of acid reflux and gastroesophageal reflux disease (GERD), particularly at night.
Wedge pillows can help to prevent acid from seeping out of your stomach and into your esophagus while you sleep by slightly elevating your head, shoulders, and torso as you sleep.
"This article contains affiliate links, which means that Best Mattress Advisor will be compensated if you buy something after clicking on one of the links. Read full disclosure statement."