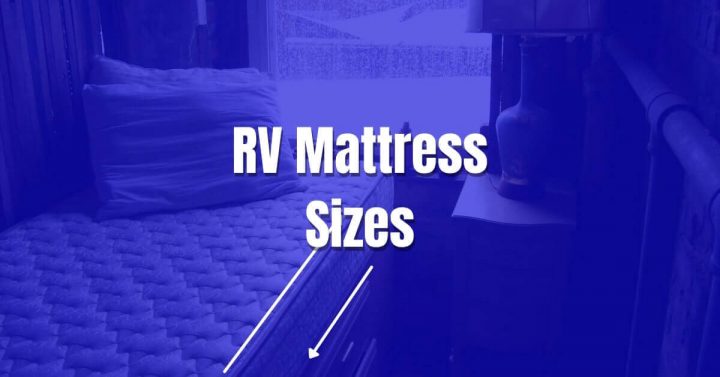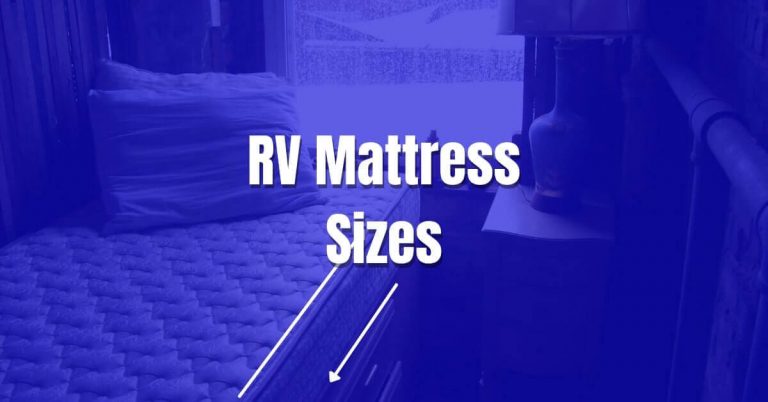 More than a century has passed since the advent of the recreational vehicle (RV). These transportable houses are small, taking up less than 400 feet of space and including a living room, kitchen, bathroom, and bedroom. The fact that they are so little means that they fit a wide range of mattress sizes.
RV mattresses are available in an array of shapes and sizes. So, if you're in the market for a new RV mattress, make sure you know the varied dimensions of RV mattresses before you buy.
Despite their identical names, RV mattress sizes and conventional mattress sizes have different measurements. Queen-size mattresses for RVs are different from queen-sized mattresses for homes.
When it comes to cross-country road trips, many people choose to bring home comforts in their RVs, which means they are aware that RVs require RV-size mattresses.
When shopping for an RV mattress, it helps to consult a camper mattress size chart to ensure you get the right one. Here are a few popular sizes to get you started.
Twin Mattresses
RV twin beds are frequently used as seating when traveling because of the need to conserve room in the vehicle. It's possible that your dinette can be transformed into a twin bed or perhaps a chair or a couch.
They can also be used as bunk beds if they are placed side by side. Twin mattresses are 39″x75″ in size, which is the same as a small bed in your house.
Particularly tall adults may have difficulty sleeping in a twin mattress. If your child is small, you can line them up in there like crayons in a crayon box and fit one or two of them in there.
Truck Size Mattress
Truck-size mattresses, ranging in size from 35 inches by 79 inches to 42 inches by 80 inches, can be found in the cabs of semi-trucks. For tall people, truck-size mattresses are the best option.
If you're taller than normal, you may want to consider a truck-sized mattress instead of a twin-sized one for your RV truck.
Bunk Size Mattress
This mattress is ideal for families with children, ranging from 28 to 30 inches wide by 80 inches long. Before deciding on a bunk bed, make sure to measure the size of your RV's bunk beds.
Bunk size mattresses are the most flexible when it comes to RV mattress sizes for cross-country travel.
Three Quarter Mattress
The breadth of a three-quarter mattress is equal to 75% of the width of a queen-size bed. Compared to a conventional queen mattress, these are 48 inches wide and 75 inches long—5 inches shorter.
Three-quarter mattresses are ideal for RVs with tight or unusually shaped interiors since they are wide enough to accommodate two younger children comfortably.
Full Mattresses
Full-size beds in an RV have mattresses the same size as a double bed. A full-size RV mattress is 54 inches wide by 75 inches long, while a full domestic mattress is 53 inches wide by 75 inches long, a one-inch difference (about the only time an RV mattress will be bigger than its domestic counterpart).
Short Queen Mattress
As the name implies, this mattress is shorter than a conventional queen mattress. An RV small queen is 5 inches narrower and 5 inches longer than a standard queen bed.
They save place in your RV while still being spacious enough to accommodate two adults or two to three children, depending on your specific needs.
Olympic Queen Mattress Size
The Olympic Queen is a well-liked RV mattress option. This mattress has a 66″ x 80″ footprint. It accepts a wide range of passengers, including tall individuals, couples, and large groups.
Memory foam and hybrid mattresses are both available in the collection of Olympic Queen mattresses. The thickness of this is 12 inches. Mattress thickness can impact both the amount of support and the level of comfort it provides.
The thickness of RV mattresses is important since it affects the amount of available space. It's possible that if your mattress is excessively thick, you'll find your chin resting on things like the above cabinets. Enough quality materials may be lacking if it is made of a flimsy material.
People that travel by RV are almost always traveling in small groups. You'll almost certainly have to sleep in your RV with someone else. It's big enough to sleep two people comfortably, yet still compact enough to fit in many tents.
Queen RV Mattress Sizes
Intriguingly, queen mattresses can be found in three distinct sizes.
The dimensions of a regular queen bed are 60 inches wide by 80 inches long. This is also known as a normal queen in an RV.
Three-fourths of a queen mattress measures 48 inches by 75 inches.
The dimensions of a short queen are 60″x75″.
It's important to know which size of queen-size RV mattress to buy if you're looking for one.
Also Read: Queen Size Mattress Measurement Ultimate Guide
Short King Mattress
Known as Eastern kings, short king mattresses are more concise and narrower than regular king-size beds. Short king mattresses are 4 inches thinner and 5 inches smaller than an Eastern king mattress, measuring 72 inches broad by 75 inches long.
You'll need a huge camper to fit a short king bed comfortably because they are so wide. Mattresses that measure less than six feet in length are only suitable for a single adult or a family of three to four.
RV California King Mattress Size
It is one of the largest mattresses available. If your RV is big enough, this might be a decent size bed. On hot summer nights, the 72″x 84″ sleep surface will be appreciated. It's also a great size for a couple.
Taller passengers might also benefit from the RV California King mattress. Consider your space and floor design before purchasing an RV California King. Consider the size of the bed and the difficulty of getting it into the space available.
You'll have plenty of room to stretch out in your RV's California King bed. To summarize, don't be sucked into saving a few millimeters of floor space. A good night's sleep on the road is worth a few extra inches if it means saving time and money along the way.
Also Read: Best California King Mattress
Eastern King Mattress Size
The Eastern King is another choice for some RVs. It's broader than the other RV mattress sizes and as long as the RV King. This 76″x80″ mattress is unusually large. This size is rare in stores. Our mattress sizes range from twin to king, and we can even make the order!
This is a great size for tall people or tall couples. This is often a decent mattress replacement for RV mattresses that are either tiny or too uncomfortable. Choose breathable bedding and make sure the bed foundation is level.
The Eastern King is your best bet if you're looking for a wide RV mattress. When choosing this size, keep in mind that extra weight may be an issue. It's possible that going with a thinner mattress of this size is the best option.
Aside from that, low-profile beds are more suited for use in recreational vehicles (RVs) due to their limited headroom.
King RV Mattress Sizes in Inches
The length of a king RV mattress is the same as a normal king, but the width is narrower. RV King mattresses are 72″x80″ in size instead of the 76″x80″ of a standard king mattress. Each individual gets the area of an extra-long twin bed if they're sharing a bed.
Also Read: Best King Size Mattress – An Ultimate Guide
RV Mattress Types
Having learned everything there is to know about choosing an RV mattress size, let's move on to discussing the many varieties of RV mattresses on the market.
Memory Foam
The excitement of forest camping is vastly different from that of desert hiking. The ability to regulate body temperature is one of the most noteworthy features of memory foam.
If you're going camping in the woods, memory foam might be a good choice because the conditions are likely to be favorable. RV mattresses with cooling gel or gel beads are a preferable choice if you're going camping in a hot, humid environment.
Foam
Foam mattresses are standard equipment in nearly all recreational vehicles and tents. They may not always deliver the comfort you're looking for, but they can help you have fun while camping or going cross-country on a budget. As a result, if you suffer from allergies, there are RV foam mattresses available that are made to be dust-resistant while yet being breathable.
Latex
Due to their eco-friendliness, latex mattresses are steadily gaining popularity among campers. There are no chemicals in this RV mattress, so it's free of dust mites and mildew, but it's also pretty pricey. You should choose an RV latex mattress if you want a lightweight, extremely durable, and responsive-to-movement mattress.
Innerspring
If you prefer comfort above long-term durability, we recommend the innerspring mattress. Unlike memory foam, RV innerspring mattresses survive longer in hot climates. Innerspring mattresses are cheap and can help you save money on an unexpected road trip.
Air Mattress
While the padding and construction of most of the mattresses mentioned above affect the weight, the RV air mattress is on another level entirely. Air mattresses for RVs are small, light, and cheap. However, their lack of durability is not a good option for campers searching for a bed that would last them for a long time.
Also Read: Top 15 Best Air Mattress for Everyday Use
How To Choose The Best RV mattress
Once you've determined what kind of mattress you require, you can begin searching for the ideal mattress for your vehicle. Retailers such as Camping World and Amazon.com sell RV beds, so do your research before going to one of those locations.
Alternatively, you may want to consider getting a unique RV mattress created. If you want to make sure your mattress fits your room perfectly, this will be the most expensive alternative.
As with anything else you buy, do your research before deciding by reading reviews online or in forums. Speaking with actual users of the product you're considering can't be replaced, but you may learn a lot by reading what others say about it.
Also, ask about the store's return policy before making a purchase. If you check out the mattress and find it uncomfortable or not what you wanted, many retailers, but not all, will let you return it.
Frequently Asked Questions About RV Mattresses
What sets an RV mattress apart from a standard bed?
An RV mattress is designed to be smaller, lighter, and sometimes even thinner than a standard bed mattress to save space. Custom RV mattresses can be a lot larger than standard ones. It's critical to bear in mind the mattress's overall durability as well as its degree of flexibility.
Is it possible to use a standard mattress in an RV?
The size of your RV's bed platform has some bearing on this. If your transportable home mattress is the same size as a conventional household mattress, you can put it to good use inside your travel trailer. Bed platforms, on the other hand, are different in size from ordinary household beds.
Does the thickness of RV mattresses have a set standard?
Slide-out beds in RVs need 5- to 6-inch-thick mattresses. Mattresses greater than 6 inches in thickness are usually not accepted. Mattresses of any thickness can be used in normal RV beds, though.
So, what's the difference between a King and an RV King, exactly?
The primary distinction between a traditional king-sized mattress and an RV king-sized mattress is one of size. There is around an inch difference between an RV king and a conventional king mattress when it comes to width.
What are the most important considerations when purchasing an RV mattress?
When shopping for an RV mattress, don't forget the importance of durability, weight, and price. With little room, you may find yourself sleeping on your mattress more frequently than you would in a typical home.
It would help if you had it to be long-lasting so you can use it as a sofa, dining table, office, or a place where your kids can run around and have fun.
A soft mattress is ideal for RV travel because you don't want to be weighed down by it. Due to the higher frequency of use in RVs, beds may need to be replaced more regularly. You can save money by purchasing affordable (but high-quality) mattresses rather than a more expensive model each time you need a new one.
Is it possible to use ordinary blankets and sheets on recreational vehicle mattresses?
Regular blankets and sheets can be used with an RV mattress the same size as another normal mattress size. Blankets and sheets made for RV sizes are preferable when looking for RV-specific mattress sizes, and these can usually be found at RV mattress sellers, camping stores, and sporting goods outlets.
Are RV mattresses comfy to sleep on?
The hardness, thickness, and type of mattress you use in an RV bed determine your level of comfort. RV mattresses have the potential to be just as comfy as conventional ones.
Using a mattress topper over your RV bed or improving your bedding can help you get a better night's sleep if your bed isn't fantastic.
Conclusion
For this reason, it's recommended that you measure your RV, camper, or motorhome before ordering a mattress to ensure it will fit. RVs are already compact, so don't get a mattress that's larger than you need. You need room in your RV to walk around, change clothes, eat, and live.
The number of mattress sizes available for your RV is much greater than you might expect. Make sure your mattress will fit in your camper before going out and buying anything.
Some campers will not close if the door is too thick, especially pop-ups, and the door cannot be placed too close to the ceiling. If you go to any of the websites above, you'll find instructions on how to take measurements for your mattress.
When pricing and selecting materials, keep in mind things like storage space and how often you plan to travel. If you enjoyed this list and know someone who would benefit from it, please spread the word!