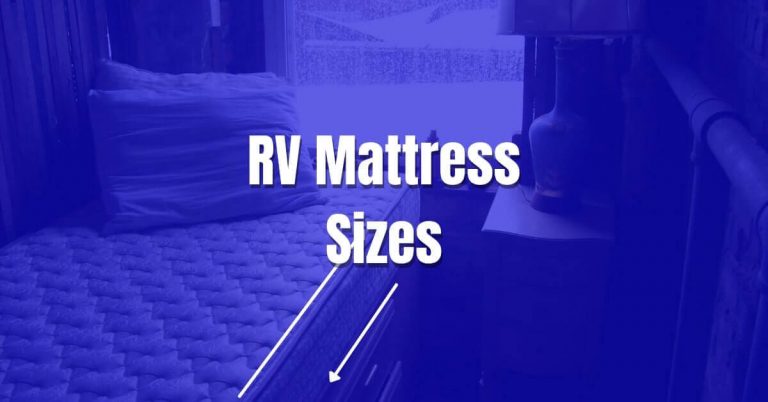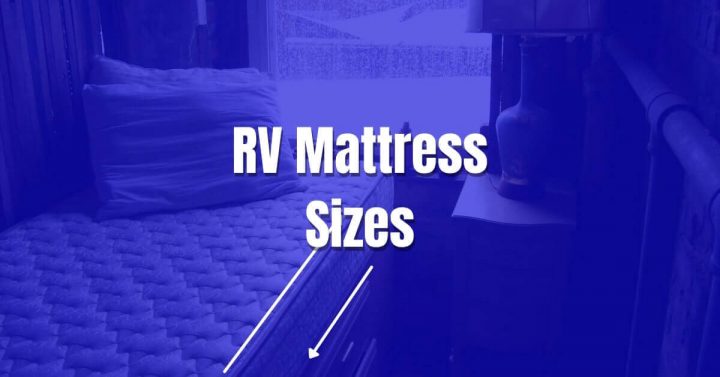 While sleeping in a motorhome or camper van may not be anyone's idea of a good time, it's still necessary to get enough shut-eye before hitting the road. You may need help sleeping on RV or camper mattresses.
RV camper mattress sizes are often smaller than sizes to fit narrow and compact campers. But RV mattresses come in different sizes; each is slightly different.
Therefore, we advise measuring the mattress compartments before choosing a mattress for your RV.
How well you sleep depends on the size and type of your mattress. This article talks about the different sizes and types of RV mattresses so you can choose the one that works best for you.
RV Mattress Sizes Chart
Since RVs and campers have limited space, every inch counts, so RV mattresses come in many different sizes. Some are good for just one person, while others are good for couples or families.
Some are made for people with long legs, while others have less room for legs and more room to walk. When choosing the size of your RV mattress, it's crucial to think about what you need most.
| Mattress | Dimensions in Inches |
| --- | --- |
| RV Twin Mattress Size | 28″ W X 75″ L 40″ W X 80″ L |
| RV Truck Size Mattress | 35″ W X 79″ L 42″ W X 80″ L |
| RV Bunk Size Mattress | 28″ W X 75″ L 30″ W X 75″ L 30″ W X 80″ L 34″ W X 75″ L 35″ W X 79″ L |
| RV Three Quarter Size Mattress | 48″ W X 75″ L |
| RV Full or Double Size Mattress | 53″ W X 75″ L |
| RV Short Queen Dimensions | 60" W x 75" L |
| RV Queen Mattress Dimensions | 60″ W X 75″ L |
| RV Queen Size Mattress | 60″ W X 80″ L |
| Short King Mattress Size | 72″ W X 75″ L |
| RV King Mattress Size | 72″ W X 75″ L 72″ W X 80″ L |
RV Mattress Dimensions [Explained]
The variety of sizes available for RV mattresses may surprise you. You can pick one or more of these activities depending on how many people will be camping with you, how much room you have in your RV, and how old the kids are.
RV Twin Mattress Size
Twin beds are frequently seen in tiny RVs and campers due to their compact size and flexibility in placement. RVs utilize twin mattresses in one of two sizes. They measure either 28 by 75 or 28 by 80 inches.
You can select a size from the list below that fits your camper. If you have the option, you might arrange them as bunk beds or place them side by side.
RV Truck Size Mattress
Mattresses in this size are commonly seen in the cabs of semi-trucks, although they also have other uses, such as in campers, hence the moniker "truck size."
The standard dimensions for a truck bed mattress are 35 to 42 inches in length and 79 to 80 inches in width. They are ideal for tall sleepers because their length is longer than other twins.
RV Bunk Size Mattress
Many RVs are suitable for families that have bunk beds. Depending on the layout of your RV, you can choose from a variety of different sizes. Some standard bunk sizes for RVs are:
28″ by 75″
30″ by 75″
30″ by 80″
34″ by 75″
35″ by 79″
Before deciding on mattress size, you should take measurements of the RV's bunk bed.
RV Three Quarter Size Mattress
Although it is smaller than full-size mattresses, mattresses that are three-quarter size are bigger than twin and bunk beds. They're a frequent solution for RVs without a separate bedroom, especially those on the smaller side.
The dimensions of the three-quarter mattress are (48″ x 75″ inches). Thus, it can accommodate one or two smaller kids.
RV Full or Double Size Mattress
The standard dimensions for a full or double mattress in a recreational vehicle are 53″ x 75″ inches. They are about an inch narrower than full-size mattresses at home, and most RVs have them because an adult can sleep comfortably on them.
RV Short Queen Dimensions
A conventional queen-size mattress is 5 inches longer than a short queen mattress, which measures 60 by 75 inches. It takes up just enough room to comfortably fit two adult sleepers.
RV Queen Mattress Dimensions
RVs are far more likely to have short queen mattresses than regular queen-size beds. The 60-inch width and 80-inch length of a queen bed make it an ideal choice for a standard bedroom.
Your queen-sized mattress can be used in the RV, provided the bed platform is wide enough to accommodate it.
RV Short King Mattress Size
A small king mattress, often known as an Eastern king, is narrower and shorter than a regular king mattress. The dimensions of a regular Eastern king bed are 76 by 80 inches, while those of a shorter king bed are 72 by 75 inches.
You'll need a huge camper to fit short king beds because they are wide. Short king beds provide adequate width to accommodate a couple or three to four kids.
RV King Mattress Sizes
If your camper has enough room, RV king-size mattresses are the best choice for a big family. These range from 72 by 75 inches to 72 by 80 inches. RV kings are big enough to easily fit a couple with a child or four kids.
A large, enjoyable family can go camping together in some pop-up campers because they benefit from having two monarchs on either side.
What Should You Consider Before Buying an RV Mattress?
Before you buy a mattress for your RV, there are a few things you should think about to make sure you get a good night's sleep while you're on the road.
RV Bed Sizes
How big or small your sleeping space is, it will all depend on how big your RV is. Some RVs have one king-size bed, while others have two or three smaller beds.
Some people put bunk beds or twin-size mattresses on top of a larger bed to make it better for families.
Number of Sleepers
The mattress size also depends on how many people will sleep in your RV. Traveling with a partner, you can probably sleep well on a queen or king RV mattress.
Sleepers' Sizes
If you've ever slept on a mattress that was too small for you, you know how uncomfortable it can be.
The size of each person who sleeps in the RV will have a lot to do with what size mattress is best for them. Remember that as kids and grandchildren grow, they may need bigger beds.
Sleeping Style
If you want to spread out while sleeping at home, you'll also need room to do so when traveling.
It's important to consider who else will be sleeping on the bed, such as a spouse, children, or pets. Most prefer a larger mattress when sleeping with others since it is more comfortable.
Mattress Price
How much your RV mattress costs will depend on what materials you want and how big you want it. Most of the time, the price increases with the mattress's size.
Some mattress materials, like latex and hybrid mattresses, also tend to cost more. Most of the time, foam mattresses are the most affordable.
RV Mattress Types
Having learned everything there is to know about choosing an RV mattress size, let's discuss the vast varieties of RV mattresses on the market.
Memory Foam
The excitement of forest camping is vastly different from that of desert hiking. The ability to regulate body temperature is one of the most noteworthy features of memory foam.
If you're camping in the woods, memory foam might be a good choice because the conditions are likely to be favorable. RV mattresses with cooling gel or gel beads are preferable when camping in a hot, humid environment.
Foam
Foam mattresses are standard equipment in nearly all recreational vehicles and tents. They may not consistently deliver the comfort you're looking for, but they can help you have fun while camping or going cross-country on a budget.
As a result, if you suffer from allergies, there are RV foam mattresses available that are made to be dust-resistant while yet being breathable.
Latex
Due to their eco-friendliness, latex mattresses are steadily gaining popularity among campers. There are no chemicals in this RV mattress, so it's free of dust mites and mildew, but it's also pretty pricey.
You should choose an RV latex mattress if you want a lightweight, extremely durable, responsive-to-movement bed.
Innerspring
If you prefer comfort above long-term durability, we recommend the innerspring mattress.
Unlike memory foam, RV innerspring mattresses survive longer in hot climates. Innerspring mattresses are cheap and can help you save money on an unexpected road trip.
Air Mattress
While the padding and construction of most of the mattresses mentioned above affect the weight, the RV air mattress is on another level entirely. Air mattresses for RVs are small, light, and cheap.
However, their lack of durability is not a good option for campers searching for a bed that would last them for a long time.
FAQs
Can a regular bed be put in an RV?
No, bed platforms aren't the same size as regular mattresses. You can use your regular mattress in your mobile home if it is the same size.
Is there a certain thickness for RV mattresses?
RVs with slide-out beds need mattresses that are 5 or 6 inches thick. Most of the time, they can't fit mattresses that are thicker than 6 inches. Mattresses of varying thicknesses are acceptable for use on standard RV beds.
How do you measure an RV mattress?
It would help if you took length, width, and height measurements. If corners aren't right, you should also measure them.
What makes an RV mattress different from a regular mattress?
The main difference between a regular mattress and an RV mattress is that it is thinner and more streamlined, making it better for recreational uses.
How is a King different from an RV King?
The king mattress for an RV is 5 inches smaller than a typical king mattress.
Do RV Mattress Sizes vary?
Yes, RV mattresses with specific names, such as "short queen," are smaller than conventional mattresses.
The RV queen, measuring 60 inches by 80 inches, is the only mattress size identical to a standard (house) queen.
Conclusion
There is practically no end to the sizes and shapes of RV mattresses. The distinction between RV mattress sizes and standard mattress measures is now more precise.
Remember to take precise measurements and use your head when installing a new bed in your RV, whether it be a travel trailer, fifth wheel, or motorhome.
The new one might or might not be able to be made longer, thicker, etc. There are several factors to consider, such as the availability of slides, the height of the ceiling above the bed, and more.
You can easily use a regular mattress if your space is of a standard size. If not, you might have to get a size made just for you. Fortunately, some businesses focus on making custom fit RV mattresses.